Choreographer Cynthia Oliver on the World Premiere "Virago-Man Dem" at BAM
Black Masculinity And Black Kirby
Virago-Man Dem: Part of BAM's Next Wave Festival
October 25-28, 2017
Venue: Brooklyn Academy of Music's Fisher Space
Choreographer: Cynthia Oliver
Music: Jason Finkelman / Visual art: Black Kirby (John Jennings and Stacey Robinson)
Projections and animations: John Boesche / Costume design: Susan Becker / Lighting: Amanda K. Ringger.
With radical tenderness and dizzying force, Virago-Man Dem celebrates black masculinities in their infinite variety and nuance, constructing a sweeping tableau of embracing, sashaying, speaking, screaming, soaring individuals. The work is driven by a core query: "How can a woman choreograph black masculinity without resorting to sterotypes?"
---
Sammi Lim for The Dance Enthusiast: Hi, Cynthia. Thanks for agreeing to this interview with The Dance Enthusiast!
Have you (or a close one) ever been called a "virago"? If so, in what context?
Choreographer Cynthia Oliver: I have not. It was not a term used with much frequency as I was growing up. In fact, I hadn't heard it until I was an adult. Then folks started telling me who had been called a "Virago" and they were mostly noted Caribbean individuals, like Lani Guinier. But when I did hear it in recent years it stayed with me and I knew I would use it in a performative sense because I love language and had always been attracted to terms that had multiple uses or that were said with a particular kind of force.
According to the Merriam-Webster dictionary:
Did You Know?
The original Latin meaning of virago was "female warrior". But in later centuries the meaning shifted toward the negative. The most famous virago in English literature is the ferocious Kate in Shakespeare's The Taming of the Shrew. Some historical viragoes have also become famous. Agrippina poisoned her husband, the Emperor Claudius, so that her son Nero could take his place (but it was Nero himself who eventually had her assassinated). And Queen Eleanor of Aquitaine, a powerful virago of the 12th century, was imprisoned by her husband, King Henry II of England, after she encouraged their sons to rebel against him. Today some people are beginning to use virago admiringly again.
TDE: How is 'black masculinity' perceived on the surface level/skin deep?
CO: If you are asking about its appearance at the visual level, its signals and signifiers, they are different based in differing cultural environments. I am interested in the way these signals move across geographical and cultural borders. Postures, speech patterns, vocal cadences, manners of dress – I was telling the performers one day about spending time with my mother in "the country" in St. Croix on weekends and the men in the area were primarily from "down island" (further east and south in the leeward Caribbean) and on Saturday nights while dressing for the weekend party one could hear country music blasting out their windows and see them strutting in shiny and patterned shirts and pants with maybe animal skin shoes, snake or alligator. These were not outfits that "Crucian" (natives of St. Croix) men would be caught dead wearing, unless they wanted other Crucians to tease the hell out of them. So these kinds of inter-island, cross-cultural signs are what I am interested in, what folks not attuned to the nuances between cultures may miss entirely. The same is the case for behaviors across the US.
---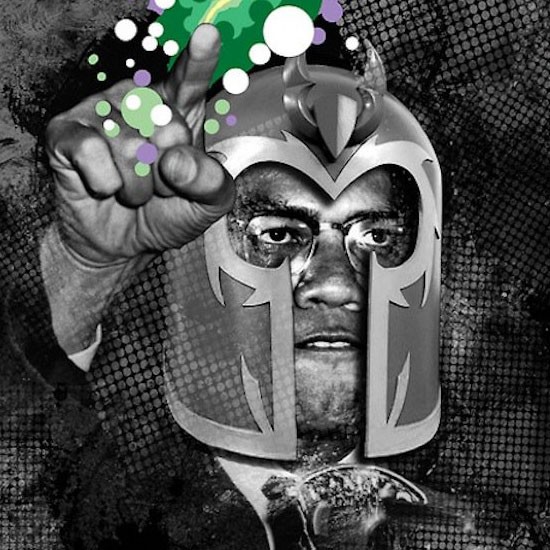 Afrocentric artwork by Black Kirby.
TDE: How did you come into cahoots with the collaborative entity that is Black Kirby? How do their artworks complement Virago-Man Dem?
CO: I met John Jennings at the University of Illinois when he was faculty here years ago. We got on well and shared many a meal and a conversation and ultimately worked together on a piece titled Closure for Blood, Gutters for Veins in 2010-11. I was unable to finish that piece the way I had wanted to as I was diagnosed with breast cancer shortly after we started the process. Thankfully, one of the grad students at the time, Nibia Santiago-Pastrana, saved the process by being my translator. She would come to my house and show me videos of the rehearsal, then go back with my directions and experiments for the group. And while it was performed beautifully by students at the UI with gorgeous works of John's and Damien Duffy's, we promised to one day work together again. Thankfully I am still here to make good on that promise. So when I started conceiving this project, John and I started chatting again, sharing ideas and with his ridiculous schedule he introduced me to Stacey ––who has since also become a colleague at the University of Illinois. So while John was traveling and communicating remotely, Stacey was our man on the ground and we constructed an intricate collaboration. The work they have both contributed is gorgeous and made even more so by projection designer John Boesche –– another University of Illinois colleague.
---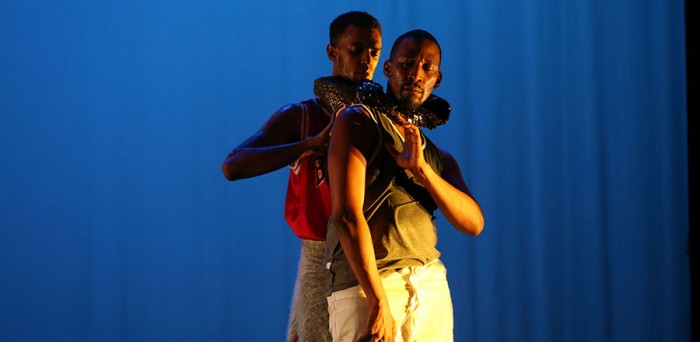 Cynthia Oliver's Virago-Man Dem Residency at MANCC 2017, Photo credit: Chris Cameron.
TDE: What did Duane Cyrus, Jonathan Gonzalez, Ni'Ja Whitson, and Niall Noel Jones bring to the table as performers? Why did you cast them?
CO: They brought themselves, generously and fully. These folks are IMMENSELY talented and offer specificity to the work that I could not have created on my own. If you know my work, you know that much of it comes from my visceral understanding of certain conditions/states/predicaments. I am interested in depth, in the bits that are difficult to negotiate about our common human experiences. However, from the gendered place of a woman in the world, I did not want to offer a distanced perception of masculinities. We get enough of that. I wanted to offer something with depth, something that one needs to know viscerally. And while I am intimately aware of much of what is brought forward in this work, I needed folks who were willing to put their own stories and experiences on the line to communicate those as well. And each of these folks has been. Duane and Niall I first met when they attended the University of Illinois as graduate students. Oddly enough we did not work together when they were matriculated. Duane had returned to school after an extensive professional run and was less interested in performing at the time than he was in building his intellectual and business acumen/chops. Niall came to the institution as I was recovering from cancer treatment, and had no energy at all to make work just yet. But I promised him I wanted to work with him one day and hoped that by the time I was able he would still be willing. I ran into Duane again when Leslie Cuyjet and I were touring "BOOM!" and Duane mentioned he would like to work with me –– I remember these things –– and I took note.
Cynthia Oliver's Virago-Man Dem Residency at MANCC 2017, Photo credit: Chris Cameron.
Jonathan came to me through Jawole Will Jo Zollar. When I first started thinking about this work I put the word out (I always put the word out to a small crew of folks who will make suggestions about whom I should think about/look at, et cetera). She suggested I speak with Jonathan. We talked a bit over email and he sent me a link to his work. I invited him, Niall and Duane to Illinois to see if the alchemy between them was right. That is another HUGE part of my work, the right combination of people in the space who can create a certain chemistry/magic together. They were. And they did.
Ni'Ja came later. Ni'Ja and I had been in conversation about a whole host of other things and when I ran into some casting challenges with the fourth role (I knew too that the piece was a quartet and HAD TO have it as such), I asked them if they'd consider joining us. It was funny, because the whole time we had been talking about other things, and it was like the universe was saying, "Hellooooooo..." I finally heard the message, invited Ni'Ja and have been so happy about their presence. Ni'Ja has taken the project to another level of depth because their presence brings up the notion of masculinity that is not tied to biology. And that is especially important as I really deploy that Virago energy in the space. Rather than look at Virago symbolically as my own participation in creating and generating the work, Ni'Ja brings that Virago into the actual stage space. And I am thrilled about that.
And while all of the above is operating –– they bring their full personas to the process, to the questions we are perpetually asking, and keep the work real and honest, there are mysteries within it. One member in particular, Niall Noel Jones, embodies that mystery and does so intentionally. There is a mercurial nature that he brings that I did not want to deny. He is himself, in real life, quite enigmatic. I debated this with him, as he was the first person cast –– we worked together alone for a week in Vermont in July of 2015 (poor fellow) after I had an exploratory residency in Trinidad and Tobago earlier that summer with another set of lovely individuals. We have continued to talk about it, and his qualities are just as important as the others. So we've got Duane, the brilliant mature and moving center of the piece; Jonathan, who I call the colt, with energy to burn and a curiosity and spiritedness that is infectious; Ni'Ja who challenges us to question what we think of as masculine; and Niall, who keeps that je ne sais quoi operating in the work. They all toss and tumble masculinity and wring it out so that by show's end, the trajectory of each individuals' notion (including that of the audience) of masculinity has been thrown into question. That is what I like, precisely what my work has always set out to do.
---
TDE: Virago-Man Dem was borne out of a need to, in your own words, "look at a series of experiences that you did not understand from your own visceral viewpoint." Did creating the work improve your understanding of these said experiences? Or in fact, birth more questions?
CO: My hope is that there are always more questions. Life is already so uncertain. We concretize so that we can feel secure in knowing/being/doing something(s). I am like everybody else in that those moments might offer me a chance to rest for a moment, feel like I understand something. But I also challenge myself to understand more deeply, to question more often and to destabilize any certainties that may threaten to stagnate me.  And of course the creating process with talented and unafraid young people always keeps me hopping and hopefully fresh.
Jaamil Olawale Kosoko in #negrophobia. Photo: Ian Douglas.
TDE: On Thursday, October 26, you will be sharing the stage with Jaamil Olawale Kosoko for a talk held in conjunction with Virago-Man Dem. Who should attend this talk?
CO: Jaamil Olawale Kosoko and I will engage in a conversation about masculinities together and I would hope anyone interested in the topic, in its treatment in creative processes, and or in Jaamil's or my work will come. Jaamil is a gifted artist and thinker and he asks some interesting questions that he is also negotiating in his work. Two artists sitting and chatting about matters that are important to them. I would love for the audience to be a broad swath of folks. Just being curious is enough.
TDE: To close, I'd like to ask a favor... Being from St. Croix, perhaps you could say a few words about the hurricanes in the US Virgin Islands. The Dance Enthusiast is trying to share word of reliable hurricane relief efforts. Could you recommend any organizations or causes?
CO: Yes, our islands have suffered tremendously and I would be grateful for this outlet to suggest that folks support legitimate and worthy help efforts. There are two in particular worthy of your audience's support. Tim Duncan, retired basketball star, is from St. Croix and has lent his name to a very worthy organized cause called YouCaring.
The other organization that my family has said has a visible and REAL presence on the island is the Red Cross. Thanks for asking. Much appreciated.
---
The Dance Enthusiast Asks Questions and Creates Conversation.
For more of The Dance Enthusiast Asks, click here.
Share your #AudienceReview of the film or others for a chance to win a prize.