THE DANCE ENTHUSIAST ASKS: Clemencia Vargas of Vive Bailando about Teaching Young Women STEM through Dance in Colombia
Clemencia Vargas of Vive Bailando knows that the future holds STEM jobs. She also knows the power of dance to transform young lives. When she put the two together, she realized she could create a powerful program that would positively affect young Colombian women's career prospects in a country where physical and mental health are lacking. Vargas teamed up with STEM through DANCE and the US Embassy to introduce science, computer, and math concepts to young women in an impoverished neighborhood.
---
Erin Bomboy for The Dance Enthusiast: Congratulations on the new initiative to teach 20 underprivileged girls in grades six through ten from Cundinamarca about STEM careers through dance! How did the impulse for this arise?
Clemencia Vargas: Vive Bailando uses dance as a form of education and transformation. We are always looking to partner with other organizations in the same industry to learn from them and innovate to continue carrying out our mission. Two years ago, I came across STEM from DANCE, an American organization based in Brooklyn. It was very similar to Vive Bailando in terms of its history, structure, and love for movement. However, instead of encouraging the development of socio-emotional skills through dance, they taught coding, animation, and STEM.
I started researching their mission, found an incredible opportunity to become an ally of STEM from DANCE, and reached out to Yamilee, their Founder. Two years later, we have been able to make a pilot project a reality by combining the methodology of both STEM from DANCE and Vive Bailando to initiate this program. In a time where the educational system in Colombia needs to be prioritized, we have implemented innovative programs in an attempt to increase awareness of STEM careers in underrepresented minority groups of girls. 
This initiative weds together three organizations: Vive Bailando, STEM from Dance, and the US Embassy. What was the process of connecting these organizations? In what way does each contribute to the initiative? 
CV: Vive Bailando is a Colombia-based organization that contributes to the social transformations of young people by improving their socio-emotional skills and preparing them for employability through dance. We teamed up with STEM from DANCE in order to bring their valued methodology to Colombia. Over the last two years, Vive Bailando searched for an organization that could finance this initiative and facilitate the methodology transfer and implementation of the pilot project. The US Embassy in Colombia believed in our partnership and approved the budget for this project. TheUS Embassy is a strong partner who has enabled us to innovate further after noticing the benefits of connecting the body, dance, and movement.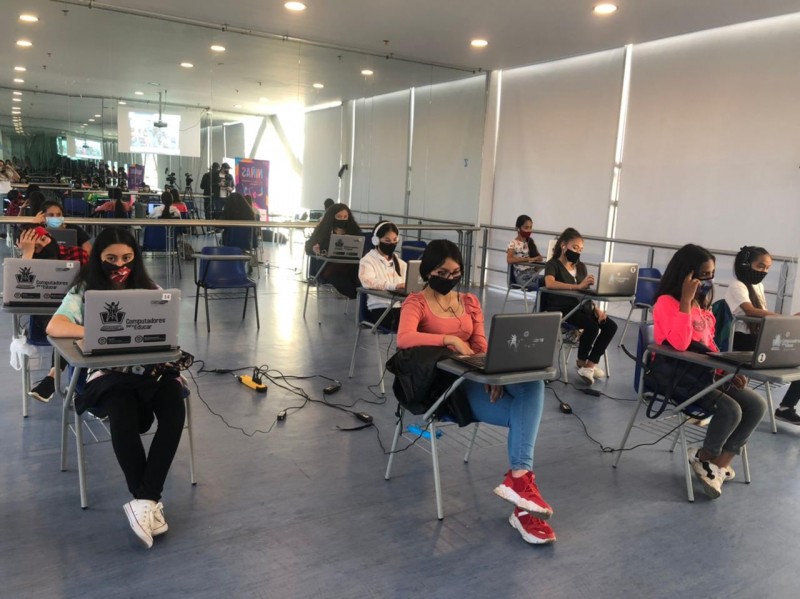 Photo courtesy Vive Bailando
Tell us about the dance and STEM landscape in Colombia. What information about STEM will be provided to the 20 girls? How will this information be transmitted via dance? Why is dance an effective medium of communication and knowledge?
CV: Vive Bailando is currently giving minority groups of girls the opportunity to become aware of and prepared for STEM education through the creative aspects of dance. Dance intrinsically has many benefits, but when dance becomes a methodology to educate, it becomes even more powerful. Dance instills confidence through performance and offers recognition. There's a reason why it's in every culture. 
Now, more than ever, we need people with the capacity to work in a team, to adapt to change, to have high self-esteem and emotional intelligence, and what a better way to develop these capacities than through dance. STEM education and awareness are important for disadvantaged girls in Colombia as this is a pivotal moment to empower them to be the next generation of scientists and tech entrepreneurs. This could be a huge potential income opportunity for the participants, and this project is a way to initiate skill development and interest. 
Over three months, 20 girls will receive a 30-hour course which will end with final animation projects. They are learning how to code in p5.js to create visually interesting and interactive animations, which will be used as background animations or visual effects for dance. By the end of the program, students will use these animations in a collaborative dance that they will choreograph with 4-5 other students. The participants will record their dances and decide how they want their dances edited to create the final video performance. Some of the more specific themes covered through this project:
● Coding and, more broadly, computer science are important, relevant, and applicable parts of our lives.
● Coding can be used in many creative ways, including as part of a dance performance.
● Anyone can code; anyone can dance!
● Computers understand commands that are precise and have a certain logical structure. Once we understand this, we can extend the basic coding and critical thinking skills of this unit to help us explore other STEM and Computer Science disciplines.
● Collaborative brainstorming, decision-making, and problem-solving are crucial aspects of creating successful and creative projects.
● Dance is an expressive art form that helps us tell stories, feel empowered, and connect with ourselves, the people we perform with, our audience, and our surroundings.   
Our model demonstrates how we can achieve different physical, cognitive, and social benefits throughout the life cycle of a person. We have a measurement system in place, both qualitative and quantitative, with indicators that monitor and show results for our programs through Power BI.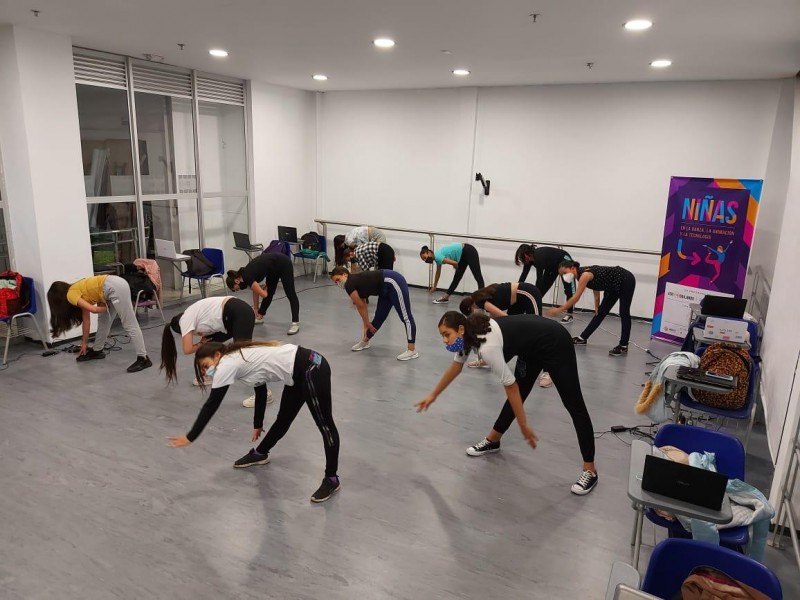 Photo courtesy Vive Bailando
One goal of this project is to create a more robust creative economy. How does a creative economy contribute to a country's growth, not just economic growth, but social and cultural as well? How will this initiative prepare these girls for life in the 21st century?
 CV: A creative economy contributes to a country's economic growth as this industry is composed of tourism, gastronomy, media, and design, among others. Creative economies mean job generation, exports, and overall economic growth. For example, The Three Gorges Dam (a hydroelectric plant in China), which has the capacity to provide 10% of China's electricity, was worth US 25 billion and was constructed over three decades. Meanwhile, throughout the same 30 years, the ten most successful broadway shows generated 26.9 billion in sales in New York and London.
Creative economies can also educate, inspire and connect. At Vive Bailando, we believe that dance and movement have the capacity to generate cultural and social change. We need our leaders to believe in arts and dance as a method of transformation, not only as an after-school activity. We don't all learn the same way, and the development of interpersonal skills needs to be an integral part of our educational system. Dance allows us to connect with people of all economic levels regardless of gender, age, height, or whatever label society imposes on us. There is nothing more equalitarian than dance. 
This initiative aims to prepare underprivileged girls for STEM field jobs while developing their socioemotional skills. It will give them the confidence to understand that they are capable of coding, animation, and the ability to dream big. 
Photo courtesy Vive Bailando
How can girls—through learning about both STEM and dance—shatter stereotypes and find empowerment? Why is this so important for Colombian girls?
CV: Colombia has always used arts, music, and dance to overcome over 50 years of war. We have had guerilla groups with drug trafficking and bombs, and it has affected all of us. Colombia became a country that dances. A few years ago, we came up as one of the happiest countries in the world even though we have huge disparities in wealth because singing, sewing, and dancing was how people survived the violence and poverty. 
26% of Colombia's population is between 11-25 years of age. 17.5 % of girls between this age group are pregnant or are already mothers. Only 1 out of 4 people in this age group perform more than 60 minutes of exercise a week. Through dance, we are able to improve self-esteem, too, as 1 out of 10 individuals suffers from depression or anxiety. These are only some of the few statistics that set the tone for the need for programs like this. 
Once this initiative gets off the ground, what future could it hold?
CV: Over the last six and a half years, we have already worked with more than 10,000 participants nationwide, including private companies (Coca Cola Femsa and Puerto Industrial Aguadulce), International Cooperations (Swedish Embassy, US Embassy, CUSO International, Canadian Embassy, Latin American Development Bank, and the United Nations), and public entities (Alcaldía de Cali and Alcaldía de Madrid). Our programs are aligned with the United Nations Sustainable Development Goals: gender equality, good health, and wellbeing. At Vive Bailando, dance and movement cease to be exclusive tools for culture and entertainment. We hope that after this pilot project, we can continue to expand our STEM program and replicate it to reach thousands of girls in Colombia. 
---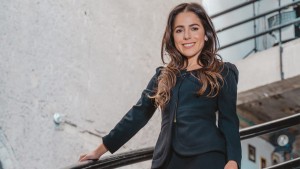 Photo courtesy Vive Bailando
 Clemencia Vargas graduated from Babson College with a degree in       Business Administration, with concentrations in finance and   economics. She is also a professional dancer who has had the   opportunity to dance at Madonna's house and with artists like Carlos   Vives, Black Eyed Peas, and Backstreet Boys, among others. After   working for Deloitte and Touché in M&A, she founded Vive Bailando,   an organization that transforms the lives of youth in Colombia through   dance. 
---
The Dance Enthusiast Asks questions and creates conversation.
For more of The Dance Enthusiast Asks, click here.
---
The Dance Enthusiast - News, Reviews, Interviews and an Open Invitation for YOU to join the Dance Conversation.