THE DANCE ENTHUSIAST ASKS: Rebeca Tomás of A Palo Seco Flamenco Company on the Changing Faces of Flamenco
After years of performing and touring with such companies as Noche Flamenca and Flamenco Vivo Carlota Santana, Rebeca Tomás founded A Palo Seco Flamenco Company (2010), and directs and choreographs her own original productions. Her artistic vision is deeply rooted in Flamenco tradition, yet relevant in a modern urban context. In the following interview with The Dance Enthusiast, Tomás lets us in on 
WHAT: Family-Friendly Show by A Palo Seco Flamenco Company at Flushing Town Hall
WHEN: Saturday, May 14, 2022 @ 2:15pm
WHERE: Flushing Town Hall, 137-35 Northern Blvd, Queens, NY
NOTE: The in-person performance can also be viewed for free online: RSVP here. More details via the event listing.
---
Sammi Sowerby for The Dance Enthusiast: Prior to the pandemic, some 3 million American tourists flocked to Spain for their dose of fun, sun, arts and culture. This figure was diminished to just 790 thousand in 2021. So I think it's great that your company and Flushing Town Hall are taking dance enthusiasts on a whirlwind tour of Southern Spain. How have you been preparing?
Rebeca Tomás, Founder and Artistic Director of A Palo Seco Flamenco Company: It's amazing how Flamenco has become such a widely-recognized and celebrated art form around the world. We feel honored to represent this amazing art form at Flushing Town Hall.
We've been preparing in much the same way as always: via company rehearsals, and by doing our regular weekly gigs and classes to keep up our chops! We will be presenting some of our favorite company repertoire, so we're working to polish that up, as well as a new number titled Calle de Aire, which stars all five of our female company artists dancing, singing, and playing panderetas aka tambourines.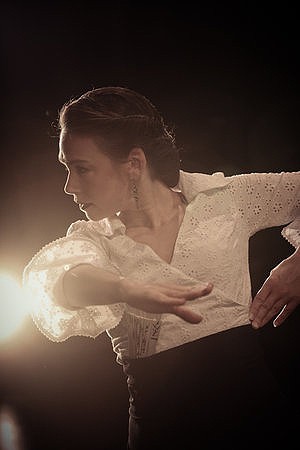 Rebeca Tomás, founder and artistic director of A Palo Seco Flamenco Company; photo by Maly Blomberg

Let's talk music: What musical instruments are requisite for a barebones flamenco performance? On the other hand, which ones make up a whole 'orchestra' for larger shows?
Great question!  A barebones flamenco cuadro (the word alludes to a framed picture or painting) or group consists of a cantaor/a (singer), guitarrista (guitarist), and usually one to three bailaores/as (dancers).  The dancers themselves are also musicians, given their zapateo (footwork) and las palmas (rhythmic clapping). Over the past few decades, el cajón, a percussive wooden box with Afro-Peruvian origins has been incorporated in Flamenco — inspired by a trip to Peru,  guitarist Paco de Lucia put guitar strings inside a box to create more of a 'snare' sound, and began using it in his pieces.
As for larger productions, especially as Flamenco has continued to evolve over the years, you'll see full companies with numerous dancers, set choreographies, and musical accompaniment that can include any of the following: violin, cello, bass (acoustic or electric), piano, saxophone, trumpet, flute, a full drum set, and more. 
Note that for a more barebones cuadro, there is usually a more improvisatory nature to the performance — each dance number is a sort of structured improvisation, and musical numbers are very interactive and spontaneous — while larger productions with more musicians and dancers involve much more preparation, rehearsal, composition, and set choreography. 
Rebeca Tomás performing flamenco while supported by a band of singers and string musicians; photo by Angelica Escoto

Describe the traditional flamenco ensemble and updo. Do you have a hard time shopping for costumes in NYC?
"Traditionally" — and I use air quotes because these traditions and gender-normative categories and costume classifications have been shifting and widening their breadth in great strides over the past several years — you'll often see the following garb:
Females don:
Long skirts or dresses with a lot of vuelo (flow) and volantes (ruffles), often with lunares (polka dots) and different colors — you'll typically see a lot of red and black, as well as other bright colors;
Flamenco shoes, which are often black when dancing in a company, but can be of any color, are made of leather or suede and have tiny nails hammered in the toe and heel area to enhance rhythmic sound quality.  There are many different styles, but most have buckles and some have laces;
Hair in a low bun, braid or ponytail, often with decorated with flowers and peinetas (combs) as well as other sparkly accessories;
Large dangling earrings like hoops, typically in de coral (coral), gold or silver.
Males garb is considerably more minimalist with:
Pants, sometimes high-wasted;
Button-down shirts, sometimes jackets or vests, or entire suits;
Shoes or short boots, often with laces.
Some of the adornments, like flowers and hair-accessories, are easy to find around NYC. As for the outfits and shoes themselves, however, we need to go to specific dressmakers or tailors who are devoted to Flamenco styles and understand what type of cut and flow dancers need in their outfits. Many of us will also wait until our trips to Spain, especially when shopping for mantónes (shawls) or abanicos (fans), which are few and far between around here. We'll also often order shoes from Spain. I always wait for my trips to Madrid to get new pairs made, because the place I go (called Gallardo) has a drawing of my foot and makes the shoe a mi medida or custom-made for my foot. 
Once again, I want to stress that we're talking 'traditional' here, but it's important to recognize how much these traditions have been shifting and shedding their stereotypical gender normalities over the past decade. Proof positive: Manuel Liñan (one of my first and most treasured maestros and inspirations) recently presented "Viva!" at City Center as part of the New York Flamenco Festival.  The production featured seven male dancers in drag, who performed in some of the most colorful, ruffled, and flamboyant dresses, batas de cola, mantónes, abanicos, complete with wigs, jewelry, and accessories.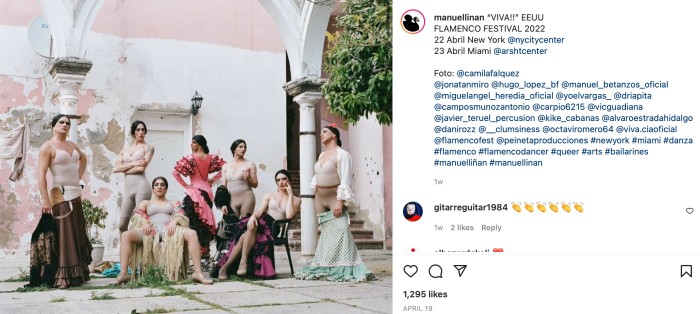 Gender-bending flamenco dancers in a post by Manuel Liñan, one of Rebecca Tomás' inspirations, on Instagram (
@manuellinan
)

A Palo Seco Flamenco Company makes itself "relevant in a modern urban context." Can you tell us about achieving this while honoring tradition?
As New York-based Flamenco artists, our aim as a company is to create choreographies and musical compositions that incorporate contemporary and socially relevant perspectives, while also remaining faithful to the art form's most raw essence. As artistic director of the company, "A Palo Seco" has become a personal motif and the way in which I straddle the traditional and the contemporary. The phrase refers to a bare-bones style of flamenco music, often consisting of singing or percussion alone in pieces that emit a particularly raw emotional quality. This stripped-down aesthetic has become a central theme in my work, characterizing my biggest departures from tradition, while also rooting my work in the emotional rawness that lies at the heart of this Spanish art. So even as I create a piece in which I "brandish the Spanish fan as a butterfly knife" (Gia Kourlas, NYTimes) and create a diverse rhythmic play that jumbles up traditional meters, the intricate technique and deep emotional power that defines Flamenco is ever-present in my work. 
Note that our upcoming performance at Flushing Town Hall, which is geared towards families and a multi-age audience, will feature more of our traditional repertoire.
The event will see tots and teens among the audience. At what age do most flamenco experts begin their journey?
In utero!!! In Flamenco dynasties, such as los Farrucos, mothers dance and sing with their little ones in their wombs, and children start dancing and singing as soon as they can walk and talk. But there are others who start later as well. For one, I started on a semester abroad in college! I always say, "It's never too early and it's never too late!"
A Palo Seco Flamenco Company's arts education programs aim to expand students' knowledge and interest in music, dance, and culture that is different from their own

How have you weathered the tumultuous time brought on by Covid? Have you any tips on perseverance?
I feel fortunate to have weathered Covid with reasonable ease, but I have continue to feel the heartache and hardships felt by many others.  Apart from being a Flamenco dancer, choreographer and artistic director, I am also the mother of two. So during the pandemic, I delved into my motherhood and really drank in the experience of being intimately connected with my family on a consistent basis.  I was lucky to have space to rehearse in our house, so I was also able to continue to work on my craft, as well as connect with students and audiences virtually. Thankfully, that outlet fed my artistic and professional hunger.
Since returning to performing, I've discovered a newfound love for working alongside and sharing the stage with my compañeros, and a renewed appreciation for the amazing exchange of energy with live audiences.
My tips on perseverance: Keep on keeping on. Do a little bit of something that fills you with joy and inspiration each day. If you dedicate your life to something that requires constant practice and discipline, even if you don't feel like it on a given day, make yourself go through the motions and get it into your system on a daily basis. Because when you have weathered the storm of 'not feeling like it,' you'll be so thankful that you did, because you'll have done the work and be prepared to do what you really want to with it. 
Also, if you need help, support, or company, REACH OUT TO OTHERS. Stay connected with PEOPLE, especially face-to-face if possible! 
---
The Dance Enthusiast Asks questions and creates conversation.
For more of The Dance Enthusiast Asks, click here.
---
The Dance Enthusiast - News, Reviews, Interviews and an Open Invitation for YOU to join the Dance Conversation.