The Dance Enthusiast Asks Sally Silvers as she Unveils Three Premieres at Roulette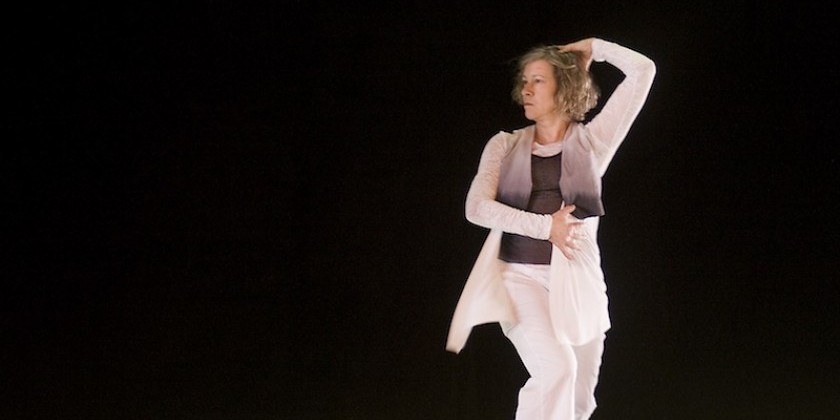 Sally Silvers and Dancers Premiere Tenderizer, The Big Now and If You Try
June 15-17, 2017
Roulette, Brooklyn, NY
---
From touching on America's relationship with Nicaragua to Stephen Sondheim musicals, Sally Silvers always seeks new entry points into her rich, varied dances. With three new pieces performed by three separate casts on the horizon, the choreographer, who has been making work since the 1980s, shows no signs of slowing down. The Dance Enthusiast had the opportunity to speak to Silvers as she prepares for her return to Roulette later this week. Here are excerpts from the conversation.
---
Trina Mannino for The Dance Enthusiast: You've cultivated a rich improvisational practice over the years. Do you begin with improvisation when you create work on other dancers?
Sally Silvers: It's interesting that you ask that. For this performance, I've made three new pieces and one of them, The Big Now, is improvised. Although it's become very spatially specific and there are cue points. For the others, we worked from improvised material that is now set.
I sprained my ankle the week before we started rehearsal and was unable to move around like I normally would. I'm used to get in the middle — figuring movements out by stepping in for a dancer or trying something out on my own body first. Since I couldn't do that this time, I went back to old material — a random video from 1988 of raw improvisation — and made one of the works directly from that material. It's funny, it doesn't look retro at all . . . I glanced at one of my [finished] pieces from 1988 and realized I chose some of the same material. It's been illuminating to see what interests me physically even after 30 years.
Sally Silvers and Dancers; photo courtesy of the artist
TDE: You've led workshops about the intersection of text and dance. Will any of these works feature text?
SS:  In the improvised work, we will. There are four of us all over 50. Bruce Andrews, my music director, is also an experimental poet. I gave him our score, and he bases his text on my talking him through the ideas. There will be music as well by Michael Schumacher.
It's sometimes difficult to hear words and see movement at the same time, but it's one the challenges that I like to tackle . . . The words must operate on a level that the dance functions on, which would mean honoring space and time.
TDE: Is there a theme that weaves these three works together?
SS: In the beginning, I thought I would have them interrupt each other and exist in the same time frame, but they had such distinct messages and personalities that I'm now viewing them as separate pieces.
TDE: One of your premieres, Tenderizer, channels Alfred Hitchcock's The Birds, Marnie, and Psycho. In 2014, you created Actual Size, which was inspired by his 1959 film North by Northwest. What is it about Hitchcock that draws you to his work?
SS: Since way back I've found a lot of movement ideas from watching his films. I'm interested in figuring it out — how the psychology, the relationships — fit into movement. The camera in Hitchcock's work is fascinating to me. It's almost like another body or character.
In Tenderizer, I'm started with Marnie as a source. The movie is about not being able to relate to other people and not understanding one's sexuality. There is this sense that though you're repelled by the opposite sex, there's still a need to have them be attracted to you. This melodrama was a rich source for rehearsal ideas . . . I'm not trying to replicate these films or retell their stories. Instead, I'm referencing them abstractly.
Melissa Toogood in Sally Silvers' Actual Size; Photo: Paula Court
TDE: Dance writer Joan Acocella once described some of your work as being "overtly political." While living in the Trump era, have you felt compelled to make a work in response to the current political climate?
SS: It is the big cloud that's hanging over everything. The rehearsal is a sanctuary from that, but also a place to explore feelings . . . In the improvised work, The Big Now, there's a sense of urgency and panic within it. What is your reaction to the actions that people take? There're also periods of real calm as if we can actually escape our escape even if it's for only a little bit. There's a strong 'we're-in-this-together' feeling throughout.
In If You Try, there are three women who are being as outrageous as they possibly can. There are moments of cooperation and celebration, but it has this kick-ass, distinctly female energy.
TDE: You're working with a large group of dancers, many of who juggle multiple projects and jobs. How does the freelance lifestyle affect the rehearsal process?
SS: It's a little like chance operations. I like the challenge it poses; it makes every rehearsal different and unexpected. You have to keep moving forward to build the dance despite not having everyone at each rehearsal. And, eventually you see how to stitch the different parts together . . . It's like going out with friends. You may not see them for another month, but you make it a big occasion when you're all together. 
---
The Dance Enthusiast Asks Questions and Creates Conversation.
For more of The Dance Enthusiast Asks, click here.
Share your #AudienceReview of this performance or others for a chance to win a $75 giftcard to Trader Joe's.