Related Features
Contribute
Your support helps us cover dance in New York City and beyond! Donate now.
Denver Art Museum & The Native American Community on DAM's 31st Annual Friendship Powwow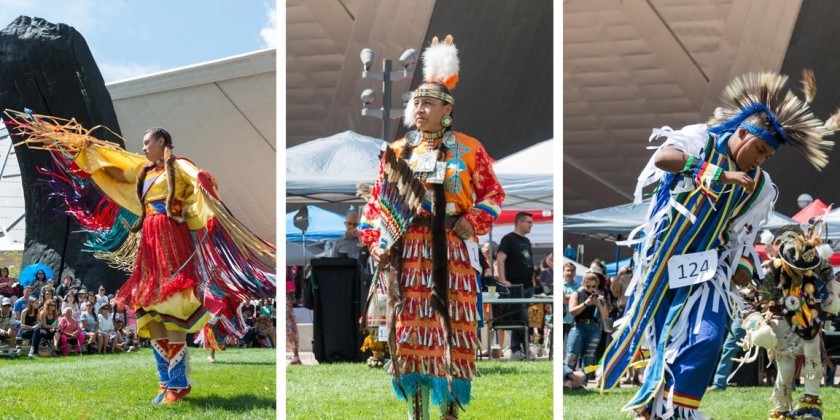 Save The Date for Saturday, September 12, 2020
The Denver Art Museum (DAM)'s Friendship Powwow is an annual celebration of the vitality of Indigenous cultures of North America. This year's event will take place virtually on Saturday, September 12 (11am-3pm) and allows the public to watch dance competitions, hear from Denver Art Museum curators about some of the dance regalia in DAM's collection, and learn how to make America Indian cuisine. More info.
---
Sammi Lim for The Dance Enthusiast: Three decades and going strong! Can you take us back to the very beginning of the Denver Art Museum (DAM)'s annual powwow with the local Native community in 1989?
Jan Jacobs (Osage), Chair of the Indigenous Community Advisory Council, DAM: Members of the American Indian community, in conversation with the DAM Native Arts staff, encouraged the museum to host an annual powwow.  The goal was not only to bring Native community members into the museum, but also to educate the non-Indian community on Powwow protocol and to introduce them to the various types of Powwow dances and songs. Today we celebrate its early beginnings and look forward to many more years of coming together to sing, dance and enjoy the Friendship Powwow.
One of many English words with Native American origins, 'powwow' can also mean "a meeting in which something important is discussed." What important topics or themes will be addressed at DAM's Friendship Powwow?
Dakota Hoska (Lakota), Assistant Curator of Native Arts, DAM: It's important to remember there wasn't one Native American language from which the word powwow originated. Many Native nations had their own languages and the term powwow is considered to have originated from the Narragansett people from the North Eastern Region of what is today known as the United States. That said, these kinds of gatherings were held by Native people in many places as a way to come together and celebrate the summer, especially after many nations experienced long and grueling winter months where travel was prohibitive.  It gave people ways to see old relatives, celebrate milestones, and to meet new people—even to potentially find a spouse in some cases.
In that same spirit, we hope this powwow is a chance for local and regional Native community members to come together and celebrate! In more normal years, vendors and important community organizations make extra money at powwows and there are also exchanges of ideas in artwork, regalia, recipes, and much more. We really tried to retain these themes and opportunities even in the virtual space, but we're also touching on the history of the dances, the art and history of dance regalia, and the healing that the joy of dance brings to people, especially after a tough pandemic year like we've had.
Photo © Powwow Central Photography
Is this the first time that the powwow will be held virtually? Or did previous powwows have a virtual component?
John Lukavic, Andrew W. Mellon Curator of Native Arts at the Denver Art Museum: Yes. This is our 31st annual powwow, but the first one held virtually. Never before have we departed from a live, in-person event. We felt it was still important to support the local Indigenous community and celebrate DAM's commitment to this community. The video crew is comprised of three people in DAM's Audio and Visual department, along with our powwow committee from the local community and other members of DAM's staff.
Dance makes up a big part of DAM's Friendship Powwow, which goes to show how much it's ingrained in Native American culture and tradition. We like how the submission page for dance videos even encourages entries from 'Tiny Tots' to 'Golden Age' dancers, showing a spirit of inclusivity.
Hoska: Dance is an important part of many cultures, however what is unique is the way our dances have adapted and continue to adapt to be relevant throughout time. They have evolved and responded to our life situations in ways that reference and honor our traditions, but also re-envision and innovate to meet the requirements of the people at different contemporary moments. 
Now, regarding the spirit of inclusivity—harkening back to earlier times before colonization it would have been normal for all ages to join in the celebration. It wasn't viewed as being intentionally inclusive in the way Western perspectives may see it, but simply standard operating procedure. Most Native nations include their youngest members in all aspects of the community and revere their elders as honorable, wise, and relevant at any age. The celebrations are about the circle of life. In Lakota way, the young and the old hold hands in that continuum, and many other nations hold similar ideas. I think that philosophy is slightly different than the Western world-view which privileges certain stages of life—youth and adulthood—and relegates the young and the old to the sidelines.
Lukavic: This is a time for learning and sharing of knowledge across generations. When asked why they dance, powwow dancers often say that they dance for those who cannot, which is a powerful way to think about this.
DAM's 2019 Friendship Powwow. Photo © Denver Art Museum
How were the 14 dance categories decided on?
Lukavic: We use the same categories that we use every year, with minor alterations. This year we merged the junior age category with the teen category because of time restraints around the virtual format. Powwows around the country deviate slightly depending on the regional popularity of specific dance styles, but many categories remain the same. The Denver Native community is quite diverse and has dancers from all around the country. Because of this we tend to have strong representation of both Northern and Southern style powwow dances.
What is the significance of hoops in Native American Hoop Dances?
Brad Bearsheart and Family (Hunkpapa Lakota and Santee Dakota): The Hoop Dance is a healing dance, with several moves and formations that hold meanings.  Eight time world champion Tony Duncan passed down the teaching of traditional style moves, so when we dance and pass through the hoops we are praying for those who are sick and hurt in their bodies. 
LEARN MORE:
For more on the origin and history of powwows, please reference this link.
---
The Dance Enthusiast Asks questions and creates conversation.
For more of The Dance Enthusiast Asks, click here.
---
The Dance Enthusiast - News, Reviews, Interviews and an Open Invitation for YOU to join the Dance Conversation.