Desmond Richardson On His Final Performance With Complexions Contemporary Ballet & More
Complexions Contemporary Ballet Celebrates 25th Anniversary with Performances at The Joyce Theater
World Premieres: "WOKE" and "From Then to Now," a Compilation of Repertory Favorite from Last 25 Years,  
NYC Premiere: "Bach 25"
Returning: "Star Dust," A Balletic Tribute to David Bowie
February 19–March 3, 2019
More Info
---
For something different from our usual Q&A-style interview, we asked Desmond Richardson, Artistic Director of Complexions Contemporary Ballet, to complete several prompts pertaining to Complexions Contemporary Ballet's 25th anniversary performance.
Read his answers below: in the light typeface
Desmond Richardson. Photo credit:
Acquiring the music rights to remix tunes in the work "WOKE" entailed…
a lot of contract negotiations with publishers to ask them for permission to use their music. Many dancers don't know this, but it is a long process to request rights to use music in your work and it requires the publishers and artists to really fully understand what you are creating so that they can feel comfortable attaching their music to what you are creating out on the stage. Luckily for this work, the process has been a smooth one thus far.
This season, we'll also be showing "Star Dust," our ballet tribute to David Bowie, this time with…
an exciting new cast! We are blessed to be able to work with some of the most talented young dancers from around the world. They all bring something unique and have a different training background that adds to the diversity of the company. With this latest cast, the ballet really shines and showcases the many incredible facets of Bowie.
Sergio Arranz in "Stardust." Photo by Ani Collier.
---
From Then to Now, a compilation of repertory favorites, is…
an homage to our creative history, led by Dwight Rhoden's exciting choreography. It digs into our 25-year archive of over a 100-created works and gives the audience a chance to see pieces that have become a part of the foundation of Complexion's style. I think this will really excite and engage the audience.
The NYC premiere of "Bach 25" involves…
the entire company in a series of groups and duets to the fantastically magical and thought provoking music of composer Johann Sebastian Bach. Since our beginning 25 years ago we've been inspired by Bach's music, which is how the title Bach 25 was born. This is a joyous piece that melds Bach with our vision of contemporary ballet.
Complexions' fundraising gala on February 21st is a high point in the company's annual calendar, as the public casts their eyes on the next generation of performers. Early exposure is important for young dancers because...
Dwight Rhoden and I feel it's very important for the next generation of young dancers to be exposed, inspired and bear witness to the machinations of a professional company.Today's dancers are pretty savvy in getting any information they need as it is readily accessible, yet  the one-on-one advice and training is essential to growing their artistry. We feel that continually divulging information from our experiences to young dancers is imperative and necessary.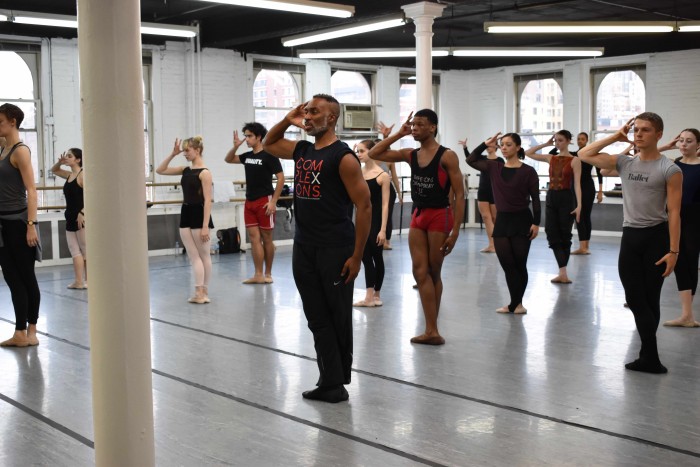 Desmond Richardson leading the company in rehearsals. Photo courtesy of Complexions Contemporary Ballet.
---
My advice to dance students who ask: "How do you differentiate between lazy days and rest days?" is...
when you are in the studio it's a full court press with total focus and commitment from all involved. You have to spend those hours committed to learning and exploring your artistry so there can't be laziness in the studio. However, when you leave, you need to rest and re-focus at home. This time is also very important as it refuels your body and mind so that you can bring your power back to the studio.
It's been a life-changing journey with Complexions Contemporary Ballet.
My final performance with the company will take place at the fundraising gala on February 21st. My next adventure entails... something that I have asked the universe to bring my way. Stay tuned, as it's going to be an amazing next chapter!
As a contemporary artist, growing a social media following is almost a requirement. This may mean marketing not only your work but possibly your life as well. My stance is…
do what you feel is necessary for you. That avenue may not be for you, but if it is, trust your instincts, go for it and rack up those million followers!
---
The Dance Enthusiast Asks Questions and Creates Conversation.
For more of The Dance Enthusiast Asks, click here.