TDE Asks Carla Maxwell of the José Limón Dance Company
On Bringing the Lost Work "Dialogues" Back to Life at the 92Y
92nd Street Y Harkness Dance Festival
92nd Street Y, 1395 Lexington Ave, New York, NY 10128
José Limón Dance Company: Dialogues - Fri, Feb 19 and Sat, Feb 20 at 8 p.m.; Sun, Feb 21 at 3 p.m.
Pictured above: José Limón and Ruth Currier
---
The Harkness Dance Festival is off to an exciting start as it celebrates innovators and history makers now through March 20th. This week, Artistic Director Carla Maxwell and members of the Limón Dance Company explore one of José Limón's important lost works, Dialogues, which hasn't been seen since 1951. The company's connection to the 92Y is deep: Limón first performed there in 1936, and the company even called it home for about five years after his passing in 1972.
Dialogues is a dramatic dance based on two pivotal moments in Mexican history involving foreign invaders who seeks to dominate, and the Mexican who defends his soil and his integrity. The first dance takes place in 1520 and tells of a confrontation between a Mexican Emperor and a Spanish conquistador. The second dance takes place in 1867 during the second Franco-Mexican War and depicts a battle of wills between an Austrian Archduke and the Mexican President.
The Dance Enthusiast caught up with Maxwell as the company embarked on rehearsing for Dialogues. Here are excerpts from the conversation.
---
Trina Mannino for The Dance Enthusiast: How did Dialogues come to be?
Carla Maxwell: Miguel Covarrubias (the director of Palacio de Bellas Artes at that time) was a close friend of José's. Miguel invited him to Mexico City to have the dancers work down there. Dialogues was one of several pieces he made in Mexico. It was originally danced by Limón and Lucas Hoving — his counterpart in the company at that time. Dialogues is also one of many pieces that is based on Mexican history, which is a theme that I see throughout Limón's work.
When José was invited to go to Mexico, he hadn't been there since he and his family emigrated when he was about eight years old. I think it was very important for him to go back, and it was very emotional.
TDE: What was it like to work directly under Limón as a young dancer?
CM: I worked with José the last seven years he was alive. It was a very different milieu. There was a huge age gap [between the new younger dancers and Limón and the first company members]. That doesn't mean he wasn't warm and communicative towards us. It was a more formal interaction than how he worked with his original company which was made up of peers.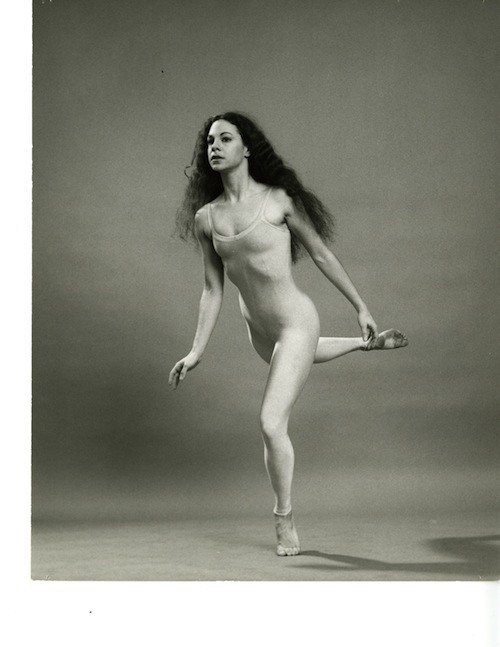 Carla Maxwell in The Exiles; Photo by Martha Swope
TDE: What do you utilize to recreate a piece like
Dialogues,
especially when no one living was part of the original work?
CM: We did find the score in the library. We recorded a piano reduction [based on Norman Lloyd's original music]. We found markings in the score and cuts, but we're not sure if the silent film [the only recording of the work] we have matches those notes or not. That will be interesting to discover. I have four dancers that are going to learn this work, and I have given them the music score, videos I've made, José's writing and the original program copy. They now have some context of what we're approaching. This dance has so many overtones. It's not just about the movement, the dancers also have to embody a character — even their character's carriage and an understanding of who they are as people.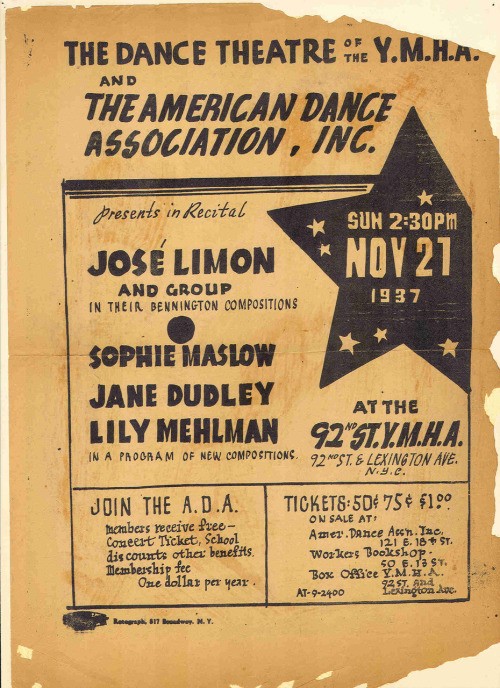 A 1937 flyer promoting at performance of José Limón at the 92nd Street Y
TDE: What are the challenges and pleasures of keeping the work of a history maker like Limón alive?
CM: This is coming from a prejudice point of view, but after being a part of his work for over 50 years, I find it life giving. I see its affect on young people to mature artists. For those who have given the time to investigate it, they have had their lives changed. There's so much craft and innovation in Limón's work, as there are in Graham's.
When you take Limón's work apart, you see the craft and how he used people as energy forces. They're astounding works. I'm still learning. I know the dancers who have passed through our company, whether they choose to stay for a long time or not, have all come back to say how it's a gift to be part of this work, and that it has informed what they have done next.
For me, I'm still excited by it… But what astounds me is that we don't celebrate its [American Modern Dance's] history enough, and recognize the wealth of information that is available to us from the founders of this art form.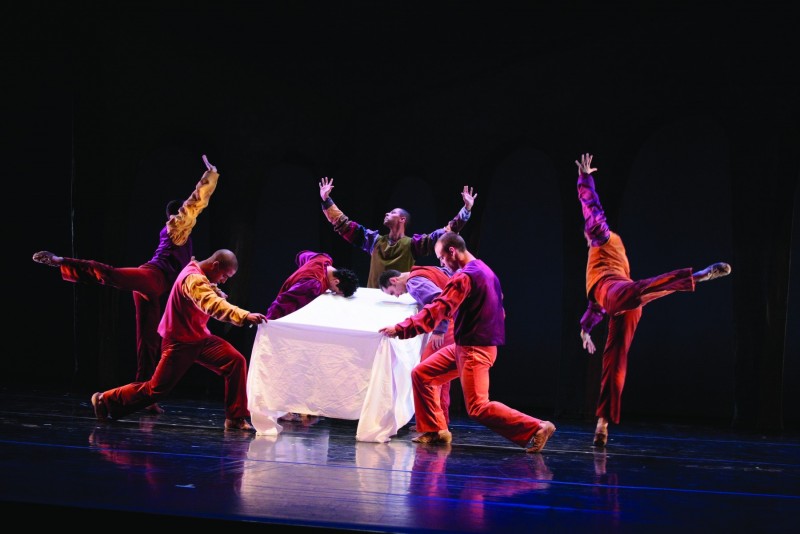 José Limón Dance Company, photo courtesy of the Harkness Dance Festival
TDE: When these works are shown far into the future, what do you hope audiences take from them?
CM: I hope that as long as we can keep the integrity of how these works are performed, I think they will offer future generations a look at the classics and what was created before that has in turn influenced artists today and in the future. There's too much valuable information for us to lose the work of our ancestors. I think every dance has its place and they only make us richer. We have to be mindful of what we let go and what we keep on. 
---
GET INVOLVED WITH THE DANCE ENTHUSIAST



THE DANCE ENTHUSIAST SAYS, " LET'S KEEP OUR EPHEMERAL ART ALIVE BY COMMUNICATING ABOUT IT!

SHARE YOUR AUDIENCE REVIEWS OF THE  92Y HARKNESS DANCE FESTIVAL PROGRAMS WITH US. ITS EZ.  LOG ON HERE :

AUDIENCE REVIEWS

THE BEST REVIEW OF EACH PROGRAM WILL BE FEATURED ON THE DANCE ENTHUSIAST. REVIEWERS WILL BE FEATURED IN THE DANCE ENTHUSIAST'S APRIL NEWSLETTER!  

 
Other Performances during the 92Y Harkness Dance Festival Include:
Keely Garfield Dance: Pow / Fri, Feb 26 and Sat, Feb 27, 8 p.m.; Sun, Feb 28, 3 p.m.
Pilobolus: Rules @ Play – FOR ADULTS & FAMILIES / Sat, Mar 5, 3 p.m.
Tina Croll + Company: One Rhinoceros, 3 Birds and a Pineapple / Fri, Mar 18 and Sat, Mar 19, 8 p.m.; Sun, Mar 20, 3 p.m.
We're using the hashtag #92Yhistorymaker during the festival and you can too! Find us @DancEnthusiast on Twitter, Instagram and Facebook.