Related Features
Contribute
Your support helps us cover dance in New York City and beyond! Donate now.
Diane Madden: Veteran Dancer and Rehearsal Director With The Trisha Brown Dance Company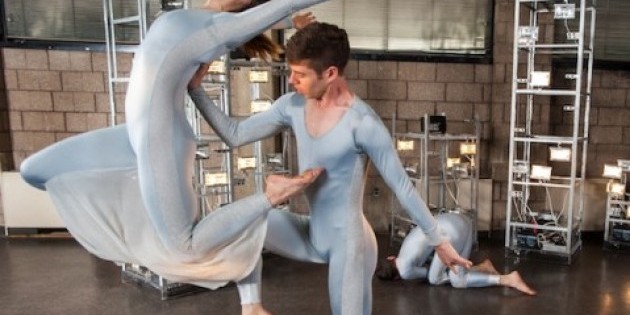 What does it take to revive a masterpiece?
The Dance Enthusiast Asks: Diane Madden
Trina Mannino, reporting for The Dance Enthusiast
July 10th, 2012
---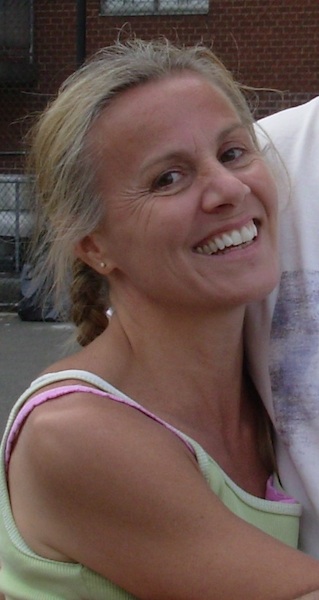 Diane Madden; Photo Courtesy of Trisha Brown Dance Company
Diane Madden joined Trisha Brown's Company 1980, she was 21. Now, 32 years later, she is the company's rehearsal director. Recently, she has been busy preparing the dancers of the present Trisha Brown Dance Company for the much anticipated re-staging of
Astral Converted,
an adaptation of
Astral Convertible
(1989), and
Astral Converted
(1991) with choreography by Brown, original music by John Cage, and visual and costume design by Robert Rauschenberg
.
Rauschenberg's metal frame towers, restored for this production, house the lights and sound system for the piece and are built from automotive supplies. The towers are activated by motion sensors that detect the dancers and respond to their movement.


Astral Converted
will run the Park Avenue Armory's Drill Hall from July 10-14, 2012. Click
here for show and program relating to the show.
---
The Dance Enthusiast:
You are often referred to one of Trisha Brown's muses and Brown has been quoted as referring to you as your daughter. How has your relationship with Brown evolved over the years?
Diane Madden:
I've grown up a lot so that's certainly affected our relationship. I joined the company when I was 21 and I'm now 53. That means that I've changed greatly in terms of what I am looking for in my relationship with Trisha. At the same time, I'm always looking up to her as my mentor and creative member. She certainly provides me with endless inspiration in dance. In the beginning, when I was 21, I often felt awkward,like I was putting my foot in my mouth around her. Over the years that started to relax a bit. I have a really deep love for her, because of how much she has given me both personally and professionally — and the space she has given me as an artist to allow me to be who I am.
TDE:
After being with Trisha for over thirty years, I imagine her movement is ingrained in you, how do you teach her very particular vocabulary and style to younger, new company members?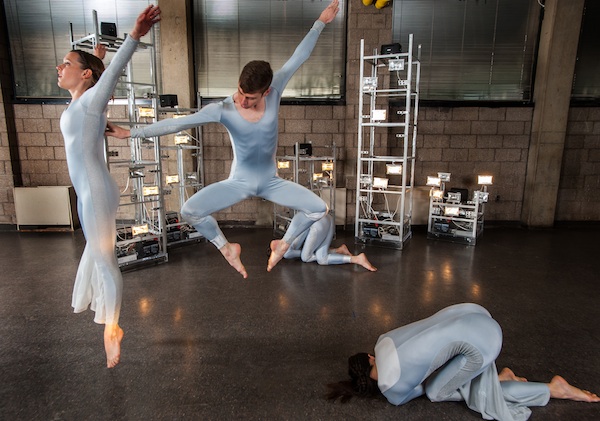 Astral Converted: Left to Right-Tara Lorenzen, Stuart Shugg, Samuel Wentz, Tamara Riew- Photo © Stephanie Berger 2012
DM:
I try to give the dancers tools in terms of concepts and different approaches to movement that help them unravel what they're trying to do or get a handle on it. My job as a rehearsal director is to empower the dancers, to help bring their individuality to life through this movement vocabulary…Each dancer has their own proportions and transfers of weight so they are going to move in a particular way. My job is to help the dancers lto listen to their body and use what they have. Then they can expand and use their spirit and their desire to be grounded by the movement.
I'm really focused on the impending performances at The Armory- getting the dancers to a point that when they walk on to the stage, they are in control of the space can by joyful in what they're doing.
TDE:
Astral Converted
is about 20 years old. Have you performed or taught it since the premiere?
Astral Converted rehearsal still with Trisha Brown and Robert Rauschenberg in the foreground -Photo © Jack Mitchell
DM:
There were definitely new casts and I have taught each role at least once since the original premiere. It's a huge piece, and there is massive amount of choreography to extract from. It's complex, intricate and delicate. There are parts of the piece that I know what's going on in each part of the space and there are others where I still have to look at the video. I told the dancers at one point ,when we were trying to learn as much material as possible and they were starting to get weary, 'it's like being a first year medical student, cramming as much information into our brains as we possibly can hold'.
Carolyn Lucas, Trisha's choreographic assistant, and also an original cast member was right alongside me in this process. Her memory has been invaluable and her direction has helped us get to where we are now.
TDE:
As part of the River to River Festival, the Company hosted open rehearsals on Governor's Island leading up to this revival. What kind of feedback did you get from the public based on what they saw in the rehearsals? Did you find these sessions helpful?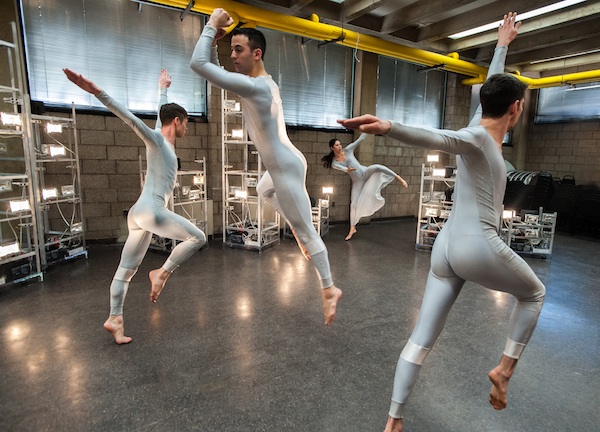 Astral Converted- Left to Right: Stuart Shugg, Nicholas Strafaccia, Tamara Riewe, Samuel Wentz- Photo © Stephanie Berger 2012

DM:
One of the things that often comes up — especially when people aren't familiar with Trisha's work — is how surprising it is that we can maintain such a
Much of my job is not only about meticulously holding on to the choreography, but also about supporting the dancers...
Seeing how the dancers are and what they need: this is a part of my job that feeds my soul.
strong unison without the benefit of dancing to a strong meter of music. There's a lot of curiosity about that. Depending on the person who is observing this, there is an appreciation of the skills that are required to maintain unison. There was a woman who had just taken Vicki Shick's class (Shick is a former Trisha Brown Company member) and was very excited at the connection of what Vicki was teaching her in class to the ways in which the dancers were interacting with one another during the rehearsal. I was so happy that this one person told me that there was a really clear connection and that they were excited about that.
TDE:
The original work contained Robert Rauschenberg's set which included eight metal towers filled with car batteries, headlights and stereo systems. How do the dancers interact with the set?
DM:
It [the towers] definitely needed some tender loving care to get them up and running again. A lot of time and money has been spent to get them into tip top shape. They're beautiful and simple, very vibrant sorts of objects.
When a beam of light comes out of one of the car headlights and is broken up by a dancer's movement, that triggers the light to switch on and off. Unfortunately we only began rehearsing with he towers once we got to the Armory. There are a few places in the choreography where the towers are supposed to be rolled on by dancers and ,at first, we had to rehearse with mock ups - basically pieces of cardboard.
TDE:
Rauschenberg designed not only the set but also the costumes and co-designed the lighting of
Astral Converted
. Can you speak of the collaboration between Brown and Rauschenberg on this particular project?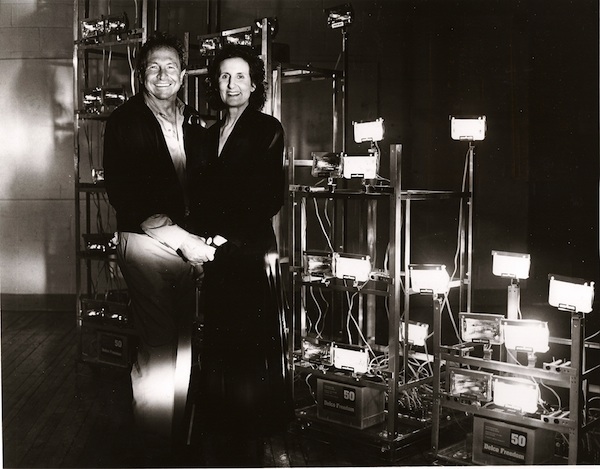 Trisha Brown and Robert Rauschenberg mercurial collaborators -Photo © Jack Mitchell
DM:
I was around at the time of the collaboration, and it was a very exciting time. They would just fire off one another — their creativity combined would just be explosive. There would be a lot of laughter. Their minds were like mercury, they would move so quickly. It was hard to keep up.
TDE:
The piece has been performed around the world in various venues. The Park Avenue Armory's Drill Hall is about 38,000 square feet. How has the Armory changed the work?
DM:
I feel like there are many facets of the dance, like many pieces of choreography, where you have to consider the space. That has certainly been the case for the Armory. What is the audience going to experience when they walk through those doors? How are we going to unleash them to the moment of discovering the dance? What's the best way of doing that? There has been a lot of work with the space , technically and behaviorally. One question was how do we get the dancers to the stage?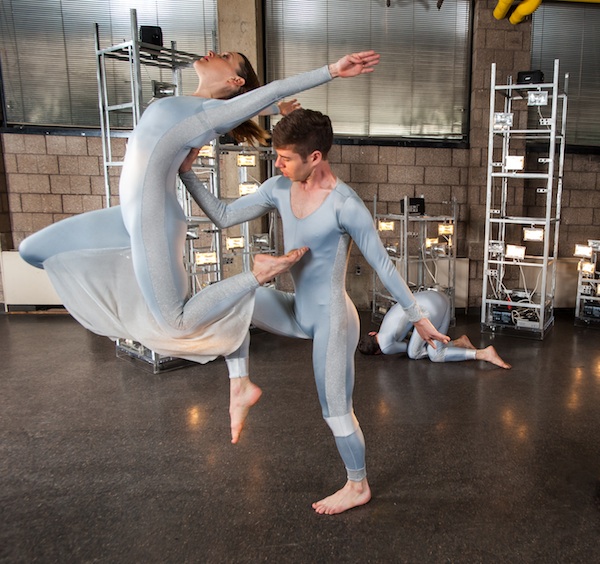 Astral Converted -Tara Lorenzen, Stuart Shugg, Samuel Wentz- Photo © Stephanie Berger 2012
TDE:
What have you learned from this particular revival?
DM:
The first thing that comes to mind is something that I have known but didn't experience fully until recently - that is how much of my job is not only about meticulously holding on to the choreography, but also about supporting the dancers. Much of my attention goes to seeing how the dancers are and what they need: this is a part of my job that feeds my soul.