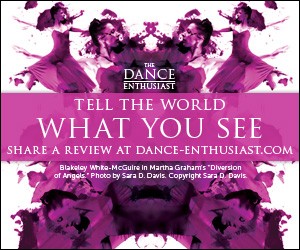 Related Features
Dianne McIntyre, Eternal Artist: The Spiritual, The Universal, The Passionate
The Dance Enthusiast Asks: 2012 American Dance Guild Honoree, Dianne McIntyre.
September 5th, 2012
---
Veronica Hackethal reporting for The Dance Enthusiast
This week at its
annual performance festival (Sept. 6-9)
, the
American Dance Guild
, a longtime supporter of dance in the U.S., will pay tribute to Dianne McIntyre. McIntyre has been a major figure in modern dance for over four decades. She has won numerous awards, including a Guggenheim fellowship, an honorary doctorate in fine arts from SUNY Purchase, three Bessie awards, two AUDELCOS (New York Black Theatre), a Helen Hayes Award (DC Theatre), and an Emmy nomination for her choreography in HBO's
Miss Evers' Boys
. McIntyre has choreographed for stage, film, and television and created pieces for the Alvin Ailey American Dance Theater, Ailey II, Cleo Parker Robbins Ensemble, Dallas Black Dance Theatre, GroundWorks Dance Theater and Dayton Contemporary Dance Company.
Born in Cleveland, McIntyre began studying dance at age four, continuing her studies at Ohio State University. In 1970, she moved to New York City where for thirty years she was at the vanguard of the New York City dance and music scene. From 1972-1988 she sat at the helm of Sounds in Motion, a dance company and school in Harlem. Known for innovative works combining dance and live jazz, McIntyre's choreography also reveals a deep interest in history and culture.
The American Dance Guild Festival will present Life's Force, one of McIntyre's signature pieces this week.
I had the privilege of speaking by phone with Ms. McIntyre from her home in Cleveland, where she now resides.
(For American Dance Guild Program and Ticket Info:
Click
Here
)
---
Veronica Hackethal for TDE: You've had a very distinguished career. The American Dance Guild will be honoring you for your lifetime achievements. Could you share with us your thoughts on returning to New York and being an honoree?
 
Dianne McIntyre:
I am truly very excited to be coming to New York for the festival, which coincides with the fortieth year since I started my dance company (Sounds in Motion). A few of us met and had the idea to present stories about our memories and experiences from the company. We were invited to present a piece from our earlier period so we invited a number of dancers who worked with me over the decades. The honor that I'm receiving is a reunion, and I'm grateful to the American Dance Guild for that.
TDE:
You will perform
Life's Force
, one of your signature works. Could you describe this piece, especially your inspiration for it?
McIntyre:
Life's Force
was choreographed in 1979. It was dance music collaboration. In my mind and vision, dance and music come alive together. Dancers become part of the band. It's not a hierarchy. They support each other. Ahmed Abdullah, musical director of my company, developed the dance together along with the people in the company. For him
Life's Force
celebrates the energy that takes people to higher consciousness. It's the inner spirit. There is a rhythmical source that keeps on throughout the whole piece. The pulse is still going even when the piece finishes. There were originally five dancers, but now, for the festival there will be twenty-one.
TDE:
Will you be dancing?
McIntyre:
Yes, I'm going to.
Dianne McIntyre: Photo© Larry Coleman
TDE:
What about
Life's Force
has changed over the years?
McIntyre:
The piece has not been performed since the early 1980s. We did it over and over in so many places. It became more refined over the five years that we performed. We added new movement motifs. It's what I call a dancey dance. For this performance, we've added more vignettes because there are more people. The vignettes are pieces of narrative, emotional interactions between the dancers, but not literal narrative.
TDE:
You mentioned that dancers and musicians are part of the same band. Could you elaborate?
Dianne McIntyre:
I love to be able to watch a dancer and hear music coming out of a their body. Sometimes it's rhythmic. Sometimes lyrical. It's almost like the dancer hears a melody inside her head that you can hear as an audience member. The dancer wants the audience to be able to witness the music inside. Dancers and musicians work together. It's spontaneous, like banter. They build on one another. Musicians and dancers need to be able to notice nuance in each other. I think music comes out of the body… like when the horn plays a long note and the dancer makes a long note in the body with an extension or a stretch.
TDE:
I've read that one of the themes of your choreography is to describe the African American experience in America. Could explain more about this?
McIntyre:
I try to integrate into dance the narrative experiences, the inner feelings, of what I've read, or been told. I want people to see the experience, not the way it's portrayed in a book, but so that they can feel it.
The power, the essence, the beauty of the dancers, the beauty of the music celebrates our background -who we are. But the performers do not have to be African American. What's important is to see the universal in their movement gestures. The audience sees work coming through the brown body, and even if the person seeing it may not have brown skin, they can relate, they can be like, "Oh, yeah, I felt that way yesterday." Dance can be a bridge to the African American experience.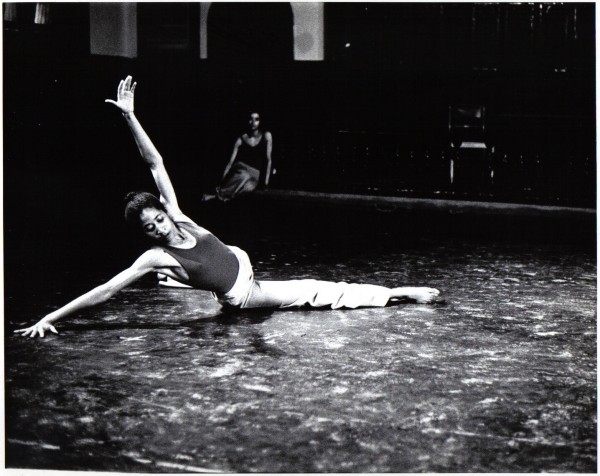 Sounds in Motion: Dianne McIntyre with Dorian Williams (in back) in  A Free Thing June1972 at Washington Square Church in NYC: Photo ©Joan Patterson
TDE:
You once said that at some point the dancers become one with the work, that the audience and dancers merge into a larger whole. Do you think dance can create a sense of community, for both audience and dancers?
McIntyre:
What happens in performance is that dancers lose the sense of self as an individual. They become the work. There is something that radiates beyond them and the audience feels it because the dancers become selfless. They are totally immersed in the expression of this work. Something drops away, and there is a spiritual energy that enfolds the audience. In that way, dance is healing.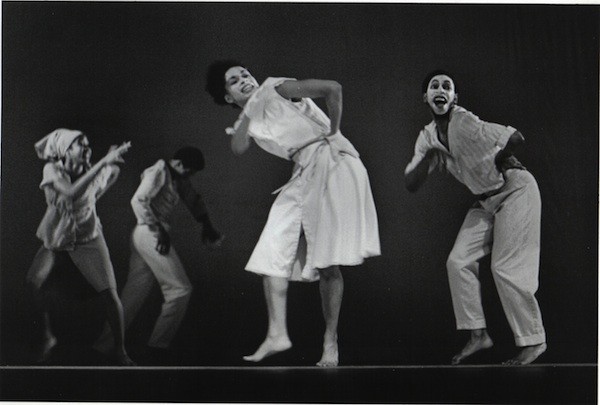 Deep South Suite: Sounds in Motion: Dianne McIntyre, Fred Davis, Francine Piggott, and Leon Brown at BAM in Brooklyn, New York: circa1978
Photo Courtesy of the American Dance Guild
 
TDE:
I read that while you were in college, you realized that in other cultures, dance is functional and plays an important role in society. After you discovered that, you realized that it is possible to make a life through dance, and that dance changes people's lives. Have your thoughts about this changed, and if so how?
McIntyre:
Even today dance is functional in society. People communicate with deities, celebrate harvests, weddings, even death with dance. Dance shifts a person who may be in a certain mental or physical state. Dancers in those certain societies are treasured. They help society maintain dignity, longevity.
I was able to go on a few trips that were really inspiring and eye opening. I went to the Southwest to experience Native American dances. I also went to Haiti, to a vodun dance class in Port au Prince. I told the traditional drummer in the class that I was interested in going to a vodun ceremony. At first he was like, "I don't know anything about it." But then  when he saw that I was genuine,  he said, "OK let's go."
That night after class we hopped in a taxi. It didn't take us to the ceremony. It dropped us off a few blocks away and we had to walk. It was concealed and somewhat small, like New York, but people were not dancing small.
I went to two to three vodun ceremonies. The last one was in the country, and it lasted for three days. It was something I'll never forget. When I came in I was introduced to the priest. He asked if I had a tape recorder. I said, "Yeah, maybe I shouldn't turn it on." He said, "We're waiting for you to turn it on so we can start."
Consequently, I have a lot of audio of the music. Much of the tradition had been locked. Music in Africa evolved over the years; in Haiti a lot of things stayed the same. I was invited to dance. The producer said, "I'm so glad you're here, now you can go back and show people about living."
People talk about the poverty in Haiti, but there's richness to the culture. It's very strong and I have incorporated those experiences into my work- the power of them. I saw some movements that were impossible because the dancers performing them were in a trance. They were free and powerful like modern dance. Commitment and energy can create waves that  go out into the air. That's what dance can do.
TDE:
What are your plans for the future? What excites you now?  
Dianne McIntyre: Photo© Larry Coleman
McIntyre:
Much of my work has evolved into Dance Theater, dance-driven drama. I'm interested in overarching themes like communication, the danger of moving backwards as a culture even though we think we're moving forwards.
I would like to do a piece with
Ola Dara
in which we would be sports figures, only we're artists- a satire. Atheletes don't work any harder than we do as dancers. I want to point out the imbalance, the accolades they're given, and say, what if it's reversed? I always had it in my mind to do something satirical.
The other part is more of what I'm doing in this concert, more work transferring my style form the mature dancers to the younger ones.  And my big plans? One day I would love to have a theater.
TDE:
Do you have any parting words of wisdom?
Dianne McIntyre
: If you have a question, like "Should I dance?" Then go ahead and do it.
I've met many people, middle- aged people, who come up to me after a performance and say, "I always wanted to dance, but never thought I could do it."
You don't want to go through life with the question, "Should I have?"  If you have a passion, then go for it.
---
For American Dance Guild Program and Ticket Info:
Click
Here
---
The Dance Enthusiast's DAY IN THE LIFE covers the stories behind dance/performance and creates conversation. For more behind-the-scenes stories from NYC and beyond, click here.
---
The Dance Enthusiast - News, Reviews, Interviews and an Open Invitation for YOU to join the Dance Conversation.