THE DANCE ENTHUSIAST ASKS: Director of Civic Programs Solana Chehtman on The Shed's Open Call and Looking Forward to the Future of Art
As spring turns into summer, one year and several months after the pandemic arrived, a feeling of hope pervades New York City. For artists and venues working in live performance, the return to in-person programming is particularly celebratory. The Shed's Open Call emblematizes this optimism as dance, film, sculpture, and art all created by New York's emerging artists is presented throughout the months of June and July, free of charge. Solana Chehtman, Director of Civic Programs at The Shed took time to discuss what audiences can expect during Open Call as well as The Shed's plans for the future.
---
Open Call at The Shed, 545 West 30th Street, runs from through August 1
Go HERE for tickets and information
---
Erin Bomboy for The Dance Enthusiast: Tell us about planning 
an Open Call
 in the middle of the pandemic? How did you balance health and safety concerns with the desire to put on an exceptional, month-long event?
Solana Chehtman, Director of Civic Programs at The Shed: When the pandemic hit, our first thought was that Open Call was needed now more than ever. In a context where artists watched as their projects were canceled or delayed, and their sources of income and artistic opportunities became more precarious, we knew we wanted to renew our commitment to and support for their work. What resulted were project proposals that were very intentional and connected to what we were going through as individuals, a community, and a society. 
We've had the unique opportunity to work closely with the state government and other flexible performing arts venues in spearheading the return of live performance and the recovery of NYC's arts scene. It has been an intense process but very focused on problem-solving, and we've felt really supported throughout in advancing protocols that prioritize health and safety while still privileging art-making. I think we all understand how key this is not only for the health of our city but for the mental and emotional well-being of all New Yorkers, to whom arts and culture are so central to their lives. 
Artists and team members have been super respectful and understanding of limitations, and, at the same time, we've partnered in figuring out creative solutions to making amazing art in this context. For example, Leslie Cuyjet was making a group piece that ended up transforming into a solo piece, which ultimately aligned more with her initial artistic vision. Kyle Marshall's piece is another example of how restrictions and basically the experience of the pandemic transformed the work and its intention completely. Kyle abandoned the proposal he was selected for in 2018 (that he was supposed to present in 2020) and instead re-imagined it as Rise, a celebration of dance music and the joy of togetherness after the year of isolation and despair we've all experienced.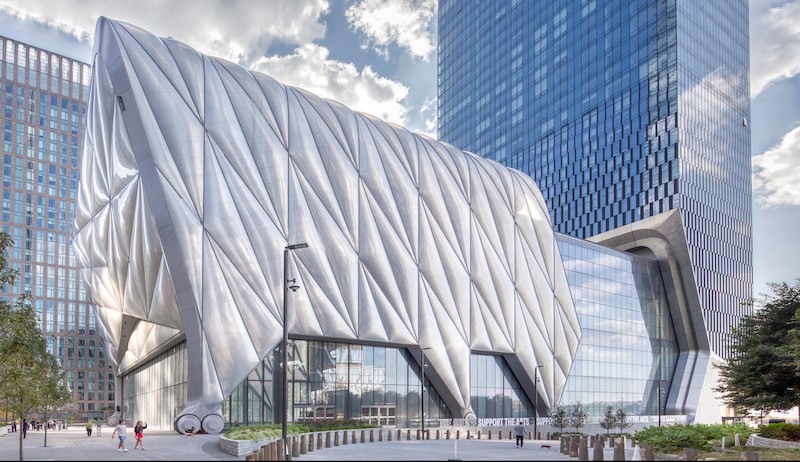 The Shed; Photo by Brett Beyer
Could you walk us through the curation process? Is there a quality that unites these young, ambitious artists? 
SC: Actually, what's interesting about this program is that it's a shared curation with other members of the cultural community throughout the city. We had more than 40 reviewers as part of the first stage, taking the original pool of almost 1600 applicants down to 150. And we had a multidisciplinary panel of 15 colleagues, including some of us at The Shed, who pared that group further down to the 27 selected artists to be presented between this summer and next. 
We had strict selection criteria that guided the process: we looked for early-career artists whose proposals were inventive, had a sense of urgency, and were multidisciplinary/genre-bending with a sense of authenticity and integrity to them. 
The pieces are all very different; however, what's interesting is that the shared experience of 2020 impacted the artists and their work in evident ways, and it has been translated into common themes, aesthetics, and issues that have been put forward. 
Finally, after this second iteration of the program, we've realized that there's a shared curiosity and fearlessness among these early-career artists that makes them particularly risk-taking. This is also expanded by the fact that, for many, it's the first time that they're working at this scale. Because of how flexible and new the building is, there's something that inspires them, particularly in their site-specific presentation of the work at The Shed.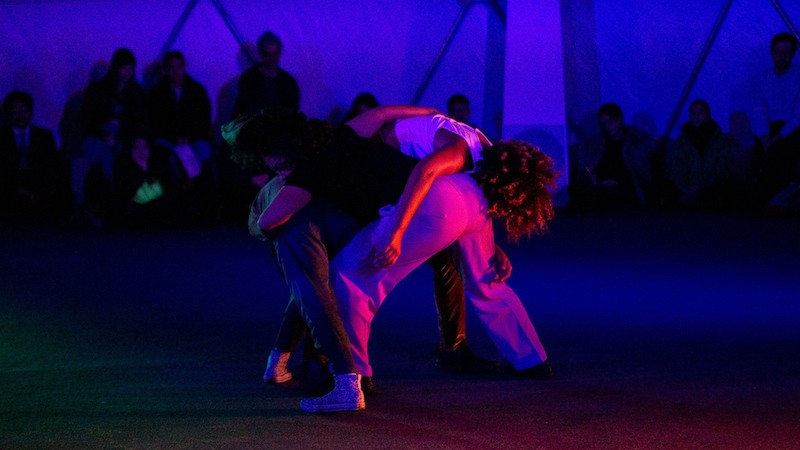 Leslie Cuyjet, Roam, 2019, performed at MoMA PS1, November 2019; Photo by Ellie Burck
It's impossible to predict but has the pandemic, and all the changes it wrought, changed art-making in the 2020s? If so, how would The Shed respond to the new demands of artists?
That's such a great question and, as you say, so hard to respond to and grasp at this moment . . . 
In the early days of the pandemic, we at The Shed felt that it was urgently important to continue to support our artists, so on top of launching the new Open Call, by April 19 of last year, we were sharing with the public the first of our digital commissions as part of a program called Up Close. What that showed us was: artists were eager to have creative space and outlet to reflect on what we were all going through, audiences were in need of opportunities to commune, and for artists' amazing sensitivity and connection as interpreters of reality. Finally, we as an organization could be flexible and adaptable in how we supported artists in creating work. In the case of Up Close, we were intentional with the medium, with digital audience engagement, and with support for artists who were working in these conditions for the first time. This moment also deepened our learning and commitment to accessibility, first in the digital space with ASL interpretation and live captioning, and now in our physical space with live ASL as part of many of the Open Call performances, as well as a verbal description as an opt-in by request accommodation. We're learning but so proud to be finally offering more entry points and making our performances accessible for more and more people. 
Many of our artists this year have incorporated much more technology into their live pieces — augmented reality, pre-recorded sound, film. They were all original ideas to minimize health risk, but have actually been embraced artistically, and have potentiated the pieces themselves, which is an interesting trend to look into moving forward.
This was also reflected in how artists have been collaborating remotely. We had full programs where singers and composers were in different states and still were able to make beautiful art together — i.e. Hawtplates, Troy and Jerome. That even extended to international collaborations, like the one Yo-Yo Lin and Pelenakeke Brown have been engaged in for years. In that case, interestingly enough, as members of the Disability Community, they've both been more keyed into the power of technology for collaboration, even for longer than the pandemic has forced us all into sheltering in place. Moving forward, and now that we're returning to live performance (which feels unique, so special, and definitely cannot compare to virtual), there is a possibility for these hybrid models to continue, and we wonder what that could look like. 
The other piece that has emerged strongly from this time is performance that is more than art — it's ritual, it's service, it's a healing practice. I think this is also a trend that was pre-existing but has been strengthened and expanded much more, as artists have felt the need and the power of communing as part of their work. 
As a cultural organization, I feel this time has also strengthened the importance of collaboration, of being in a mentality and a framework of abundance and generosity. Understanding that artists and art are going to be key to push our societies forward, supporting them is at the forefront of our practice. Knowing we can collaborate to achieve their visions is a path forward.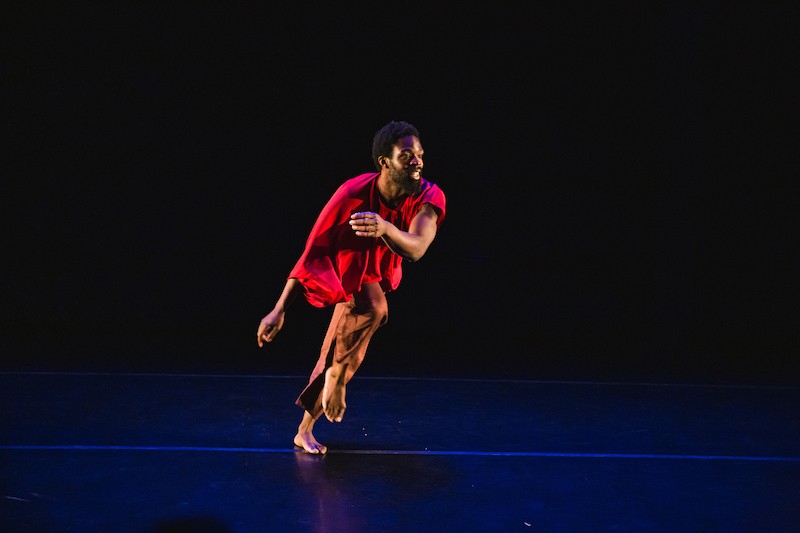 A.D. by Kyle Marshall at Brooklyn Academy of Music; Photo by David Gonsier
It's been a challenging year in many ways, but particularly for artists, who lost funding and opportunities for live witnesses, and for New York City, which bore the brunt of the pandemic in its early days as well as a major loss of business. Does The Shed's
 Open Call
, which wonderfully focuses on early-career, NYC-based artists, embody the hope of the city to rebound? If so, in what ways?
SC: Absolutely! You've articulated that so well! At least, it's definitely been our intention — we're here trying to perfect the execution and achieve the impact. 
We realize that these projects are indeed so ambitious and so expansive . . . The fact that, at this time of uncertainty, these wonderful artists have taken all the constraints, pivoted in their practice and their vision, and embraced it all in creating beautiful work; this not only fills us with hope, but we also trust it will do the same for audiences and for New York as a city with culture and art in its DNA. It's showing us what's possible, what resilience looks like, but most importantly, what creativity, leadership, inspiration, and collaboration can make happen, all values that hopefully can carry beyond the cultural ecosystem and impact every other industry and aspect of our city's life. 
For us, it's become a cornerstone of the organization, showing us what being of, by and for New York can look like, what an organization at the service of the art ecosystem can look like.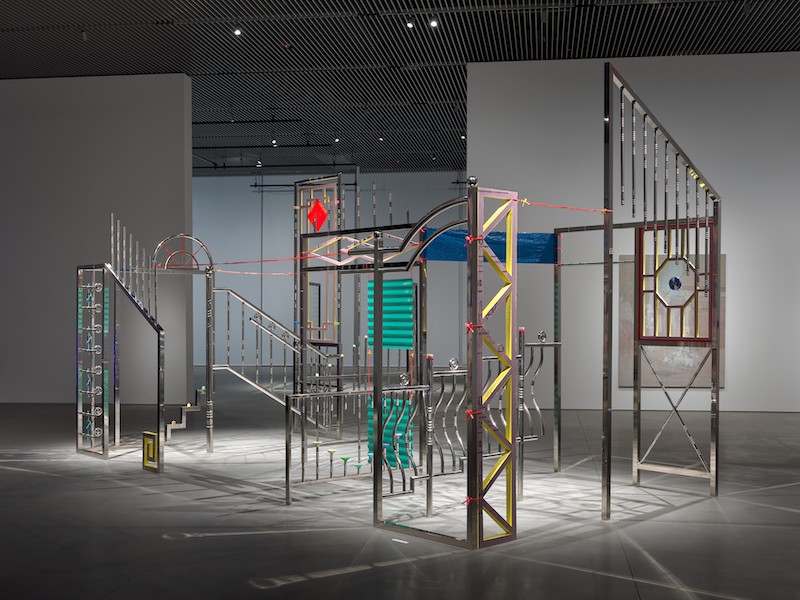 Anne Wu, "A Patterned Universe", 2021. Stainless steel, rigid insulation foam, tinted joint compound, PVC roof panel, tarp, plastic packing rope, cast, and found objects. 10 x 20 x 12 feet. Commissioned by The Shed. Photo: Ronald Amstutz. Courtesy The Shed
What are some tips for audiences to maximize their experience at
 Open Call
?
Open Call is a free program, which is great because everyone can participate. That being said, tickets for the first two weeks of performances sold out so quickly! You should be alert for the second wave of tickets for the two last weeks of performances, coming out early on June 9. 
We will also be providing live streaming for most of the performances, which is a new experiment that we're super excited about. 
Finally, the exhibition that features 11 new films, painting, sculpture, augmented reality, sculpture, and glassworks is on view in our gallery through August 1. And it will also include a live performance as part of Le'Andra LeSeur's piece. It will be a beautiful collaboration with a dancer and a choir, and you won't want to miss it. The full schedule and free ticket information is all on our website, theshed.org/opencall 
Get us excited about the fall season. What's on the horizon for The Shed?
We're really looking forward to welcoming audiences back in larger capacities in the fall for more indoors, in-person experience and welcoming artists back to rehearse and work together closely again (and not just on Zoom meetings), so there's lots of planning happening to make the fall/winter season a welcoming and exciting return for everyone. As more and more restrictions are lifted, we're cautiously able to have a better idea of what's safely possible for audiences, staff, and artists. That said, one of our first up in the fall is a tech-infused animated film exhibition by the artist Ian Cheng. Dates for that, as well as other programming, will be announced as we get into the summer.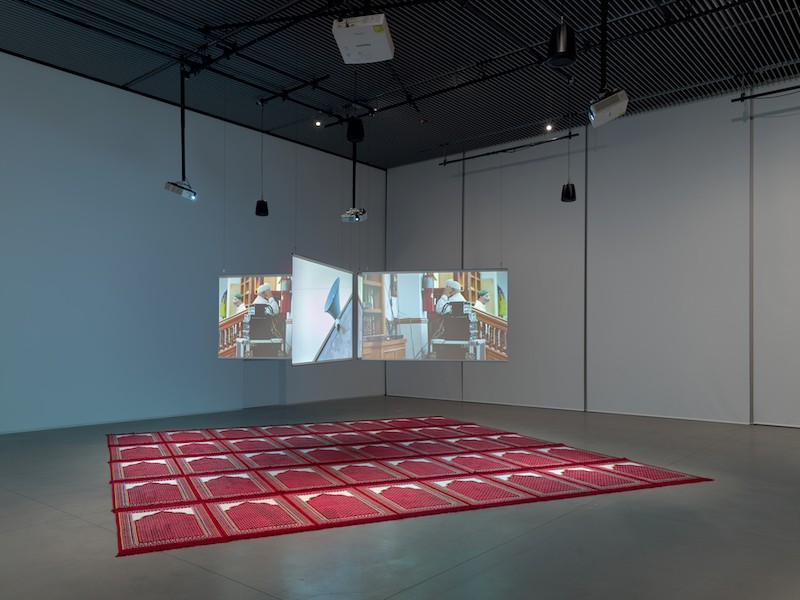 Aisha Amin, "The Earth Has Been Made a Place of Prayer", 2021. Digital video, color, sound, 6 min., 42 sec., Islamic prayer mats. Commissioned by The Shed. Photo: Ronald Amstutz. Courtesy The Shed
---
The Dance Enthusiast Asks questions and creates conversation.
For more of The Dance Enthusiast Asks, click here.
---
The Dance Enthusiast - News, Reviews, Interviews and an Open Invitation for YOU to join the Dance Conversation.