THE DANCE ENTHUSIAST ASKS: Doug Varone on "Scrapbook," Making Dance for Video, and Music from the '40s & '50s
When COVID-19 froze our trajectory through space and time, choreographer Doug Varone used the experience to delve deep into story-telling. Using a multi-media approach, he and his eponymous company created The Scrapbook, which presents ten films over three nights and includes supplements such as playlists and correspondence between a fictional grandmother and grandson during the early days of the pandemic. The themes running throughout are universal to all who've been stuck in what feels like an endless pause on life.
---
The Scrapbook premieres April 19, April 23, and April 25 at 7:30 p.m.
For more information and tickets, visit HERE 
---
Erin Bomboy for The Dance Enthusiast: Where did the inspiration for The Scrapbook come from?
Doug Varone: During the early months of the pandemic, when everything closed down and I knew I wouldn't see my company for a while, it took me a bit of time to figure out how to approach creativity from a distance and to engage my dancers in a new way. I was seeing all sorts of attempts from other artists to try and navigate the Zoom format as a way of sharing both live and recorded material, and I found that really unsatisfying to watch. I knew then that I wanted to make films and really invest in challenging myself and the dancers in a new form. The ten films that were created between June 2020 and February 2021 were the inspiration for The Scrapbook. Eventually, placing them together into one narrative was the goal.
Courtney Barth and Ryan Yamauchi with Doug Varone in Doug Varone's "Scrapbook"; photo courtesy of Doug Varone and Dancers
How much is based in fact, and how much is fiction?
DV: Well, the premise of The Scrapbook is entirely fictional: the characters, their lives, their interactions, but because it is all happening during the early months of the pandemic, there is a revealed truth about what they are going through, what we all were going through that is recognizable to everyone. In that regard, a lot of the choices we were making we based in fact. In addition to the correspondence that is shared between the characters, The Scrapbook also includes articles, podcasts, YouTube videos, Spotify playlists, and other ancillary items that are all reflective of the time and interweave with the themes of the films. We worked with One Foot Productions to create the interactive aspect of the project, and they have been wonderful collaborators. 
Can you give us a hint at the parallel narrative between the grandmother and grandson that will develop over the three-night series?
DV: When we say parallel narrative, we are not only talking about the fictional characters and the things they are experiencing in their lives each month but, more importantly, how the films sync up with that. For instance, one of the films is entitled "Temptation," and we align it with the grandson's want to break out of quarantine and go to a Labor Day party with friends. The films are all related to the themes that the grandmother and her grandson are experiencing, so in that regard are parallel stories that do not feature either character.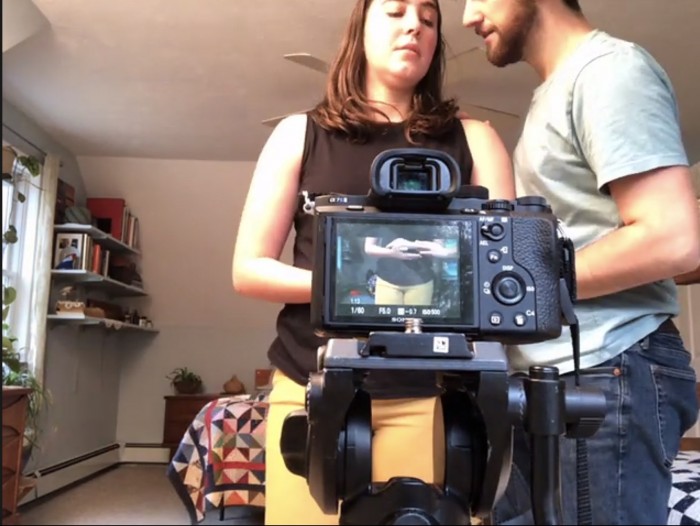 Hollis Bartlett and Nattie Trogdon in Doug Varone's "Scrapbook";  photo courtesy of Doug Varone and Dancers
The project is described as "10 months  10 letters  10 stories  10 songs  10 films." What is the significance of the number 10? How did the 10 letters, 10 stories, 10 songs, and 10 films come together over 10 months?
DV: We began with 10 films and looked at the best way to connect them. The first 10 months of the pandemic was an extraordinary time, not only because of COVID but also the potency of social justice issues spilling out across the country. The number 10 is only significant in that it embraces like ideas within the creative process and a way to connect them. 
The Scrapbook uses music from the '40s and '50s, the soundtrack to the lives of the Greatest Generation and the Silent Generation. What makes these oldies but goodies resonate today with people decades younger?
DV: I really believe that great songs are timeless. As a youngster in the 60's, my parents played this music constantly, and they have been part of my life ever since. I find that many young kids today are drawn to the sound of these songs from another era, informing them of another time that might have been simpler and less cautious.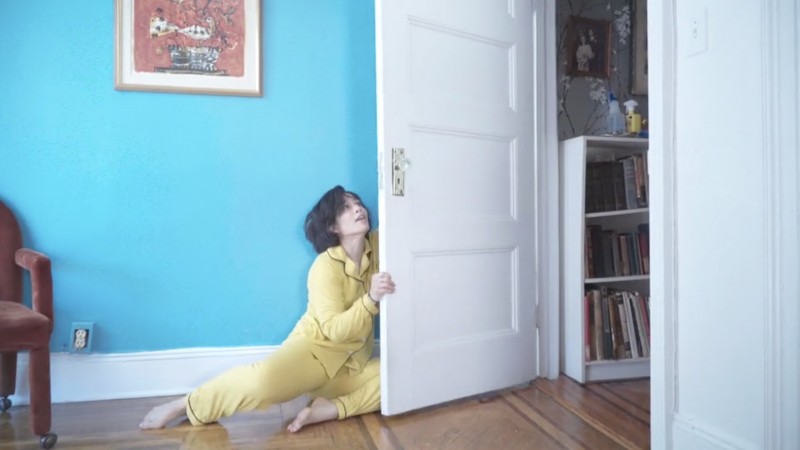 Aya Wilson in Doug Varone's "Scrapbook";  photo courtesy of Doug Varone and Dancers
We look back on the '40s and '50s with nostalgia—life seemed simpler and less plugged in then. When going through the memorabilia of that era, what item do you wish would make a comeback? What's one mindset from then, now lost, that could enhance society in the 2020s?
DV: It was a radically different time. I used to hop on a bike and disappear for an entire day with my friends without even a thought. There were no cell phones or ways to immediately call home.  I want to say that there was more trust then, less to worry about. Of course, I was a kid and perhaps saw only the things I wanted to see. 
I was recently given an Etch-a-Sketch, and I was reminded of the time it took to build something interesting on this device. Time is such an important element in our lives, and today the world moves so fast, allowing no time to really delve into and sit with ideas and thoughts. This is one of the great positives that has happened in the past year: time has seriously slowed down for many of us in ways that were and still are affecting our lives.
As a dance writer, with only video to cover in the last year, I've had time to interrogate how I see dance differently than on a stage, which is to say the details are more resonant, yet taking in the whole can prove challenging, depending on the editing. As a choreographer, did you find that you were dealing with a different beast? Did your process change due to the medium being video rather than live performance? Any tips for budding choreographers making their first video piece?
DV: For me, from the outset, I saw this project as an opportunity to create films. Some of them are movement-oriented, but many are more like short stories that are character and story-driven. In that regard, they are not traditional dance films. I did not want to make dance films but wanted to challenge myself to be a storyteller in a different way. That demands different tools, ways of viewing the material, ways of understanding how the frame of a camera can create more emotion than the material itself. I've loved this project because it pushed me to find new territory.
As choreographers, we can't enter into a new form without understanding the rules. I think budding choreographers are far savvier at this because these are all skill sets that they have grown up with.
Michael Trusnovec in Doug Varone's "Scrapbook";  photo courtesy of Doug Varone and Dancers
How did you personally weather the pandemic? How about your company? What unexpected positive came out of Covid-19 for you and your company?
DV: The company has not worked together since March 12th of last year, and although we have worked creatively on these films and have been teaching at colleges and universities virtually for the past year (as part of our virtual education program), we have not seen each other in-person altogether as a company. I have been living in my log cabin in upstate NY, working daily with my administrative staff and board to ensure that we are in a solid financial place when we are ready to return to live rehearsals and performance. For me personally, I have really appreciated the time away from the everyday grind of running a dance company. It has been a chance to revitalize myself and think about the future in ways that have felt luxuriously unfamiliar. 
What does Doug Varone & Dancers have planned post-pandemic?
DV: We are just about to head into our first bubble residency, and with all of us having been vaccinated, I am hoping that once we are comfortable with the situation, we'll be able to rehearse without concern. I plan on the beginning process of a new work but really am just eager to be back in the studio playing again. Perhaps that's the take away from a year away; the gratitude I have in returning is not about product but truly about process. I don't really care what I make, as long as the discovery is in forging new ideas. 
We do have some tour dates this coming year: Dallas, San Jose, LA, Miami, and a few others, and it will be exciting to share our work with a live public audience again. Now we just have to get back in shape!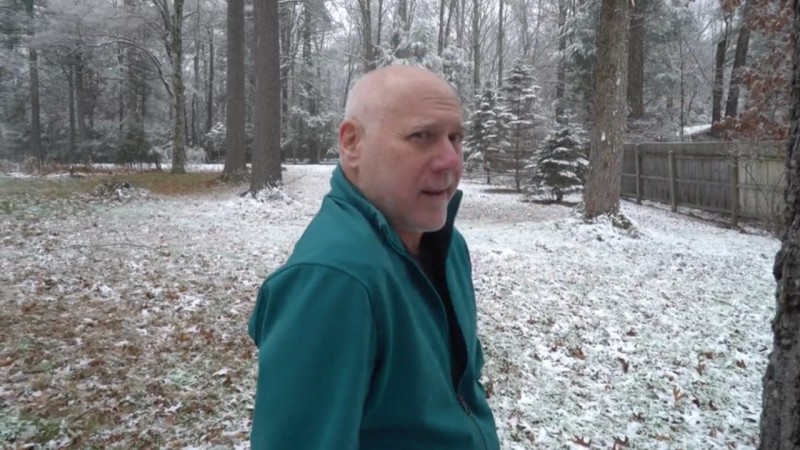 Doug Varone in his "Scrapbook";  photo courtesy of Doug Varone and Dancers
---
Award-winning choreographer and director, Doug Varone works in dance, theater, opera, film, and fashion. He is a passionate educator and articulate advocate for dance. By any measure, his work is extraordinary for its emotional range, kinetic breadth and the many arenas in which he works. His New York City-based Doug Varone and Dancers has been commissioned and presented to critical acclaim by leading international venues for close to three decades.
---
For more than 30 years, Doug Varone and Dancers has devoted itself to the humanity and virtuosity of dance, reaching out to our audiences well beyond the proscenium arch. We believe this philosophy has allowed us to endure, earning the reputation as one of the most respected dance companies working today. Over time, we've created an expansive legacy encompassing dance, theatre, opera and film – establishing an impressive body of work. The recipient of 11 Bessie Awards, the Company has toured to more than 125 cities in 45 states across the US and in Europe, Asia, Canada, and South America. In opera and theatre, the Company regularly collaborates on the many Varone-directed or choreographed productions that have been produced around the world.
---
The Dance Enthusiast Asks questions and creates conversation.
For more of The Dance Enthusiast Asks, click here.
---
The Dance Enthusiast - News, Reviews, Interviews and an Open Invitation for YOU to join the Dance Conversation.