Related Features
Contribute
Your support helps us cover dance in New York City and beyond! Donate now.
The Dance Enthusiast Asks Jonathan Hollander and Tadej Brdnik About Contemporary Indian Dance
Battery Dance's 40th Anniversary Season Unveils the World Premiere of "The Durga Project"
The Durga Project, an original work created by Jonathan Hollander, Battery Dance's Founder and Artistic Director, weaves together the movement vocabularies, sonorities and aesthetics of the U.S. and India into a choreographic fantasy of 30 minutes in length.
The program will be complemented by works commissioned by European and African choreographers: Inter/Ago, created in 2015 by Tadej Brdnik, the recently retired Martha Graham principal dancer and choreographer, who has danced with Battery Dance since 1998; and Observatory, created in 2014 by Theo Ndindwa, founder of South Africa's iKapa Dance Theatre.
In The Durga Project, guest artist Unnath H.R., one of the leading classical dancers of his generation in India, engages in a symbiotic process with Battery's Western-trained team of five brilliant and diverse dancers, yielding swaths of distinctive, yet undefinable, choreography that are like none other in the Company's repertoire.
The Durga Project:
May 11 @ 2 & 7PM; May 12 @ 7PM at The Schimmel Center for the Arts at Pace University

August 14-19, 2016 at the 35th annual Battery Dance Festival in Battery Park City
More details HERE.
---
Jonathan Hollander, President and Artistic Director of Battery Dance:
Sammi Lim for The Dance Enthusiast: Happy 40th anniversary to Battery Dance!
Jonathan Hollander: Thank you!
TDE: I'm curious to know if your intrigue for Indian dance blossomed before or after the company's founding in 1976?
JH: Perceptive question! I was a high school exchange student to India in 1968. I lived with a highly cultured Indian family in Bombay, as it was called then, and met extraordinary dancers who have continued to influence me from that day onwards. When you live with a family, eat the food, wear the clothes and take part in the life, you get to know a culture in a way that fly-by visits do not permit.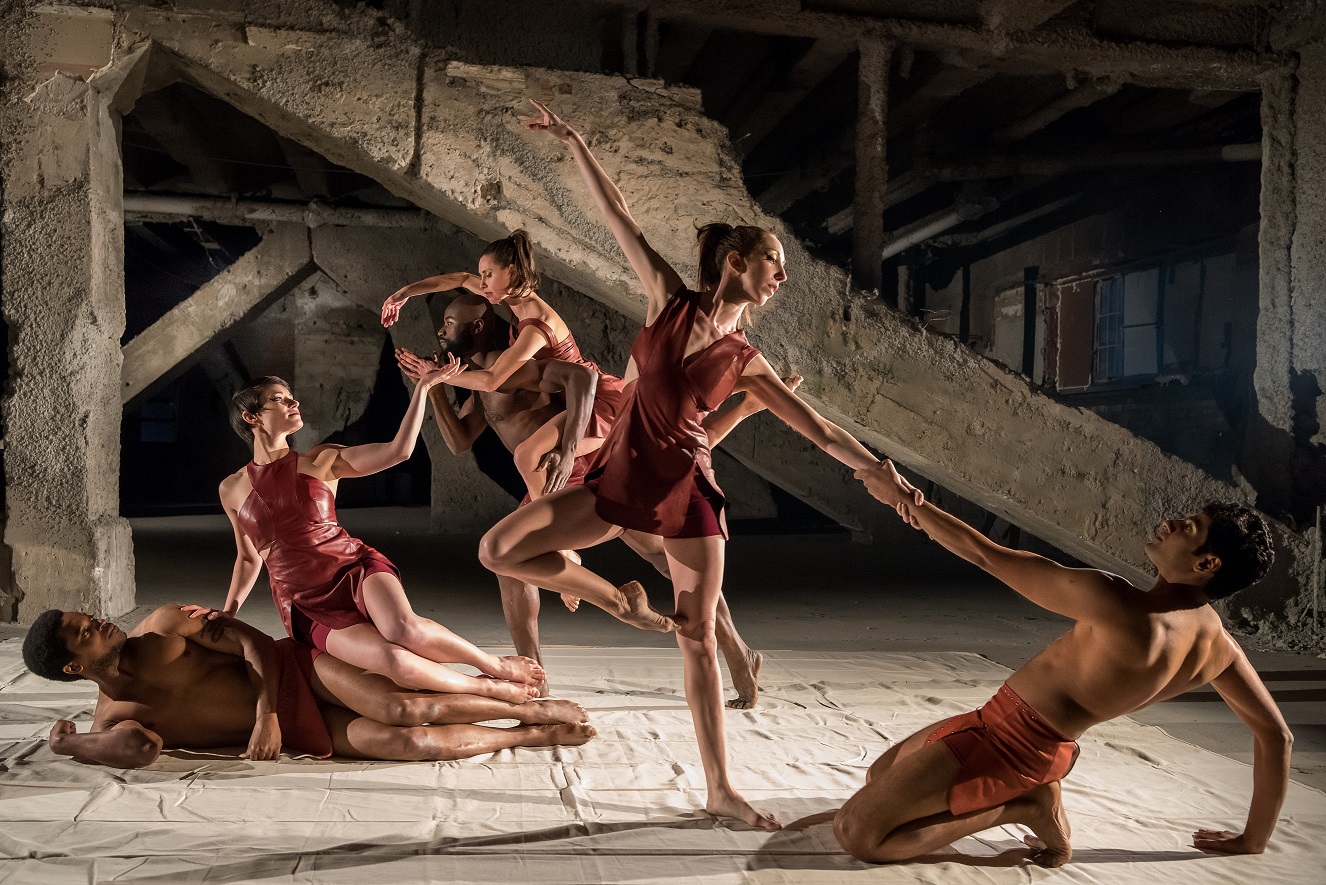 Sean Scantlebury, Bethany Mitchell, Clement Mensah, Mira Cook, Robin Cantrell, and Unnath H.R. in The Durga Project. Photo copyright: House of Morgan.

TDE: Battery Dance is practically a household name among dance enthusiasts in India, which is little surprise, judging by the company's level of involvement in supporting and hosting Indian artists and art forms. What does The Durga Project aim to unveil on its international tour?
JH: Just as in any art form, it is impossible to predict the impact of a work - even two people sitting next to each other in the audience will take away their own private experience. I know that the Indian audience and people of Indian origin will approach the work with certain preconceptions because of their own understanding of the meaning of Durga. However, it wasn't the deity Durga that inspired this work.  It was actually Raga Durga, the musical rendition performed by Rajan and Sajan Mishra, which I first heard in 1991, that was the springboard.
Our Company's decision to invite Unnath HR from India was pivotal in defining what will ultimately be the character of this work. There was literally no way to predict how a dancer trained in classical Bharatanatyam, yoga and regional folk dance of India would interact with Battery's Western trained dancers. In taking that risk, I hope that we have achieved something unique, something communicative and inspiring for all who watch. 
TDE: Dance rehearsals aside, how are your dancers (mentally/spiritually) preparing for the performance? ​
JH: Our process of preparation is different from the norm because of the presence of Unnath. Just as I had to adjust to the culture of India as a teenage exchange student, and was thereby changed forever, my dancers and Unnath are learning to trust and be open to each other. The melding of these two forces creates a tension in the piece which is resulting in something unknown and unachievable previously.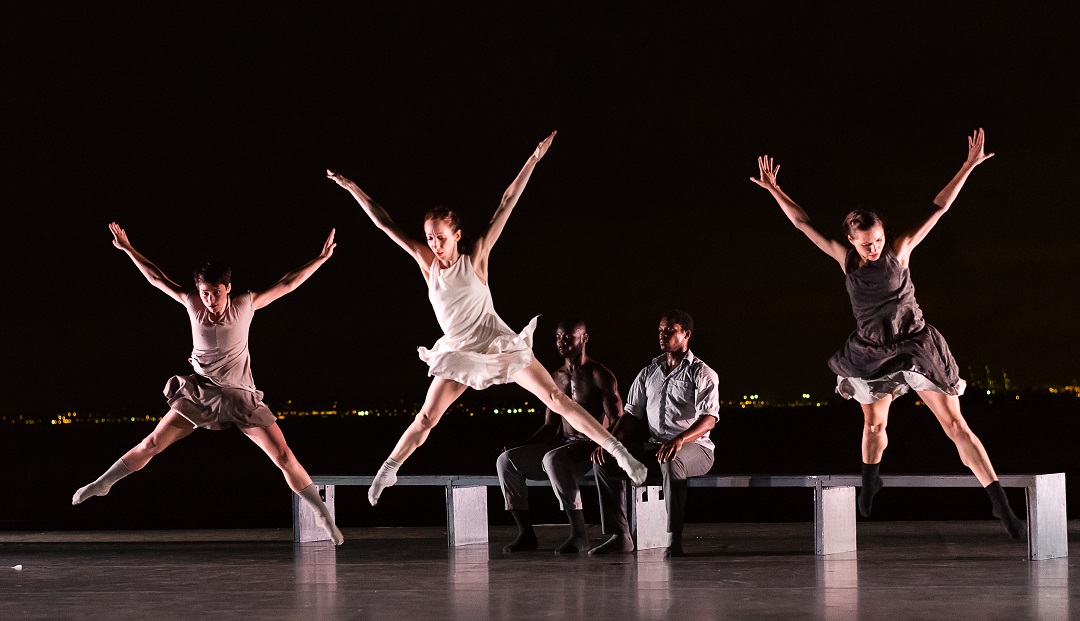 Bethany Mitchell, Robin Cantrell, Clement Mensah, Sean Scantlebury, and Mira Cook in InterAgo. Battery Dance Festival 2015/Robert F. Wagner, Jr. Park.

Tadej Brdnik, Dancer and Choreographer with Battery Dance:
TDE: Tell me about Inter/Ago, which you choreographed last year. Would you describe it as gripping or soothing?
Tadej Brdnik: Inter/Ago is a work I created on the dancers of Battery Dance. It was not set to be either soothing or gripping, though it has traces of both qualities in it.  I was interested in exploring life's paths and the consequences of interactions with the paths of those around us.
TDE: While the similarities in contemporary American dance works are few and far between, would it be presumptuous to say that Indian dance forms share more ground elements? 
TB: As a longtime dancer and educator with Battery Dance, I was fortunate to travel and interact with different dance forms in India on more than a few occasions. What impressed me so much was how the source of their movement expression is rooted in their deepest beliefs and experiences, and never conceptual.
The difference between them, for an untrained eye, might on the surface be less obvious. But I do believe that as their contemporary dance expression matures, as it did in Europe and the US, so will their differences. 
TDE: Dance rehearsals aside, how are your dancers (mentally/spiritually) preparing for the performance?
TB: Inter/Ago is a work that needs a very particular flow and great understanding of each other. The dancers need to be both physically and emotionally ready. It is also a work that is made for the community of dancers - a group that is individualistic in nature, but understanding of each other's needs. They need to continue to stay connected.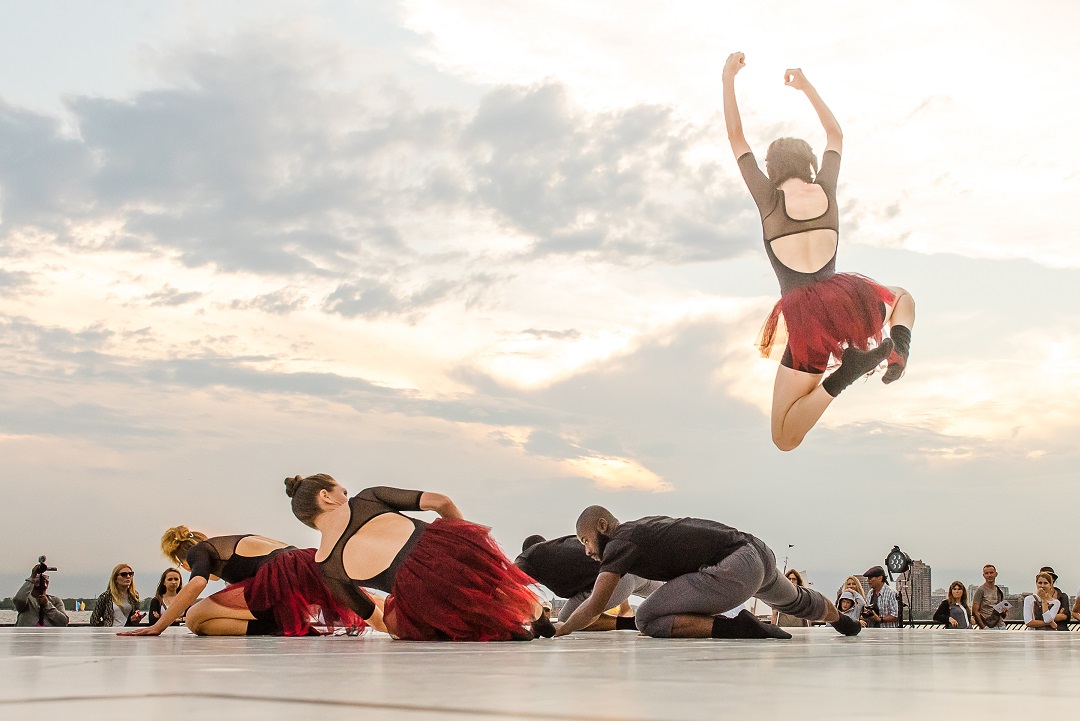 Carmen Nicole, Mira Cook, Sean Scantlebury, Clement Mensah, and Robin Cantrell in Observatory. Battery Dance Festival 2014/Robert F. Wagner, Jr. Park.