The Dance Enthusiast Asks The Martha Graham Dance Company (Fashion Edition):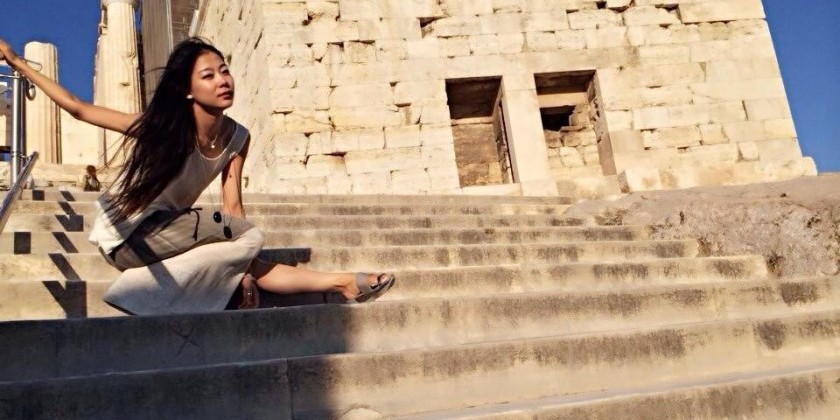 What To Wear on Tour?
Meet the Martha Graham Dance Company and its artistic director Janet Eilber at our Enthusiastic Event on November 12th
For more information and to buy tickets click
here
The legendary Martha Graham Dance Company has already kicked off its 2014-2015 season with Notes on a Voyage, a dance and media event that took place at the Martha Graham Studio Theater from September 16-17, and focused on Graham's process in creating the 1953 piece Voyage. The company has plans to tour over 20 cities this season, including Austin, Texas; Tulsa, Oklahoma and Chapel Hill, North Carolina, with its New York Season celebrating Shape & Design at The Joyce Theater from February 10-22, 2015.  (For more information on the Martha Graham Dance Company's season, please visit the company website.)
Another unique feature of the company's season is their upcoming performance at The Museum at FIT's Fashion and Culture series on October 28. The series is in conjunction with the museum's Dance and Fashion exhibit, which explores the relationship between the two art forms and is currently on display until January 3, 2015.  (For more information on the exhibit, please visit the museum's website.)
And, finally we are enthused to announce that the Martha Graham Dance Company is one of The Dance Enthusiast's esteemed guests for our inaugural Enthusiastic Event! on November 12th. Dance & Fashion is The  Dance Enthusiast's theme for our event and for much of our coverage this Fall into early Winter dance season.
In keeping with our theme, The Dance Enthusiast has asked some of the Martha Graham Dance Company members, Principal dancer, Lloyd Knight; Soloist, Mariya Dashkina Maddux; and Dancers, Natasha Diamond-Walker and Ying Xin, to share their thoughts on their relationship to fashion, both on- and off-stage while on tour:
---
Maxine Montilus for The Dance Enthusiast: Describe your personal style in one sentence.
Lloyd Knight: A mix of old and new; I love vintage, but also look forward to new and contemporary flare.
Mariya Dashkina Maddux: My personal style is very casual and geared towards comfort and functionality.
Natasha Diamond-Walker: Comfortable, classic, and sexy with a healthy dose of leather.
Ying Xin: Fun, feminine; dare to mix it up and never boring.
Lloyd Knight on Tour with Martha Graham Dance Company
TDE: Describe the articles of clothing you take on the road with you.  What must you pack for your tour?
Lloyd: I'm a bit crazy when packing! I love to have options, especially when it comes to dance clothes. First off, I always carry a reception outfit just in case we have a post-show shindig or even a post-show discussion. I will make my packing choices depending on what season we're in and where we're traveling. Of course, I always bring different options for dance clothes; I like to choose my dance clothes the morning of, depending on my mood.
TDE: What is your favorite dress outfit?
Lloyd: So far it's been a kilt that I received from Scotland. It's black with different shades of gray, so it makes for a great reception item! 
Mariya: My favorite dress outfit would have to be gala dresses. One of my most adored pieces that I am honored to have was made for me by Maurizio Nardi who, besides being an amazing designer, has also performed with the company for many years as a principal dancer. The dress is made of various colors of silk chiffon, it flows beautifully and has an ethereal quality to it. It is gorgeous and I can't wait to wear it again.
Natasha: My most classically favorite "go-to" dress outfit is a pair of fitted black leather pants from Ralph Lauren with a white cotton top. Depending on the event, I'll either wear my harrow black leather Rag & Bone ankle boots or a fun colorful pump.
Yin: A white silk dress.
Natasha Diamond-Walker and Ying Xin at the Acropolis in Athens, Greece
TDE: What advice would you give to other artists touring about what to pack for the road?
Natasha: Stick with packing light-weight basics in neutral colors that can be easily paired up to make comfy outfits. Wear your basic shoes on the airplane, and pack your dressy ones. I suggest packing a hat or scarf for sun protection, a canvas tote, a loose-fitted casual dress, and a cashmere cardigan or sweater because cashmere is a fine, light material that keeps you incredibly warm. Never pack valuables into checked or overhead bags; keep your jewelry and important stuff in your purse with you or under the seat!
And as an artist preparing for a long tour, I recommend taking with you props and tools that help to maintain your skills and ensure your good health while you're away. I always take my Pilates props such as a Theraband, a magic circle, a roller, and a yoga block. I load up on my personal pharmacy, just in case there are any germs or sick people I come into contact with while traveling. I always have with me oregano oil, "Emergen-C" packets, multi-vitamins, Echinacea, vitamin C, cough drops, tiger balm, muscle relaxers, Advil, and my first aid kit. The other dancers in the company always know they can rely on me to have what they need; I'm a walking pharmacy on tour!
TDE: What was your biggest fashion disaster on/offstage?
Mariya: My biggest fashion disaster happened a few years back during an intermission of a performance in Israel. I was about to premiere in a piece called Deaths and Entrances, a beautiful dramatic dance about the Bronte sisters that uses gorgeous gowns designed by Oscar de la Renta for one of the casts. I absolutely adore the dress and was beyond excited to premiere in the piece wearing this absolutely stunning rust-colored dress. This was a physically demanding program for me, and on such occasions I usually have a small packet of honey to get a little needed sugar kick. All dressed and ready to go, I was heading to the stage, holding on to the honey to snack on later, and moments later realized that I had managed somehow to spill a generous amount onto the front of the gown. I was in shock! With the stage manager giving a five minute warning, I was shaking in the wardrobe with a few people around me trying to get the honey off. I just kept asking, "Is it ruined? Did I ruin it?"  It was surreal, and everything seemed to be going in slow motion. Luckily the material was slightly iridescent and forgiving in that way under the stage lights, but my lesson was learned. Costumes and honey are now kept at far distances. In the end, the dress was cleaned and looked as good as new. 
TDE: What are your favorite costumes, and why?
Lloyd: First would be my costume for Errand into the Maze; it's daring in its design of a black brief with a white zig zag design around one arm and leg and strapped horns and a stick -- it's truly a piece of art!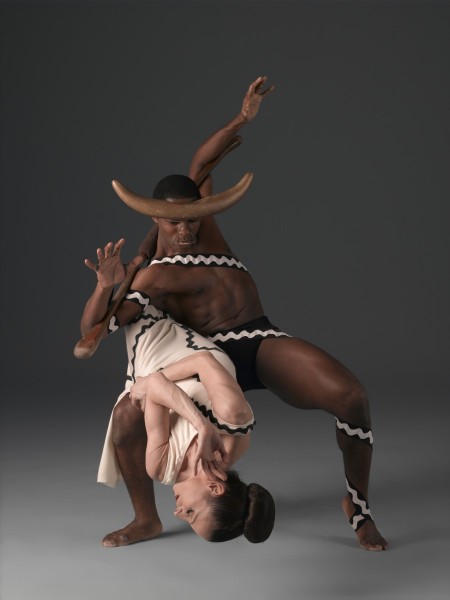 Elizabeth Auclair and Whitney Hunter in Martha Graham's Errand Into the Maze Photo by John Deane
Copyright John Deane
Second, the costume for Embattled Garden -- it's simple with a wool high-waisted pant that comes mid-torso and is very fitted; it gives me a Spanish feel. Third, the Preacher costume for Appalachian Spring: I'm completely covered from head to toe, and the minute I zip up the coat all the way and put on my hat, I know I'm a completely different person! Fourth, the Massager of Death costume for Clytemnestra; it's the first dress I ever wore on stage and it makes a big statement-bright purple and tight at the top with gold trim. And lastly, my newest costume for the lead of Echo.  I love the color, which is gray with hints of blue, and is a Turtle-neck (which I love) with a fitted pant and an amazing pleated skirt! 
Mariya: Some of my most favorite costumes are for the Bride in Appalachian Spring and Lady in Red for Diversion of Angels.  The gown for the Bride is so iconic and representative of the time that this piece sets out to describe. A part of me relates to that time period, which is probably why I enjoy wearing the costume. In addition, so much of the Bride's choreography utilizes the different features of the dress that in a way it almost becomes an inevitable extension of her being.
Mariya Dashkina Maddux in Martha Graham's Appalachian Spring; Photo by Hibbard Nash Photography
And the dress for the Lady in Red is just fantastic. It fits like second skin and the color is so rich and bright that it can be transforming. I usually don't wear such bright colors in real life, but this color of red with a touch of gold is a costume with simplicity of design at its best.
Natasha Diamond-Walker on tour in Sicily
TDE: Do you have a personal statement fashion piece?
Lloyd: I love chains and bracelets. An item that has been a really big hit is an old Chinese coin I received at my dear friend and co-dancer Xio-Chuan's wedding, I put it on a gold chain and I love to wear it, even to dance! Thanks Chuan!
Mariya: I own a few pairs of fishnet stockings; they don't come out to play too often but when they do, they add a fun touch to any outfit. 
Natasha: I always wear a very fine 14-karat gold necklace. It is very thin and has an outline of a heart at the center. It seems as if it's floating around my neck. I love it!
Yin: A blue topaz bow necklace. It doesn't matter what kind of outfit I'm wearing. A little cute and girly piece will always show up somewhere.