Related Features
Contribute
Your support helps us cover dance in New York City and beyond! Donate now.
The Dance Enthusiast Exclusive: First Look at "HUNTER" Butoh Dancer Mina Nishimura Mesmerizes in Late Sea's Stunning Music Video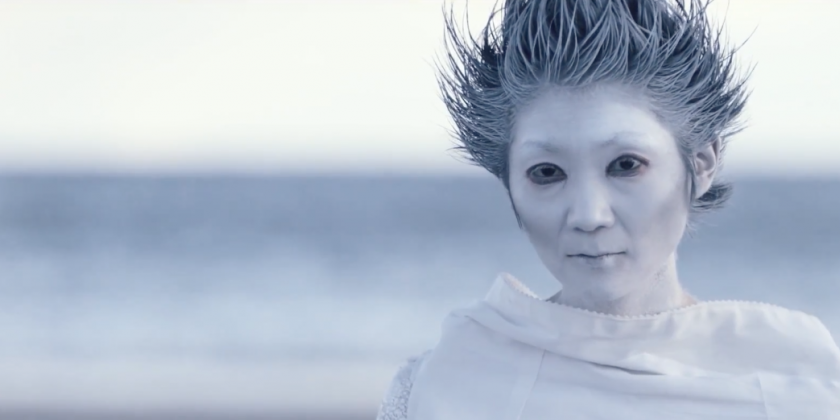 How Butoh and the Literature of Franz Kafka Figure Into Late Sea's Latest Production
The release of Late Sea's new music video for "Hunter," revolves around the mesmerizing movement of Butoh dancer Mina Nishimura, who choreographed her routine specifically for the song. Hunter is part of an EP titled The Writers Trilogy—an homage to three writers: Franz Kafka, Baruch Spinoza and Paul Celan.  (Read Kafka's short story titled 'The Hunter Gracchus' Read Here)
Musicians: Late Sea (Izzy Gliksberg for vocals and keyboards; Sam Nester on trumpet; Joe Peri on drums; Yoav Shemesh on keyboards; Charlotte Mundy as backing vocals) Choreographer and Dancer:Japanese dance artist Mina Nishimura Film Makers: Andrey Alistratov and Hazuki Aikawa
---
Sammi Lim for The Dance Enthusiast: Hey, Mina! Our last  interview was two years ago (wow!) and touched on Princess Cabbage/Celery of Everything at Danspace Project. From what I can tell, you haven't lost your signature expressiveness. It was hard to tear my eyes away from your timely blinking and winking and eyeball rolling in 'Hunter.'
Mina Nishimura: Yes, I have been continuing to let my face be part of my bodily expression! When a body goes through different internal landscapes, those different states are often reflected in my face.
I have been trying to liberate my faces from the unspoken rule of neutrality in dance, which I also totally understand, as your facial expression can give spectators unnecessary or misleading information. But in my own work, I have been able to pursue my practice. Sometimes, facial expressions are too subtle to be seen on a large stage, but a film project like this was the perfect opportunity for me to pursue my practice.
Photo courtesy of Mina Nishimura.
Dance Enthusiast: And Late Sea, very happy to have discovered your music which, upon first impression, reminded me of the American Gods' soundtrack. I hope you deem that a good thing!
Late Sea: That's a great thing!
TDE: How did Late Sea derive its namesake?
Late Sea: To be honest I have no idea. But it has a nice ring to it, doesn't it?
Dance Enthusiast: Having read 'The Metamorphosis,' 'The Castle' and 'The Trial', I was surprised to have missed 'The Hunter Gracchus' by Kafka. How did you chance upon this short story and what about it spoke to you?
Late Sea: I love Kafka and I found this particular story in one of his short stories volume. I find it very special because it has a mythological feeling to it: The hunter is sailing on the sea for eternity and he is described as a larger-than-life character (mostly in the second fragment). On the other hand the story is a bit funny, and the characters are also petty. It makes it very special, almost as though it was taken from a sarcastic version of Greek mythology.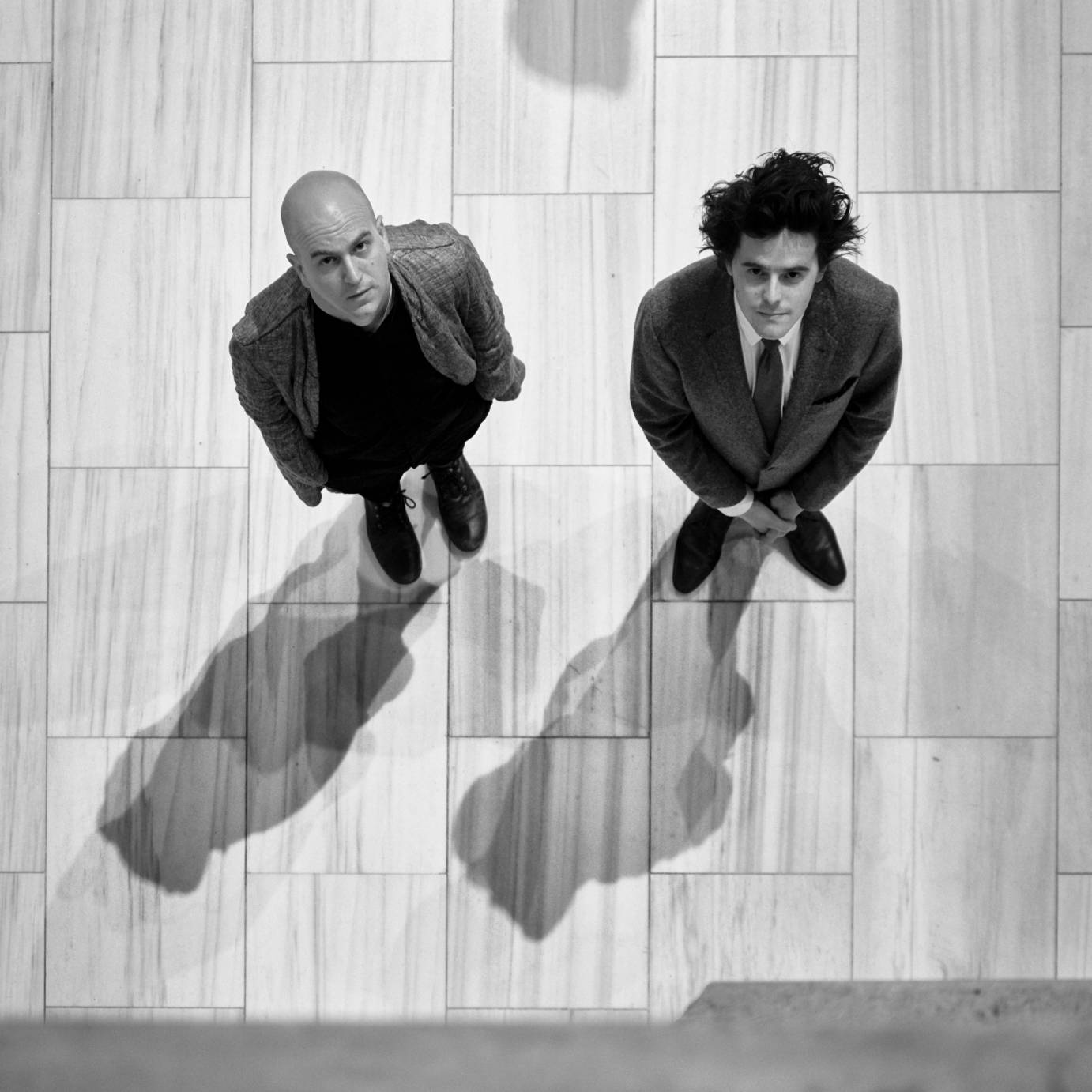 Izzy Gliksberg and Sam Nester of Late Sea. Photo courtesy of Late Sea.
Dance Enthusiast: How did you come into cahoots with Mina Nishimura? She is perfect for the song!
Late Sea: Thanks! She is a friend of the filmmakers. They showed me videos of her and I was sold. She is so perfect for the video. And with all that makeup she actually looks like young Franz Kafka. Im happy and proud to have worked with her.
Dance Enthusiast: Mina, did you attempt your own androgynous hair and makeup? And, why the 'sex-less' aesthetics?
Nishimura: No, we had an amazing make-up artist by the name of Elizaveta Muravieva It was such a pleasure and an inspiration to work with her! I think we (Andrey and Haz, the directors, and Izzy) all shared the vision for a gender-less character from the beginning. This character was not human, but some kind of god or a spiritual presence.
Late Sea - Hunter- (Ode to Franz Kafka)- Dancer: Mina Nishimura
Dance Enthusiast: While choreographing, were you more motivated by: the music, the lyrics or your personal sentiments surrounding Franz Kakfa?
Nishimura: I worked on the choreography with direct inspirations from the music and the lyrics. I also knew that this whole project was based on Franz Kafka's stories, and Izzy shared with me which part of the story specifically inspired him to make the music. So I am sure it was somewhere in my mind when composing movements. But rather than connecting the movements to the original source, I was more interested in connecting to Izzy's creation through my body.
Dance Enthusiast: Narrative seems to be more of an afterthought in Kafka's tale, your song, and the resulting music video, compared to conveying a certain emotion. Comments?
Late Sea: Definitely! I think narrative is secondary to the emotional expression in this type of work. Sometimes to find and express an unusual emotion through words, or music,or dance, you need to break the usual structure of the plot-line. Kafka was a master of that. But then something else happens: breaking down the usual patterns of expression becomes a part of the story itself. In other words: many times when expressing something tha'ts difficult to express, the inexpressive characteristic of that thing becomes a part of the story.
Late Sea - Hunter- (Ode to Franz Kafka)- Dancer: Mina Nishimura/Video Still
Dance Enthusiast: I try not to read too much into lyrics, but I'd like to hear your interpretation of the last line in 'Hunter': "The silver swans have drowned beneath the wave…"
Late Sea: It might be a promise that was made long ago, some glorious, epic promise. But instead of being fulfilled, the promise stands in the air and weighs on the protagonist until he feels like the magic of it died...
Dance Enthusiast : Mina, where was the music video shot? And, how did you cope on that windy beach in nothing but a flimsy white dress?
Nishimura: It was shot on the beach in Fort Tilden, Queens, not far from the Rockaways. It was a freezing day and on that windy beach, I felt like all skin pores rose two inches above my skin — an extreme version of goose bumps! My body literally could not stop shaking, but the critical conditions created a sense of evolution — my body was becoming something un-human, or a different version of human!
Late Sea - Hunter- (Ode to Franz Kafka)- Dancer: Mina Nishimura/Video Still
Dance Enthusiast: What other projects are you currently working on?
Nishimura: I just finished premiering my newest evening-length work, Bladder Inn (and X, Y, Z, W) at Danspace Project. The subtle and ghosty work dealt with spiritual and invisible presence, timelessness, and man's slippery existence. Maybe those themes are not too far from those of the "Hunter" project!
I am also currently engaged in other performances: rehearsing with choreographers such as John Jasperse, Rahsuan Mitchel + Silas Riener and Kota Yamazaki, who is my husband and my butoh mentor.
---
The Dance Enthusiast Asks Questions and Creates Conversation.
For more of The Dance Enthusiast Asks, click here.  
Share your #AudienceReview of this show or others
---