Don't Miss "I Am Enough" An LGBTQ Ballet Music Video featuring Dancers Skye Mattox and Georgina Pazcoguin that premiered on National Coming Out Day
Meet the Artists Behind "I Am Enough": Victoria Duncan, Director, Adriana Pierce, Choreographer, and Singer/Songwriter Daphne Willis ... WATCH THE FULL VIDEO HERE!
Premiering on YOUTUBE on National Coming Out Day (October 11th), the ballet music video I Am Enough set a precedent by being the first ballet  pas de deux ( that we know of)  to portray a lesbian couple. Featuring  the bright talents of  NYC Ballet soloist Georgina Pazcoguin, and Broadway dancer Skye Mattox, the endeavor hopes to offer support  to the LGBT community. 
Says Victoria Duncan, director of I Am Enough , "The fact of the matter is—not everyone in the LGBTQ community is able to be out safely and openly. We are lucky that we have the freedom to tell this story and to use the digital platform to reach those who are still struggling."
 You can watch the full video here at the top of our page!
 
Victoria Duncan, Director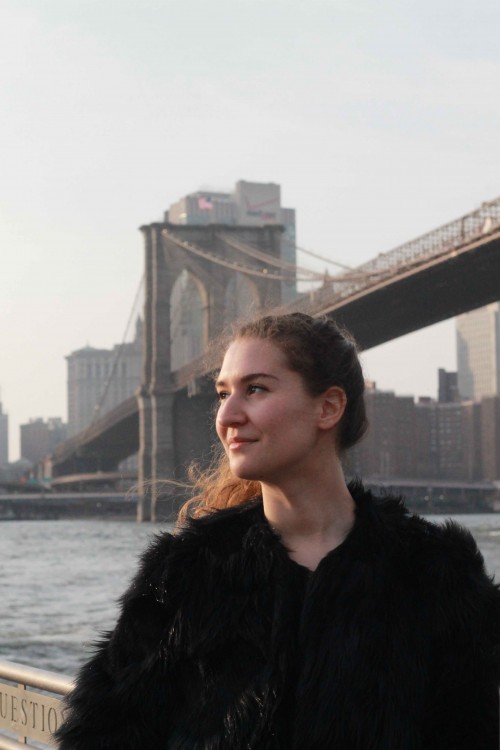 Victoria Duncan. Photo courtesy of the artist.
Sammi Lim for The Dance Enthusiast: As Daphne Willis's representative, confidante and collaborator,  describe your journey thus far.
Victoria Duncan: Since graduating from NYU's Tisch School of the Arts and working in the film industry for several years, I've been brainstorming on what my next passion project would be, and kept coming back to the idea of a romantic female ballet. It is personally important to me. When I was a young ballet dancer, I would have loved to see something like this. It would have validated a lot of my internal struggles and made me feel less alone.
I approached Daphne because she brings a sincerity to her music that I vibed with very well. We both decided that "I Am Enough" would be the perfect backdrop for the video since it touches on the theme of self-love which is very important for the coming out process.
From there I reached out to Adriana, our choreographer, after finding her work online. I knew we would make a great team.
The Dance Enthusiast: What can you divulge about the music video before its premiere?
Duncan: Expect something that utilizes production, design, and lighting to convey mood. Our production designer, Lee Milby, and her team created this beautiful, black chandelier that the dancers move and interact through in a way that is quite striking.
We wanted the chandelier to serve as a metaphor for what holds the two women back in their relationship as well as their personal journeys. When they are finally able to dance in front of the chandelier, they have liberated themselves from their personal burdens, even though the it still sits in the background as a constant reminder. 
Sheldon Walker, our cinematographer, used reds to convey passion, yellows to convey joy, and shadows to convey sadness and uncertainty.
Adriana Pierce choreographed a piece that shows a relationship tastefully, authentically, and passionately. We  weren't subtle, and I think that makes this work all the more special. 
First National Coming Out Day Poster, 1988. Artwork by Keith Harring.
The Dance Enthusiast: Established in 1988, National Coming Out Day serves to fight ignorance, and yet the LGBT community must sometimes resort to self-censorship in the interest of safety. Have you ever feared retaliation while working on this video?
Duncan: It's difficult not to care at all what others think of your work, especially when it's personal. However, the making of this project has been filled with much support, love, and effort from everyone involved.
The fact of the matter is—not everyone in the LGBTQ community is able to be out safely and openly. We are lucky that we have the freedom to tell this story and to use the digital platform to reach those who are still struggling.
Adriana Pierce, dancer, choreographer, actor, and instructor. Photo courtesy of the artist.
The Dance Enthusiast: Can you paint a picture of working behind-the-scenes with dancers Georgina Pazcoguin and Skye Mattox?
Adriana Pierce: Georgina and Skye are dancers I have admired for years. They each have such unique qualities to their movement,  I knew I could trust them to bring their whole selves to the table and interpret this choreography with a sincere physicality.
Working in the studio with them was a total dream, and I am grateful for everything they each brought to the project.
The Dance Enthusiast: Did fleshing out the dance come easily or did it take time to conceptualize?
Pierce: Conceptualizing this piece came more easily to me than anything I have ever done. It is  one of the most autobiographical pieces I have ever choreographed, and I was surprised by my own need to express those feelings.
Working on this project served as a reminder that the dearth of diverse, queer voices in professional ballet is ever-present and a total shame. I'll never forget the first time Georgina and Skye ran through the whole piece in the rehearsal studio—I realized I have never felt seen or represented by ballet in that way, and, even though it was my own creation, it was an overwhelming feeling.
The Dance Enthusiast: You've been on the receiving end of many hurtful comments touching on your sexuality. What is your advice to younger dancers in a similar position?
Pierce: I have often thought that my experiences as a young dancer would have been much different if I had felt there was someone to look up to who may have understood what I was going through.
To any young dancers in that position, I say, "You are not alone." I am proud to speak openly and confidently about my identity and experiences as a queer woman, and I will continue to both create and encourage works that celebrate queer voices in ways that are not tokenizing but genuine and inclusive.
The Dance Enthusiast :Because 'legacy' weighs on many artists' conscience, I'm curious: How would you want to be remembered as an artist, an acquaintance, and lastly, as a person?
I think, most of all, I just want to create work that I believe in. I want to participate in honest, kind collaborations, and I want to be thoughtful about the way my art interacts with the world.
Musician Daphne Willis. Photo courtesy of the artist.
Comments from Daphne Willis:
"The pairing of the song and the ballet couldn't have been more organic. Victoria approached me about doing this video last year on IG. She asked me if there was a specific song in my catalog that would speak to this piece, and if I was interested in that song being used for the video.
As an independent artist and songwriter (Sony/ATV), my music gets used in ALL kinds of media and video content. I release music videos all the time through my label and am always looking for compelling and meaningful ways for my songs to be used.
Being openly gay and a very active mental health advocate, much of my artist songs have to do with overcoming the challenges that various stigmas breeds. I felt this was a really strong visual and one I definitely connected to and sent "I Am Enough" over to Victoria. When she replied that she loved the song and connected to it, we were off to the races!"
 
---
The Dance Enthusiast Asks questions and creates conversation.
For more of The Dance Enthusiast Asks, click here.
---
The Dance Enthusiast - News, Reviews, Interviews and an Open Invitation for YOU to join the Dance Conversation.