Julie Ludwick and Fly-by-Night Dance Theater Celebrate Groundbreaking Aerial Artist, Robert Davidson, in the Airborne Festival at Manhattan Movement Arts Center
Saturday, September 15, 8:00 p.m.
Sunday, September 16, 2:30 p.m.
Manhattan Movement Arts Center
248 West 60th Street, New York, NY 10023
TICKETS: $25 in advance, $35 at the door, available on www.ticketfly.com, (877) 987-6487
---
An aerial artist, musician, and master teacher, Robert Davidson (1946-2016) was known for integrating the Skinner Releasing technique — a somatic practice designed to unlock natural expression — with trapeze work, developing a groundbreaking form of expressive aerial dance. In light of Davidson's  passing,  Fly-by-Night Dance Theater will present the Airborne Festival, featuring six aerial choreographers influenced by Davidson, along with excerpts of Davidson's work. The Dance Enthusiast had the opportunity to speak to Fly-by-Night director Julie Ludwick.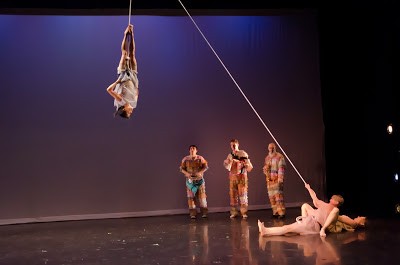 Fly-by-Night Dance Theater; Photo: Fred Hatt
Nadia Khayrallah for The Dance Enthusiast: Could you give us a bit of background the Skinner Releasing Technique and how Davidson incorporated it with aerial dance. 
Julie Ludwick (JL): Robert was the foremost practitioner of the Skinner Releasing Technique — he was the first person who became certified to teach, and he danced in Joan Skinner's company [in Seattle] for decades. He also studied with an aerial dance pioneer named Terry Sendgraff in San Francisco. So when he came back to Seattle, he started integrating trapeze into the artistry. 
Robert was then hired to be the movement teacher at the National Theater Conservatory in Denver. But he had also developed these evening-length trapeze works. The first was based on the medieval mystic Meister Eckhart. Another was based on the Sufi poet Rumi — we're going to see some excerpts of that work in the festival. 
In his work with these artists — as a somatic practitioner, as an aerialist, or as a theater-movement specialist — there are different directions he has taken: dramatic approaches, somatic approaches, and abstract approaches.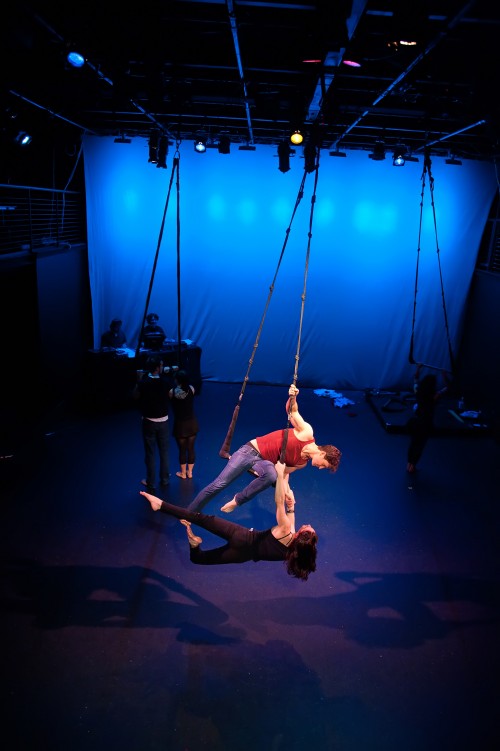 Eileen Litle and Dan Loeser; Photo Chris McMullan
Of course lot of people think of aerial work in terms of pyrotechnics and tricks, but clearly there are many other possible intentions.
JL: Yes, he always approached the trapeze as a partner. It's not a trapeze as in the circus — it could be a metaphor for something else. In his mystical pieces, the trapeze was a way to be God, to be close to your spiritual self. It's this wonderful combination of effortlessness and strength that opened up many people's eyes about what aerial might be.
Could you discuss your own journey and what drew you to this work?
JL: I studied with Joan at the University of Washington, and Robert would sub for her. I continued working with Robert after I graduated. There was something about that aerial work that spoke to me, maybe because I grew up in Alaska and climbed a lot of trees as a kid. When I moved to New York, I was creating work, but I wanted to go back to trapeze. And I realized, if you're gonna expect dancers to do trapeze, you have to have them do it all the time! So I really started to give a weekly class and create a repertory that was based in aerial works.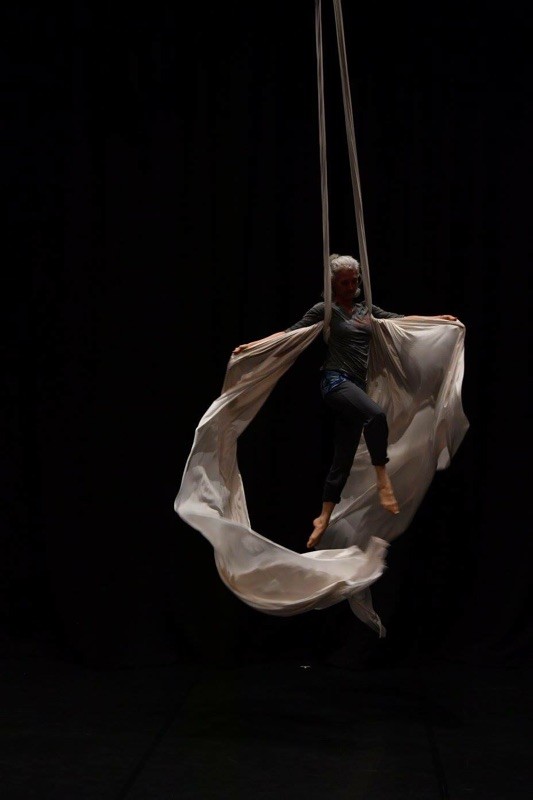 Jayne Bernasconi; Photo: Kanji Takai
Tell us more about the structure of your classes.
JL: My classes are improvisation-based. It's not about me teaching moves. It's about people discovering what they can find. Oftentimes it's coming upon what is expressed — rather than trying to express — in the releasing sense, which is based on Eastern thought. 
The classes are multi-level, and there are always options. For instance, in an ascending and descending improvisation, some dancers are going up to the ceiling, and some are just getting to standing at the bar. 
You're showing some of your own work in the festival, as well as that of other artists mentored by Davidson. While you all share a common influence, I'm sure you have taken it in your own directions. Could you describe the range of pieces we can expect?
JL: While Robert taught low-flying trapeze with a single point, many of the pieces use a different apparatus. Jayne Bernasconi is doing a fabric piece, transferring what she learned from Bob onto silk. Nancy Smith [of Frequent Flyers® Aerial Dance] is doing a piece on a metal frame. My company is doing a piece that has a single rope, with the dancers in harnesses attached at each end. Eileen Little and Dan Loeser of the Fight or Flight Company are doing a piece on low-flying trapeze — but they come to it as actors first. 
Anne Bunker [of O-T-O Dance], coming from Hawaii, has a piece of Robert's which she's doing with her adult son, which is an interesting legacy right there. Originally she did the piece with Robert. 
Everybody has worked with releasing technique, but they all fit that in with aerials in different way. My work, over the years, has gravitated to more theatrical, from more of an abstract place. But others are more of a mixture. Eileen [Little] is musical. Nancy Smith is using a more physical approach.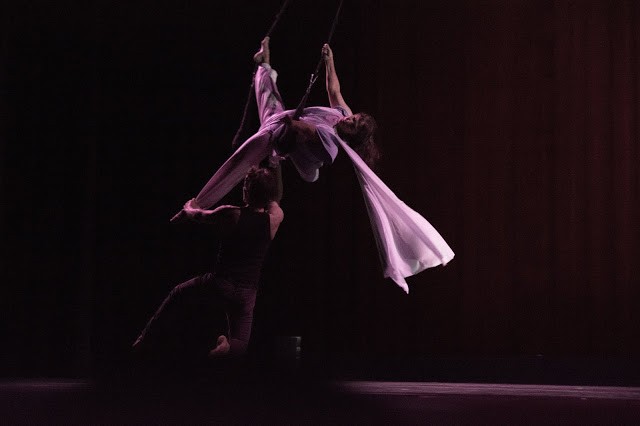 Anne Bunker and Wrenn Bunker Koesters; Photo: Zachary Gorski
Anything else you'd like our readers to know?
When Robert died, he was only 70, and it was a shock to everyone. It's very interesting to be in contact with these artists — some of whom I've never met — and hear how they are honoring Bob. Everyone is thinking "How can this be more Bob-like" and digging through the roots of what he gave us.
It's a lovely way to grow. 
---
The Dance Enthusiast Asks Questions and Creates Conversation.
For more of The Dance Enthusiast Asks, click here.
Share your #AudienceReview of the festival or others for a chance to win a prize.