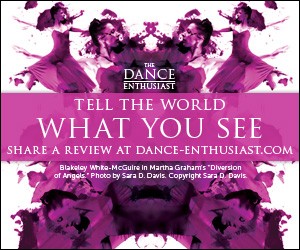 Related Features
TDE ASKS: Nicole Wolcott about the KEIGWIN + COMPANY Summer Intensive at The Juilliard School
What are you doing this Summer? Sign Up Now to Work and Play with K+C!
KEIGWIN+COMPANY lives to create provocative, witty and engaging dances. Utilizing a collaborative process, K+C combines physicality with theatricality, samples a variety of mediums, and, ultimately, fuses art with entertainment. This summer at The Juilliard School you can become part of the magic. Sign up now for  the Summer Intensive at The Juilliard School June on 15-26th --last day to sign up is June 1, 2015.
For details about studying with K+C as part of the KEIGWIN + COMPANY Summer Intensive at The Juilliard School June 15-26th! Click Here.
---
Christine Jowers for The Dance Enthusiast: I know K+C has been holding intensive dance workshops at The Juilliard School since 2012. This year it is exciting that you will offer a two week session. How luxurious. Tell me what you are doing with this extra time.
Nicole Wolcott, K+C Education Director:  First of all, I am very happy  to say that students have the option to take just one of the two weeks we are offering, either the first OR the second. This will be not only be fulfilling, but will also address different perspectives in the different weeks.  The first week, for example, we will have composition class with Larry, and the second week the group will work to make a complete piece with Larry.
And, YES we are very excited to be offering a true intensive of two weeks with the company!
KEIGWIN + COMPANY CLASS/  Photo by  Whitney Browne
So often when taking daily classes, dancers will just begin to understand the elements of a dance phrases, when suddenly the class is over. In two weeks we offer the opportunity for our students to 'live' in phrases, performing them over to unpack their nuances and textures in singular performances and ensemble variations.
In our partnering classes, for example, we teach our repertory for the first week, allowing the students to master the full dance for performance. Then during the second week we ask them to use the material we have given as a springboard to create their own compositions in duets and groups.
We are also offering Tuning and Studio Practice, two special classes that I will be teaching. Tuning is a class aimed at improvisatory movement generation and improvising within an ensemble to create movement compositions. Studio practice is focused primarily on performance, helping students to find their signature style and bring it to the K+C choreography.  
---
TDE: I notice the words "work alongside the company" and "create with."  What is the value of this kind of participation and why is it so important instead of, let's say, simply teaching and refining your K+C repertory with your students?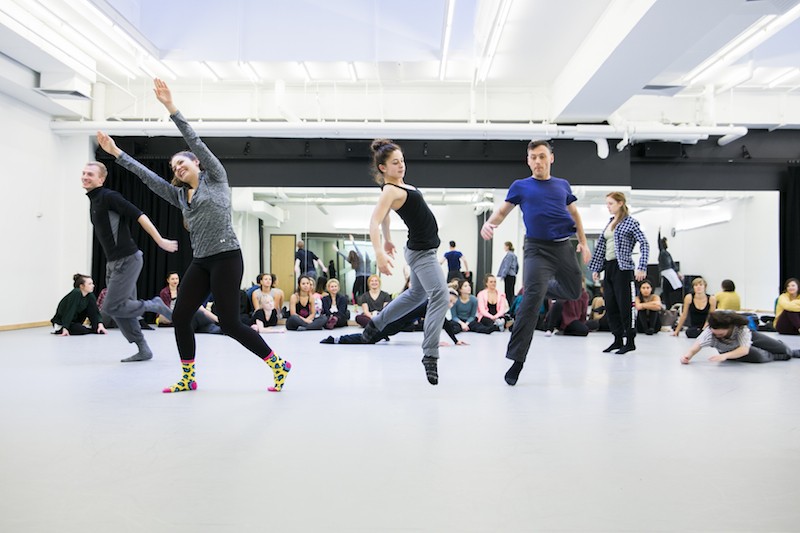 Students working with Kile Hotchkiss, K+C dancer, and Larry Keigwin, K+C Artistic Director./ Photo Whitney Browne
NW: Dancers learn best not by watching professional dancers, but by interacting within a professional ensemble navigating complex movement problems through conversation, a give and take. When a dancer creates in this context, they not only learn skills from us; they also learn that they have something very valuable to contribute to the process.
When our company members aren't directing class, they participate.  Anyone who has danced professionally can attest to the bump up in development of one's skills by dancing with others at a professional level. Performing repertory with those who have created it and who perform it often is a challenging, invaluable experience that can't help but strengthen a student's self-image and artistry.
---
TDE: Another wonderful and important feature or your Summer Intensive is that you have asked some very fine NYC dance professionals to come in and  share their experience with the dancers. Tell me about it.
NW: We have invited the talented emerging artists, Loni Landon and Adam Barruch,as well as the seasoned choreographer, Brian Brooks to come and speak to our students. These are some of the most talented, hard working, contemporary artists we know. We hope, that by hearing their stories and interacting with them our workshop students will be able to build strong professional relationships, and develop a true understanding of how choreographers make their way in this field—including what they look for from artists.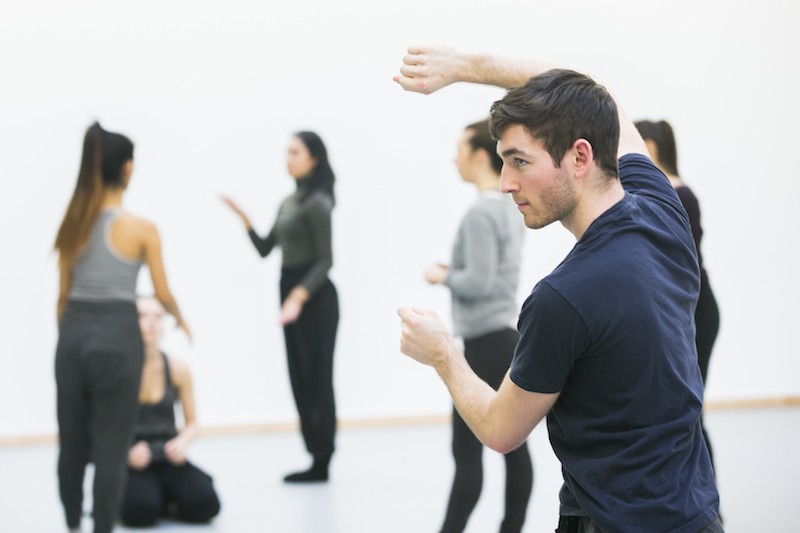 Concentration During a KEIGWIN + COMPANY Intensive at The Juilliard School/ Photo by Whitney Browne
We also offer students a list of choreographers to be aware of, generally these artists are new talents whom we admire— people just beginning to create companies and seasons in NYC.
Dancers must understand how to get work, and to do that they need to know who is looking for dancers. As much as we would like to hire all of our students for K+C, this isn't realistic. We want to realistically prepare dancers to exist in the contemporary performance landscape, where the artist is an independent contractor.
---
TDE: Who are your students Nicole, mainly New Yorkers?
NW: It's great that we have always drawn from students across the country! Most often the people that come to our workshop have had a direct experience with one of the company members or have seen the company perform.  They have enjoyed the experience enough to be inspired to seek more.
TDE: What is the best attitude a student can have to learn and do well your dance intensive?
NW: What works best in training is maintaining rigor with a sense of humor.  I often say, "let go of judgment, invite in curiosity and a sense of humor." If one can manage to keep frustration at bay and stay curious, they will go far.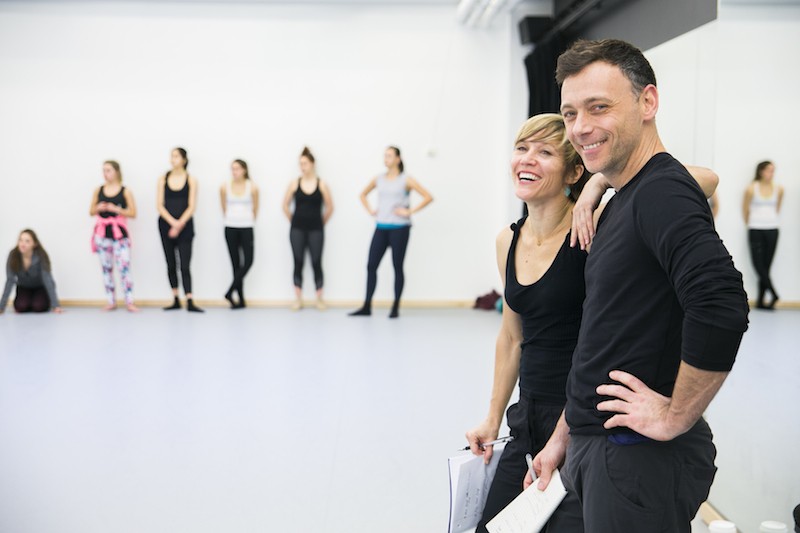 Nicole Wolcott and Larry Keigwin Have a Laugh During Class / Photo by Whitney Browne
TDE: I notice the word "play" a lot in describing KEIGWIN + COMPANY, what defines work and play for you? How important is play to your work?
NW: Work and play are one and the same.  It is good to keep child's mind when creating, to bypass the executive function of the brain and go to the inspired place of the playground.  
TDE: You and K+C create with pop culture, burlesque, ballet, comedy, and even work with large groups of non-professional dancers in community dances such as your  "Bolero." What special skills do each of these areas of work require?  
NW: I believe the company's current modern dance aesthetic is grounded firmly in the classical canon.  One can't succeed in this company without a strong technical base in ballet. That said, Larry likes to bend and weave pedestrian and animal movements into all of his work.
He pulls directly from the people he is working with. So when we work with non-professionals, we are sourcing the movement from them using task-based exercises.  We teach them a framework for counting music and coordinating their movement with others. The special skill required in working with non-professionals is being personable, patient, and having an understanding that the experience of creating together supersedes the show.
We are teaching and sharing artistic creation with them as much as we are choreographing a performance— actually more. The overlap with the professional experience is drawing movement from the artists and highlighting their strengths.  
For a glimpse of the fun that is KEIGWIN + COMPANY check out their 10th Anniversary Video!
TDE: Do you have preference when working with professional dancers vs other, communities.
Both are great.  Sharing dance is always special.
TDE: You have been working with Larry Keigwin for 14 years, what is it about him that keeps you dancing and choreographing together?
NW: Larry and I met in 2001 and created our first dance together ,"Straight Duet" together in early 2002.  He  has a great sense of humor and no patience for the tedious. So, he's always hurtling forward on the path of least resistance, which is fun and exhilarating.
Larry = a hurtling meteor of positive energy with endless ideas for new challenges and a penchant for saying yes to whatever comes along. So, we stay busy and keep each other laughing even when the pressure is intense. What more can I ask for?
Nicole Wolcott and Larry Keigwin /Photo Whitney Browne
---
Betcha Didn't Know Re: KIEGWIN + COMPANY :
*Larry was chosen by Paul Taylor to set a work on THE PAUL TAYLOR'S AMERICAN DANCE- Check out NYT article here  
* K+C will be traveling to Spain as part of a Guggenheim Project. Olé!
*Larry is inviting Loni Landon and Adam Barruch to work with K+C this summer, and he is excited about mentoring them as they choreograph on KEIGWIN + COMPANY.
* And, in the IT ISN'T ALL GLAMOUR CATEGORY: Betcha Didn't Know: Larry and Nicole once had to perform on a mattress in a dirt field in Texas without music--- next to a fire ant colony.