TDE Asks Maria Bonzanigo, Co-founder of Compagnia Finzi Pasca
In Conjunction With "La Verità" at BAM
La Verità, an acrobatic homage to Salvador Dalí, conjures a lush vaudevillian dreamscape where rhinos juggle, corks fall like rain, and the eccentric surrealist appears as a wayward aquanaut, stumbling upstage while an aerial artist tumbles into the sky. This sensuous feast of feats unfolds before an original hand-painted backdrop by Dalí himself, a macabre rendering of Tristan and Isolde produced for a 1944 Metropolitan Opera ballet production. Movement, images, and ideas warp and linger like the haunting figures on the canvas, in a ravishing showcase of virtuosity, humor, and theatricality.
La Verità runs from May 4-7, 2016 at Brooklyn Academy of Music's Howard Gilman Opera House in the Peter Jay Sharp Building. For tickets and more details, click: http://www.bam.org/theater/2016/la-verita
---
Photo © Viviana Cangialosi.

Sammi Lim for The Dance Enthusiast: Compagnia Finzi Pasca champions a theatrical technique called 'Theatre of the Caress.' Can you elaborate and explain how this principle serves as a point of direction for the company?
Maria Bonzanigo: The Theatre of the Caress was developed at the beginning of our research in 1983. This approach leans on dance, acrobatics, recitation, music and technique; in other words, on all art forms that rely on the 'scene.' The objective is to make people's chords – something which everyone possesses – vibrate. Chords that may vary in length and tone, but are nonetheless common to everyone and to all the arts. Researching the "sonorities of the person" inspired us to make our theatrical art as universal as possible, yet not forgetting, and leaning upon, theatre traditions.
Through the Theatre of the Caress we advance, and we seek an empathic artistic gesture.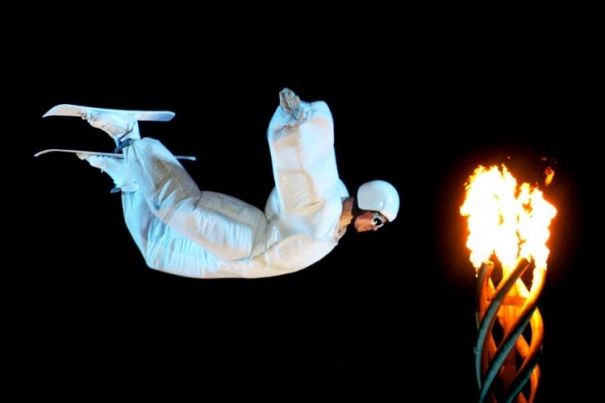 Acrobatic scene from the Turin Olympic Games: Closing Ceremony.
TDE: You've created wonderful work – some of Olympian proportion. Tell me about the 2006 Turin Winter Olympics closing ceremony.
MB: I was personally responsible for the choreographies and for the acrobatic parts. I wrote the music to the section of the big flight. Perhaps someone remembers the snowboarder suspended at 17 metres high (no ropes involved, just a jet of air).
TDE: You can't imagine how excited I was to learn of La Verità. I've always longed for more animated work or live productions inspired by Salvador Dali, such as his collaboration with Walt Disney in Destino. Did Compagnia Finzi Pasca give the production a narrative or is it aesthetics-driven?
MB: I have seen and remember the animation Destino. That too has served us as inspiration.
In our show there are a number of lines that meet. The figures of Tristan and Isolde – which strongly influenced Dali – are strongly present through dreamlike and suggested imagery. It's a narrative line which is surreal... Surreal in our own way – acrobatic, comical, burlesque and, I think, sweeter than Dali's.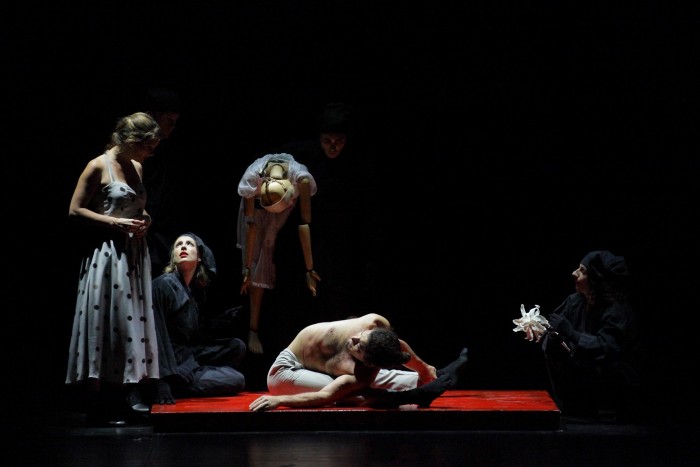 Photo © Viviana Cangialosi.

TDE: How many types of movement-based artists (acrobats, ballerinas, contortionists et cetera) will star in La Verità?
MB: There are twelve artists, all multidisciplinary. They are all skilled in aerial acrobatics, juggling, hand to hand acrobatics, a Zig which is like a moving sculpture (a very impressive acrobatic object), contortionism, and in working with edited acrobatic objects especially designed by Hugo Gargiulo for this production, like the ADN for example, a suspended double spiral ladder.
TDE: Compagnia Finzi Pasca's work is oftentimes amusing, sometimes scary, always dreamy. Do you ever translate your personal dreams to the stage?
MB: Yes, all the time. Dreams are a part of our existence. They are a reality. If we were to count the hours we spend dreaming, we would realize they are really many. But we have difficulty in remembering, and in comprehending, our dreams. I think it would be worth our while to linger and ponder their meaning. Obviously we do not transcribe our dreams to the stage exactly as we dreamt them. That is not our goal, and I don't think it would be possible, either. Art translates, filters, offers dreams in a new form.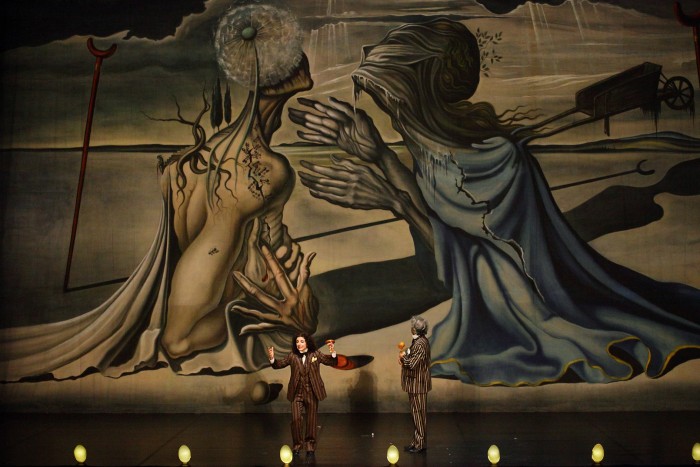 Photo © Salvador Dalì, Fundación Gala-Salvador Dalí.

TDE: Have you stopped to wonder what Salvador Dali would think if he saw La Verità?
MB: I think he would have felt embraced and free to answer us with one of his theatrical provocations. As a matter of fact, our show takes a dialectic stance with respect to his works and his world. It doesn't want to be a judgement or an explanation of his work. We watch it, we reflect upon it, and we ask it to reveal itself to us.
I'd be really curious to know what line, or what theatrical invention he would have used to answer us.
What inspired and impressed me during his interviews is his ostentatiously theatrical way of posing. This is the truth we want to discuss: a theatrical truth, always questionable, but unquestionable at the same time. What is truer? What Dali says, or what hides in his eyes?