Lois Greenfield, the Illustrious Dance Photographer, On Her New Book, "Lois Greenfield:Moving Still"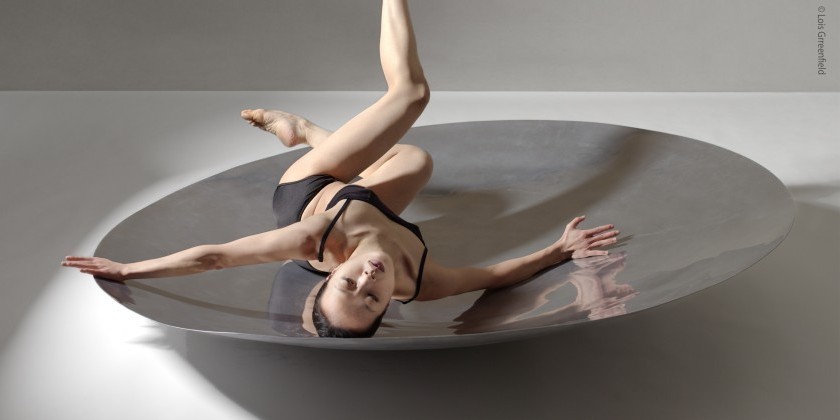 An Englightening Chat with a Master
Even if are not a dance enthusiast (a state which I simply can't imagine) you are most likely to be familiar with at least one of Lois Greenfield's iconic images of moving bodies. In a career spanning over 40 years, this seminal photographer has offered the world a radically new way of seeing the dance stilled.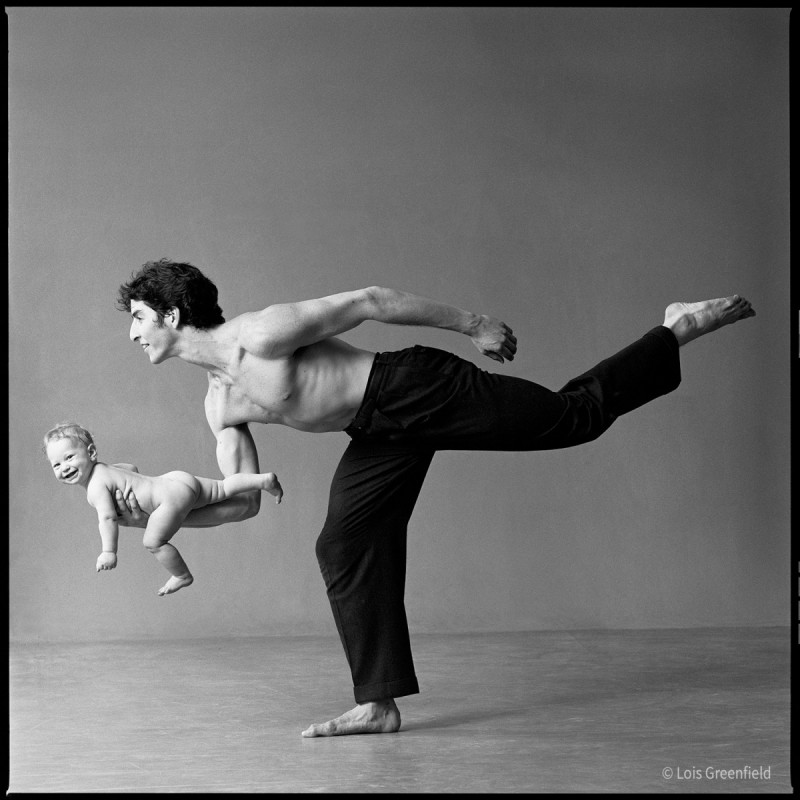 Instead of capturing explosions of muscular force or peak moments of perfection, Greenfield defines her work by revealing dancers caught floating and flying angelically, often in seemingly impossible positions. Says Greenfield of the dancers in her photos, "I want their bodies to look effortless." Ironically, she points out, it's the ease of her subjects as they attempt the impossible that causes them to appear heroic.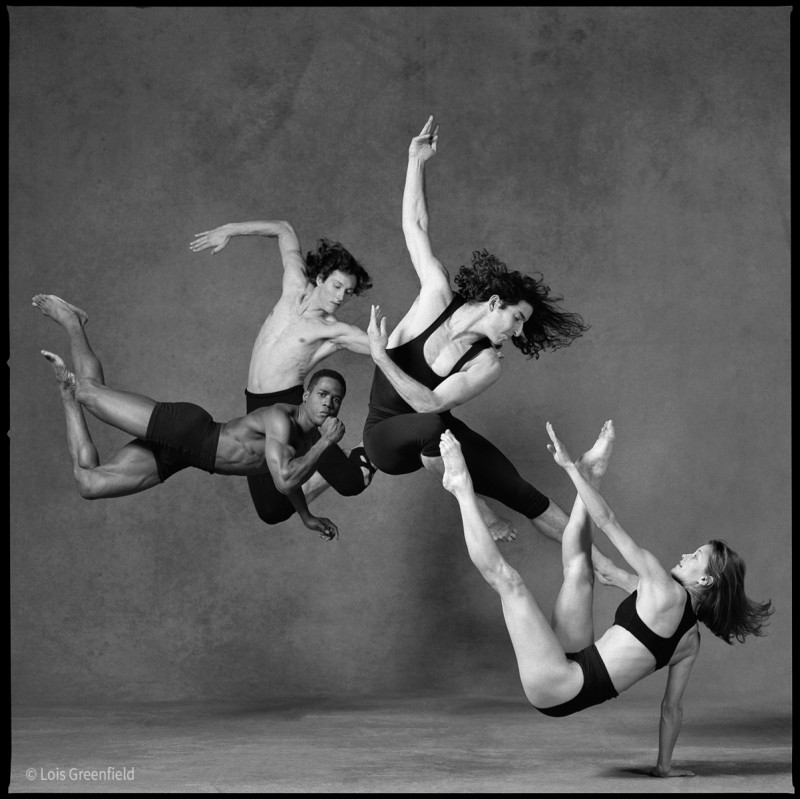 Greenfield's third book of dance photography, Lois Greenfield:Moving Still (recently published BY Chronicle Books, and on sale now) showcases over two decades of her work and a move from black and white images into color. In it she works with some of the "best of the best" dancers in New York from the expressive Ha-Chi Yu, whom she has photographed for 20 years, to the stunning PeiJu Chien-Pott, a Martha Graham principal dancer and newbie to Greenfield's studio, to Paul Zikovich, known for dancing the role of Macbeth in Sleep No More.
Recently, I was fortunate enough to visit the photographer's New York City studio for a chat about her career, the relationship of photography to dance, and the dancers that continue to stimulate her unique vision, all while enjoying photos from her latest, sumptuous book.
---

Christine Jowers, for The Dance Enthusiast: Lois, so great to be here with you. Tell me, how did get involved photography to begin with?
Lois Greenfield: The beginning of my interest in photography was coincident with my joining a summer work project on an Apache Indian reservation in Arizona sponsored by the 92nd Street Y.  I was 14 or 15. I had some kind of a Brownie camera, or whatever they called those kind of cameras… But, after having studied anthropology in college [Brandeis University in Massachusetts] my first goal, actually, was to be an ethnographic filmmaker, not a still photographer, let alone a photographer of dance! 
CJ:  Why not stills?
LG: I thought of film rather than stills to portray another culture because, at the time, film was regarded as providing a neutral, objective point of view. This of course was all wrong. Film is as subjective as any other verbal or visual means of communication.
CJ: But you never did become a filmmaker.
LG: I didn't have any ideas that I wanted to see realized as a film. I didn't want to direct. I just wanted to be a camera woman and I thought it would be too hard to be a camera woman back in 1970 when I graduated. Anyway, by that time, as a college student, I had already started to work professionally for newspapers in Boston . So I segued to photojournalism and the film part just fell away.
My dream was to work for National Geographic and go to Africa— that was the anthropological interest. But I was a newspaper photographer and it was a very newsworthy time back in the early 70's. I covered protests. I would go into a maximum security prison, or shoot Rod Stewart backstage at a theater. It was kind of "hit-and-run." You don't have much time to craft a photo in shooting current events. You get it and you move on - someone gives you a half-hour and you deliver it.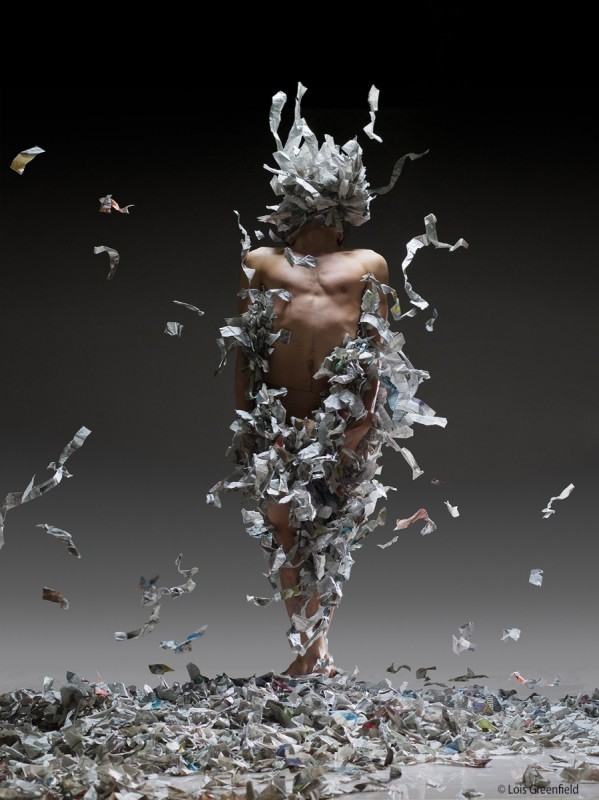 Wu-Kang Chen  of Ballet Tech, 'Dust', Choreography by Eliot Feld from LOIS GREENFIELD:MOVING STILL
CJ: How did you end up covering dance in New York City?
LG: I called Deborah Jowitt [the dance critic for the Village Voice] when I came to New York [Greenfield is a native New Yorker] as we had a mutual friend, and Deborah said, "Sure, feel free to submit pictures, I'll tell you who I am covering."
I illustrated her articles each week for 20 years. That gave me my start here in dance.
Because Deborah didn't really cover the ballet world (and I was not allowed to shoot City Ballet or even Martha Graham - they had contracts with Martha Swope - almost the entire repertoire I shot was "downtown" dance. It was Trisha Brown, David Gordon, Lar Lubovitch, Laura Dean…We're talking about the mid 70's, and downtown dance was a rich subject. I started photographing dance on choreographers who didn't have "peak moments" in their dances, and that was crucial to my development.
CJ: Tell me about how you first started working with dancers to make your pictures.
LG: What happened was, if I saw an interesting dance that was done at City Center, I would ask, "Can I go to your studio and try it again?," or, "Do you want to come to DTW to try again?" or, (laughter) "There's a basement someplace, can we try it again?"
I shot Watermotor and some other pieces Trisha Brown did, and of course I shot on film. So I developed it then I brought it back and showed her, and she said, "I don't recognize these moments."
That experience with Trisha was really important to me. I realized that I was interested in a transitional moment that was also an expressive  moment. I loved working shooting downtown dance because there was not a right moment or a wrong moment ; you weren't too late or too early and it didn't matter that the foot's not pointed.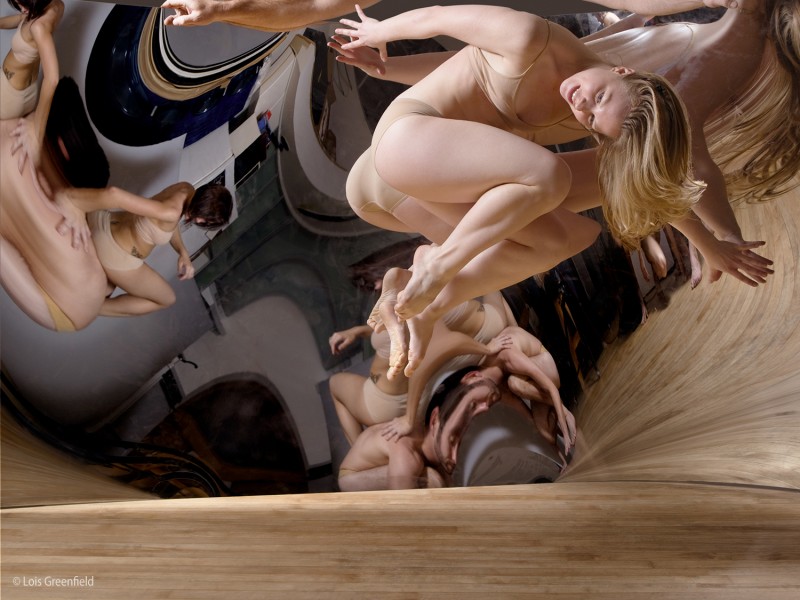 Natasha Czarniewy from LOIS GREENFIELD:MOVING STILL
CJ: Before you started working in your own studio, you shot dance in rehearsal for 10 years. Why did you decide to move to your own place?
LG: Well, first I think I was just happy to try to get the hang of it. But once I got the hang of it, I started to feel like all I was doing was documenting someone else's art form. It didn't seem enough. I wanted to shape the dance for the camera, which is what Barbara Morgan did when she brought Martha Graham and her dancers to the theater and directed them for her camera. Basically, I  didn't want to photograph something that was a document of someone else's art form. I wanted to make some hybrid between photography and dance.
Bill T. Jones and Arnie Zane were the first ones that hired me to do a session in which  they encouraged me to create whatever imagery I wanted. That was the first company that I got creative with, directing dancers to perform different individual actions in the photo. They were interested in the process and they loved the pictures. Arnie Zane, was a photographer as well, and his attitude was more like, "Let's play."
CJ: Dancers like to play.
LG: This was certainly true for Dave Parsons early on when he was part of Taylor [The Paul Taylor Dance Company] He could come into my studio and do whatever he wanted. Working with Dave was huge. That was really taking the dancer out of the dance and just being wild and improvisatory in order to create split seconds just for the camera, like the cover of Breaking Bounds with Danny [Ezralow] and Ashley [Roland]. That was just a split second of improvisation.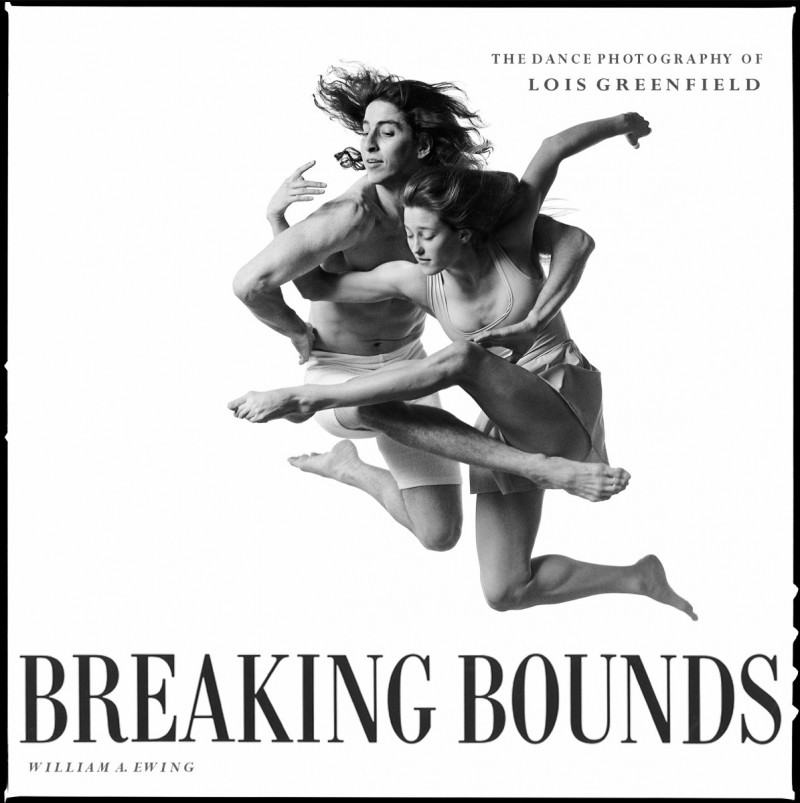 CJ:  How is dance photography today different from when you started out?
LG: When I was starting out, until the mid 90's at least, I don't think dancers were very interested in their representation in photographs. When I started creating pictures in my studios a lot of presenters, company managers, and newspapers preferred them because there was a light background and you could see what was going on. My work made a statement as a photograph, but many dance companies were happy to use dark, grainy performance shots. They didn't want to put time into the process and say, "We'll do it for Lois. We'll do it for Lois again and again. We'll do it this way. We'll do it that way." They just said, "Well, here's a shot."  And it was dark and it was blurry. Many dance companies, big ones, didn't think about their visual representation, until who knows when, the late '90s?
Back in the "old" days they were dancing and the camera was supposed to take what they are doing. Now I am sure dancers and dance companies are thinking more about how their image is going to look. It makes sense. Photography is so much more integral to a company's marketing. It can define a company.
 PeiJu Chien-Pott from LOIS GREENFIELD:MOVING STILL
CJ: Do you feel the quality of photography has gone up or down?
LG: Probably up. Yes, everyone is more visually literate and, of course, the cameras are so much better. I remember shooting on stage, it was an Alvin Ailey performance with Judith Jamison and Mikhail Baryshnikov in Pas De Duke. She is in a black, he is in white, and there was a black backdrop and the lighting was terrible...
CJ: That must have been crazy for you to capture the light correctly when you had no control over lighting.
LG: It was awful. It was so hard to get a decent picture. Then in the dark room we would take out bleach and take out this or that, or burn out this— and we could only shoot black and white because color film needed more light. It was rare to get a color picture of anything and it didn't matter anyway, because newspapers didn't publish color pictures. Taking shots during performance, you couldn't get a good result. Frustrating. But that's what people expected. Nowadays with cameras being what they are you can go into a groundhog's hole with 4000 ISO and get a good picture. But we were limited. Maybe that's why  when I started shooting in the studio in the mid-80s there was a boon for publicity. Suddenly people could say,"Oh wait, I can see it!"  You could see who was in the picture!
CJ: How do you see the relationship of dance to photography?
LG: There is  a natural photogeneity to dance that makes it go hand-in-glove with photography. But, I actually think the two media are diametrically opposed. Dance happens in 360 degrees of space, to usually musical, if not numerical intervals, while a camera can only take one second of time, doesn't capture movement, and does not comprehend 360 degrees of space. There is a dynamic tension between the forms.  One is about movement and the other is about stopping time and putting it in the container of a rectangle—usually a rectangle because I think a rectangle replicates human vision.
CJ: What makes a great picture for Lois Greenfield?
LG: Let's say Baryshnikov does a great jump and its in the Village Voice and people say, "Lois, that's such a great picture." I would say, "It's a great jump, but it's not a great picture because it's only a representation of something that you saw as part of the dance." I am not a dance "fan," I am an anthropologist in the world of dance — an outsider — not someone who went to School of American Ballet. Most dance photographers want to shoot the perfect moment, the perfect arabesque, but because I came in from another planet, I'm not interested in any of that. What's the surprise of seeing a picture of an arabesque or a perfect jump or leap or…?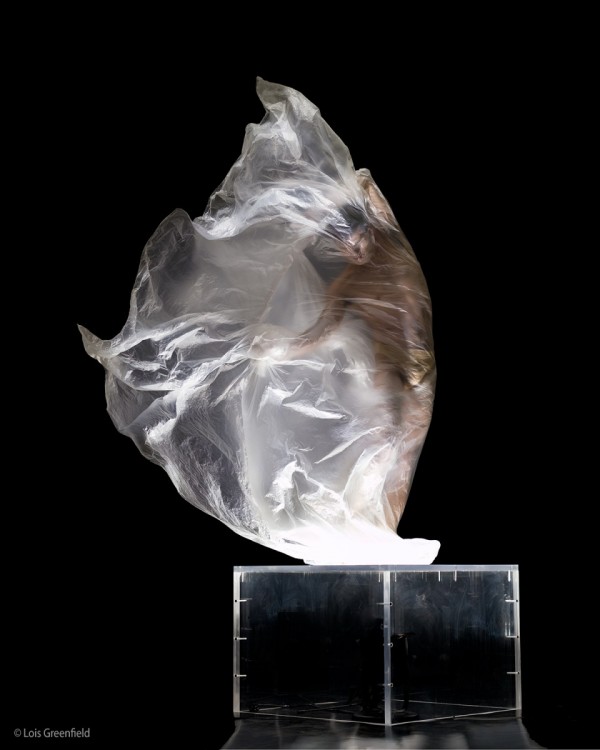 Wu-Kang Chen with Ballet Tech, 'Undergo', Choreography by Eliot Feld
CJ: You have taken "perfect" pictures of Elizabeth Streb, and I remember her saying that she was not getting good reviews in The New York Times and sought you out to get her company's picture taken by you. I guess with the thinking that "a picture is worth a thousand words." Tell me about your relationship. Streb says you make her look lyrical, and considering she's referred to as the Evel Knievel of dance, or more rightly, an Extreme Action Hero, that's something.
LG: My approach to photography and her approach to dance are antithetical. Her work  is about mass and momentum. When something in momentum hits a mass, the mass stops the motion. So you can be full force until you crash on the floor or, God forbid, someplace else that you don't even want to know about.  For Streb, movement continues until something stops it, and for me, I like the dancers to be eternally floating. In all my pictures of her company, they are floating. Of course these photos are split seconds, and people are doing wacko things in between. The way I shoot her action is not what she's going for in her performance.
CJ: Maybe that's the secret of your success together.
LG: I don't know, but nonetheless we are soulmates and soul sisters and she was very happy when I took pictures of them. It was easy to get impossible looking pictures with her, pictures that illustrate her incredible choreography and allow the viewer to see the exquisite relationship of the dancers in mid-flight. I think for any choreographer to see a photograph of what they're doing is revelatory in some way, because no one sees their dances stopped in time.
Elizabeth Streb's Extreme Action Company; the cover of Lois Greenfield's AIRBORNE
CJ: Do you know when you are going to get a great photograph?
LG: I anticipate a moment. I can't wait to see it in the viewfinder and then shoot it—then it will be over. Just when I feel the next split second is going to coalesce into a perfect composition, I shoot. It's just that intuition. I capture such a thin slice of time. It is either virtually or absolutely imperceptible to either the dancer looking in the mirror or the audience in the theater, or the person next to me as I push the shutter, or even to me. No one can see it until it is photograph.
CJ: Is there anything we will NOT see in a Lois Greenfield photograph? My guess would have to be a "perfect" arabesque.(?)
LG: Actually, I have a shot of perfect arabesque, but it has a beautiful scarf. Fabric shows the trajectory of the movement or it can depict the passage of time. Take that famous Barbara Morgan dance picture of Martha Graham in Letter to The World.   Without the skirt, we would just be looking at an arabesque - God help us, an arabesque.
10 Things We Betcha Didn't Know About Lois Greenfield
Lois walks into her studio for a session WITHOUT fixed ideas.
She believes her process, in the moment, will take her someplace beyond what she can imagine.
She collects PROPS - anything that moves- from mirrors to feathers, packing materials, mosquito netting and even an old drop cloth from the last time she painted her living room.
She likes to improvise (but we think you might know that by now)
Lois Greenfield never uses photoshop on any of her figures.
She never uses continuous action shots and believes a photographer potentially misses interesting moments in this manner.
She is inspired by Renaissance painting and scultpure and loves how, in painting, the putti and other figures wear flowing fabric and seem to be blown about by the wind. (Can't you see this inspiration in Lois's photos?)
She loves ( to play with changing angles of dances) not being locked in by the proscenium stage.
Choreographers often say, upon seeing their work through her lens, "I'll change my dance, it looks better this way."
Her dream project is to create an installation of projected photos that fall from walls, move across floors, and travel up and across ceilings - reminiscent of the Sistine Chapel. (Now that is something to look forward to)
---