THE DANCE ENTHUSIAST ASKS: Longtime Publicist Audrey Ross About the Changes in Arts P.R. and How to Make a Good Impression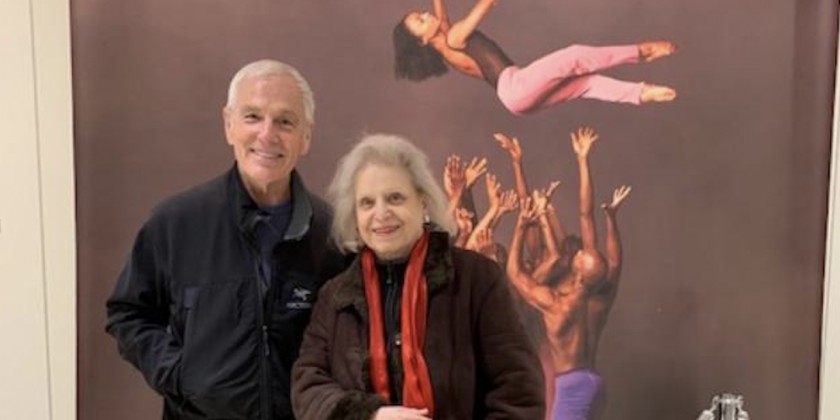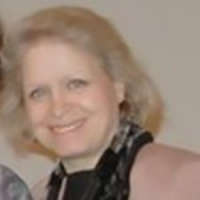 Audrey Ross; Photo courtesy of Audrey Ross
---
Erin Bomboy for The Dance Enthusiast: You danced for many storied companies, including Ballet Russe de Monte Carlo and Ruth Page's Chicago Opera Ballet. What got you into ballet and what led you to these companies specifically? If you could relive a single performance, which one would it be?
Audrey Ross: I was always drawn to dance — don't know why.  My family was very musical, but there were no dancers nor interest in dance. When I was a kid, my mother bought way up high balcony seats for my sister and me to see the Ballet Russe at the Chicago Opera House, and it changed my life. It was their "bread-and-butter" program: Act II of Swan Lake, Act II of Nutcracker, and Scheherazade. I remember the music starting for Swan Lake, and then the curtain opening. It separated from the middle and quickly swept up to the sides, and I almost fell out of my seat at the excitement and beauty of that. After that performance, I spent all my time going to school, convincing my mother to give me ballet classes, and spending hours in the library reading dance books and listening to ballet music.
I loved performing, but don't know that I would relive any particular performance. I did a few productions of Oklahoma! with the original de Mille choreography, with one production at the State Theater. It was exciting to perform on that stage at Lincoln Center. I would certainly enjoy repeating a performance of Scheherazade with the Ballet Russe. I remember that at the end of the ballet, (when Shah returns, finds his wives being unfaithful, and has everybody killed), Larry Rhodes ran across the stage straight for me. He threw me over his shoulder, spun around a few times, and we both fell down dead.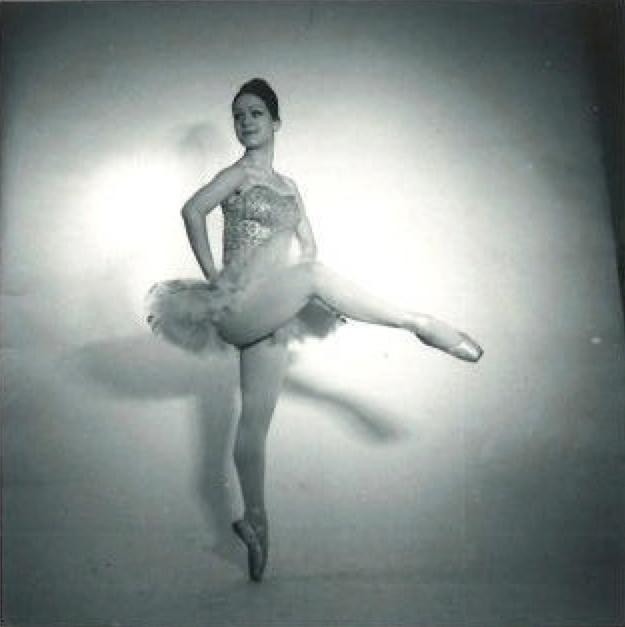 Audrey Ross as a ballet dancer; photo courtesy Audrey Ross
How did you transition from dance into administrative work and then public relations? What attracted you to the fields? What elements from your dance days do you still continue to use in your daily life? 
AR: While I was dancing, I also worked as an auditor (reviewer of performances) for the New York State Council on the Arts.  When they had a sudden change in staff and needed another associate in the Dance Department, they invited me to do that job.  Seeing that my dancing days were over because of a foot injury, I took the opportunity and did that job for a season.  One of the applicants that I evaluated was Pentacle, and they invited me to join their staff as publicist.  That was very fortunate for me, because I also found it the most interesting of arts administration jobs (no offense to grant writers, fundraisers, booking agents — let's face it — they're all hard!)  After 2 years I went out on my own, but continue a happy relationship now as a member of the Board of Pentacle. 
One element [from my dance days] is taking responsibility, not giving up, and seeing things through.  In dance, for example, even if you think you're going to drop, you will finish the performance or finish the exercise in class. 
How have things changed in public relations since you've started? What is one element that has stayed consistent over the years? 
AR: Things are very changed in p.r. since I started. Computers rule, and you could now conduct your business from a ship in the middle of the ocean. Before then, we xeroxed press releases and sent them by mail. Also photos — 8x10 glossies were the thing — and there was always a scramble to get pieces of cardboard for mailing photos. During the transition years ago, I took a survey asking critics what they preferred — all said they preferred computers and not snail mail. I do think that something on paper makes a stronger impression than an e-mail which, if read at all, will probably not be revisited. On the other hand, it's easier to keep in touch and send more reminders. All in all, this is a better system. What has stayed consistent is that the goal is the same — to present your client's work in a positive light — to try to make it seem interesting and worth seeing, and to do the best you can to get as much "stuff" as you can!

What were the most challenging PR campaigns that you've worked on? What did you take away from that experience?
AR: All publicity jobs are challenging on some level. I believe most fellow publicists would agree that every once in a while a client will be challenging for different reasons; on the other hand ,some just sail along (I had the pleasure of publicizing José Greco's company three times at the Joyce, and the interview and TV requests poured in).  Every client and season are different and call for an individual approach: When and where is the client performing? Is there a premiere on the program?  What is distinctive and special about the client, the specific work, or the company members?  What special interest groups, like ethnic publications, would be especially interested in the work?
What advice would you give to artists working with a publicist for the first time? Are there any specific elements that they can do on their end to ensure a smooth and successful relationship?
AR: I would advise young company directors to: 
 Not invite critics until you are satisfied with your work and feel you are putting your best foot forward
 Have good visuals — nice graphics and good pictures to make a good impression. That is the only thing that is selling you until you get to be seen in person
 Be aware of what else is going on in your field. Don't schedule your performances when ABT is at the Met and NYCB is at the Koch
Be willing to pay some dues. You may not get attention until your 3rd season or so, until writers and audiences become more familiar with your name and see that you intend to keep producing
Be nice to whoever is your publicist!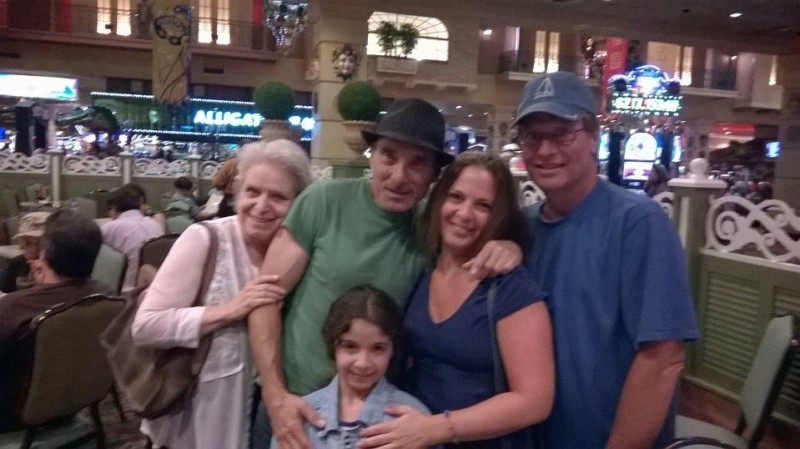 Audrey Ross with her nephew and family in Las Vegas; photo courtesy Audrey Ross Facebook
Outside of publicizing dance and music performances, what can The Dance Enthusiast's readers find Audrey Ross doing on a day off? 
AR: I don't really have days off, especially as my office is in my home and I automatically work every day. What I do for fun actually is go to dance, opera, theater performances, and every once in a while to my local casino for a real change of pace.
---
The Dance Enthusiast Asks questions and creates conversation.
For more of The Dance Enthusiast Asks, click here.
---
The Dance Enthusiast - News, Reviews, Interviews and an Open Invitation for YOU to join the Dance Conversation.