Related Features
Contribute
Your support helps us cover dance in New York City and beyond! Donate now.
Magda Saleh Discusses Being Egypt's Iconic Prima Ballerina as She Prepares for From the Horse's Mouth's "A Footnote in Ballet History?"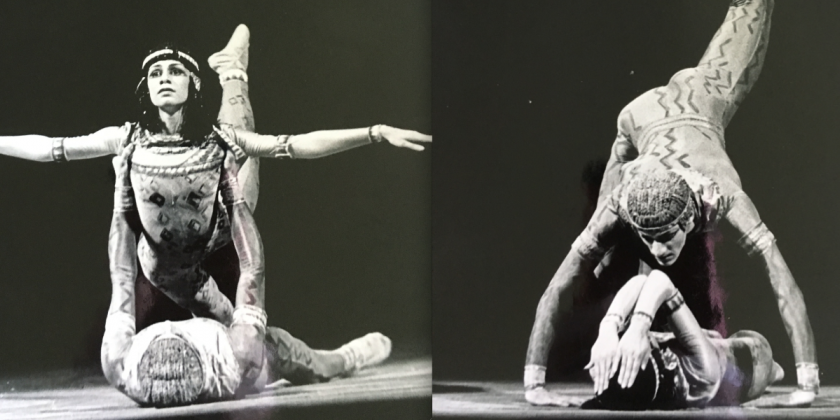 From the Horse's Mouth, the legacy-based dance/theater project, will begin its 20th anniversary year with A Footnote in Ballet History?, a special program honoring Magda Saleh, Prima Ballerina of Egypt. Dr. Saleh's remarkable story forms the heart of this production, focusing on dance, arts and culture in Egypt. Her influence and impact on countless areas of cultural life in Egypt and the USA serve as a conduit to this celebration of Egyptian dance in all of its forms and traditions. Over 30 dancers, musicians, historians and choreographers will participate in this special event. The sharing of stories, memories, anecdotes, and dance will form the special tapestry that is a From the Horse's Mouth production.

Four performances, exploring Egyptian dance and culture, will take place at the Theater at the 14th Street Y, Thursday to Saturday, March 15-17 at 8pm and Sunday, March 18 at 3pm. Rare film footage, videos and multimedia will enhance this edition of From the Horse's Mouth and its unique blending of movement and storytelling. More info about the program can be found in our listings.
---
Sammi Lim for The Dance Enthusiast: Dear Ms Saleh, Thank you for being here! I'm humbled by your rich life experiences and my questions for you are many.
Magda Saleh: Delighted to hear from you. Thanks for reaching out!
Magda Saleh and classmates in front of the Bolshoi Theater. Photo courtesy of the artist.
Dance Enthusiast: As the only Malaysian student at a liberal arts college in New York a decade ago, I'm curious: Were you the slightest bit self-conscious of being one of the Bolshoi Academy's first Egyptian students? It was a long time ago, but did you experience any culture shock or homesickness?
Saleh: There were five of us fifth-year classmates at the Higher Institute of Ballet. At first, we were known to our Russian classmates and the school at large as 'the Arabs.' Also, 'the Arab Princesses.' We stuck together like glue — collective self-consciousness? As time passed, we ceased to be a novelty, learned Russian, and settled in. Lasting friendships were made. Upon our triumphant return to Egypt with our hard-earned Bolshoi diplomas, we were dubbed 'the Bolshoi Five.'
As for culture shock and homesickness: are you kidding?! Well let me just say: those two years were 'character-forming.' Amazing, and one tough challenge! I might just add (bragging rights!) that the final performance of my ballet career was Giselle with the Bolshsoi Ballet at the Bolshoi Theater, partnered with Abdel Moneim Kamel a.k.a. Mike. Talk about coming full circle! Ditto at the Kirov. We also did Don Quixote and apart from Moscow and Leningrad (today St Petersburg), we guested with the Novosibirsk and Tashkent companies.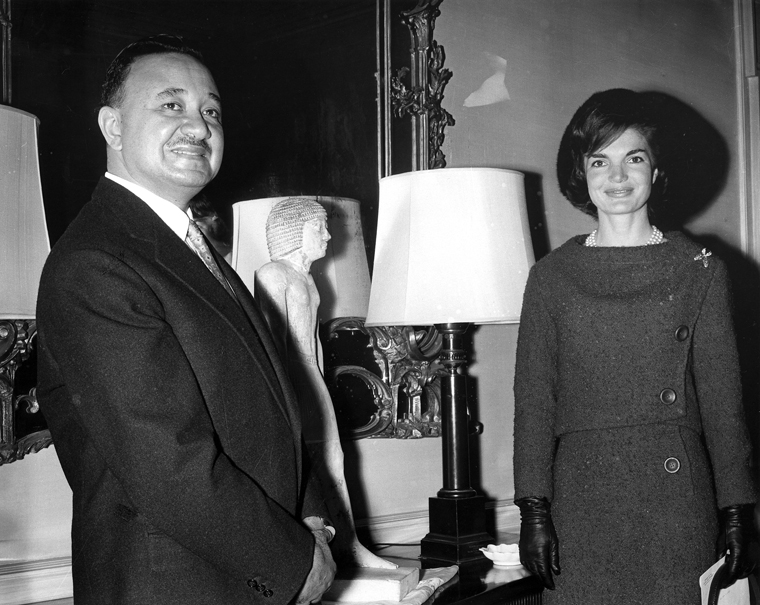 Mrs. Kennedy in the company of Dr. Okasha at the Tutankhamun Treasure Exhibit in Egypt's National Gallery, 3 November 1961.
Photo credit: National Gallery of Art, John F. Kennedy Presidential Library and Museum, Boston.
Dance Enthusiast: Needless to say, you hold Dr. Tharwat Okasha, Egypt's late Minister of Culture, in very high regards—after all, you did contribute a chapter to a biography about him. If you could share a pot of tea with Dr. Okasha today, what would you like to tell him?
Saleh: This is tricky. To speak of Dr. Okasha one can never say enough to do him justice. Those of my generation who were privileged to be a small part of his grand, far-sighted and enduring (against all the odds) vision for culture and the arts in Egypt regarded him with admiration, respect, awe and love, and preserve his memory with worshipful reverence and unending gratitude. Our first Minister of Culture (at age 36!) was a remarkable man, a Renaissance Man, and a true son of Egypt. I am running out of superlatives! There is not enough space to properly respond here. Do look him up!
We were neighbors in the Cairo suburb of Maadi so he often invited me over, later including my Egyptologist husband Jack Josephson, for elegantly served tea and petits-fours, sometimes a glass of wine, and stimulating, far-ranging conversation. He spoke of his dedicated service to Egypt as his 'dream,' so sipping my tea, I would say, yet again, "Thank you, Sir. You dreamed and made many a dream a reality for many. You  enriched the life of a nation immeasurably." I should add "...and world heritage," for it was he who initiated and implemented the international UNESCO campaign to save those ancient treasures, the monuments of Nubia, from the rising waters of the High Dam. I often comment that the long-ago thriving 'Golden Age' that flourished in the sixties was due to a confluence of time, place, circumstance — and the enlightened determination of one man. Our hero.
Dance Enthusiast: It seems like you were very much involved in Hisham Abdel Khalek's documentary about your incredible life story. How long did it take to produce 'A Footnote in Ballet History'?
Saleh: Actually, for a documentary film of such length, it did not take long at all. We started filming in February 2016 and the film premiered in Cairo at the 38th Cairo International Film Festival in November of that year. Hisham was a fast worker. I used to tease him that he was 'Abu Seree'i.' Difficult transliteration and difficult translation... I guess an approximation would be 'Father of Speed,' but that does not render the humorous Egyptian flavor of this type of expression for characterizing someone in a concise word-picture.
It unfolds as a series of interviews, illustrated by historic photographs from our personal archives, and rare footage. Too rare, alas. So much went undocumented, of has been lost. Hisham uncovered a number of brief nuggets, and we gloated over them like misers over long-lost treasures unexpectedly unearthed!
Magda Saleh in Don Quixote. Photo courtesy of the artist.
Dance Enthusiast: What takeaways have you gleaned from helping found a national arts institution during the Cold War?
Saleh: Do you mean the founding of the New Cairo Opera House (National Cultural Center) in 1988, or the earlier founding of the Academy of Arts by Dr. Okasha in 1959? In either case, the geopolitics of the Middle East, the grand game, were always the backdrop to our endeavors. Our lives were punctuated by the periodic wars — proxy wars of the two competing superpowers of the time — and the struggle goes on to this day, at a terrible cost, seemingly intractable and endless. So in a sense our lives were shaped by events, as so many of the From Horse's Mouth narrations will illustrate. Within this framework, we carved our careers and pursued our dreams of dance. So many lives turned out so differently from what our young selves had envisaged, and yet for the most part, were so richly rewarding. I hope this answers your question?
Dance Enthusiast: Which of your efforts to bridge the gap between the Egyptian and American dance worlds do you deem the most successful?
Saleh: Hmm. The efforts were many and varied, the events great and small, spanning several decades. I can start out by telling you about what I thought was to be my greatest coup: organizing a tour to Egypt by the New York City Ballet! I worked on my project for three years. Daniel Kurtzer, the American Ambassador, was enthusiastically on board, envisioning a major Egyptian-American event with the NYCB performances as the crown jewel in a high-profile program that included a visit by the Mayor of New York (Cairo and New York are Sister-Cities), and a slew of delegations. Alas — it all fell through because of a last-minute disagreement over advancing or delaying the tour by three days! I almost threw myself in the Nile!
Other than that gigantic let-down (you can see it still rankles), here is a random selection: I arranged a tour of the Joffrey Ballet to Cairo; I gave a series of lecture-demonstrations on Egyptian Dance in collaboration with Walter Terry, Dean of American dance critics and a dear friend. I should also note my long and productive association with Public Programs at the New York Public Library of the Performing Arts at Lincoln Center, initiated in the 1970s; my work as presenter of Egyptian artists for the eminent American ethnomusicologist Ralph Rinzler at the Smithsonian Institution Folklife Center; collaborating with ICM Artists in organizing the 36-city tour of the Festival of the Nile traditional artists; twice coaching the American team dancers at the International Ballet Competition in Varna, Bulgaria; appearing as Mistress of Ceremonies at the First International Ballet Competition in Jackson MS, announcing in English and French, together with Alexandra Danilova (Russian) and Marcos Paredes (Spanish), and...  I could go on, but you get the idea :)
Magda Saleh in La Bayadere. Photo courtesy of the artist.
Dance Enthusiast: Let me ask the expert! Do the traditional folk dances of Egypt share a similar movement vocabulary to one another?
Saleh: Not really. There are many forms in diverse sub-cultures as well as regional and local variants to the forms. It is a surprisingly rich and varied dance culture, as I discovered while working on 'Egypt Dances,' the feature-length documentary film complementing my dissertation. It was eye-opening, a voyage of discovery of my own country, and I was amused by the astonishment of many Egyptians who demanded to know " ...where I had got the dances?" as if I had made them up! The 1977 film, by the way, ranks today among the recognized ethnographic classics, and is much in demand by scholars as far away and apart as Australia, South America, Europe and the Middle East! That makes the struggle to produce it well worth the effort. What an adventure that was, but let's not gets into that now :)
Dance Enthusiast: What is the biggest challenge to reviving these near extinct dances? Funding? A lack of instructors?
Saleh: These traditional dances belong to the people who perform them. If at some point or other, people are pressured to abandon these practices because they are evidence of 'backwardness,' are frowned upon by the religious establishment and subject to its strictures, or because of the current rapid urbanization of the rural areas, they will cease to practice them. Cultural loss due to changing lifestyles or other factors is a widespread phenomenon. There are many diverse efforts being made to counter this trend. With what measure of success? Only time will tell.
A recent photo of Magda Saleh. Photo credit: Jack Josephson.
Dance Enthusiast: Did Tina Croll and Jamie Cunningham reach out to you specifically for the upcoming program or have you been in cahoots with From The Horse's Mouth prior? You're very well connected in the dance world in NY, after all.
Saleh: In cahoots! That sounds conspiratorial. Shall I confess? Twenty years ago I collaborated with John Claassen, the executive director of the FTHM productions, on bringing Noche Flamenca to Egypt. Big success! John and I became good friends and collaborated further along the way, to mutual satisfaction. For instance, a of couple years ago, he, Adria (Adria Rolnik PR) I worked on presenting the prodigious Egyptian pianist Mohamed Shams in his Carnegie hall debut in Weill Recital hall. Huge success! Even Carnegie Hall was impressed. So John was persuaded that Egypt and Egyptian Dance would be fascinating material for a FTHM presentation. He persuaded me, and Tina and Jamie to go along, so now we are in cahoots up to our eyeballs with the season — the 20th season, what an honor! — looming. Wish us luck!
Dance Enthusiast: Good luck and hazz sa'eed (حظ سعيد)!
---
The Dance Enthusiast Asks Questions and Creates Conversation.
For more of The Dance Enthusiast Asks, click here.  
Share your #AudienceReview of this show or others