Maria Baranova on "Faces of Downtown Scene," A Portrait Project Dedicated to New York's Experimental Performers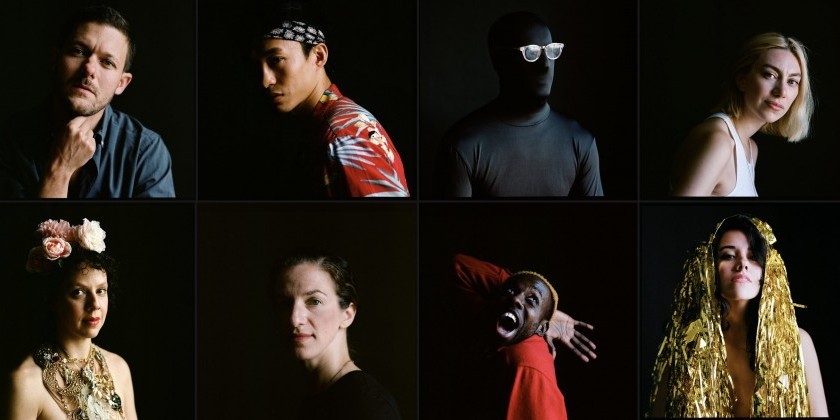 Showing at The Invisible Dog from January 4-February 16, 2019
January 4-February 16, 2019
Main Gallery, The Invisible Dog Art Center, 51 Bergen St, Brooklyn, NY
"Faces of Downtown Scene" is the first time Maria Baranova is printing and exhibiting her vast series of artist portraits. Baranova, a skilled photographer renowned for documenting on and off Broadway theater and dance, has been inviting dancers, choreographers, producers, playwrights and designers to her Gowanus, Brooklyn studio since November 2016. Her 200 subjects, include Ivy Baldwin, Geoff Sobelle, Meg Harper, Bobbi Jene Smith, Young Jean Lee, David Neumann, Eric White and Shantell Martin, members of Mabou Mines, Radiohole, 600 Highwaymen, Catch, and Big Dance Theater. Meet the artist(s) and catch a live performance at the opening reception on January 4 from 5:30-8:30pm; Witness Relocation and Dan Safer will perform Surveys The Prairie of Your Room at 6.30pm.
---
Maria Baranova. Photo by Alexey Novikov in 2017.
Sammi Lim for The Dance Enthusiast: It is so rare to see dancers and movers and shakers of the performing arts community looking so still and serene, and yet here they are. Were there steps you took to put them in a certain frame of mind?
Photographer Maria Baranova: Sure, there were many. This project was something very new to me. I come from the world of art painting, and moved to photography via a series of collages I was making. When I started to photograph, it was mostly Fashion and Beauty portraits. All my creations and the people involved helped me to achieve my personal vision.
"Faces of Downtown Scene" is completely different. It is about real people, and about capturing the one second where they are, in my opinion, the most themselves. It was critical to create the right space and mood for each person to be comfortable and relaxed. Also, it being New York, people came from running in between rehearsals, and I was jumping behind Hasselblad straight from another shoot or long editing hours. It really felt as if each session was a moment when we stopped the time and stopped ourselves.
90% of my subjects walked in with the words, "I hate headshots," so my goal, from the beginning was NOT to make another headshot, but a portrait. A good old portrait where people take time, make space, and trust each other. I think what helped the most was my honest interest in my subjects and our mutual respect for each other work.
The Dance Enthusiast: "Faces of Downtown Scene" took flight one fine day in November 2016. What was the impetus for inviting New York's experimental performance community to your studio?
Maria Baranova: It was a combination of many things. As mentioned, I was very curious about these people because I photographed their work, but never had a chance to talk to them. A selfish decision to get them to MY space and to get to know them! While photographing shows, I also craved to depict the 'indirect' artists — those who are never on the stage but equally responsible for what happens on stage: think designers and producers. I wanted to preserve this moment in time and place by preserving the faces of the people who make things happen.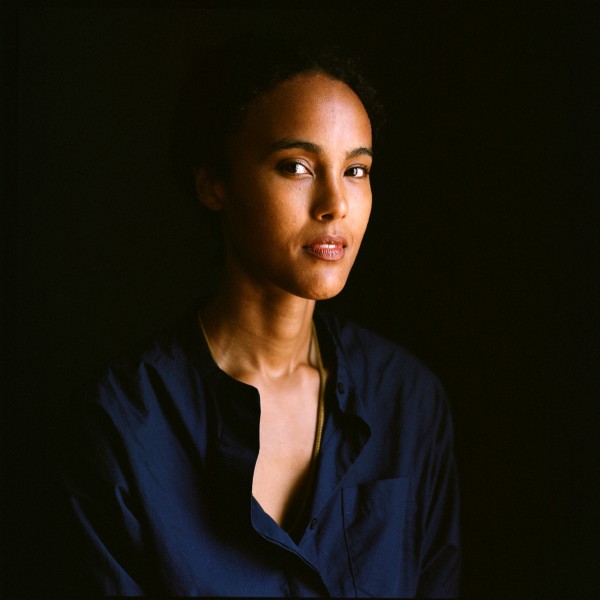 Kaneza Schaal, New York City based theater artist. Photo credit: Maria Baranova.
The Dance Enthusiast: As a writer, I deem it harder to cut down than to add on. How did you narrow down the final selection of photos to just 37 portraits?
Maria Baranova: The number itself was very practical decision. When I first started to think about showing this body of work I wanted it to be at The Invisible Dog. For me and many people I photographed, it is like coming home, as many have performed at the ID and I photographed many of those performances. I was thinking of showing 50 and then 30, but in the end me and Lucien went around the gallery with a tape measurer and calculated how many 22x22 we can fit in. 37! But the selection itself was the least fun part of the project. I was making the final selection for half a year and while half of the show was being printed, another half was still in the selection stage. How one can choose between equally special people?
The Dance Enthusiast: Every minute I spend poring over the portraits foments more questions. For instance, why did some artists opt for anonymity by turning their backs on the camera or obscuring their profiles?
Maria Baranova: There is a story behind each photo, so you need to specify who you mean. But in general, that was just what felt right at the moment and for the specific person.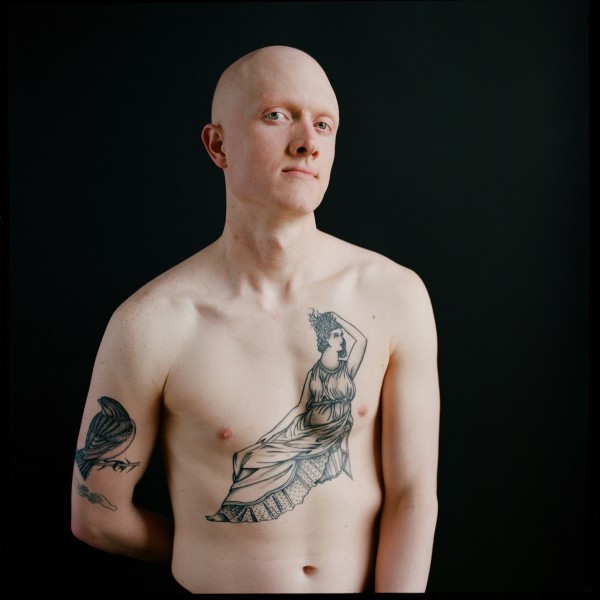 Ben Wagner, performer. Photo credit: Maria Baranova.
The Dance Enthusiast: We recognize quite a few faces, actually, and are struck by how much their poses fit their personalities.
Maria Baranova: My guess is that its because there was no pressure to get it right. To achieve anything. To be anyone but yourself in that moment. We could not see the result right on the spot because everything was shot on film — that took the anxiety out by getting immediate results. There was no make-up or styling, really. Very static, no extra moving involved, just being in front of each other. I really took my time. Sometimes conversations got so interesting that I forgot to take a picture. I limited myself to taking only few frames for each person; this way I forced myself to really understand what I was doing, to take a shot at the very specific moment, to trust my intuition on the right moment, whether 5 or 30 minutes in. There were exceptions, of course, and from time to time, more frames were taken. Ideally I wanted to take just one frame. With many of the subjects, the first frame was the one, and the extras were just me being unsure of myself. This project really changed me, who I am as a photographer and as a person.
The Dance Enthusiast: Do you mean to say that the series has helped hone your intuition?
Maria Baranova: More than intuition; it's affected my approach towards photography and people, my return to film, and portraiture in general — this is, in itself, a topic for a longer conversation. I had never had a 2-year project before.
The Dance Enthusiast: Though varied, what about the featured artists tie them together? (Besides the privilege of calling you their friend, of course)
Maria Baranova: I'm not sure how to answer this question. Come see it and decide for your self!
Meg Harper, performer. Photo credit: Maria Baranova.
The Dance Enthusiast: We are well familiar with your style as your photos often make it on to The Dance Enthusiat's listings, but you don't always use the 'chiaroscuro' look. Why this aesthetic for the series?
Maria Baranova: I like black background: it reminds me of theater, black box. I think it's more delicate and gentle. While white exposes everything as it is, with all the unnecessary reflections, black embraces the subject like a cloth, showing just a right amount of personality.
The Dance Enthusiast: Have you thought about your next step? A coffee table book, perhaps?
Maria Baranova: The book was my first idea and it is still my main goal for this project. I think of the exhibition as the first step for the book. 
---
The Dance Enthusiast Asks Questions and Creates Conversation.
For more of The Dance Enthusiast Asks, click here.