Related Features
Contribute
Your support helps us cover dance in New York City and beyond! Donate now.
The Dance Enthusiast Meets the 2015 Bessie Award Nominee Melissa Toogood (Part 2)
Melissa Toogood is a Bessie Nominee for Outstanding Performer
It's fall and that means temperatures are dropping, performance seasons are starting, and dancers are revving up to see who will win this year's New York Dance & Performance Awards (The Bessies). The 2015 nominees ( see list here) are what award-winning actor/director/writer Roger Guenveur Smith calls "an eclectic bunch."
That eclecticism makes this interview series one of the most exciting of the year for me. With a blend of the usual suspects like the American Ballet Theatre and Mark Morris Dance Group positioned alongside artists like Smith, Storyboard P, and 600 HIGHWAYMEN, there is no question that New York (and even a bit of New Jersey) is a home for dance of all facets. See you on the red carpet outside the Apollo Theater in Harlem on October 19! - A. Nia Austin-Edwards, for The Dance Enthusiast.
Meet 2015 Bessie Nominee for Outstanding Performer for her body of work during the 2014−15 season – Melissa Toogood:
Melissa Toogood is currently performing with Pam Tanowitz Dance, Rashaun Mitchell & Silas Riener, Kimberly Bartosik and as a Guest Artist with the Stephen Petronio Company. She was a member of the Merce Cunningham Dance Company. She has performed with Miro Dance Theater, the Michael Uthoff Dance Theater, the Rosie Herrera Dance Theater, Robert Wood Dance, Kyle Abraham/Abraham.In.Motion, Sally Silvers, Bill Young, Dylan Crossman and toured with The Bang Group's Tap Lab. As Assistant to the Choreographer Pam Tanowitz, she's worked on creations for Ballet Austin, Barnard College, Dickinson College, Princeton University, Rutgers University, Vail International Dance Festival, and the Fall For Dance Festival. Dance Magazine named her in their 25 to watch in 2014.  
A. Nia Austin-Edwards for The Dance Enthusiast: When and where does your artistic story begin? Have you always known you would be a performer, or was it more of a surprise?
Melissa Toogood: Yes, I always knew. I started dancing when I was really young. I don't remember my first dance class. My parents took me, and I know they were really shocked when I actually got on stage. I was always a really shy child, but on stage I was a different person. My sister was a social butterfly and she panicked when she had to get on stage, but I've always felt at home on the stage. I get really nervous but I'm [never] scared to fully do whatever I need to do [in performance].
TDE: Wow. So what has been the biggest challenge in your artistic journey?
MT: Honestly, my body. I've always dealt with a lot of injuries. It's actually also been a real plus. I was having a lot of x-rays and bone scans and issues when I was a young teenager and it really made me focus on quality of movement from a young age. I learned because of these limitations. When I'm in pain it forces me to constantly look at what's actually going on.
I take technique class regularly. I'm still working on my technique. And even in class I focus more on my quality of movement because when I do that I'm in less pain. It helps me transcend to somewhere else. I would say physical pain has been the biggest struggle for me to overcome, but it's also made me the dancer that I am.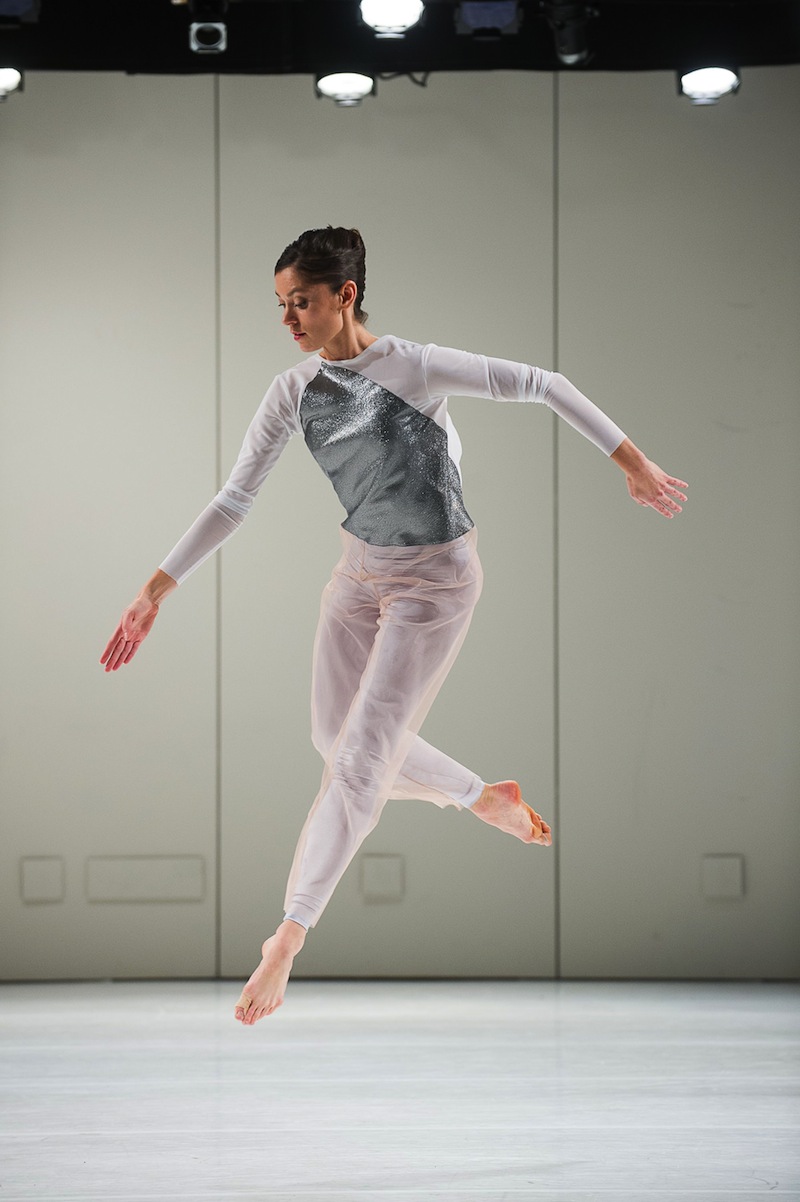 Melissa Toogood in Pam Tanowitz's Broken Story (where in there is no ecstasy),Commissioned and presented by Works & Process at the Guggenheim 
Photo: Christopher Duggan 
TDE: This fall The Dance Enthusiast is celebrating 8 years! Can you describe your creative process (perhaps in 8 words or less)?
MT: Immediate but intricately thought out. Sensitive and bold.
TDE: What do you do when you're not creating?
MT: I work a lot. I mean I'm lucky that I'm working so much but I don't really have any free time. But I do try to spend any free time I have with my husband. He is also managing two careers so that's kind of hard for us. We like to bike in Prospect Park with our little folding bikes. I like cooking.  I love the beach, but I'm kind of a beach snob because I'm Australian. New York beaches don't really cut it for me. But whenever I'm not in the studio, if I can be outside – like right now I'm standing in the sun. I like to be outside as much as I can.
TDE: Who would you say is your artistic idol? Who constantly inspires you creatively?
MT: Well definitely Merce [Cunningham]. I'm still involved with his work. With all the work I do, it's like he's changed all my instincts. The way I see has opened up so much because of him.
Honestly everyone I've worked with has definitely taught me something, and the reason I said yes to working with them is because I saw the possibility for that.
I think that there are still certain things from growing up that [inspire me]. Like I still love watching old movie musicals. And my tap training still really inspires me. [I hold on to] that sense of rhythm event though I don't tap anymore. I think that's something that Merce saw in me too, that complex understanding of rhythm that he was able to utilize.
There are a lot of things. I'm really inspired by other artists too, like visual art and music. My husband really inspires me.
TDE: Your nomination includes this wonderful long list of artists you've worked with.
MT: I can't believe I fit all that in this year.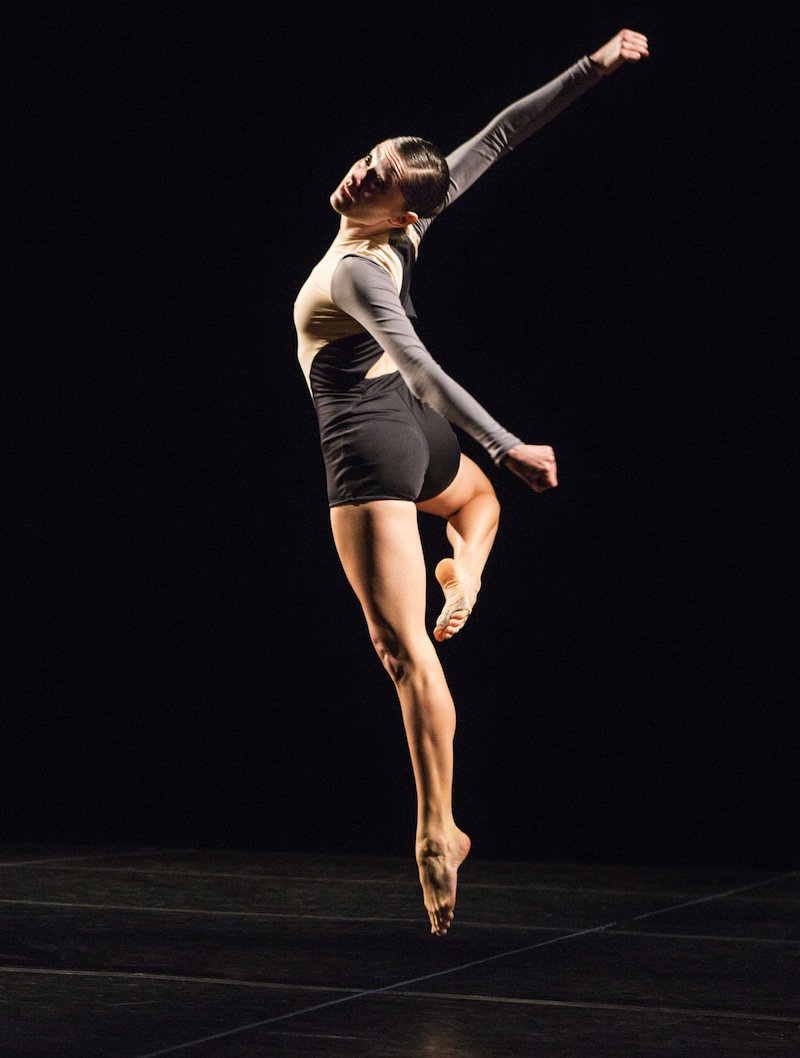 Melissa Toogood in Stephen Petronio's Locomotor; Photo: Yi-Chun Wu
TDE: Yes, it's really amazing to see them all in one place! Is there one story you'd like to share with a bit more detail about how you chose to work with these artists? Was it a long brewing collaboration? Was it a sudden new idea? How did it all come together?
MT: I guess three in particular are strong for me. Pam [Tanowitz] is someone I've been working with for a really long time. I started performing with her when I was an understudy at Cunningham, so I was technically in her company before Merce's. I feel like I'm always doing my best work when I'm in the studio with her. And it's grown to a point that we're on the same page. We work so great together. She's able to push me and she trusts me like nobody else.
Rashaun [Mitchell] and Silas [Riener] – it was just Rashaun's piece I did this year but I'm really proud of the work that I do with them [after] coming from Cunningham. It doesn't look like Cunningham, but that embodied knowledge is something we're able to take further. My work with them, I feel, is a really important and true part of the Cunningham legacy.
And then with Stephen [Petronio], his movement in my body is not like anything I've ever done before. It changed me more than I thought it would. That information has been really wonderful for me in all the work that I'm now doing. And of course he also gave me an opportunity to dance Merce's work again. That was really special to share that with him and his company.
TDE: What's coming up next for you?
MT: Next I go to Ballet Austin to help Pam stage a piece that I helped her make last year. After that I'm teaching a Cunningham workshop with Dylan Crossman for [the Trails Fellowship Workshop]. And then I'm in Fall for Dance with Stephen where I guest with him for Locomotor again.
TDE: Anything else you want to share?
MT: It's really different being a freelancer than it was being in one company. It's hard because there are so many hours of scheduling, but I think it suits me because aesthetically I'm interested in a variety of things. I was really lucky that this year I was able to do so many different types of [movement]. It's really an honor for that to be recognized by the Bessie committee. I just hope that the nomination means I'll keep being offered work.