Related Features
Contribute
Your support helps us cover dance in New York City and beyond! Donate now.
THE DANCE ENTHUSIAST ASKS: Michael Novak of Paul Taylor Dance Company About Leading A Legacy Dance Company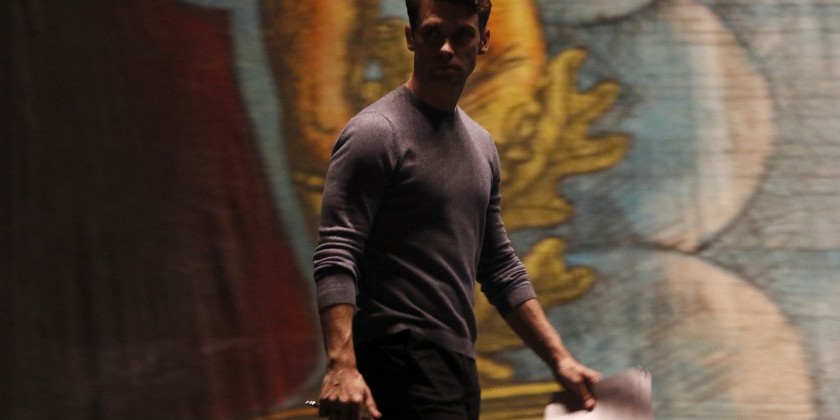 BIO: Michael Novak became only the second Artistic Director in the history of the Paul Taylor Dance Foundation in September 2018, upon the death of Founding Artistic Director Paul Taylor the previous month. Mr. Novak was a member of the Paul Taylor Dance Company from 2010-2019.
Raised in Rolling Meadows, IL, Mr. Novak began studying dance at age ten. At 12 he developed a severe speech impediment that required intensive therapy. Dance became a liberating and vital force for self-expression. "I wanted nothing more than to achieve in dancing that sense of effortlessness and grace that were so difficult for me to find while speaking aloud," he said. "With dancing, there were no limits to what I could express." In 2001, Mr. Novak was offered a Presidential Scholarship to attend The University of the Arts in Philadelphia to pursue training in jazz and ballet. The following year, he undertook an apprenticeship at the Pennsylvania Academy of Ballet Society, where he remained until 2004. [Continued]
*In this three part series, we ask the new leaders of three legacy companies what they're up to this pandemic season.
---
Sammi Lim on behalf of The Dance Enthusiast: Happy 66th anniversary to Paul Taylor Dance Company! I thoroughly enjoyed the MODERN IS NOW: Stories of our Future benefit video, and how the dance works are interspersed with celebrity appearances. How did you celebrate after?
Michael Novak, Artistic Director of Paul Taylor Dance Company: Thank you very much. Our dancers, staff, and collaborators at Broadway Unlocked did incredible work to create our first-ever virtual benefit. We wanted to offer audiences the opportunity to feel like they were immersed in the Taylor world in a way they have never experienced before. And we are proud to say we accomplished that. The way everyone at our organization collaborated and stepped into the unknown was inspiring on all fronts. 
Following the event, I had a celebratory libation with my husband and a good night of rest, then immediately went back to work the next morning. 
The Dance Enthusiast: I'm sure we've all had our fair share of good and bad bosses; while I try to mimic the examples of the former, I avoid the mistakes of the latter. Do you do likewise? What is your approach towards leadership?
Michael Novak: My approach to leadership is best summarized in one word: evolving. Managing the passing of our founder, a new influx of dancers into the Company's ranks, and now the pandemic have created a variety of opportunities for creative thinking, adapting, and learning how to manage through unknowns. 
All these opportunities are allowing me to become more familiar with — and comfortable with — my strengths as an individual, and thus a leader. I am naturally introverted, empathic, and creative. But those are matched with a passion for logic, systems, efficiency, and high expectations. My leadership style incorporates all of those, and depending on the task at hand, I employ a variety of these skills.  
Paul Taylor Dance Company at Jacob's Pillow Rock. Photo by Grace Kathryn Landefeld
The Dance Enthusiast: In an interview with the New York Times, you said it was your goal to, "Keep (the company members) laughing". Has it proven hard to keep your colleagues jovial in these especially tough times?
Michael Novak: It can be difficult to be optimistic or hopeful in times of such extreme difficulty, death, racism, and civil and political unrest. And that's very important to recognize. It doesn't mean there can't be laughter at times; it simply means that it's important to have awareness of our collective emotional state when reading a room.  
I'd also add that due to the pandemic, I have been spending considerable time with key staff and board members. A shout-out to our Company Manager, Rehearsal Directors, Alumni, and senior Company members who keep the morale forward-moving — no easy feat during 2020. What brings us all together is our love of Taylor's works and the power of dance to reach people. That spirit has been driving us forward: working on Paul Taylor's dances, creating special films, and keeping our commissions program going. 
The Dance Enthusiast: How do you handle disagreements among your team members?
Michael Novak: Managing disagreements and grievances is a part of being a leader. I've learned it's usually best to not react, but get curious. There is almost always an underlying issue at play that team members are not aware of. So, in general, I focus on listening, specifically on what is being said versus what is being meant. I also look for body language cues, whether in closed-door meetings or in rehearsal. 
Michael Novak. Photo by Whitney Browne
The Dance Enthusiast: What is the hardest decision you've had to make while heading PTDC?
Michael Novak: Being the leader of an organization, there are always challenges and hard decisions that need to be made, and they are relative to what decisions have come before and what you know about the future. This is especially true as our world shifted last March and we were forced to suspend our operations, reimagine our operations, and cancel our touring and annual Season in New York.  But challenges can often hide opportunities to think differently and try something new and exciting. 
The Dance Enthusiast: "Who is Michael Novak?" How would you answer this prompt about yourself in the third party?
Michael Novak: I would say that Michael Novak is both strategic and sensitive, idealistic and intuitive, with an intense passion for the power of expression and a curiosity in the transcendent. He believes that dance — both as an art form and a form of healing — can better our lives and culture, and works relentlessly towards that aim, and expects everyone around him to align to those values. We are all servants to the art-form. It has existed long before us; and will endure long after. Our work is to ensure that our time here makes a difference.
---
The Dance Enthusiast Asks questions and creates conversation.
For more of The Dance Enthusiast Asks, click here.
---
The Dance Enthusiast - News, Reviews, Interviews and an Open Invitation for YOU to join the Dance Conversation.