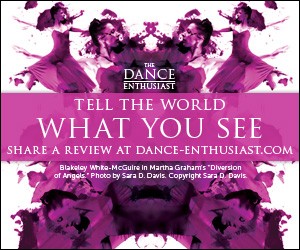 Related Features
Moving Caribbean In New York and Elsewhere with Alicia Diaz: From San Juan, Puerto Rico to Agua Dulce Dance Theater
Memories, Values and Bomba
As part of our Moving Caribbean Project, I sent off a list of questions to artists of Caribbean heritage. As we are all busy  leading hectic lives and worn out from a divisive election, the only answer I received, as yet, is from the wonderful Puerto Rican dance artist, Alicia Diaz. Thank you so much Alicia for your participation, enthusiasm, and belief in the importance of documenting the Caribbean artists' experiences. 
I invite other artists to share their thoughts on their Caribbean heritage and answer the questions posed here throughout 2016.  We will  publish them before the New Year on The Dance Enthusiast. Please contact me at cjchiefeditor@dance-enthusiast.com
With enthusiasm, Christine
---
---
Alicia Diaz:
ALICIA DIAZ—
dance artist and educator. Originally from San Juan, Puerto Rico, Alicia is co-director of Agua Dulce Dance Theater with Matthew Thornton and dance faculty at the University of Richmond. Her work has been presented in the United States, Puerto Rico, Martinique, Cuba, Argentina, Spain, and Mexico. She has danced professionally with Complexions Contemporary Ballet, Donald Byrd/The Group (The Harlem Nutcracker), Joseph Holmes Chicago Dance Theater, Andanza: Compañía Puertorriqueña de Danza Contemporánea, Alice Farley Dance Theater, Contemporary Motions, and the Maida Withers Dance Construction Company as well as numerous independent choreographers.  Her recent collaborations with Puerto Rican percussionist Héctor "Coco" Barez have been presented at Pregones Theater and Movement Research at The Judson Church in NYC, the Richmond Dance Festival, and the Virginia Museum of Fine Arts. Their work Deep Listening was featured in the PBS TV program Puerto Rican Voices: It Takes One (Season 2-Episode 3), co-produced by the Center for Puerto Rican Studies at Hunter College.
Upcoming Project:
Bodies, Memory, Visual Arts
Works by Agua Dulce Dance Theater in the Museo y Centro de Estudios Humanísticos (Musuem and Center of Humanistic Studies) at Universidad del Turabo, Puerto Rico. Performance of Deep Listening with Héctor "Coco" Barez and new work in relationship with the work of Puerto Rican visual artist Jeannette Betancourt that will be on exhibit in the gallery.
The Dance Enthusiast, Christine Jowers: Alicia, how are you connected to the Caribbean?
Alicia Diaz: I am originally from San Juan, Puerto Rico. I was born in the island and migrated to the United States when I was 12 years old.
Dance Enthusiast: Is this connection vital to you as a person and an artist?
Diaz: I am connected to Puerto Rico both personally and professionally. I have family, friends, and colleagues that live there that are an integral part of my life. I return to the island regularly. Furthermore, as part of the Puerto Rican diaspora, my identity as a Puerto Rican transcends geographical boundaries and fully informs my experience as a Latina living in the United States. My work as a dance artist, particularly my current choreographic research, addresses questions of cultural memory and identity marked by the legacies of slavery and U.S. colonialism.
Dance Enthusiast: What significance does the Caribbean region hold for you?
Diaz: I am fascinated by the Caribbean as a site of complex, and often violent, cultural encounters that have informed the development of rich music and dance forms. I see many of these forms as part of a wide range of embodied forms of resistance in the African diaspora that can serve as a lens to think critically about the intersection of history, politics, memory, the body, and the future.
Dance Enthusiast: What traditions are important? What do you keep from your Caribbean experience and what have you done away with?
Diaz:In my most current artistic work, I am referencing bomba, the oldest Puerto Rican music and dance form developed during slavery and informed by complex cultural encounters between Africans and their descendants, Europeans, and indigenous people. Bomba is characterized by the improvisational dialogue between a solo dancer and a lead drummer. In this tradition, individuality and self-expression is encouraged within boundaries established by the collective. Historically, this form has served as a space where individual voices can be articulated in the face of systemic oppression.  In that sense, its mere existence and survival is in itself a subversive act. I am interested in how improvisation can serve as a bridge between my experience as a contemporary dance artist and this cultural tradition. I am interested in how bomba's physicality, rhythms and embodied lessons of resistance inform my work as an artist.
 
Personally, I long for communal experiences where music, dancing, and good food are central. I have been intentional about raising my children bilingual. Kissing and hugging as a form of greeting. This is important to me in regards to human connection and interaction, a warmth and a closeness that is less common in U.S. mainstream culture. Family and friends gatherings, for example, birthday parties for children as a communal event.
 
I have intentionally tried to move away from traditional gender roles that place women subservient to men.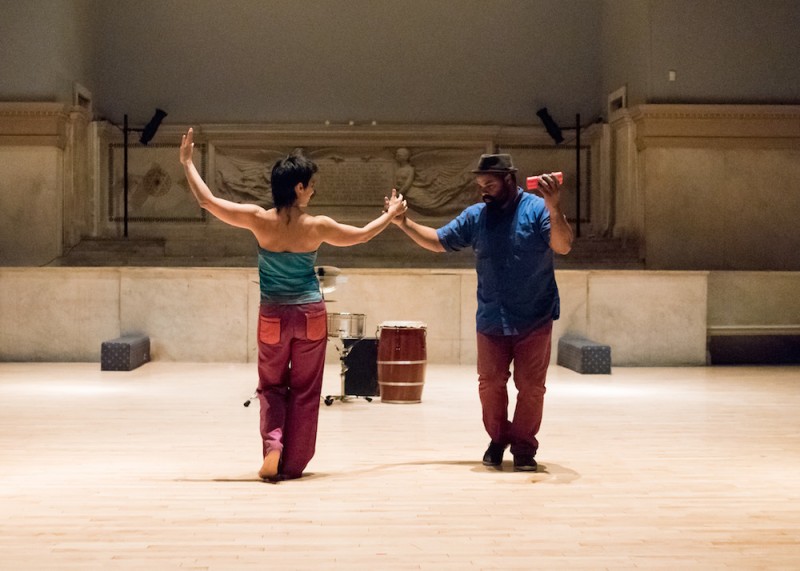 Alicia Díaz and Héctor "Coco" Barez at Movement Research; Photo by IAN DOUGLAS
Dance Enthusiast: Do you struggle with stereotypes?
Diaz: One of the most persistent stereotypes I encounter regularly is the idea of the "sassy Latina." Here ethnicity, gender, and sexuality come together to be consumed and dismissed at the same time. I struggle with rejecting the stereotype and its negative implications while also acknowledging and owning its potential power.   
 
As a middle class Puerto Rican woman, I also encounter the idea of the "exemption to the rule" with comments like, "You don't look Puerto Rican. You don't act Puerto Rican. You speak so well. You seem so educated." This is often followed by degrading comments about Puerto Ricans and Latinos.
Dance Enthusiast: Are your values at home and in art particularly Caribbean?
Diaz: I am inspired by lessons from the Caribbean that underscore creativity, resilience and the capacity for both resistance and celebration in the midst of difficulty. I see these values and qualities as part of my heritage and they fill me with strength and courage as we face a most challenging future.
Dance Enthusiast: Do you visit your home country? If so what do you look for or enjoy there and what values and experiences do you wish to share with home island or other island audiences?
Diaz: When I return to Puerto Rico, I am fully aware of my experience as a Puerto Rican raised in the diaspora and I am interested in engaging in dialogues that bridge our communities in the island and stateside.
Alicia Diaz; Photo by Hiro Yukito
Dance Enthusiast: Do you have a favorite Caribbean dance memory?
Diaz: Going to the Fiestas de Santiago Apóstol in Loíza, Puerto Rico as a young girl and being present in a community bomba dance. The energy of the circle of people, musicians, singers, and dancers was powerful.  I remember an older woman entering the center of circle to improvise in conversation with the lead drummer. Midway through her dance she started trembling throughout her entire body in rhythm with the drum, a young child reached out to place her hand on her body and feel the vibration. I was struck by the clear transmission of knowledge in that exchange, one that required no verbal instructions, it was from body to body, from one generation to another.
---
Join Dance Enthusiasts at our Enthusiastic Event! Dance: Island to Island - Moving Caribbean in NYC on November 16th at Gibney Dance 280 Broadway. Food, drink, dancing, and conversation with Caribbean Women Artists from Haiti, Jamaica, Trinidad +Tobago, and Puerto Rico.
The Dance Enthusiast Explores Dance and Creates Conversations - See More 'Day in the Life' Articles and 'The Dance Enthusiast Asks' Articles.

Check out our other Moving Caribbean pieces on Dance in Haiti, Homer Bryant, Geoffrey Holder, Gabri Christa, Makeda Thomas, Carlos Cabrera, and Joan Peters, Dunham Dance Teacher.