Related Features
Contribute
Your support helps us cover dance in New York City and beyond! Donate now.
Dance Enthusiast Asks Nancy Allison About "Jean Erdman at 100" The American Dance Guild at the 92Y
How Does The Story of a 100-year-old Artist Speak to Us Today?
Eating lunch in bustling Union Square with Nancy Allison, the artist known worldwide as a leading exponent of Jean Erdman's choreography and aesthetic, I realize how short our dance memory can be. Often guided by who is in the spotlight, or who can sustain a life in that elusive spotlight, we easily overlook the powerful contributions of our "dancestors." I wonder, how many people, not embroiled in the history of American modern dance and theater, are familiar with Jean Erdman? They should be.
The American Dance Guild, working with Allison and the 92nd Street Y, thankfully aims to keep this extraordinary artist on our minds. Their festival MYTH AND MODERN DANCE not only celebrates Jean Erdman, on the occasion of her 100th birthday (in itself a miraculous achievement), but honors the dancer, choreographer and avant-garde theater director's prodigious body of work, including creating roles in the original Martha Graham company, extensive collaborations with her mythologist, lecturer, writer husband, Joseph Campbell, and her continuing influence on contemporary artists. A line-up of spectacular performers and speakers add depth and dazzle to this not-to-be-missed series.
The American Dance Guild Fall Performance Festival -October 14-16, 2016 at  92nd Street Y Harkness Dance Center -Celebrates 100 years of Jean Erdman -Myth and Modern Dance
For information on the panel and performances and for tickets  ( Click here)
---
I was lucky enough to chat briefly with Allison about how Erdman's work has been essential to her artistic experience and what we enthusiasts can learn from Erdman's story today.
Christine Jowers, for The Dance Enthusiast: Nancy, great to have a chance to chat with you! You danced with Erdman's Theater of The Open Eye (love this name by the way) from 1976 to 1985. Can you tell me how you met?
Nancy Allison: I was an intern with the theater in the autumn of 1975. It was my senior year of college as a dance and theater major at Ohio University. Gladys Bailin was my teacher in a very small department. Our teachers knew us very well, and Gladys said to me, "You ought to meet Jean Erdman."  At that point I hardly knew who Martha Graham was, (she laughs) but I said sure!
Dance Enthusiast: Can you tell me about your interning with the company?
Allison:  I was the wardrobe mistress— that I understood…
Dance Enthusiast: We should explain that your parents owned children's clothing stores and, you are an impeccable dresser.  
Allison: And I was the understudy for every female dance role in the rep.
Nancy Allison in Jean Erdman's "Daughters of the Lonesome Isle"; Music by John Cage; Photo by Lois Greenfield
---
Dance Enthusiast: What was the repertory like?
Allison:  It was  amazing. That season they were touring Moon Mysteries -Three Visionary Plays for Dancers by William Butler Yeats. These are plays based on Irish mythology and legends but created in the form of Japanese Noh plays. Then, there was Primordial Voices, an evening in  two sections;the first half based on Inuit poetry, and the second half was Teiji Ito's Haitian Suite, an enactment of a Haitian Vodoun ritual, with all the dancers and actors dressed in white as Haitian suppliants. We chanted and played the percussion instruments, and as we became possessed by one of the Loa (one of the spirits of the Haitain pantheon), a person would rip off their clothes with a modern dance costume underneath and perform a dance interpretation of that spirit. The third piece, Fire and Ice, was a celebration of Robert Frost, with recited poetry, in which Jean danced a solo. It was commissioned by the Library of Congress for a Frost celebration prior to 1975.
Jean Erdman in her "Hamadryad" ; photo from a film by
Maya Deren
---
Dance Enthusiast: Before multi-cultural was cool, Jean was multi-cultural.
Allison: The company was multi-national with people from so many different countries and backgrounds. People were gay, straight, bi. And religion wise— these were people drawn to the life of the spirit, drawn to Jean and to Joe Campbell —Christian, Jewish, Hindu, Buddhist, Muslim and every combination you can imagine. The experience provided such an amazing opening of my mind and my eyes. I was 21, a young girl that had grown up in suburban Baltimore and hadn't traveled.
Dance Enthusiast: Fascinating to realize that as early as the 1940's Jean Erdman was a proponent of world cultural dance appreciation.  And, something else I didn't know, Jean Erdman founded the dance department at NYU School of the Arts?
Allison: Yes, Jean was the founding director of the dance department at the New York University School of the Arts. They don't claim that, but it is a wonderful heritage. She set up a curriculum there that was very new at the time, based on the idea of studying all cultural forms of dance and all styles of Western dance.
Jean used to say that every cultural, traditional dance is the perfect expression of that cultures' world view.  As an artist she studied many forms. She physically learned the dances and made a deep analysis of each. What body parts were predominating? Where did the movement initiate? Did the body move all in one piece or in a series of articulations? How did they use space, how did they relate to the music? These are all  aspects of what makes up the art of dance. She was also looking for how these particular choices related to the culture's worldview.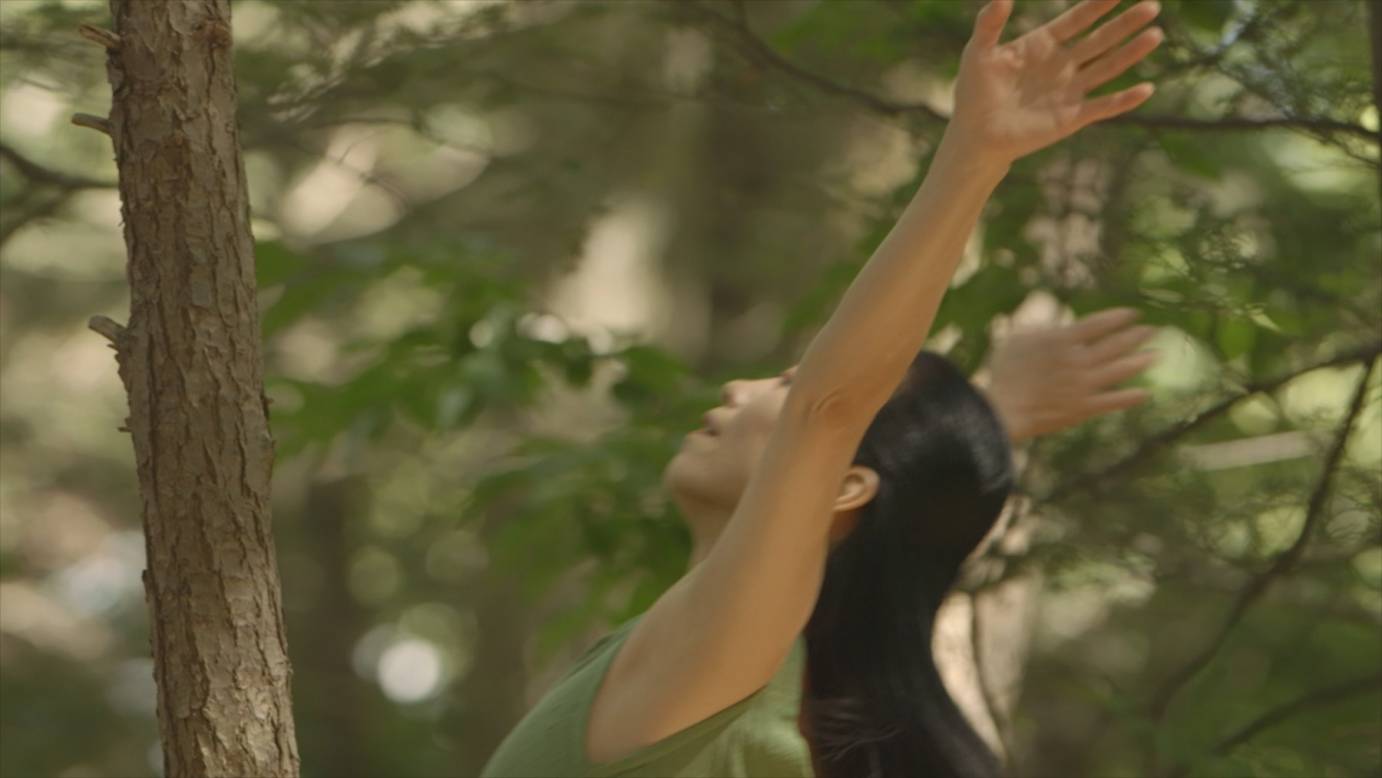 Miki Orihara in Nancy Allison and Paul Allman's film, an interpretation of "Hamadryad"
---
Dance Enthusiast: How smart.
Allison: Not only that. It seems so contemporary, especially with how our world is today and with how much collaboration exists across cultures. Look at the programs for BAM this season, for New York Live Arts, Movement Research. There are so many cross-cultural collaborations. The world is a much smaller place and at this moment in time there's a huge migration of people around the planet, more so than anytime since World War ll. Of course, art is going to reflect that.
Dance Enthusiast: Jean is known for creating roles in Martha Graham's work, but her choreography is distinctly different from Graham's style. What were her early influences?
Allison: Jean's family lived in Hawaii, and Hula was very much a part of life there whether you were native or a Haole (of European descent) like Jean. She learned Hula from an early age.
Jean attended the Punahou School in Hawaii, the private school where President Obama went. At Punahou in1920s, young girls were not supposed to take part in phys. ed., it was not "lady-like." Instead the girls learned Isadora Duncan dancing. Both those sources, Hula and Isadora, are very important to Jean. That lyrical quality that you get, which you don't see in Graham, that's an obvious difference.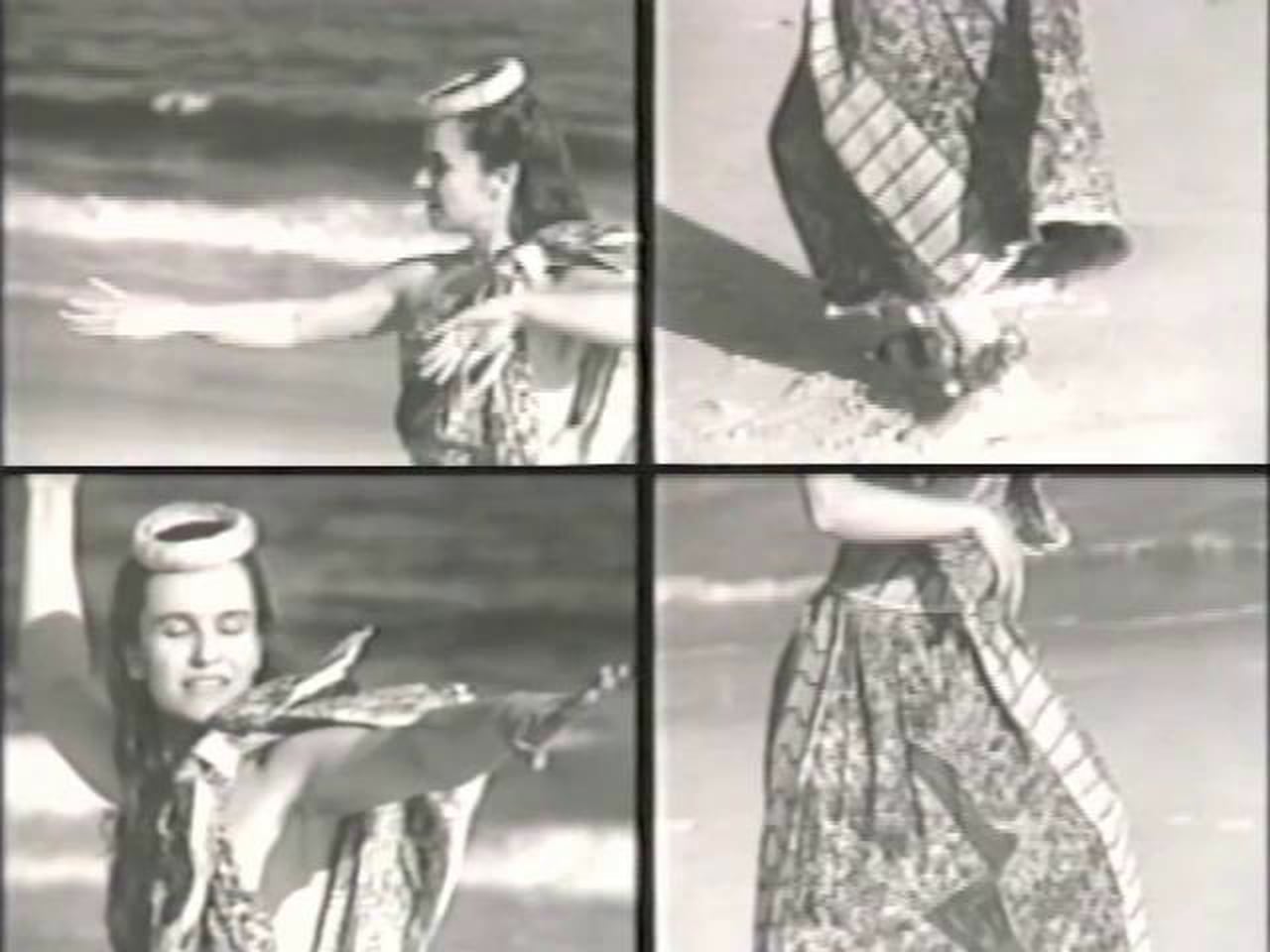 Jean Erdman performing Hula; Suite of Three: 3 Solos by Jean Erdman (2009)
Conceived and directed by Nancy Allison Video excerpted from Dance & Myth: The World of Jean Erdman
I have noticed that one of the things which Hula brought to Jean is what I call a "fusing of abstract and narrative", probably not an acceptable idea in the academic world of aesthetics, but I am quite convinced it's there.  Every movement phrase has a meaning, or feeling, but the dance itself is very abstract. Another piece of Hula that I think Jean imbibed is the way different parts of the body perform different actions at the same time. There is complexity, almost as if one's own body is a symphony orchestra.  
---
Dance Enthusiast: What is it about Jean's work that attracts you and draws students in when you share it?
Allison: As a dancer, I was blown away by the complexity and dynamism of the movement. And her musical choices were fabulous. I just fell in love with it.  And, she was  extremely generous. It was part of her philosophy, not to want "cookie-cutter" dancers. Of course, She wanted you to to perform her choreography as she envisioned it, and it was challenging, but she also wanted you to investigate your own ideas.
Christine Dakin, renowned interpreter of Martha Graham, performs Jean Erdman's "The Transformations of Medusa" ; Portrait by Peter Cook
Today, whether I am coaching undergraduates or experienced, marvelous artists like Miki Orihara and Christine Dakin, the dancers immediately feel that authenticity of the movement, and they are still challenged—even a great dancer like Christine can still be challenged by the coordinations. Dancers are delighted by the musicality. The deep rhythmic changes, the dynamics — how you can go can go from something punching hard to something soft and airy. These can be lightening quick changes and all motivated, not from a narrative, but from a meaning.
---
Dance Enthusiast: Now, back to Theater of the Open Eye, the name I love. Can you tell me about its origins?
Allison: The eye that they are talking about is the eye of Horus. Horus being from Egyptian mythology. That was the logo. That eye, that so many people today know from yoga study, is the third eye; the eye of inner perception. And what are we perceiving? We are perceiving the magic and mystery of the universe— inside ourselves, and outside ourselves and that inside and outside is one.
Dance Enthusiast: And this theater was Jean and Joe's baby?
Joseph Campbell and Jean Erdman Campbell
Allison: Joe said from the beginning, "There won't be any children in this marriage." That was fine with Jean. Her dances were her children. His books were his his children.
For many years they hoped they could build a theater together, something that would be dedicated to opening the inner eye to the magic and mystery of the universe. Joe taught the world that this opening is one of the major purposes of mythology, and for Jean it was the major purpose of theater and dance.
Dance Enthusiast: How lucky that they found each other.
Allison: As Joe would say,  "A coincidence?"
---
---
The Dance Enthusiast Creating Conversations/ See More Conversation in The Dance Enthusiast Asks
More on Jean Erdman in The Dance Enthusiast
Share Your #AudienceReview of The American Dance Guild Festival for a chance to win a Foodies Delight, Gourmet Olive Oil