Related Features
Contribute
Your support helps us cover dance in New York City and beyond! Donate now.
The Dance Enthusiast Meets the 2014 Bessie Award Nominee Okwui Okpokwasili (Part 2)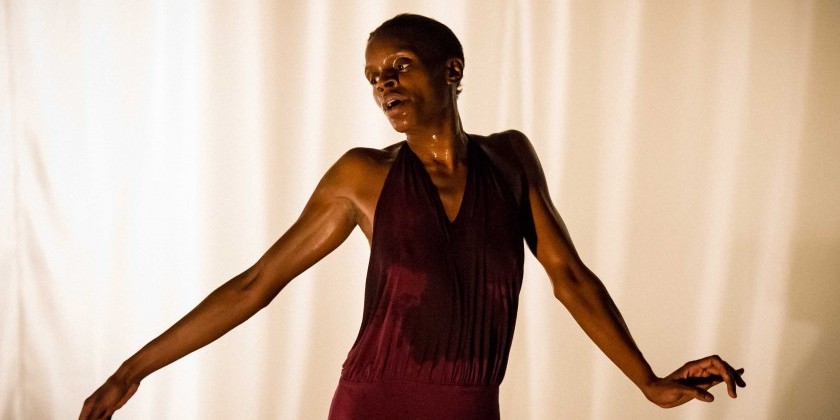 Okwui Okpokwasili, is a Bessie Nominee for Outstanding Production
In the three years since the New York Dance and Performance Awards ("Bessies") have returned from their brief hiatus we have seen diversity abound through an expanse of categories and a range of exciting nominees.
In this season's Bessie Awards Interview Series, The Dance Enthusiast seeks to represent that diversity. There is so much greatness in this year's pool of artists – the beautiful movement of Mimulus Cia de Dança's Dolores, the sociopolitical commentary of Camille A. Brown's Mr. TOL E. RAncE, the cultural celebration of Asase Yaa's Djembe in the New Millenium – and those are just some of the nominees for Outstanding Production. Add to that revivals that range from Twlya Tharp to Nora Chipaumire, performers from across the globe, and designers who seem to know no bounds, and you truly see the best of what New York Dance and Performance has to offer.
So how does one become a Bessie nominee? What kind of training, practice, process, and narrative defines such an artist? There may be no singular answer, but each of the creators in our Dance Enthusiast Bessie series generously offers a glimpse of their experience along with some fun anecdotes in the fashion of dance enthusiasm.
Enjoy getting to know these nominees and we hope to see you on the red carpet outside the Apollo Theater in Harlem on October 20! Click here for the Bessies webpage.
---
Meet  2014 Bessie Nominee for Outstanding Production in collaboration with Peter Born  in Bronx Gothic  - Okwui Okpokwasili:
Okwui Okpokwasili is a multidisciplinary artist. Currently she's developing, Poor People's TV Room, an early iteration of which was shown at the Atrium at Lincoln Center in June 2014. This will be her third collaboration with Director/Designer Peter Born. Their latest work, Bronx Gothic, co-commissioned by PS 122, Danspace Project, and LMCC, premiered for a sold out run in PS 122's 2014 COIL Festival and just completed a tour through France, Zagreb, Croatia and at Show Box LA. Bronx Gothic: The Oval was a featured installation and performance at the River-to-River Festival in June 2014.
Their first NYC production, Pent-Up: A Revenge Dance, premiered at Performance Space 122 and received a 2010 New York Dance and Performance ("Bessie") Award. 
Currently she is working with Ralph Lemon in Scaffold Room.  Earlier work with Lemon includes "How Can You Stay…" as well as an extended duet with Lemon in the Atrium at MOMA in conjunction with the exhibit, On Line: Drawing Through the Twentieth Century and Come Home, Charley Patton for which Okpokwasili received a Bessie Award for performance.
She is a 2012 MANCC Choreographic Fellow, 2013 NYFA fellow in Choreography and a 2014 FCA grantee for Dance. 
---
 Okwui Okpokwasili. Photo: Ian Douglas
A. Nia Austin-Edwards of The Dance Enthusiast: When and where does your artistic story begin? Have you always known you would dance?
Okwui Okpokwasili: I've always known I wanted to make things. I've always been overwhelmed by powerful story telling – in the body, in song, in spoken and written language – and dancing was always a part of my life. Not only did I always dance, everyone around me danced. My parents, brothers, friends, uncles, everyone had a vocabulary of how they moved. So now, I move. Movement is a critical piece of any kind of shared telling, of any kind of "being" in performance. 
TDE: What has been your biggest challenge in your artistic journey?
OO: Not being defined by other people's perceptions of who I am or what I can and cannot do. Also surviving, and being healthy.
TDE: Can you tell us about the process of building Bronx Gothic? What inspired you? What were your challenges? How did this work grow from idea to performance?
OO: The Bronx Gothic began with research, writing text, finding the character, and building movement around the specific conditions of the character. It was built through a number of residencies and performance opportunities at the Park Avenue Armory, MANCC, Lower Manhattan Cultural Council, Baryshnikov Arts Center, and New York Live Arts. It has lived at Danspace in an early iteration through the Platform series that Ishmael Houston-Jones curates, and later through Food for Thought at Danspace Project, a curated series by Christine Shan Shan Hou. I've also had a number of opportunities to work out what Bronx Gothic was with my indispensable director/design partner Peter Born. 
---
TDE: What do you do when you're not creating?
OO: Witness my growing child, Ume, in wonder and amazement. Go to parks, see family and friends, see shows and exhibits. I hope to encounter something new and strange every day.

TDE: This Fall we'll be hosting an Enthusiastic Event highlighting the relationship between Dance and Fashion? Any ideas what your fashion look might be for Bessies night?
OO: No. No ideas. But I'll be looking at Ogbitse Omagbemi and Nora Chipaumire for inspiration. Those ladies have style! Peter Born's got a bit of a sartorial streak. I'll be looking at his socks.
Okwui Okpokwasili. Photo: Ian Douglas

TDE: Describe your creative style and process in only 5 words . . .
OO: I don't know...what if?

TDE: Is there any upcoming work you'd like to share?
OO: Yes, I'm working with Ralph Lemon on Scaffold Room, premiering at the Walker Art Center in late September. I'm also going to Bard in November, and I'm in the early stages of developing a new piece with my collaborator Peter Born, Poor People's TV Room.