The Dance Enthusiast Asks Peggy Choy of Peggy Choy Dance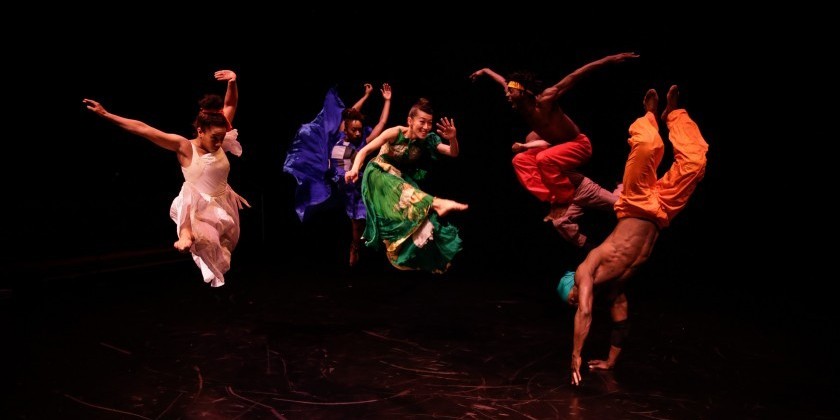 As the Company Prepares for "Thirst"
June 25-27, 2014, 7:00 pm
Galapagos Art Space, 16 Main Street, DUMBO, Brooklyn, NY
---
Afro-Caribbean and Javanese cultural narratives merge with 19th century American history to frame Peggy Choy's dance drama Thirst. The choreographer strives for inclusivity in her work, fusing martial arts, Korean and Javanese dance and, more recently, Capoeira. Creating her singular contemporary style in the fantastical world of Thirst, Choy also brings together a diverse cast of collaborators in her latest endeavor. Jazz Artist Michele Rosewoman contributes an eclectic sound that includes Cuban Folkloric music. Designer Cozbi infuses Afro-Caribbean style patchwork and Japanese embroidery in the costumes. Together, they preserve the foundations of several cultural customs. It's important to Choy that "art has a legacy and tradition."
The Dance Enthusiast had the opportunity to speak with Choy prior to the company's performances at Galapagos Art Space.  
---
Trina Mannino for The Dance Enthusiast: How has your upbringing and heritage influenced you as a choreographer?
Peggy Choy: My heritage is definitely important to me and is one of the bases of my work. Both of my grandfathers were involved in the [Korean] Independence Movement during the Japanese Occupation. I have a great pride in my ancestors, being Korean and growing up in Hawaii. My great-aunt, who raised my mother in Hawaii, also created Korean dance dramas. She was one of the earliest Korean cultural influences in my life and inspired me.
My family's history and experiences inform my perspective and the narratives I choose to portray in my pieces. Even if I don't pick a specific Korean story, there is a sense of cultural fusion.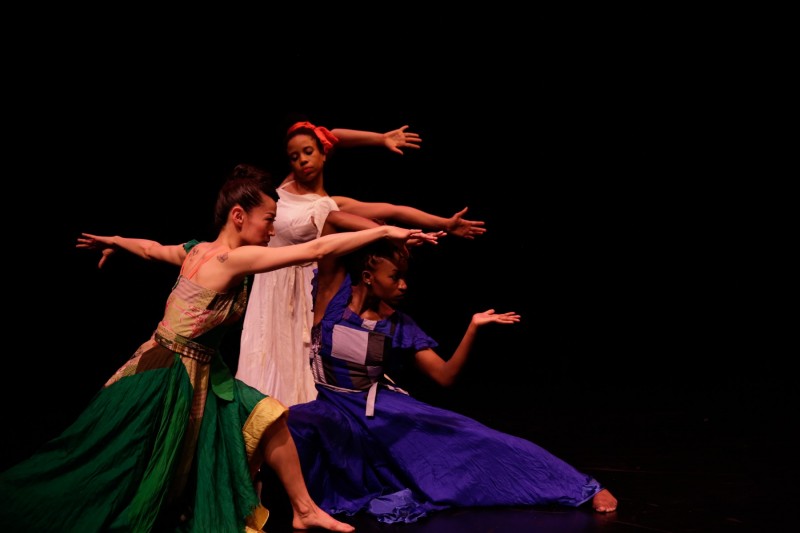 Ai Ikeda, Johari Mayfield and Coral Dolphin in Thirst. Photo: JP Yim
---
TDE: You're known for incorporating a wide range of movement vocabularies and traditions. What draws you to world dance forms within your own dance choreography?
PC:The phrase 'world dance' is controversial to me. It sets apart quote unquote ethnic forms from western styles such as ballet and modern. I don't feel it's an inclusive term. It's based on a history of discrimination in dance.
TDE: What influences and traditions will we see in Thirst?
PC: In Thirst, there are martial arts and Capoeira, which I've recently started learning. I feel that Capoeira has most effectively united dance and martial arts in my own body. My first foray into martial arts was Taijiquan [tai chi] in Hawaii.
Korean dance just comes out when I'm creating movement, because it's innately in my body, and Javanese dance is also a major influence. I spent quite a number of years studying with master teachers and musicians in Java – which is also where I received a lot of training in how to create dance dramas.
TDE: Thirst is based on Afro-Caribbean stories about the sea and also on a particular event in American history. What about the sea and that incident drew you to make this work?
PC: One of my earliest inspirations was a trip I took to Cuba. I was questioning the water policies in Cuba, and I went there to examine what was happening.
If there is anything you need to live, its drinkable water; we rely on water and our bodies are mostly made up of it. Growing up in Hawaii, I always had an affinity towards the ocean. My discovery of the historical element came after my initial concept of the significance of water. While I was doing my research, I came across the 1889 uprising on Navassa Island in the Caribbean. All of the workers were African Americans from Baltimore, and they were there to mine guano [the lucrative fertilizer from seagull droppings]. The conditions were very difficult and hostile and eventually the workers had an uprising. The controversial story is hidden in our history, and that is how the word 'thirst' came about – the thirst for justice and thirst for water.
Johari Mayfield, Ai Ikeda and Coral Dolphin in Thirst. Photo: JP Yim.
---
TDE: Since you integrate several styles and forms, how do you cast performers in your dances?
PC: It's a challenge. First and foremost, the dancers have to be extremely adept at improvisation. B-Boys (also known as breakers), for example, traditionally aren't trained in the studio but on the streets, so to speak. This I think allows them to be very good at improvising and staying in the moment. I have used several B-Boys in my project because of their strength in this skill. They also typically know a variety of forms likes breaking, house, popping, and locking.
There is also a connection between breaking and traditional Javanese dance; they structure their vocabulary in a similar way. I also work with contemporary dancers – some who have ballet, African and Asian dance or martial arts backgrounds.
I create the structure or base of the dance, but allow the dancers to move away from it. It's important to give the performers the opportunity to show who they are as individuals.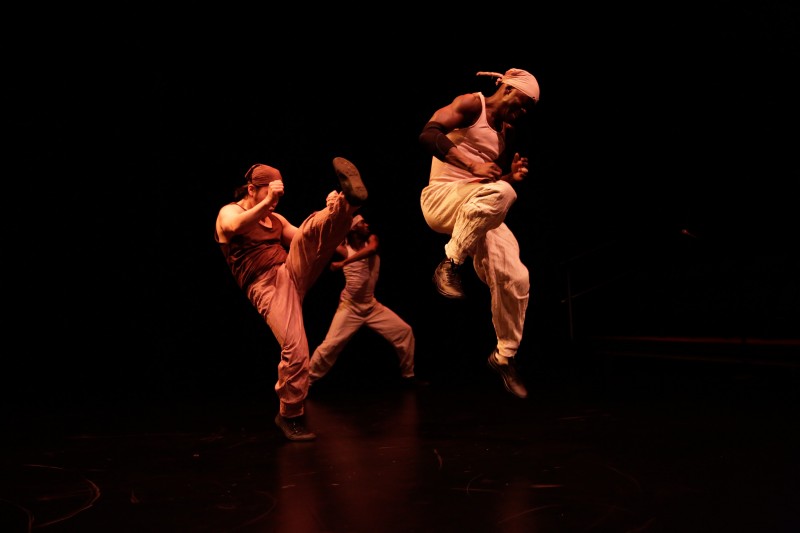 Edgar Eguia, Orlando Hunter and  Ze Motion in Thirst. Photo: JP Yim.
More information on Thirst:
Directed and choreographed by Peggy Choy
Dancers: Coral Dolphin, Edgar Eguia, Daniel Genalo, Orlando Hunter, Ai Ikeda, Eugene
"Spydey" Jordan, Johari Mayfield, Ze Motion, Lacouir Yancey
Scenario: Peggy Choy
Libretto: Ann T. Greene
Actor:  Kim Sullivan
Costumes: Cozbi
Featuring the music of Michele Rosewoman
Lighting Design, Sound, Theater Production: Kris Anton
Music Editor: Jon Rosenberg