Kathryn Posin Reflects While Preparing to Open the 92nd Street Y Harkness Dance Festival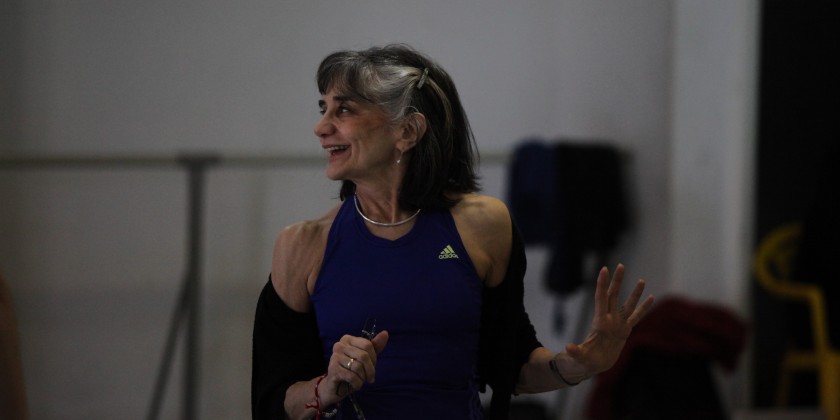 An Innovator and History Maker
Performances Thursday, February 11, and Friday, February 12, at 7:30p.m.
92nd Street Y Harkness Dance Festival
92nd Street Y, 1395 Lexington Ave, New York, NY 10128
$25-$35 at http://www.92y.org/harknessfestival or 212.415.5500
Kathryn Posin has staged works for companies around the world, from the National Ballet of Bulgaria to the Alvin Ailey American Dance Theater. In 2014, she, along with a new company of dancers, including guest dancer, New York City Ballet Principal, Amar Ramasar, returned to the New York stage after an over 20-year absence. This season, the company will kick off the 92nd Street Y Harkness Dance Festival with three distinctive dances, including Climate Control, with live music performed by Meredith Monk and Theo Bleckmann.
Posin recently spoke to The Dance Enthusiast as she and her company completed their first week of rehearsals for the upcoming performances.
---
Trina Mannino for The Dance Enthusiast: You debuted your own choreography at the 92nd Street Y. Can you tell us about that experience?
Kathryn Posin: In 1968, when I was dancing for Anna Sokolow, two of her dancers, Ray Cook and David Krohn, and I decided to do a concert. I still even have the review. It was one of the first reviews we saw from Anna Kisselgoff. I did a funny dance called The Closer She Gets…the Better She Looks.
[Kisselgoff, in her 1968 review of the performance, wrote that the dance was "a witty commentary on the scene today, she managed to make telling points about love, commercialism and anxiety, and still have the audience roaring in the aisles."]
TDE:  You studied composition with Merce Cunningham, Hanya Holm, Louis Horst and Anna Sokolow. What was that like? How did they influence your work?
KP: I am lucky that I'm at the age to have caught some of the masters of early American modern dance. All four them were sitting in the corner of the room each time I was making a dance. Their chins were in their hands as if saying, "hmm, she wasn't listening, was she?"
Hanya talked about being dedicated and that we can't be swayed away from our task of being dancers and choreographers. Louis taught me very strict, traditional structures, including Renaissance structures. He would say, "Why are you doing that when you did this? The two aren't related." Anna demanded that there not be bullshit and extraneous things in our work. Merce's message was do something for God's sake and get it out in the world. He didn't philosophize. He wasn't interested in our dramatic stories or being a character.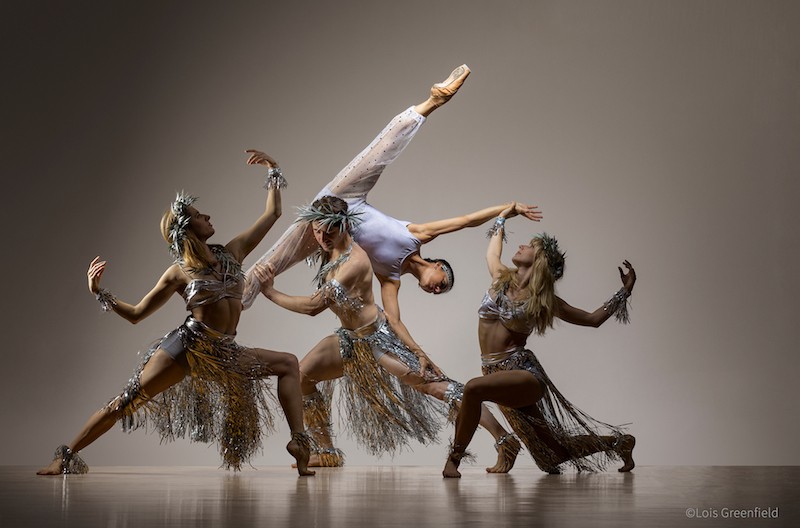 Kathryn Posin Dance Company; studio shot of Climate Control; Photo by Lois Greenfield
TDE: With all of your deep modern training and performance, how did you decide to bring ballet into your work?
KP: I studied a lot of ballet throughout my training. In New York, I studied with David Howard, Maggie Black and others. I studied all of the time but could never do it well. I'm short, with long toes and bowed legs. When I went up on pointe shoes, my knees went out, my toes went in. I was like a Twizzler. I'm sublimating by making the dancers do the thing that I can't. I started to use ballet steps because it seemed to extend modern dance with its vertical and horizontal planes, its use of turn-out and pointe work.
TDE: During your run at the 92nd Street Y, you will be presenting your 1973 work Waves. Can you talk about its history?
KP: The music is by Laurie Spiegel — she did some of the music for The Hunger Games movies. She's an early electronic music composer. During that time, the American Dance Festival had a choreographers and composers program, and the two of us were brought together for it. It was so lucky, and we worked so hard on it.
TDE: What was its source of inspiration?
When we moved from Fargo to Chicago, we went to Lake Michigan. To me, it was an ocean. There was something about getting out of flat, conservative Fargo to Chicago that made me realize there was something very special about the free and gorgeous waves. I was frightened and excited by them. I was afraid to do a dance about them because I feared I wouldn't be able to equal them in movement.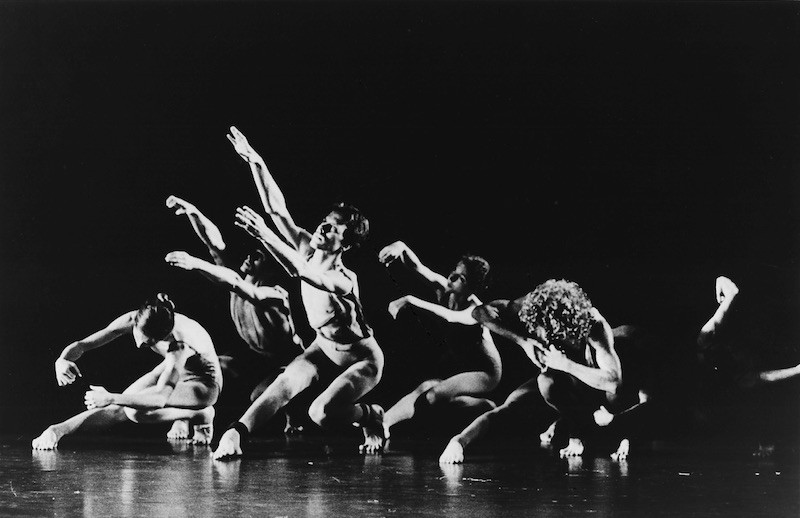 Kathyn Posin's Waves (1973). Photo courtesy of the artist.
TDE: Your company will be also performing alongside Meredith Monk in the premiere Climate Control. Can you speak about the collaboration?
KP: Meredith and I have known each other for a long time and are friends. We too were in a young choreographers' concert together.
When I found about this opportunity, I ran into her on the street and I told her about the performance at the Y. I asked if she would do it with me. She gave me her piece Facing North to work with. It's a vocal suite with five sections that she will perform with Theo Bleckmann. The piece was inspired by her time in Banff, Canada where she went out in the snow and, [while] seeing its beauty, the piece came to her.
Half of the dancers are first dressed as Inuits while the others are dressed in hula skirts that are made of silver Mylar. The world has reached a point of crisis where all of the climates are reversed. Climate Control blends South Sea dances with Inuit dances. But this isn't a prophesizing work. There's an element of absurd comedy.
TDE: What about Monk's artistry captivates you?
KP: One thing is that we have history by growing up together. The other is that she is her own animal. Her sounds are authentically coming from her child-like yet sophisticated world that opens your mind to things that normally are categorized and put away. It is humble and visionary at the same time.
Kathryn Posin Dance Company; studio shot of Climate Control; Photo by Lois Greenfield
TDE: What draws you to incorporating dance forms and cultures from around the world in your work ?
KP: I think it started while I was at the University of Chicago Laboratory High School, which emphasized anthropology and culture. We were taught that culture affects your life and molds it. Later, when I was teaching at UCLA, I was exposed to the cultures of the Pacific Rim. The theater director Peter Sellars organized a world culture festival while I was there. A tribe of Balinese dancers and Peruvian flutists came…
I think that's how I managed to sneak a bit of Hawaiian dance into a piece of music that is about the Arctic.
TDE: Why did stop making work for almost two decades?
KP: In the dance boom of the '70s and '80s, I was used to getting grants, and then resources began to dry up. I think I was also getting tired and wasn't doing such great work because partly of my focus on raising money. In 1991, I started getting bad reviews. I remember one by Jennifer Dunning where she said 'whatever happened to the bouncy Kathryn Posin of the late '70s?' 
Kathryn Posin's Century Rolls. Photo: Yi-Chun Yu.
TDE: And what made you want to return?
KP: I missed my company. It's like losing your right hand. [Until recently] I would have to wait until a ballet company called. Then, usually, they wouldn't want the ballet you'd like to do, but rather a ballet you've already did...
I ran into Catherine Tharin [the curator of the 92nd Street Y's Fridays at Noon series] and she told me to bring my company to perform. I thought, "I don't have a company." But I knew that I knew enough good dancers to cobble one together. And because there was support, strong dancers and a venue, it worked.
TDE: How have your motivations changed from when you began working to now?
KP: I believe there is great beauty, imagination and possibility in the world. Mainly, my message is of joy and gratitude…Even though I'm 72, I feel the same as I did when I was 28: Excited, scared, entertained and pissed. I feel exactly like the curious Bennington student.
---
GET INVOLVED WITH THE DANCE ENTHUSIAST


THE DANCE ENTHUSIAST SAYS, " LET'S KEEP OUR EPHEMERAL ART ALIVE BY COMMUNICATING ABOUT IT!
SHARE YOUR AUDIENCE REVIEWS OF THE  92Y HARKNESS DANCE FESTIVAL PROGRAMS WITH US. ITS EZ. LOG ON HERE  AUDIENCE REVIEWS
THE BEST REVIEW OF EACH PROGRAM WILL BE FEATURED ON THE DANCE ENTHUSIAST. REVIEWERS WILL BE FEATURED IN THE DANCE ENTHUSIAST'S APRIL NEWSLETTER!