Potri Ranka Manis of Kinding Sindaw on Filipino Folk Dance and A Lincoln Center Commission
Watch At Home: Kambui Olujimi's "Seconds Apart" Fuses Filipino Folk Dance With Ballroom-Style Voguing
It's hosted artists from nearly 100 countries, 45 original commissions, and more than 3 million New Yorkers — the David Rubenstein Atrium in Lincoln Center turned 10 last November 2019! To mark the milestone, Lincoln Center commissioned visual artist Kambui Olujimi to create multi-disciplinary video artwork inspired by voguing and the Filipino folk dance Singkil; representing each dance form were Potri Ranka Manis with her dance troupe Kinding Sindaw, and Zenith LaBeija of the iconic House of LaBeija.
"Melding these two very rich and very different forms of movement has been a fascinating way to explore New York's cultural traditions of simultaneity, remix, and mash-up," commented Kambui Olujimi.
---
Sammi Lim for The Dance Enthusiast: We've wanted to speak to you about Filipino folk dance for a long time. When and where did you establish your dance company Kinding Sindaw?
Potri Ranka Manis, Founder of Kinding Sindaw: Kinding Sindaw was established in New York City in 1992. Kinding is a Meranao word meaning 'movement.' Sindaw is a Mernao word that means 'to light,' 'to give light,' or 'to spark a light.'
Therefore, Kinding Sindaw means 'movement to enlighten' or to give light to the unwritten stories of the Philippines: legends, epics, myths and unwritten histories. The Philippines was colonized by Spain for 400 years, but one island was not colonized—this is Mindanao aka Southern Philippines. It is the island that has a strong leadership of Sultans. It only became part of the Philippines in 1896 when Spain sold the Philippines to the USA and the map of Spain included Mindanao. Mindanao was able to preserve its indigenous and sultanate culture and tradition since it was cut off from the rest of the islands for 400 years (while Spain was busy occupying the rest of the islands).
Lake Lanao. Photo © Blog 666
It would be reductive to lump all folk dance forms from the Philippines together; how do you explain what Singkil is to the uninitiated?
Potri Ranka Manis: Yes, it is reductive to lump all folk dance forms from the Philippines. Each dance has its own origin and intentions.
Singkil actually means bell anklets. It is worn by noble maidens on both ankles and creates sounds out of movement. This is more than just decorative jewelry. It is actually sort of a 'GPS' in keeping with a strict culture of keeping the noble ladies chaste and pure; the bell ankles notified everyone in the house of her whereabouts.
When we teach or perform this dance, it is always in the context of the Bembaran, the second chapter of Darangen, the Meranao epic that was declared an Intangible Oral Heritage of Humanity by UNESCO in 2005.
Bayanihan Phillipine National Folk Dance Company popularized Singkil in the West by touring the Americas and Europe. What are your thoughts as a Singkil luminary?
Potri Ranka Manis: Bayanihan has appropriated Singkil from the Meranao people and exotized this dance by popularizing it in the wrong context. Bayanihan made up their own choreography, costumes, and stories. Bayanihan also call theirs a Muslim dance or Muslim suite dance. This is very wrong! There is no such thing as Muslim dance. There is no dance in Islam. Also, other Muslim countries will not identify with this dance. First , Baynihan should research what is Islam or what is Muslim, as Darangen is owned by the Meranao people who became Muslim between the 10th and 15th centuries. Darangen preceeded Islam.
It's sad that so much land has been grabbed from the Mindanao, an indigenous Muslim people. Groups like Bayanihan, who were funded by Imelda Marcos in the 70s reign of the dictator Marcos, also stole our tour culture. Bayanihan, a privileged group, insensitively appropriate the sacred ancestral dance, which is a living tradition of a living tribe. We  tribes of Mindanao are still alive and can represent ourselves.  
Please watch an excerpt of Kinding Sindaw's production "Bembaran" and you will see how we weave the Bembaran in second chapter of Darangen into our dances.
Kinding Sindaw. Photo credit: Josef Pinlac
What is the first thing that a member of Kinding Sindaw must learn?
Kinding Sindaw's mission is to Assert, Reclaim, Preserve and Re/create the unwritten and systematically ignored history and oral tradition of the indigenous and Sultanate of Mindanao, Southern Philippines. We teach not only the dance but the history and current situation of our people. Dance like Singkil is integral in our teachings, but all our students have to learn all aspects of our culture and NOT only the dance. It's discipline as a way of life.
What other art/dance forms do you enjoy in New York's rich scene?
Potri Ranka Manis: New York is the world! In an hour's worth of dances, you can tour all the continents. My daughters are also trained in other Asian classic dances. When they were small I purposely enrolled them in other master classes so they would understand that the classes I am giving them are master classes of their own tradition. It is by a conscious effort so that I can lead them to understand the similarities and differences among Asian dances. It is through dance that they can learn and relate the history of our dances to our ancestral heritage. Like Shri Vidyahyah Empire from the 4th until the 10th centuries. I made them study Barathnayam, Indonesian dances, and Burmese dances. In this manner they were able to understand how Ramayana travelled from India to other parts of Asia. They also were able to understand that there is a lot of Sanskit in the Filipino language.
Dance for me is not just entertainment, but a lifestyle and a way of life itself.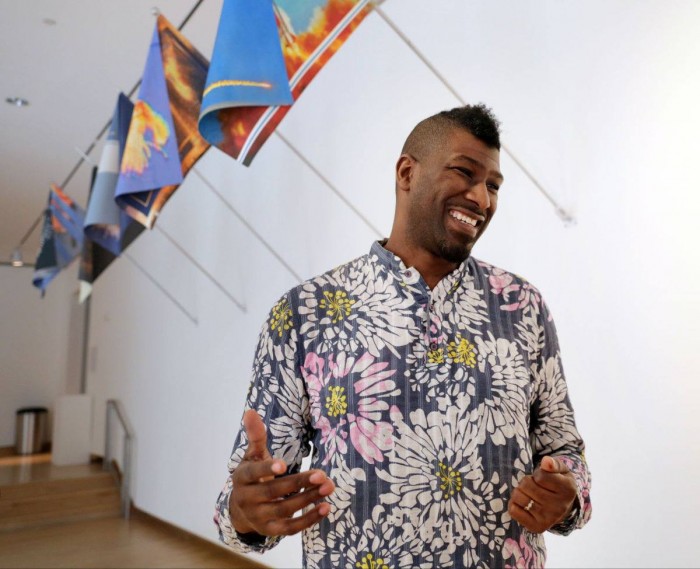 Kambui Oluijimi in his exhibition Zulu Time at the Madison Museum of Contemporary Art, 2017, photo by M.P. King, Wisconsin State Journal
When Kambui Olujimi reached out to you about starring in his Lincoln Center commission, was it out of the blue? Or had it been a long time coming?
Potri Ranka Manis: M J Marbella introduced Kinding Sindaw to Kambui and Kambui contacted us. It was meant to be, I think. Kambui resonates the spirit we carry in our dance dicipline.
'Mesmerizing' is the adjective I associate most with "Seconds Apart". Despite the juxtaposition between voguing and Singkil, one so angular, one so fluid, both go together so seamlessly. What was it like dancing with Zenith LaBeija?
Potri Ranka Manis: In that moment, we merged different paths—that of the spirits of the ancient and the contemporary worlds—in a story that has been waiting to be told.
Zenith Juicy Labeija attends the It Gets Better: Pride On The Horizon youth event at The Standard East Village on June 28, 2019 in New York City.
Credit: Getty Images North America.
It's also quite unusual for a visual artist to explore NYC's multiculturalism through movement. What were Olujimi's instructions like?
Potri Ranka Manis: Olujimi's instructions were electric. Me and the cast were uplifted. The movements came fluidly and with ease as if we had met a long time ago. The serendipity was actually like a script that had been choreographed and conceptualized long before this first meeting!
We're sad to have missed the live screening of "Pananadem" on March 15th, but what else have you got lined up over the next few months while practicing social distancing?
Potri Ranka Manis: A lot was lined up but cancelled due to the COVID-19 lockdowns:
Like the 8 performances for "Renayung: Journey of the Master Artists and Tradition Bearers of Southern Philippines" in Queens, NYC;
A Queens Library performance for families;
University tours to the likes of Columbia University, Hunter College, College of Mt. St. Vincent, CUNY, Stonybrook SUNY, and NYU;
Public School tours and teaching artists gigs in the spring, which can hopefully be shelved until Summer and Winter 2020.
---
The Dance Enthusiast Asks questions and creates conversation.
For more of The Dance Enthusiast Asks, click here.
---
The Dance Enthusiast - News, Reviews, Interviews and an Open Invitation for YOU to join the Dance Conversation.