The Dance Enthusiast Asks Rebecca Stenn About the Upcoming Premiere "Elusive Bird" at Gowanus Loft
July 12-15, 2018 at 8pm 
Running time approximately 50 minutes no intermission.
Gowanus Loft, (61 9th Street, C8, Brooklyn, NY, 11215)
Closest Subways: F/G to 4th Avenue, or R to 9th Street
TICKETS: General Ticket Price $25, Seniors and Students $15 available on: http://elusive-bird.eventbrite.com
Choreographer/dancer Rebecca Stenn and photographic artist/creative director George Del Barrio began their collaboration almost 20 years ago with a series of photographs. Their work together has since grown and flourished and manifests itself now with the creation of Elusive Bird, the final portion of their trilogy of evening-length performances at Gowanus Loft. Each of the three components of the trilogy utilizes projected images, dance and live music in completely distinct and radical ways. The Dance Enthusiast had the opportunity recently to speak to Stenn about their third work together. 
---
Samantha Lim for The Dance Enthusiast: I'd like to think that most choreographers make performances that they want to see; what makes Elusive Bird personal/special/ground-breaking? 
Rebecca Stenn:  Elusive Bird is made up entirely of duets. I think there is something elusive, ineffable, beautiful and strange about the infinite ways two people can interact, especially on stage. Any time you see two bodies together, even if the piece is very abstract, some kind of story emerges — after all, two bodies are moving together, a microcosm of a larger world develops.
The work is inspired by Rei Kowakuba's exhibit last summer at the Metropolitan Museum of Art, and has led to questions/exploration about the concept of binaries. Not exactly opposites, but two things together existing in the same space and commenting on each other— sometimes quietly, and sometimes by raging. Through the use of camera obscura projected imagery, audience members will experience photographic darkness followed by bright, white light, and themes of gender, space, sound, silence, age and youth come to the fore.
I make work that I'm interested in. I don't (can't) go into the studio and think to myself, 'Ok, now I'm going to make something "ground-breaking." ' I like to think that the work we are making here is something you could dig into with questions like the questions I pose above. Why is the idea of a binary so divisive? Does it have to be? Can we explore what it means to define space, time, relationship, gender in softer, broader terms? This work, Elusive Bird, has an installational feel to it. It takes its time and gives the audience (who sit in the middle of the performance space) room to ruminate.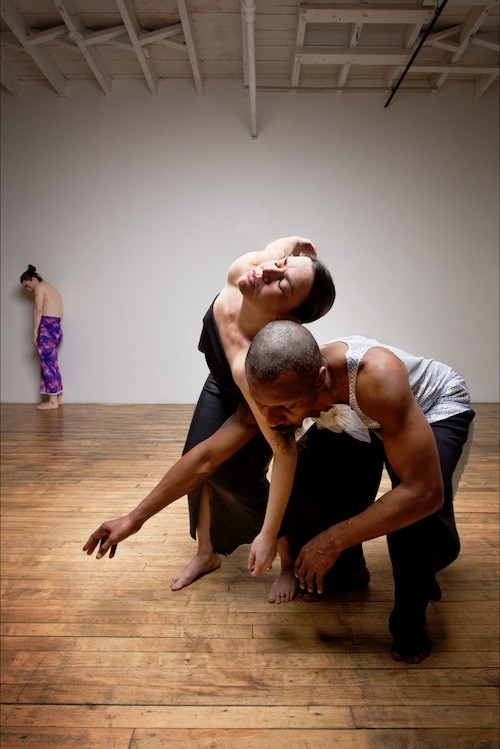 Elusive Bird; Photo: George Del Barrio
The Dance Enthusiast: Patience must be one of your greatest virtues, seeing how your collaboration with George Del Barrio has spanned two whole decades! It all started from a series of photographs, I hear. What about the images proved so jarring?
Rebecca Stenn: There was nothing "jarring" about the images actually. George and I met almost two decades ago when I was pregnant with my older son. He offered up the idea of an initial photo shoot: me dancing while pregnant. The photos turned out so beautifully that about nine months later, we decided to do another shoot with me dancing with my new baby. After that we kept in touch and very organically, we decided to do another shoot when I became pregnant three years later — me dancing with an almost four-year old child while pregnant. The next shoot was when my youngest son was about a year old, and I danced with the two of them (my older son was five). We then did a shoot when they were six and ten. I was joking with George the other day, that we'll have to do another shoot soon — me with two huge teenage boys, as that would be nearly two decades! About five years ago, we started work on this other, different kind of collaboration (the trilogy), which is much more theatrical.
Elusive Bird; Photo: George Del Barrio
The Dance Enthusiast: How do parts one, two and three in the trilogy tell a whole story?
Rebecca Stenn: My work with George has grown and flourished since our first photographic collaboration years ago, and it now manifests itself with the creation of a trilogy of evening-length performances at Gowanus Loft. Each of the three components of the trilogy utilizes projected images, dance and live music in completely distinct ways. The first iteration, a solo performance called Time I Know, premiered in January 2014 and explored the use of stop motion photography. George took literally tens of thousands of photos of me performing the solos, and then strung them together in lighting speed time, to create motion and movement. We played with the idea of time, direction and speed.
In June 2015, we premiered the second iteration, a full company work entitled, Riparius (belonging to the river). In that piece, we used still imagery and video, as we were exploring architecture and flow. The performing space at the loft is almost 3000 square feet, so we have ample room for exploration.
This new evening-length work, Elusive Bird, explores the form of the duet, and utilizes camera obscura projected imagery. Audience members will experience photographic darkness. Camera obscura is totally analogue. There is no digital tech involved, as the images are all created simply by light passing through a lens into a completely dark space. In the trilogy, we have endeavored to look at the many ways imagery can work with, enhance and challenge movement.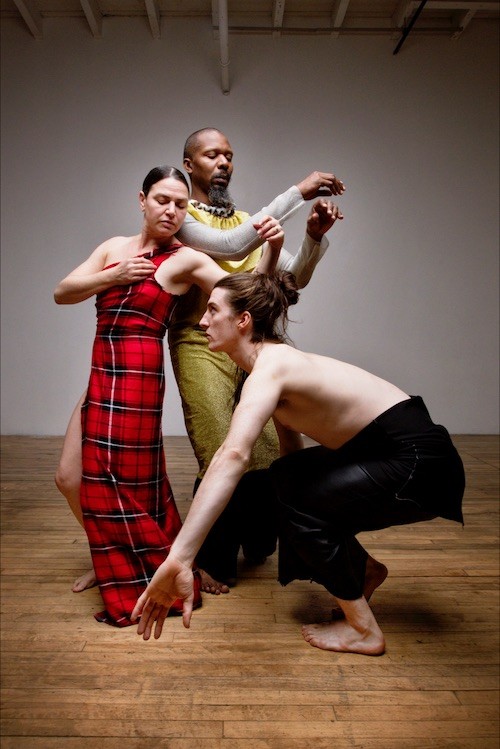 Elusive Bird; Photo: George Del Barrio
The Dance Enthusiast: Elusive Bird is a family affair, as all costumes are designed by your 11-year-old son. Do describe Elie Weissman's sense of style.
Rebecca Stenn: Elie has been interested in design for about a year now, and has recently started to experiment with fabric and draping. About a year ago we bought him a dress form which he has in his room, and he is constantly making new designs with fabric he has purchased at the fabric store around the corner. I'm lucky to be his model, I have to patiently stand there while he pins and reworks things. I think he has an amazing sense of proportion, color and line. The costumes in the show are pieces he has worked on over time (and his grandmother helped him to sew). His aesthetic is eclectic, ranging from punk to haute couture to glamourous. He was very interested in the idea of binaries and as he put together the costumes, many of our conversations centered around these ideas.
The Dance Enthusiast: I've listened to Ave Verum Corpus, which will be presented by a live choir and conductor alongside the dances. Am I correct in guessing the dance will be ethereal?
Rebecca Stenn: There will be no conductor, just four vocalists working together. The dance is not at all ethereal actually. I'm interested in the underlying strength in the piece. By choosing to use this music, I'm asking, 'What is underneath an ethereal quality?' The vocabulary we are working with is grounded, sculptural, unadorned and very strong.
The Dance Enthusiast: How does it feel to be presenting the final piece of the puzzle after so long? Any premature nostalgia? Or are you already looking forward to whatever's next?
Rebecca Stenn: Of course, there is a bittersweet feeling to ending any project into which much love and thought has been poured into. I'm certain that George and I will find new ways to collaborate. And, I've worked with a number of the dancers in the performance for over twenty years, so I know our work together will continue. I'm not sure how it will manifest at this moment.  I've also collaborated for the last twenty years with my husband, musician Jay Weissma, and have just now started working with my older son Jonah  (who composed one track for Elusive Bird). I like the idea of continuing to collaborate with all of them.
---
The Dance Enthusiast Asks Questions and Creates Conversation.
For more of The Dance Enthusiast Asks, click here.
Share your #AudienceReview of the film or others for a chance to win a prize.