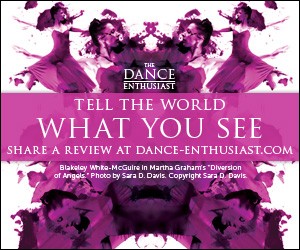 Related Features
The Dance Enthusiast Asks Jeremy Williams and Melissa Riker About Revealing Dances
Kinesis Project Dance Theatre and Convergences Theater Collective in "Revealing Dances" Where They Create Directly in Front of You!
Revealing Dances is a five week, public art-creation series hosted at Kinesis Project's new 2X2 Studios.
If you are curious about the process of creating a dance and would like to be in the room as it happens, Revealing Dances is for you.
Where: 2x2 Studio at The Nord Anglia International School, 44 East 2nd St,New York NY 10003
When: Every Thursday evening at 7pm,  Sept 10- Oct 8 ( ***there are 2 more events in the series***)
---
How is a dance made? How do dancers work in a room? What does a choreographer do? Time spent with Kinesis Project dance theatre and Convergences Theater Collective will answer some of these questions while giving you insight into specific methods that will get your creative juices flowing. Audience members spend 20-minute sessions with each company and then the experience is wrapped up with "Creative Conversations."  Different conversations each week, led by compelling speakers, will explore the topics of: space, sustainable business, collaboration, practice, and living a creative life.
---
Jeremy Williams of Convergences Theater Collective  and Melissa Riker of Kinesis Project dance theatre
---
Christine Jowers for The Dance Enthusiast: Your suite of evenings dedicated to creativity, Revealing Dances, provides a very unusual way for audiences to become acquainted with dance, how was this idea born?
Jeremy Williams of Convergences Theater Collective: Melissa and I met in 2011 when I was the Community Manager of a project called the Audience Engagement Platform. Since then, we've been dreaming up ways of getting audiences excited and engaged in dance, theater, and the creative process. We are inventing partners and we devise all kinds of audience experiences— in studios, theaters, parks, online...wherever audiences and artists can meet.
Melissa Riker of Kinesis Project dance theatre: Revealing Dances was one of the natural progressions of the questions, "How can we bring people inside how art gets made even more, AND wouldn't it be wonderful to have an open studio series if there were more than one person working at a time?"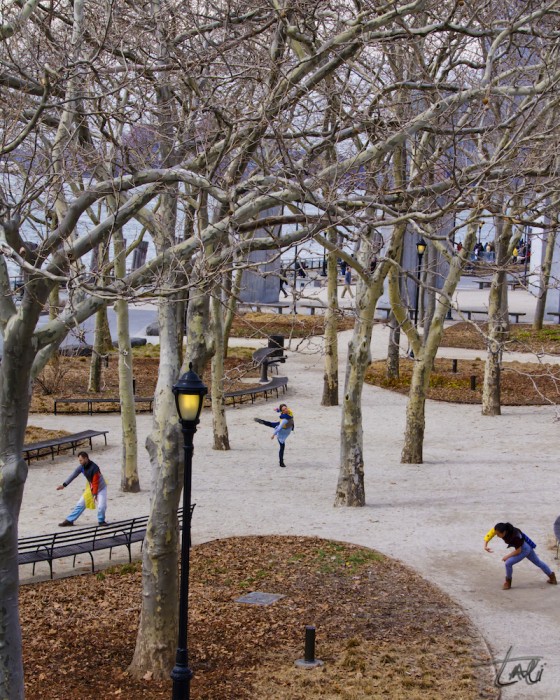 Melissa Riker's Kinesis Project dance theatre in Secrets and Seawalls ; Photo by T. Blankfeld
---
TDE: What was it about the first season in 2014 that made you two say, "Let's do this again?" And why the formula an evening of  2 dances, 2 choreographers, 2 studios?
Jeremy: In 2014, we collaborated with Orietta Crispino, artistic director of TheaterLab, wanting to utilize her new space in non-traditional ways. We were curious to show audiences how different companies work to create something from nothing, and we were also interested in a durational experiment. So, we invited people to watch our work develop over a six-week period and audiences loved this. They were able to delve into our pieces and understand that the creative process isn't only the "property" of artists.
Hah, and yes, two of everything: two companies, two shows, two studios. This is intentionally designed with our audience in mind. We want them to be able to move between studios and see how different companies work to solve the problems that arise. There isn't one "right way."
TDE: Do you rehearse for this at all?
Melissa: ( Laughs) No.
Jeremy: We invite people into the studios to watch us MAKE dances. Rehearsal starts once something has been made, which is the next step.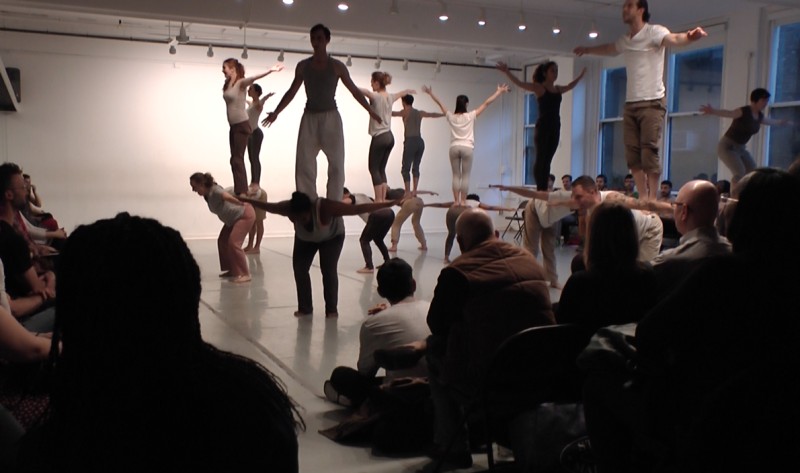 Jeremy Williams' Convergences Theater Collective creating Babel in a Revealing Dances Session
---
TDE: So the audience watches you make dance and when you are finished there is NO discussion of what was just seen but rather of other topics related to creativity? How does that work?
Jeremy: The conversation portion of the evening is my favorite part of the event— and not just for the wine and cheese! Each week we cover a theme related to the creative process and a couple of special guests are invited to jumpstart the talk. Melissa and I are interested in getting people to think and work with more imagination no matter what field or job they are in. Also, surprisingly, being an artist isn't always the most creative job, so we want inspire our collaborators.
Melissa: This is not a feedback experience. The idea is to move out and to open the communication beyond these rooms.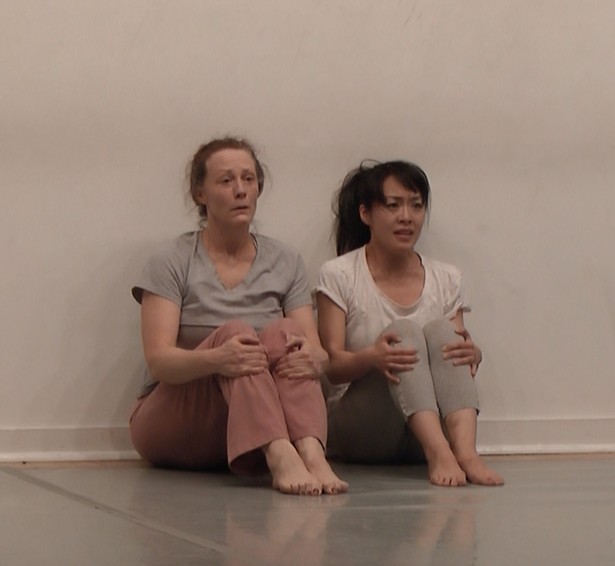 Jeremy Williams' Convergences Theater Collective creating Babel in a Revealing Dances Session
---
TDE: Can you both describe the pieces you are crafting in this Revealing Dances season?
Jeremy: Using physical theater, acting, dance, and acrobatics, Babel, tells the story of the indomitable human spirit.The piece explores the desire to create, the necessity of communication, and how human ambition can overcome adversity. Bodies are used  as building blocks, creating towers and structures that climb, yield, fall and fly.
Melissa: Secrets and Seawalls examines vulnerability vs power in structure -- both built and human structures. The work happens in two distinct acts. The first act is very dance-theatre, proscenium, the second-- a complete departure.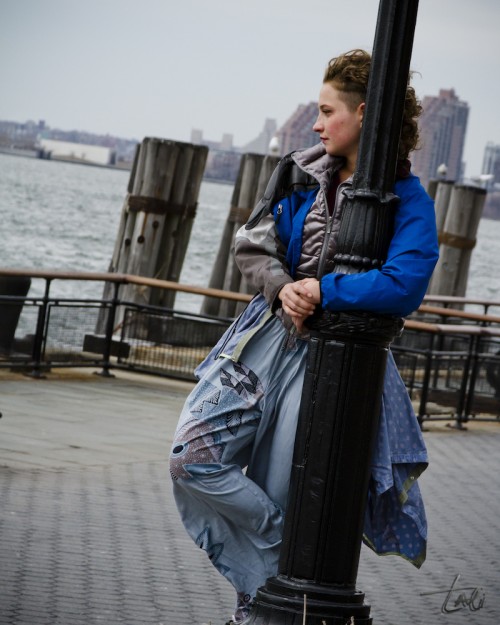 Melissa Riker's Kinesis Project dance theatre in Secrets and Seawalls ; Photo by T. Blankfeld
After September 11th, I heard about research questioning the integrity of NYC's seawalls. When Hurricane Sandy hit, I realized this was the kind of storm where fractures in the seawall could create a problem —I remembered hearing that if the seawalls were fractured, subways would flood and so would downtown. That actually happened! It made me wonder what happened to those studies and where the information was kept.
Moving into the winter I brought the dancers into the studio where we explored the metaphor of walls, comparing our bodies' architecture, the way we hold information and how it moves through us, to the structure of a wall. My collaborator, Lee Skolnick, is an architect, and our conversations hover consistently around questions of holding vs revealing. How are these ideas reflected in spaces and relationships? And finally, what does the interplay of these concepts do to us?
---
TDE: Have audience members shared their take-aways from this?
Melissa: A friend of mine came to every session last season. He loves Revealing Dances and found that it inspired  him to put aside time to go about his version of creating, which is, in his words, "building stuff." He set aside Thursdays for building. I don't know if he still does it, but I know his incentive was definitely strengthened by attending all of the sessions last year. This year, three sessions in, some people have attended multiple times. I get responses saying,"This is a wonderful way to create an evening."
Jeremy: It can be so easy to forget that at our core we are all creative. Revealing Dances reminds us of that.
Melissa Riker's Kinesis Project dance theatre in Secrets and Seawalls ; Photo by T. Blankfeld
---
TDE: Just for fun, what is the least creative thing you have ever done?
Jeremy: Flying. I find going to the airport, getting on a plane, and flying to be a pretty tedious experience. All of the humans are shuttled along though tight lines and uncomfortable spaces; like baggage. I usually turn off my brain and just follow along to get through the experience.
Melissa:  I can't think of anything. I don't know.
TDE: Well, I need to hang out with you more Melissa!
I wonder, do you think people can learn to be creative, and if so, what would you suggest to help someone on the path?
Melissa: I think the only obstacle in the way of creativity is worry, worry about right or wrong. If there is a way to release the shoulds (my friend Regena calls them the "shitty shoulds") you can find an easier path to whatever your version of creativity is.
---