The Body Electric: Prime Movers of The Body, Mind and Spirit: Meet Román Baca of Exit12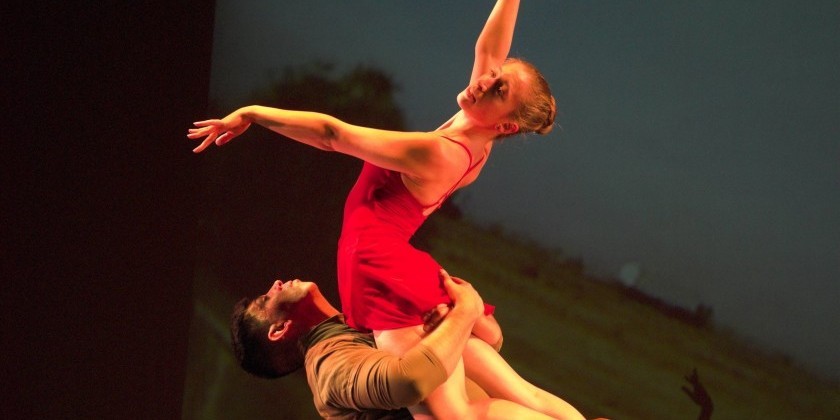 Movement to Combat the Ravages of War, Healing from Covid-19, and The Power of Digging

Román Baca is a veteran of the US Marine Corps and  a New York State Veteran's Hall of Fame Inductee. He's also a ballet dancer, and founder/artistic director of  a contemporary dance company called Exit12. Ok, you can do your double take now. It's an unusual background. Yet, in my interview with Baca, the New Mexico native (with a fondness for his home states' chili peppers) tells me that his Russian ballet teachers yelled at him just as much as his drill instructors did. He also claims that ballet training and military training are quite similar.

Today, Exit12 (named after the exit off the FDR taken to get to the company's first rehearsal studio, STEPS) is dedicated to peace and serving others. Baca uses dance performance and movement workshops to enter into conversations about the lasting effects of violence and conflict. His work speaks of the reality of war and champions peace, human dignity, diversity, cultural exchange, and mutual understanding.
Román Baca Leading a Movement Workshop in Iraq
Says Baca, "I think my service in the military was essential to who I am. I don't think I would be striving, each and every day, for peace through art if I hadn't experienced war first-hand. That's not for everyone, it's just what propelled me forward. I hope that my service in war happened, so that others do not have to go to war."

Exit12's workshops for veterans help to create community, to build self-esteem, and to transform trauma into expressive movement. Baca's vital healing work is featured in the powerful short documentary Exit 12: Moved by War a recent addition to The Dance Enthusiast's Social Distance Dance Series. (Check it out here)
This year, very publicly on social media, Baca, always a helper, documented his experience with COVID-19 to combat ignorance,  and encourage anyone who shared his symptoms to get help when necessary.  His best friend a doctor, formerly a dancer with MOMIX, monitored Baca long distance, giving him thoughtful, clear and basic advice which many of you know by now, however,  I've included it at the end of this  interview piece. ( or you can get to it now by clicking here.)

I was fortunate and thankful to speak to  Baca, who was a little weak, but recovered from COVID-19.
---
Christine Jowers, Editor of The Dance Enthusiast: How and where are you Román?
Román Baca: I am in the Bronx and so glad the sun is shining today.
I was watching that wonderful film about your healing work with veterans this morning and it blew me away.
RB: It was made in 2018, just an incredible effort by Square and the creative studio company Even/Odd. They were working on a project called For Every Dream and were looking for veterans who impacted the world in a different way. We went through a very lengthy research and process of meeting the company, their representatives and their filmmaker and they decided to do their fifth film on us. It was an incredible ride and the product was just amazing. We couldn't have dreamed it any better.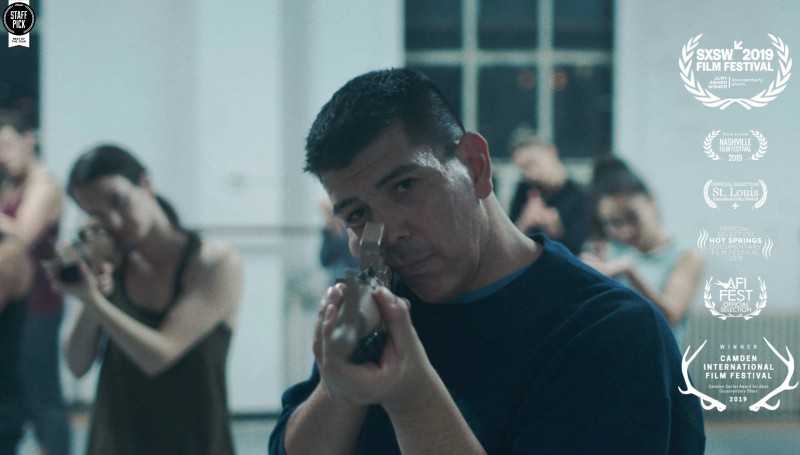 Screen Shot of Documentary Opening Photo Exit 12: Moved By War 
I loved seeing the dances away from the proscenium stage, in the subway, for example , and then the work of your Vietnam vet artistic collaborator, Everett Cox, and the mother who sent her two sons off to war, Angela Scimonelli, a former dancer who also collaborates with you…
RB: She's actually become like family.  One of her sons came back from Afghanistan, met one of my dancers and they've been married now for a couple of years. So we've stayed very, very close with them.
I'm so glad to finally chat. I have been meaning to write about you for years and I guess it took THIS pandemic for us to get in touch. For that I'm grateful because this is a time for healing and I'm interested in your healing work and, most importantly, I want to find out how you are.
RB: I'm doing well. To  answer your question the easiest way, I've been forcing myself, trying to do what I tell people to do —what I preach — which is start moving and keep moving. Ive been taking walks with with my wife, working out in the morning with kettle bells, doing yoga flow workouts, and leading a couple veterans' workshops online to teach basic movement. That has helped a lot.
Do you miss being in the same room with people?
RB: Absolutely. I miss that creative energy and that striving for something artistic that only that energy within the collaborative environment can bring.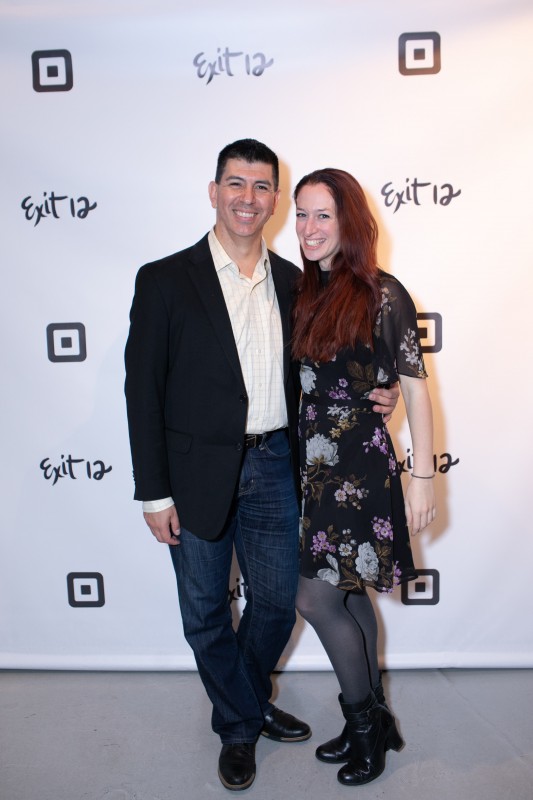 Román Baca and his wife, Lisa Fitzgerald at Premiere of Documentary Exit 12: Moved By War
Do your fellow veterans get something out of the online experience?  What are the pros and cons of the virtual world for this group?
RB: What I am trying to focus on primarily is community. I think a lot of the veterans that we have worked with and that come to our platforms are usually isolationists anyway. They're  socially awkward, and don't get out much. It's hard for them to connect with people. And so I developed the platform primarily as a way the veterans could just come and see other people. If I can get them moving in that experience, it's a positive.

I definitely keep a window of about 10 minutes at the end where we can just chat check in and see how people are doing.  (Click here for more about the Veteran's Art Workshop Online Portal)
There's so much to ask you. Let's get into your history. When did you start dancing?
RB: Right after high school, last year of high school and first year post high school. I did the usual canon of jazz, hip hop,  and ballet. I was horrible at tap.
Tap is hard,  especially difficult once you've had ballet.
RB: Yahh, I totally agree.
And you "liked" dancing , obviously.
RB: I loved it. After starting, somebody made the decision to put me in a musical, Seven Brides for Seven Brothers. I loved being on stage. I ended up doing more musicals at the beginning, but I felt the call to ballet because of the rigor and the fact that  ballet was so engrossing both physically and mentally. It was such an experience having to delve into this pedagogical study of an art form. It flexed my mind as much as it did my body. So I shifted, kinda left all the rest behind and went to classical ballet predominantly.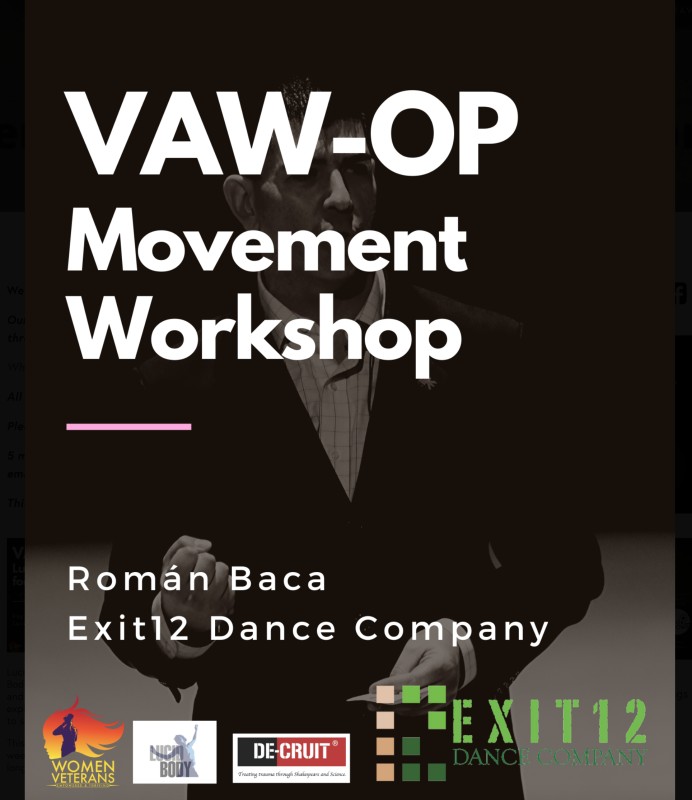 Cover for Movement Workshop for Veterans ( see Exit 12 for more info)
What called you to the join the Marines?
RB:You might understand this more than most. When I went to university I was studying dance I was able to dance some ballets that had social themes, one of my professors, Judith Chazin-Bennahum, choreographed a ballet called, Before I Depart about the children in Dresden concentration camps. Being able to be part of that choreographic process and telling that story on stage was very impactful. Then I had the opportunity to dance Anthony Tudor's Dark Elegies. The way that story is told through the grief and the traumatic effect on the mothers and fathers made an impact on me as well.
When I began to pursue classical ballet, I found myself looking for more opportunities like that but wasn't finding them. Dance almost felt frivolous, as if we were simply entertainers and there was no social value. That coupled with the societal perception of male dancers lured me away.

I wanted to do something completely different something that would give me the tools to help people a fight for themselves, or to help people who help those who couldn't fight for themselves.  So,  I joined the Marine Corps.
That was completely different. But the training...you learn steps, movements, and actions different goals —to defend and protect.
RB: Dance and military training are very similar. It's a training that's meant to impart this embodied way of being. For dancers dance is not just an exercise, you are learning a way of moving, a way being so you can exhibit that on stage.In the military you are learning a way of being with moving, and replicating movement so that you can be a certain way in war or in order to  do combat, or whatever you're called to do.
Similar techniques are utilized and you have similar repercussions. That training just doesn't go away, like a dancer's training never goes away.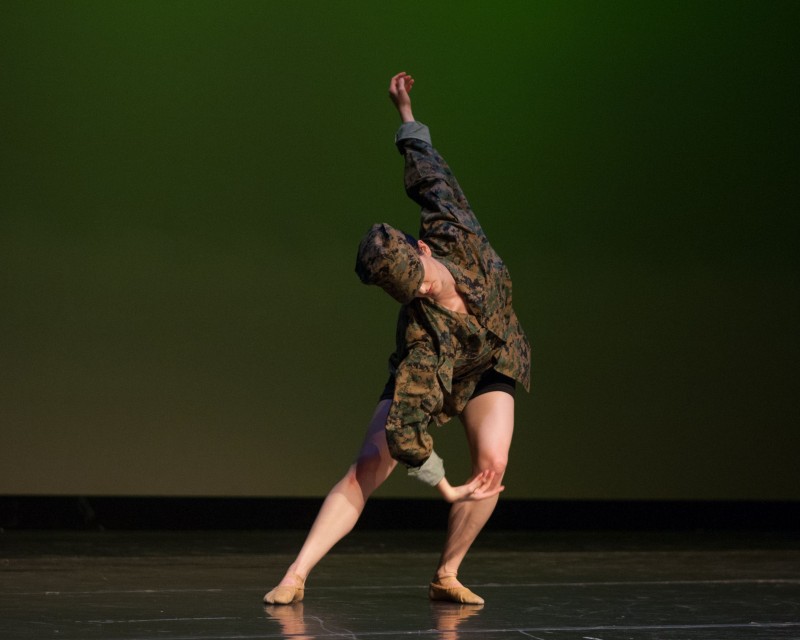 Exit12;Photo by Andy Hart
How long were you in the Marines and how much time of that was spent training?
RB: Eight years and almost all of it. In the military, it's this perpetual cycle of training. Your'e always training for the next mission.
Like dance.
RB. Absolutely.
EXIT12 Dance Company Performance Shot; Photo by C Tracy Dorman
How was it at first, if you can remember?  How did you adjust to being in the Marines?
RB: I got into the military and went to Marine Corps training older than most people. I was in my mid-20s. I had two perspectives of it: the normal, "Oh my gosh we are doing the craziest stuff and this is really hard."  But at other times, I was able to  look at the system as a whole and see that everything had a purpose. They were training us to be a certain way and there was a pedagogy behind it just like the pedagogy behind dance. So while it was hard, it wasn't harder than ballet, just different.

My Russian teachers yelled at me just as much as my drill instructors did.
Oh, you had old-school training, I didn't realize that.
RB: Oh yes.
Were you ever at risk of your life? How did you deal with fear? At once you had to be a fighting machine protect yourself as a warrior, but at the same time you had to deal with civilians, were you able to make those shifts?
 
RB: It was a constant struggle. We were deployed to the Iraq War in 2005 to Fallujah, one of the most dangerous places at the time, Our job was to patrol the local villages looking for bad guys. We met more civilians than we did fighters and were tasked with many of stop-and-search missions that put us in front of civilians in different ways. And, like you said, we were given a way to be in these situations.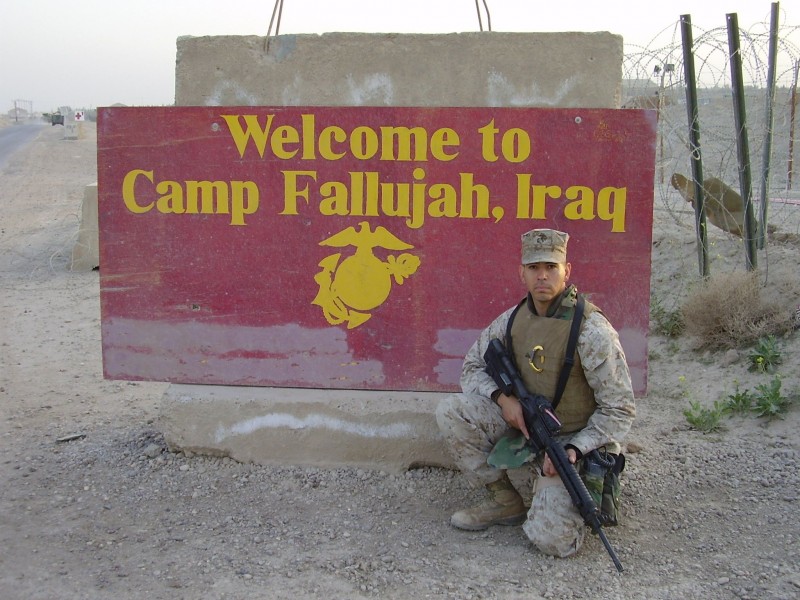 Román Baca in Fallujah, Iraq
Usually it's better if you're violent and aggressive. If you act in a controlling manner people will not want to attack you; you are a harder target. But then being human and being an artist, there's that constant pull to want to flex the muscle of humanity, to be kind, to want to help or to give someone a bit of leeway. And I tell you, for me and some of my marines, that was a constant see-saw.

I think to answer your question about fear. I was constantly afraid because of the situation we were in.  My friends and fellow veterans talk about the futility of war and of the feeling that you have to release that and just accept that you're living on borrowed time.You could die at any moment.  It became this exercise in futility — going out on patrols and doing your day-to-day work, it wasn't until we started more humanitarian operations that we actually started feeling like we were making a difference.
Did that work?
RB: I don't know. I'd like to believe we made a positive impact. We were there  for such a short amount of time in the grand scheme of things. We don't know what happened to those villages after we left especially with ISIS re-emerging a couple years later. It is complicated to think about.
When you came back from Iraq, did you realize you were acting differently?
RB: When I got back I started doing what I thought normal people did, a normal desk job, trying to settle down with someone I cared about. My wife had to sit me down and tell me I wasn't the person she knew before the war. She remembered this happy-go-lucky, artistic guy, but what she got back from Iraq was this person who was angry, anxious, depressed, and making people afraid of him.

Thankfully, she challenged me to do something different. That is when we started creating what is now EXIT12 Dance Company. She is a ballerina.
Liza Fitzgerald and Román Baca; Photo by Rachel Neville 
Do you feel that you've gotten back to the Román you used to be before war,  a new version of yourself…more healthy?
RB: I don't know if this is the right way to answer this question, but I think over the past few years especially leaning into this work and committing to being an artist and a choreographer, I think I am just a sum of my parts.
There is a little bit of the person that was before the war of emerging because of the work we've done. There is some of the marine that still exists. Looking back I hope that, like you said, there's healing in all of that.

I've come to a place where I've reconciled, I want to be a person that helps other people.  and that uses my artistic training and talents, and choreographic training and talents to do that rather than my marine training and talents.
 
You received a Fulbright Scholarship in 2017 to study Trinity Laban Conservatoire of Music and Dance and graduated with an MFA in 2019. How did that experience change you?
 
RB: Being in London solidified my vision as an artist. It solidified my practice and the work that I want to do. I have two goals: one of those is to continue the work of EXIT12, getting audiences to care about issues through experiencing stories of war, and one of the others, more in the realm of surviving as a human being, is that  I want to become a university professor. I had the opportunity to do a little bit of mentoring and lecturing while I was in London and I enjoy it. I enjoy helping students and artists discover their own voice and their own art.
London Cannon Street Train Stop
What was the focus of your graduate work?
RB: Originally, I went to London to look at Stravinsky's Rite of Spring and develop a work that looked at the themes which encompass that work through the lens of the military experience. After my second showing, my mentor said, "Ok we've done that; you're really good at doing that. Let's try something different, let's explore artistry.
One of the things that hadn't been explored was my role in all of this. I had been in the work when we first started, but I stepped away and became a director primarily. He challenged me to find my way back into the work, back into this practice and we explored a number of avenues. The first was to create a durational performance piece where we investigated memory through the repeated task of digging.

Digging is a task that's engrained in the military experience. You're either digging a fighting hole, filling sand bags to bolster a position, or it also can be used punitively. When someone does something wrong you send them to dig as a way of getting them to say, "Oh well I don't like digging a hole, so I guess I'll do what I'm supposed to do."

This experience was meant to allow the audience to engage with my memories of war. We took twelve hours a day for two days and  sat in a little section of the Laban to dig up the lawn, then refill it, then dig it again. It was the craziest, but most amazing thing I've ever done.
In Trenched on the Laban Lawn; Photo by JK Photography
I would dig for three hours without a break and then we would give an hour to audience interaction and then I would dig for another three. So It was this perpetuating cycle throughout the day..

People wanted to watch, they wanted to engage, they wanted to ask questions about the war experience and it was almost instantaneous. When we gave them the opportunity to pose questions they just jumped on to the platform. It was unbelievable.
What were some of the more memorable questions asked by your audience?
RB: One of them asked… the one that tripped me up was, "Were there any good memories from the war zone?"
You know I think because of the way society is set up, as a veteran we are so engrained in the bad things that happen with war that we forget that there are some great things that happen, and connections that are really important.

Back then I was so tripped up I couldn't answer. It wouldn't materialize in my head for whatever reason. Now that I think back on it there were times when I had the opportunity to sit with an Iraqi local who we were working with.  He would tell me about his life and show me videos of him dancing in Iraq.

There were times when me and my marines would get together and decorate our little room for Christmas.

Not only did I  get questions like this but people became socially and politically inquisitive asking about the need for war and potential violence. Do we need war today? It was a platform for people to ask hard questions which was amazing.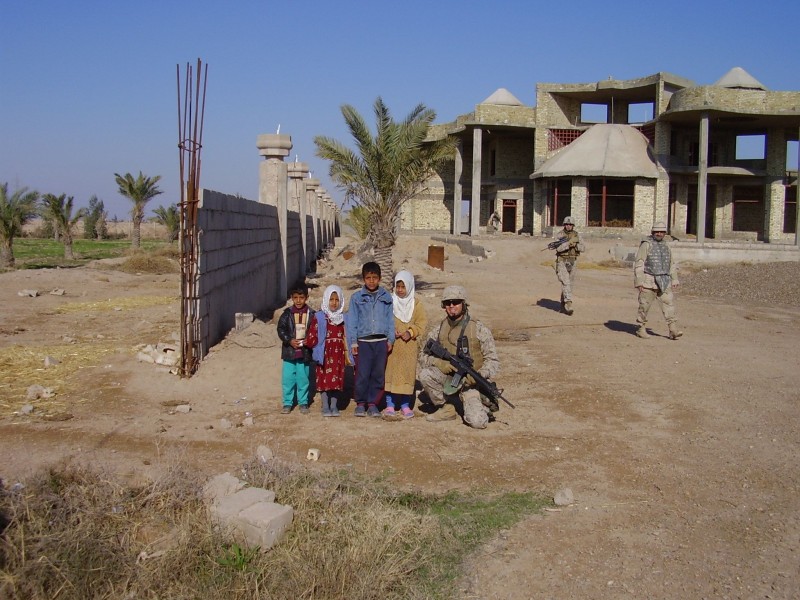 Román Baca with Village Children in Fallujah, Iraq
I've given many speeches about my military experience and in each one I think I've leaned on the way we manufacture language, to make sure that everything is polished, politically correct, isn't saying anything inflammatory, and is pushing our brand.

Being in that hole on the lawn of Laban was the first timeI opened myself up. I decided, "I'm just going to say what evers on my mind. It's going to be unbridled and authentic," and in a way, that was very freeing. It was not only an opportunity for me to solidify my personal stance, but also to increase my confidence as an artist and believe in my voice.
Back to the Bronx, do you have any idea how you may have contracted COVID-19, and how did it hit you?
RB: We're living with some friends in the Bronx. In the beginning of March, we were very careful about everything we did. We sanitized everything and would sanitize when we'd leave and return home.  In the week before the 16th of March around the 11th, I flew to Oberlin University to teach for a week. I returned when the lock down was emanating. The Friday of that week, after eating dinner I got this huge headache, one I had never felt before.
When I went to bed the headache was so bad and the fever started coming, I started to get this horrible anxiety that I had COVID. I didn't get any sleep that night and the symptoms started to build from there. My best friend is a doctor in Maryland who danced for MOMIX before he became a physician. He was monitoring my symptoms and finally said, "I think you have COVID."

To answer your question about where I got it, it was either from the building, because we have a lot of the BRONX CARE doctor and nurses here, or on the public transit travel from La Guardia, or ANYWHERE. We know that I didn't get it in Ohio.  All the people that I worked with there are fine.
Were you concerned at any point that you wouldn't make it ?
RB: The disease was something I've never felt before. We quarantined me in our bedroom, my wife slept on the couch. I had a headache that would not go away, a fever that came and went, and fatigue.  I couldn't make it to the bathroom and back to bed without having to lay down for hours and ,you know, being a physical person the last thing you want to do is lie down for 24, 48, 72 hours or longer.
The first night I couldn't sleep because I was so afraid.  A few nights in, as the symptoms got worse, I made sure my wife had my computer and email passwords just in case I had to go to the hospital. That conversation was one of the scariest I'd ever had. After  two weeks of very bad symptoms they started to decline and I started to get my energy back… I knew I was over the hump.
It was so good to read on FB that were getting better.  You hear that people are getting this disease and dying but you don't often hear stories of people who've recovered. It's great to see forward progress.  Speaking of that, do you think about the future, what COVID-19 is going to mean to our dance world and to yours in particular?
I haven't been able to wrap my mind around the future myself.  Should I write critiques of dance videos? (UGH) I can't bring myself to do that at all, or even watch them.  You're the first dance person I've interviewed, I haven't had the energy to talk to people or transcribe anything because of my sadness.  How are you dealing with the future regarding your work?
RB: My studies in London culminated with bringing the audience as close to my work as possible. My last piece took audiences on a journey through veterans' experiences by having them walk along a route through the lawn of the Laban Conservatoire, up hills down hills, through valleys to feel these stories through voice and movement.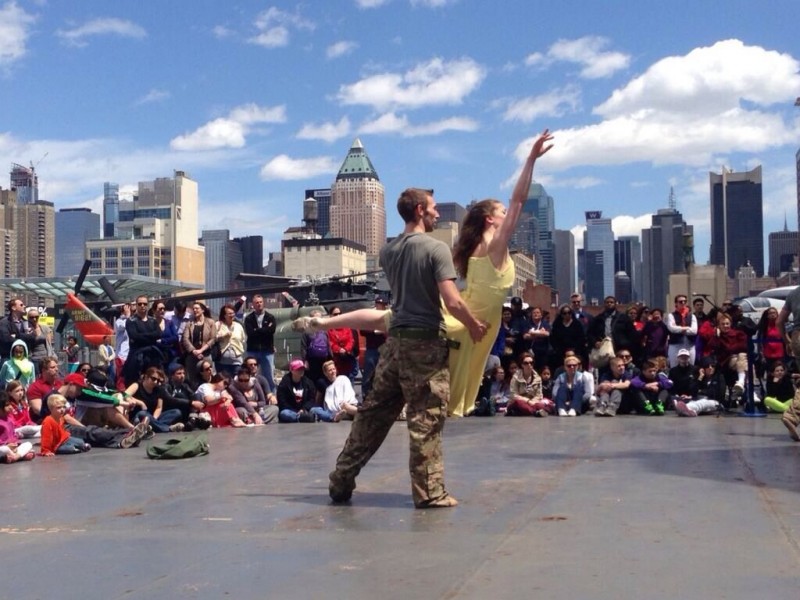 Exit12 Dancing on the Intrepid ; Photo by Nathan McCormack
I'm hoping with every ounce of my being that that we can again affect audiences in person because I think that's the point of the performing arts  — living, breathing people experiencing things together.

We were approached by another artist who proposed that we do an online salon, where we explore our work in an artistic way, and people can come and experience it, in a zoom chat or Instagram Live or whatever.  I am having the hardest  time wrapping my head around how to do that because our work is so much about being together.

Putting a veteran on the other end of the computer, asking them to share their story, and then opening it up in a very exposing way to the world; having another artist; or having them move or dance…it takes more planning and more thought than kind of just experimenting and seeing how it goes.
Yes,  that's very different. Somehow in the studio, you can work not always knowing what's going to happen. But something does happen,  because of that magic of being together, which isn't really magic at all- it's the life force, I suppose.
RB: Something goes right or something goes wrong and  you're "there" to be a part of that. In the virtual world that's hard to facilitate.
---
and now for the information Román Baca's doctor friend gave him, for the symptoms of COVID-19
Drink tea with lemon and honey for the cough

Take zinc and vitamin C

Take Tylenol for fever

Perform basic breathing excercises (click the link for the National Lung Associations guide) so that you know you can breathe, and to help strengthen your lungs

If you feel horrible ,  as if you cannot breathe, go to the hospital
---
The Dance Enthusiast Asks questions and creates conversation.
For more of The Dance Enthusiast Asks, click here.
---
The Dance Enthusiast - News, Reviews, Interviews and an Open Invitation for YOU to join the Dance Conversation.