Sisters Charly & Eriel Santagado, Founders of mignolo dance, On The Power of the Pinky & Their First Evening-Length Performance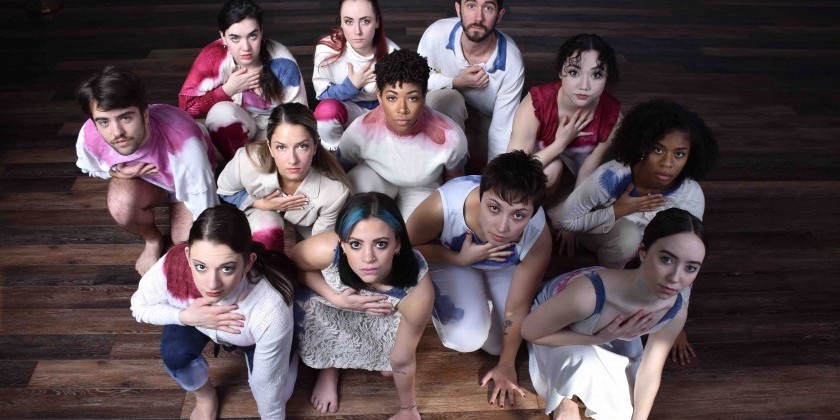 Happening This Weekend on Saturday, November 14 & Sunday, November 15, 2020
A merging of mediums, a clashing of creativity: literature, music, and dance come together to explore the history of the USA and its beloved authors. Catch mignolo dance's incredible cast of 13 accompanied by original music, and be swept into a world of words and movement as they dissect and re-contextualize the literary works of Walt Whitman, Emily Dickenson, Langston Hughes, Sylvia Plath, and many more. 
Attend the company's drive-in premiere at Pearls Street Parking Deck in Metuchen, NJ on Saturday and Sunday, November 14-15 @ 7PM. No car? No worries. Socially distanced outdoor seating is also available.
---
Sammi Lim for The Dance Enthusiast: Hey, Charly and Eriel. How's it going?
Please tell our readers more about yourselves. I don't think I've ever had the pleasure of interviewing dancer-sisters, probably because siblings rarely share the same key interests. Were you born to dancer parents?
Charly and Eriel Santagado: We weren't born to dancer parents, but parents who made it their number one priority to foster our sisterly bond. The fact that we both love dance so much is just luck! (And maybe a hint of genetics?) We've been dancing together for almost twenty years, and feel really fortunate to be pursuing our dreams together. Also, if you've never danced with your sister before, dancing in unison comes a lot more naturally than you'd expect!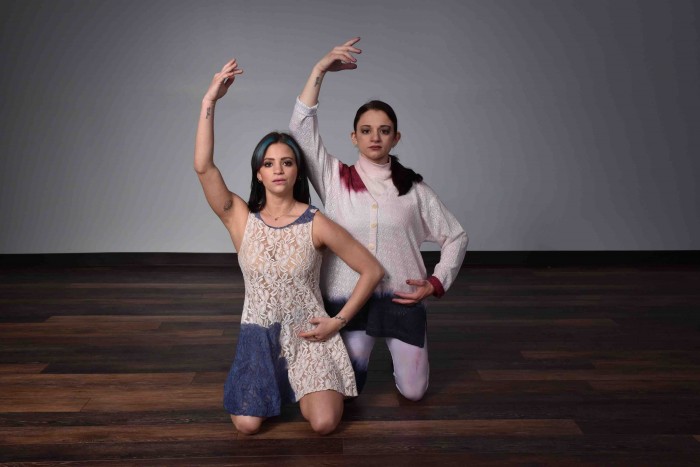 Charly and Eriel Santagado, Founders of Mignolo Dance. Photo courtesy of the company
The Dance Enthusiast: When was mignolo dance founded and why is your company named after the word for 'pinky' in Italian? 
C&E: We founded ~mignolo dance~ in 2017 and the name holds a place close to our hearts. At a gymnastics meet when were young, we were sitting with our Uncle Charlie, telling him how we were nervous. He replied in a dramatic Italian accent holding up his pinky finger: "You two have more talent in your pinky fingers than all those competitors have in their entire bodies." From then on, "remember the pinky" became our mantra.
We knew early on that we wanted to incorporate the pinky into our company name, and after our uncle died in March of 2017 at only 53, we officially decided on it, performing for the first time as a company only a few months later. So when we think of mignolo, we think of strength, of all of the difficult experiences that we've been through to arrive where we are today, and of our uncle and how our work can serve as a tribute to not just his life, but to the beauty of life and art more generally. If ever you are out there questioning your own value, whether it be in relation to another person, society at large, or yourself, we hope that you will "remember the pinky," the one that we all have in one aspect of life or another, and feel a surge of worth and love for yourself and the world surrounding you.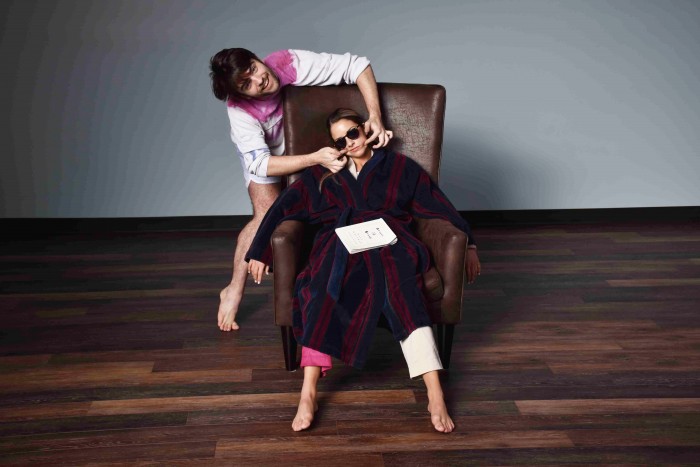 Promotional picture for "Manifested Destiny."  Photo courtesy of Mignolo Dance
The Dance Enthusiast: Can we safely presume that you're both avid readers? What book(s) would you deem required reading for every dance enthusiast?
C&E: Yes! We both love to read. This is super tough question, but required reading for every dance (and life) enthusiast might include Malloy by Samuel Beckett, The Trial by Franz Kafka, Bluets by Maggie Nelson, and Leaving the Atocha Station by Ben Lerner.
The Dance Enthusiast: "Manifested Destiny" is inspired by 13 American authors who will each be represented by a dancer. Did everyone draw lots or choose their preferred author? Was there a method to the madness?
C&E: There was definitely a method and also some madness. We knew we wanted to call upon the work of diverse authors from various time periods in American history from the start. Some dancers knew right away who they wanted to represent while others told us to pick for them or give them options. Funny enough, the last two people to select their authors were us. Choosing just one was a challenge in itself, and we sometimes mourn the authors who didn't make the cut.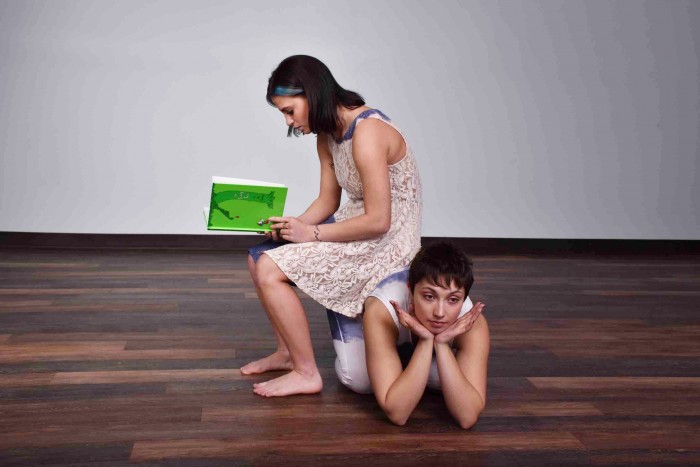 Promotional picture for "Manifested Destiny."  Photo courtesy of Mignolo Dance
The Dance Enthusiast: Describe mignolo dance's rehearsal process for "Manifested Destiny". Have you had much chance to practice in the actual venue itself?
C&E: From in-person rehearsals, which began more than a year ago, to a brief stint on Zoom to being forced to recast four dancers to individual rehearsals with masks on and windows open, the process for this piece has been long and strange.
Luckily, our dancers have been dedicated and flexible throughout the process, and our new venue has been extremely accommodating. Who would have thought Nexus Parking Systems would be such a wonderful host? Although our rehearsals primarily consist in running the piece and extensive notes now, the creation process was highly collaborative. We spent several months collectively translating the primary poem that frames the piece: To Elsie by William Carlos Williams. Each dancer contributed at least a few words to the movement vocabulary that the piece is composed of and had a significant say in the section dedicated to their author.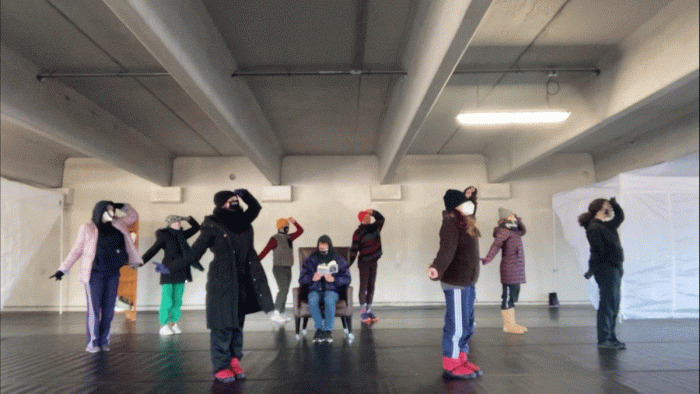 GIF of Mignolo Dance in rehearsals for "Manifested Destiny." Photos provided by the company
The Dance Enthusiast: What's costuming like for "Manifested Destiny"?
C&E: Company member Bailey Benoot also doubles as our costume designer (and lighting designer when we perform in traditional theatres). After consulting Google Images about the style of each author, we bought every white or cream-colored clothing item we could find at our local thrift store. Bailey then hand-dyed each costume to capture the essence of the authors.
The Dance Enthusiast: I like that you've added masks to your company's merchandise to adhere to the times. How much is one?
C&E: They're only $5! We have a few beanies and t-shirts left in stock too. All available through Eventbrite!
---
The Dance Enthusiast Asks questions and creates conversation.
For more of The Dance Enthusiast Asks, click here.
---
The Dance Enthusiast - News, Reviews, Interviews and an Open Invitation for YOU to join the Dance Conversation.