Related Features
Contribute
Your support helps us cover dance in New York City and beyond! Donate now.
Stepping into Iconic Dance Roles: Stephen Petronio Company's Nick Sciscione on Steve Paxton's "Goldberg Variations"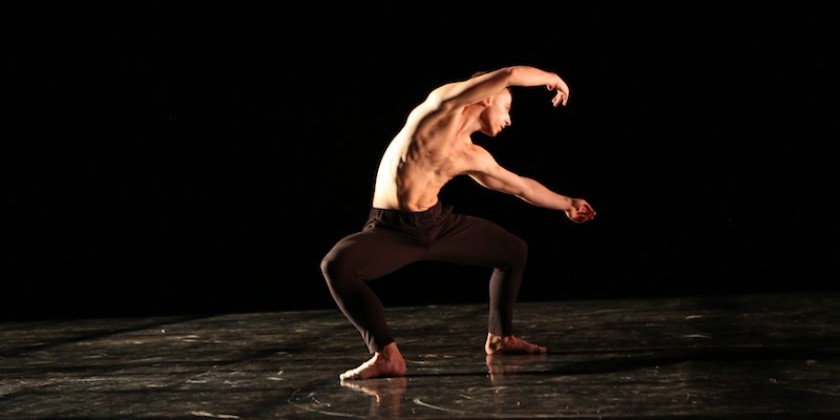 The Dance Enthusiast recently had to the opportunity to speak with artists from the Stephen Petronio Company, Tanztheater Wuppertal Pina Bausch, and Twyla Tharp Dance. This season, these dancers are tackling roles created and performed by three dance icons: Pina Bausch, Steve Paxton, and Twyla Tharp. They share their rehearsal experiences and the ways they navigate the pressure of living up to these individuals' legacies.
---
In 1986, Steve Paxton created the Goldberg Variations — a project extending over six years and never performed the same way twice. Last season, Stephen Petronio Company's Nick Sciscione performed an excerpt from the work as part of the organization's Bloodlines project. He'll be reprising the piece in New York City Center's Fall for Dance Festival on October 4-5. For details, go to www.nycitycenter.org.
The Dance Enthusiast: How did you learn Goldberg Variations as it was originally a set of improvisations created over six years?
Nick Sciscione, Stephen Petronio Company: Paxton was improvising to Glenn Gould's recordings (1982 and 1955) of Johann Sebastian Bach's Goldberg Variations. The video [of the improvisations] is about an hour long. Stephen Petronio, dancer Emily Stone [who was an intrinsic part of this restaging], and myself combed through the video to see which sections we thought would translate well to stand-alone on the stage.
I'm dancing variations 16-24. The excerpt was filmed at the Felix Meritis concert hall in Amsterdam in 1992. He [Paxton] performed it live extensively to my knowledge, but this is the only version from which I've learned.
One of the biggest challenges for the three of us was to decide how much [to] do verbatim. [What we were working from was a recording of] a single body of certain proportions making certain choices at a specific time. And we didn't have access to any of those things. The route that we took was to follow Steve's skeletal structure as the form.
He [Paxton] would give prompts via email and qualitative scores to work with too . . . In an email to Emily and me, Paxton discussed things like straying from performing outward to the audience and focusing on the progression of the movement through space.
Nick Sciscione in Steve Paxton's Goldberg Variations; Photo: Julie Lemberger
TDE: Were you nervous to approach the Goldberg Variations knowing that Steve Paxton is an influence on Stephen Petronio and, in turn, an important part of your dance lineage?
NS: Of course. When works are being restaged, the people who were involved with them at beginning often feel a part of themselves are invested in the work and hold it in such high regard. You think 'I hope I can fulfill the desired task.'
I was nervous especially when watching the video. He is so brilliant. You pause the video at any moment, you see him in an amazing shape. It was daunting at first.
TDE: As a dancer how did you infuse your own artistry into this iconic work while holding on to its essence?
NS: The perfectionist part of me was dedicated to finding Paxton's subtlety and idiosyncratic way of moving. I was curious if I could capture that image in my own self — which is very difficult. There are other times when you're doing the work that the relationship with the music is one of the most important aspects of the piece. It's a constant push and pull trying to emulate what Paxton is doing. When I actually do it, I have to let those things go a bit and focus on accomplishing the tasks the best I can . . . Paxton would provide you with thoughts or challenges to connect to the music, space, the nervous system in the body, etc. to produce different conditions for movement to occur rather than simply demanding that a step should be performed in a particular way. There is certainly no definitive answer as each person's interpretation of the same prompts can vary.
TDE: How do you think this experience will impact your work as a performer in the future?
NS: This project has enlightened me to the breadth of choices in any one step or gesture. There's always this macro/micro chasm of options within a single pathway of movement, which I never realized I could be deeply involved in before. Even the way I approach learning movement enlightens me to the idea that we can take something and interlay with many different qualities and intentions. It seems simple and obvious, but for whatever reason at this moment in my life, it is a profound realization.
---
The Dance Enthusiast Asks Questions and Creates Conversation.
For more of The Dance Enthusiast Asks, click here, for Part II featuring Kara Chan of the Twyla Tharp Company, click here.
For more on Stephen Petronio, read impressions of the company's 2017 Bloodlines program.