Stepping into Iconic Dance Roles: Tanztheater Wuppertal Pina Bausch's Helena Pikon and Breanna O'Mara (Part I)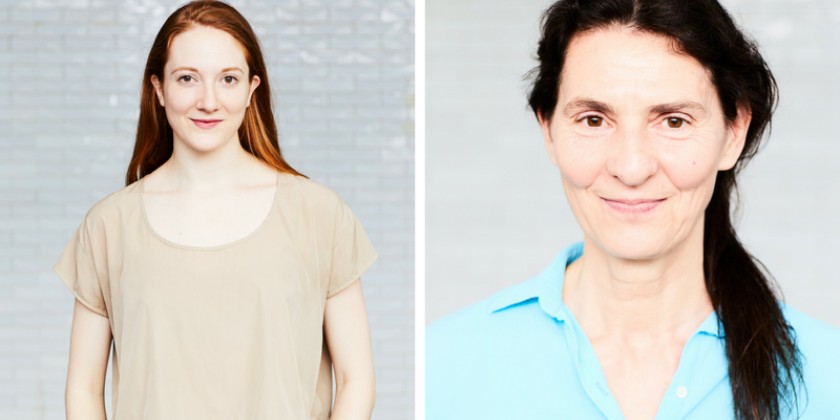 Pictured above: Breanna O'Mara (l) and Helena Pikon (r). Photos by Claudia Kempf .
The Dance Enthusiast recently had to the opportunity to speak with artists from the Stephen Petronio Company, Tanztheater Wuppertal Pina Bausch, and Twyla Tharp Dance. This season, these dancers are tackling roles created and performed by three dance icons: Pina Bausch, Steve Paxton, and Twyla Tharp. Over the next few weeks, we'll share their rehearsal experiences and the ways they navigate the pressure of living up to these individuals' legacies. 
---
Tanztheater Wuppertal Pina Bausch returns to Brooklyn Academy of Music (September 14-24) with Café Müller and The Rite of Spring. Café Müller, which premiered in 1978, is an intimate, autobiographical work for six dancers set in a café that resembles the restaurant Bausch's parents owned when she was a child. Dancers Helena Pikon and Breanna O'Mara are performing the role that Bausch once hauntingly portrayed for nearly 30 years. This will be O'Mara's debut in this work. For details, go to www.bam.org.
Pina Bausch; Photo: Ulli Weiss, copyright Pina Bausch Foundation 
Trina Mannino for The Dance Enthusiast: How has Café Müller evolved since you joined the company?
Helena Pikon, Tanztheater Wuppertal Pina Bausch: When I first saw this piece in 1978, it shocked me. I felt that I can understand this kind of work, but couldn't explain it in words. It touched me deeply . . . When Pina performed the work in the beginning, it had a different energy — she was younger. I saw how it changed depending on who was performing. The quality of the movements was sometimes quicker. The piece changed as the performers grew up and experienced life.
I danced this role for the first time in 2008 in London. I had to jump in when Pina was sick . . .
After Pina's death, I shared this role with Clémentine [Deluy]. I had an operation in 2009, and Pina had asked me to teach Clémentine in case I couldn´t dance. I thought it was [a] good opportunity to share this role. Now, we've brought on Breanna [O'Mara], so it's constantly evolving as life does.
TDE: Did Pina herself work with you on this role?
HP: She asked me ten years before 2008 to look at her when she was dancing Café Müller.
TDE: What was your reluctance in learning Pina's part in Café Müller?
HP: It was love for Pina. Pina was only dancing in a few pieces.
Helena Pikon in the Tanztheater Wuppertal Pina Bausch production Für die Kinder von gestern, heute und morgen during BAM Next Wave Festival, 2004.
Photo: Stephanie Berger.
TDE: What is it like working on the role with a dancer of the next generation?
HP: I never say, 'just let me show you.' I work with her, and after a while, we look together the videos of Pina and then work through the movements together again.  I think it's also important to allow her to discover the role herself. That's why I always tell her to have a look on her own. 
TDE: How has your interpretation of the work changed?
HP: Now, I feel more of myself listening and responding to what's going onstage. I go through a journey each time I dance it. I don't want to copy Pina; I want to be honest. It's a quiet and beautiful part, but it's also about pain. I recently shared this with Breanna: The sadness is so deep that you can't even cry.
---
TDE: How did you prepare for the role that Pina Bausch originated in Café Müller?
Breanna O'Mara, Tanztheater Wuppertal Pina Bausch: I worked with Helena to learn the movement — each section essentially has the same movement except that it's in a different order. Helena told me that the music cues became more set after some years. I learned from videos of Pina herself with the computer on mute first. Helena worked with me on quality, and helped me find the small, subtle details that can be hard to see.
There's a lot of documentation in the company — I even know which video version Pina herself used when she would return to the work. She performed this piece for nearly 30 years, and as you look at the different videos, you see how the work changed over the years.
TDE: How do you infuse your own artistry into Café Müller while holding onto its essence?
BO: I look to the music and the movement. The arias, which are devastating, say so much. I see this character as the work's voice — an extension of the music that leads us through the piece.
The silences, the music, and the pounding on the floor and chairs stir up a level of emotion. I think the piece itself is strong. If I put myself in it and listen to what is happening, something will come out.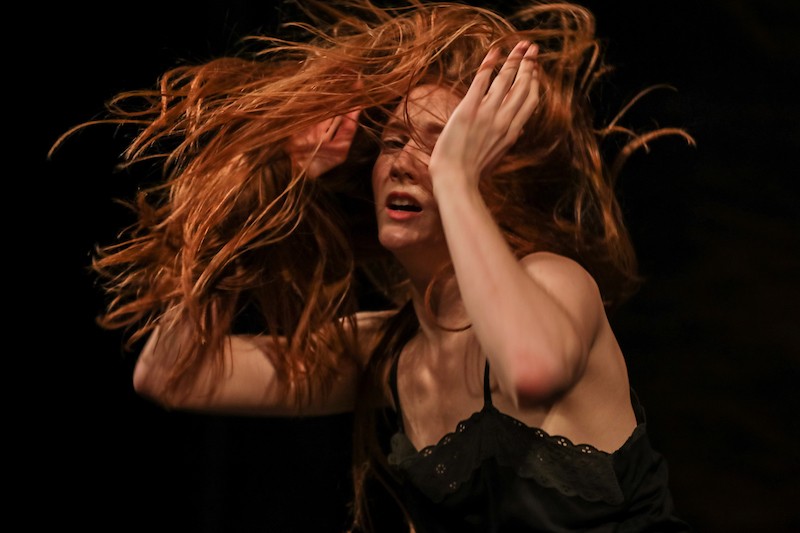 Breanna O'Mara; Photo: Oliver Look
TDE: Café Müller is sometimes described as autobiographical. In your view, does this Bausch work feel more personal than others?
BO: It's a small cast, so in that way it feels more intimate and personal. But I also didn't know her so it's hard for me to say . . . Pina's partner Rolf Borzik [who created many sets and costumes for Tanztheater Wuppertal] originally performed as the man who moves the chairs. He passed away in 1980 after the company created Arien in 1979 — the piece with the hippopotamus and water. I recently had this thought that Café Müller, which was created two years before his death, feels like a premonition. The woman [Bausch's part in Café Müller] is alone as the aria sings out, "he's gone/he's gone/I shall forever weep."
TDE: What is it like to dance in such an iconic role?
BO: It's slightly terrifying [laughs]. I have a great respect for the company and Pina. I'm the first person who is learning this role and didn't meet her. In a way, this opportunity allows me to get to know her.
Since joining the company, I've had the luck to work directly with the person who originated the part that I'm asked to learn. But this is the first role that was created by and for someone who is no longer living. I hope I can give the piece what it deserves in this amount of time. I do tend to put pressure on myself. And I think the role is something I have to grow into.
---
The Dance Enthusiast Asks Questions and Creates Conversation.
For more of The Dance Enthusiast Asks, click here and for an Impression of Bausch's "Kontakthof," click here