TDE Asks Dancewave's Diane Jacobowitz About Dancing Through College and Beyond
Following DTCB's Scholarship Award Ceremony
Dancewave, the dance education nonprofit that strives to make dance accessible to all, recently held their 2017 Dancing Through College and Beyond (DTCB) Scholarship Award Ceremony on March 12th 2017. In October 2016, DTCB expanded to include a massive audition with 40 college dance programs from across the nation, including SUNY Purchase College, The Ohio State University, California Institute of the Arts, and more. Executive and Artistic Director, Diane Jacobowitz, who has been teaching dance for over 25 years and founded Dancewave 20 years ago, chatted with us about philanthropy in dance and sheds light on ways dance enthusiasts can support Dancewave's community efforts.
---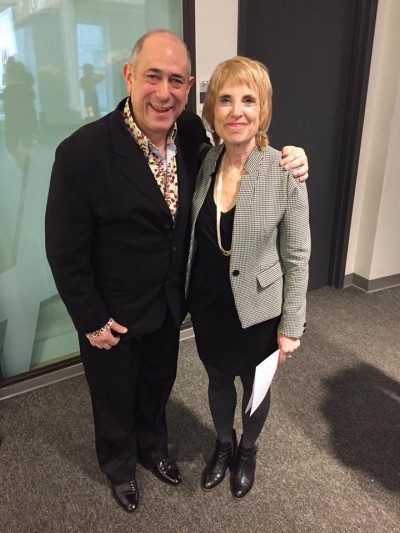 David Dorfman with Diane Jacobowitz, Dancewave's Artistic/Executive Director.
Sammi Lim for The Dance Enthusiast: Congrats on a successful DTCB Scholarship Award Ceremony! I love that the celebrations were completely FOC to attend.
Diane Jacobowitz, Founder of Dancewave: I think it is absolutely imperative that DTCB and the DTCB Scholarship Award Ceremony be free. It is not about raising funds. We are genuinely interested in promoting higher education to young dancers who are transitioning into the next stage of their careers. It's a  delicate moment where a lot of young dancers decide not to major in dance because they don't know what they will do. At DTCB, we expose these students to the endless possibilities a dance degree can provide. It's very important that we are encouraging young dancers, that we celebrate this moment, and that we make a big deal of their decision to study dance in college, and this DTCB Scholarship Award Ceremony does just that.
TDE: Did anything remotely close to DTCB exist in your schooling years?
DJ: There was nothing like DTCB! There were general college fairs. In my day there were not even performing arts fairs which exist now. To be specifically focused on dance is unique and extremely helpful because everyone at DTCB is focused on the same thing — dance, and that, is in itself, a pretty broad category.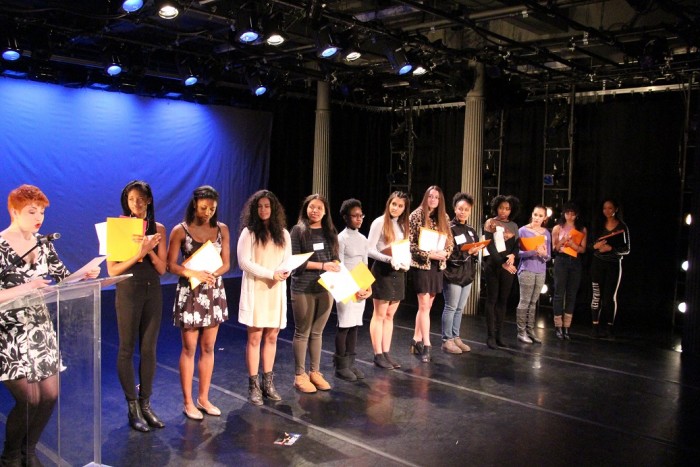 Students lined up to accept their scholarships awarded during the Dancing
Through College and Beyond audition for college dance departments.
TDE: I'm an alumna of Hofstra University, one of the 13 colleges to present scholarships to dance students this year. Could you please explain how colleges can partner with Dancewave?
DJ: We begin the process in the late spring/summer. By August, we are in contact with all of the college dance programs. We are proud that there are now 50 dance colleges and organizations from across the country that participate in DTCB. The more colleges, the more distinct opportunities for our young dancers!  Colleges interested in participating in DTCB should contact contact Jessica Zippin, our DTCB coordinator at Jessica@dancewave.org.
TDE: One of the absolute hardest things about community work is riling up sponsors; how does your team go about it?
DJ: Our DTCB sponsoring partners, The 92nd St Y Harkness Dance Center, DEL, Harkness Foundation and Gibney Dance Center have been incredibly supportive of our work. We are always seeking more sponsors though, because it's imperative to continue growing! If you are interested in becoming a sponsor of one of these events, please reach out to Jessica Zippin also.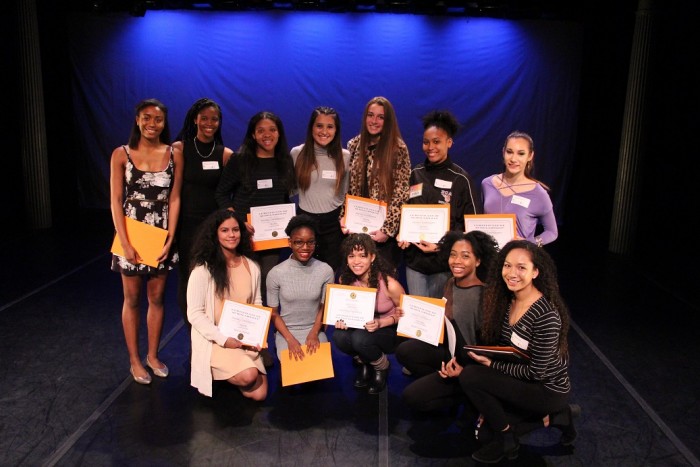 Students accepting awards at the DTCB Scholarship Awarding Ceremony.
TDE: Instead of simply keeping our fingers crossed, how can the public aid Dancewave's current and future community projects?
DJ: Come to our events, support us, write a check, volunteer, and jump in! There is always room for more help and a bigger team! Dancewave hosts a number of different programs, from dance education to public school programs. We also are very excited about our upcoming capital project in downtown Brooklyn/Gowanus. We encourage you to help in any way possible to help grow our events and our organization.
---
The Dance Enthusiast Asks Questions and Creates Conversation.
For more of The Dance Enthusiast Asks, click here.