Related Features
Contribute
Your support helps us cover dance in New York City and beyond! Donate now.
The Dance Enthusiast Ask Felice Lesser About 41 Years of Dance Making and her Season at The Duke on 42nd Street
Felice Lesser Dance Theater
Venue: The Duke on 42nd Street
Dates: 
February 8-12, 2017

; 2/8-11 at 

7:30pm

, 2/11-12 at 

2pm
Tickets are available at dukeon42.org or call 646-223-3010. Tickets start at $40. Student/Senior/FLDT member discounts available.
Choreographer/Projections: Felice Lesser
Composer: Borut Krzisnik
Lighting: Matt Miller 
Dancers: Ahmaud Culver, Katherine Files, Ethan Gwynn, Chanmee Jeong, Chihwan Kim, Acee Francis Laird, Danielle Shupe, Dona Wiley
Pictured above: "Memory Prism" from Lightning; Choreography: Felice Lesser; Preview at Jazz at Lincoln Center; Dancer: Dona Wiley
---
A buoyant Felice Lesser met with TDE contributor Deirdre Towers on January 28th at the Little Pie Company in mid-town to discuss her multi-media work Lightning which expresses her thoughts on what's ahead in 2017 ("with a little comic relief to relieve all the gloom"). Created in her company's 40th year,  Lightning has 12 sections that respond to such timely issues as Trump's wall, the plight of immigrants and refugees, Black Lives Matter, and religious prosecution.  The composer Borut Krzisnik (1961, Slovenia), a frequent collaborator with dancers and filmmakers, writes on his website, "Lightning is not just a natural phenomena - it is a social one as well. It shows us how things work, and that is by principle of force. Not by consensus, but by mere power."
You can listen to excerpts from Lightning: "Rules of Disorder" and "Memory Prism". 
---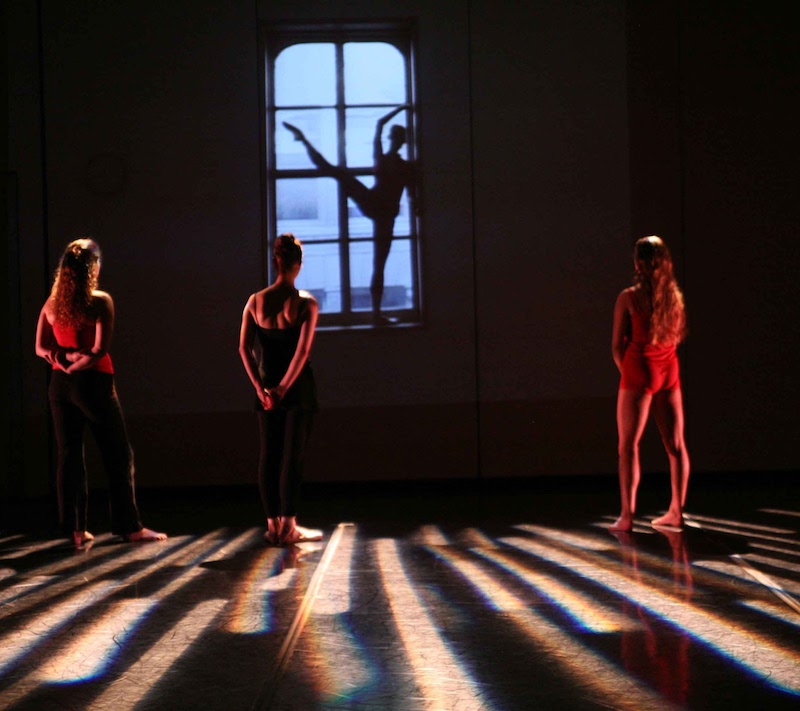 I Am A Dancer (2006); Choreography & Video: Felice Lesser; Left to Right: Taylor Garrabrandt, Jacqueline Sherwood & Kristin Licata; Photo: Gerry Goodstein
Deirdre Towers for The Dance Enthusiast: Did you decide to do this piece pre-election?
Felice Lesser: Yes. A couple of years ago, I heard Borut's music and I just had to choreograph it (it's really good music.) I applied for a grant so that he could make a commissioned score for me. I asked what he was interested in and he said, "Borders — technological, sexual, geographical." I didn't get past the grant's letter of inquiry stage, but the idea stayed in the back of my mind and I decided to make the piece anyway.
Before the election, I choreographed two pieces, first a pas de deux called Memory Prism about a woman in relationship that breaks up. Years later, she remembers the relationship but she sees it differently-- as though it had never ended. Her mind plays tricks with her.
Next, I started a piece called Artificial Intelligence and, as a backdrop, used video of neon that I shot through scaffolding in Times Square. I made robot-like, video clones of my leading dancer, Donna Wiley, and layered them gradually so that by the end of the piece, there were 20 or 30 of them.
The robots put Donna to sleep, and when she wakes up, they are misbehaving. They make her their slave, giving her electric shocks. The point being, that as artificial intelligence gets more sophisticated and robots take over human functions,  will they take over the world and our kill our humanity?
"IA" from Lightning; Choreography & Video: Felice Lesser; Photo Credit: Felice Lesser; Dancer: Dona Wiley
The election came.  On that day I was walking on air. I had just voted for the first woman president. I felt so proud that I had lived to see this day.  Of course, then the bottom fell out.
Suddenly my work became really important to me. The only way I could address this experience was through art. We all know the transformative nature of art. Look at
Hamilton!
"IA" from Lightning; Choreography & Video: Felice Lesser; Photo Credit: Felice Lesser; Dancer: Dona Wiley
TDE: What did you do after the election?
FL:
First thing I did was to go down to 14th street to photograph
the wall
. That became the backdrop for a piece about the Syrian refugees and Aleppo. I worked on other pieces about racism, homophobia, bigotry, and global warming. I created a video of the sea for that early on. In the work you see dancers on a beach. One dancer denies that anything is happening. The water gets higher as the tide comes in. He continues to deny, then at the end, drowns.
TDE: Do you think we could be entering a new era of activism for the arts?
FL:
I don't know what's going to happen. 
Tomorrow
 we could lose all our rights. I worry about the rise of fascism. I never considered myself a political choreographer, but, ironically, that seems to be all I have been doing for the last twenty years.
TDE: Would you say your piece is timely, needed, perhaps a catalyst?
FL: I wish it could be a catalyst. But yes, it is timely and needed.
FLDT opening night, 

February 8th

, is a Slovenian holiday honoring the poet France Prešeren (1800-1849) and Slovenian Premium Wines/Tri Wines, Inc. donated wine to FLDT for a post-performance toast.
---
The Dance Enthusiast Asks Questions and Creates Conversation.
For more of The Dance Enthusiast Asks, Click here.