Related Features
Contribute
Your support helps us cover dance in New York City and beyond! Donate now.
TDE Asks H.T. Chen & Dancers about "South of Gold Mountain"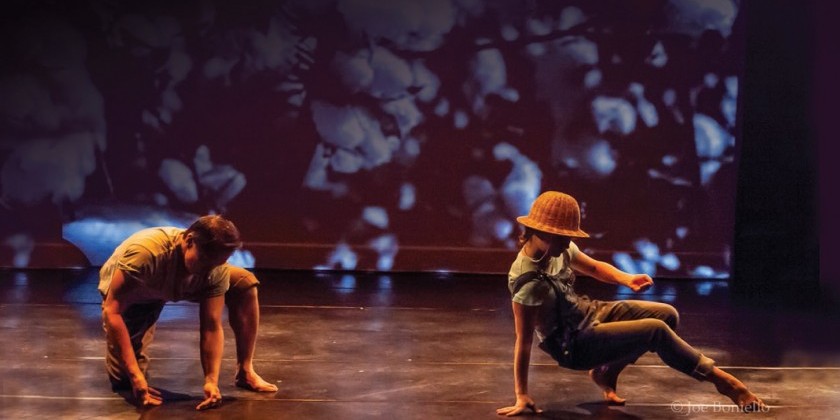 A Tale of Immigration, Hardship and Transformation
When: Thursday-Saturday, October 15-17 @ 7:30pm; Sunday, October 18  @ 3 PM.
Pre-show discussion with panel of scholars, historians, and civic leaders on October 15.
Where: New York Live Arts, 219 West 19th Street, New York NY
Tickets: Click here.
More info: Visit www.chendancecenter.org or www.newyorklivearts.org
Choreography and research: H.T. Chen and Dian Dong
Dancers: Gary Champi, Stephanie Chun, Lisa Chow, Renouard Gee, Joanie Johnson Sean Nederlof, Ari Someya, Keyashsa Williams-Bailey
Composer: James Lo
Costumes: Caprice Esser
Lighting: Joe Doran
Music: Jew family recordings, Michael Wall, Son House, Jack Hsu
---

Sammi Lim for The Dance Enthusiast: Where were the pair of you born and how long have you called America home?
H.T. Chen, Founder of Chen Dancer Center: I was born in Shanghai, raised in Taiwan, and New York has been my home since 1971. However, once I became a naturalized citizen, I felt that the Chinese American history was mine as well. That is why I choreographed a series of works on Chinese American stories such as Mott Street, Hidden Voices, Transparent Hinges, Bian Dan, and now South of Gold Mountain which I created with my wife, Dian.
Dian Dong, Education Director of Chen Dancer Center: I am a native New Yorker and my family originated from Toisan, China. My great-great grandfather arrived in the United States in 1864, so I am fifth generation Chinese American on my mother's side of the family and fourth generation on my father's side.
The Ed Wong family in Augusta, Georgia, 1936.

TDE: I've never heard of the U.S. being nicknamed 'Gold Mountain.' Is this colloquial term used exclusively among Chinese American immigrants? My Hokkien grandparents living in Malaysia call America 美国 or "bee kok," which translates to "beautiful country." Either way, both terms have optimistic connotations.

DD: Chinese settlers originally came because of the Gold Rush and the nickname "Gold Mountain" or "gim san" stuck through the 1920's or 1930's. We chose this title because the work addresses the history of the early Chinese immigrants to the American south. It also symbolizes the hope and aspirations of the Chinese.

TDE: What were the most surprising or interesting facts you uncovered during your three-year research and in-depth interviews with Chinese immigrants and their descendants? And three years is a really long time. Congrats on the culminating show!
DD: Three years is a long research period. Our trips to the south had to be scheduled around the on-going programming of our school and theater in NYC. We traveled to Georgia, Mississippi, and Tennessee to interview elders and those who settled in the southern states before WWII. Although we could have ended the research after the first year, there was so much more to understand before we could complete the project.
The experience of the Chinese in the American south was especially poignant because they settled in deeply segregated, rural communities in the southern states. And yet, their experience was not totally unique. The discrimination they faced were similar to the experiences of Chinese who settled in urban or suburban areas in the U.S.. However the cultural isolation of being neither black nor white in a rural community, as well as being separated from other Chinese families, makes their histories distinct.
A scene from South of Gold Mountain. Photo credit: Joe Boniello.

TDE: I couldn't help noticing that children are included among the performers. Why the multi-generational cast?
DD: Having four generations of performers in the production brings more perspective to the struggles of the Chinese in the American south. The children play children, the dancers carry the story through rigorous movement, two senior artists play the roles of a mother and father, and at the end, we have walk-ons (small, nonspeaking parts) by WWII veterans, elders, civic leaders, and community leaders. It's very moving to be working all together and to tell the story through authenticity and innovation.
TDE: I'm excited to hear that the soundtrack by Bessie Award winner James Lo will fuse traditional Chinese music and Deep South blues. Has Chen Dance Center collaborated with the composer prior to this?

DD: We have known James Lo for many years, but this is the first time we're working together. Because of the history's complexity and its long span of time (150+ years of Chinese American history), we realized that we needed someone who could fuse a range of sounds to create the environment of the ten sections in the production. Lo's score includes contemporary music, traditional Chinese music, oral histories from the interviews, blues, sounds from his father-in-law's laundromat, crickets, church hymns, and more.
Joe's Laundry & Cleaners, one of the last Chinese American-run laundromats in Atlanta, Georgia (2012). Photo courtesy of Dian Dong.

TDE: In a nutshell, what does "South of Gold Mountain" convey about the Chinese immigrant experience?
DD: The Chinese endured their immigrant experience by hanging on to their cultural beliefs and by being 'invisible.' Due to cultural isolation in their new home, the Chinese kept close bonds with other families, not unlike village life in China. The new arrivals heavily relied on immigrants who had arrived before to help them endure daily hardships and adjust to the cultural challenges of their adoptive country. Discrimination, racism, and even physical violence were prevalent. Despite rural and cultural isolation, the new residents helped to build America by working on railroads, levees, plantations, and as grocers, launderers, and later as restaurant owners.