Related Features
Contribute
Your support helps us cover dance in New York City and beyond! Donate now.
TDE Asks Kora Radella and Matty Davis of BOOMERANG about the Premiere of "This Is A Forge" at Harkness Dance Festival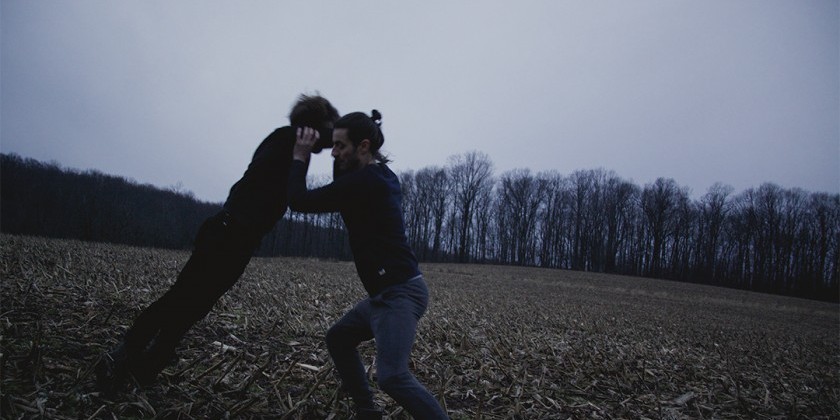 About Uneasiness and Dancing to Furious Violin Work
BOOMERANG is a daringly physical, poetically-nuanced dance and performance project created in 2012 by co-artistic directors Matty Davis and Kora Radella with founding member Adrian Galvin.
At this year's Harkness Dance Festival, BOOMERANG presents the world premiere of This is a forge, a new evening-length work performed by Massimiliano Balduzzi, Matty Davis, with choreography by Kora Radella and musical accompaniment by the violin virtuosos of String Noise. This is a forge navigates the uneasy spaces between human connection and features text from award-winning poet Jamaal May.
When: March 17 @ 8PM and March 18 @ 4PM
Where: Buttenwieser Hall, 92Y Harkness Dance Center, 1395 Lexington Ave, New York, NY
More info HERE
---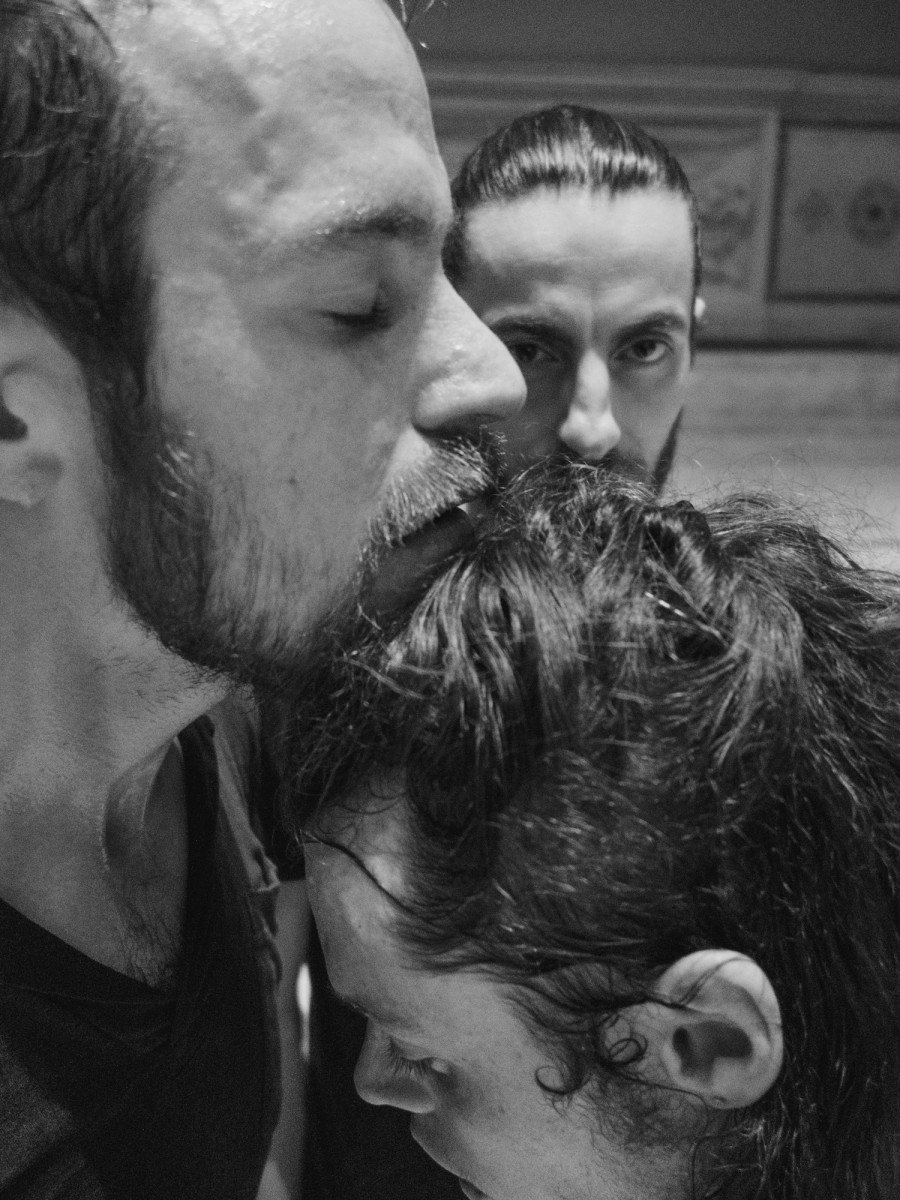 Photo credit: Mark Davis.
Sammi Lim for The Dance Enthusiast: BOOMERANG turns five in 2017. Hurrah! What is your strongest emotion when looking back at the project's earliest works?
Matty Davis, Co­-artistic Director and Performer: I look at the early works with a mixture of pride and sadness. The works have an urgency that feels as imminent and strong as when they were first made; they also have a concision and discreteness that I aspire to and and enjoy seeing in art. My sadness just has to do with the fact that I sometimes genuinely miss them, feel like they don't rear their heads as much as I'd like. Dances aren't really like an old song that, as a musician, you could whip out and play in your bedroom or slip into a set list. The culture of presentation often churns linearly, always desiring the newest work. I hope that there will always be opportunities to present the earliest duets and solos, both to honor their inherent value and because I'm interested in how we resituate our bodies and psychologies, transformed by time, into the past. Particularly when it's a work with myself and Adrian Galvin, who have such a special relationship as performers, revivals of the oldest works feel like a kind of homecoming, ha.
Kora Radella, Co­-artistic Director and Choreographer:  We have been fortunate to keep many of our works, including Boomerang, our eponymous first duet, alive throughout the years. That duet was performed alongside Our Past the Fuse, also from 2012, in Paris last June and more recently in a modified version at Joe's Pub. Gut check has lived on from it's premiere in 2013 to be performed in in what felt like the best spot for it, a beautiful boxing ring at Soho House Chicago in May 2016. For the toward, with Matty and playwright/performer Will Arbery, had it's first iteration in 2014 and has continued to be performed as recently as December at PULSE Contemporary Art Fair in Miami. That piece also found it's home on asphalt when it was at ArtPrize7 in Michigan. We plan to continue to develop For the Toward into a full­-length performance. We laid the groundwork for that years ago and are working on finding a venue to support the work and connected installation of Davis's artwork in the future. We have also found ways to keep the work alive via photography and film. During our residency at Watermill, we did special filming of Repercussion with drummer Greg Saunier and two filmmakers, Martha Gregory and Kenny Polyak. We also worked with them for a short of Boomerang that was recently at the 45th Dance on Camera Festival at Lincoln Center. We also worked with Polyak on filming the duet For the toward on asphalt in three distinct sites in NYC, including by the water with a stunningly pink sunset in Greenpoint. There has been other filming of our work including our solo repertory, for example of How you shone through me with filmmaker Sam Krebs and the solo version of For the toward that Matty and filmmaker Eryka Dellenbach made at South Works, a former US Steel plant in Chicago. BOOMERANG works a lot with photographers, including Mark Davis and Jonno Rattman and consider them part of our artistic team. During Matty's residency at the Edward F. Albee Foundation in Montauk last fall, Matty and Mark made amazing photographs of parts of the BOOMERANG solo work Anchor for each vessel within the waves of the Atlantic Ocean. Thus, although we keep creating new work, we revisit and rekindle our repertory via performances, films, and photography.
TDE: Kora, was Jamaal May's poetry the fountainhead for This Is A Forge or did you discover his poetry after the initial conception and found that his words coincidentally complemented the theme?
KR: I spoke to Jamaal May early on about working with excerpts of his poetry for this project, but did not have a fixed plan. The evening after our early work­-in­-progress on May 23rd 2016 at Judson Church, I, after conferring with Matty, asked Massimiliano to work with the fire text. String Noise listened to the text and came up with the idea of pairing it with Caleb Burhan's Escape NY and that has continued to be a wonderfully strong match. While at Yaddo, I had lots of solo time and kept reading and re­reading Jamaal May's books. Matty, Massimiliano, and I culled over texts to discern what felt essential and true to this work. Jamaal has been very open and trusting of our process. He and I met at Kenyon College years ago when he had a Kenyon Review Fellowship and had planned to work together with him speaking and moving. That never happened but I feel very lucky to have Jamaal May's work as an integral part of This is a Forge and to have it come to life so keenly with Massimiliano Balduzzi's vocalizations.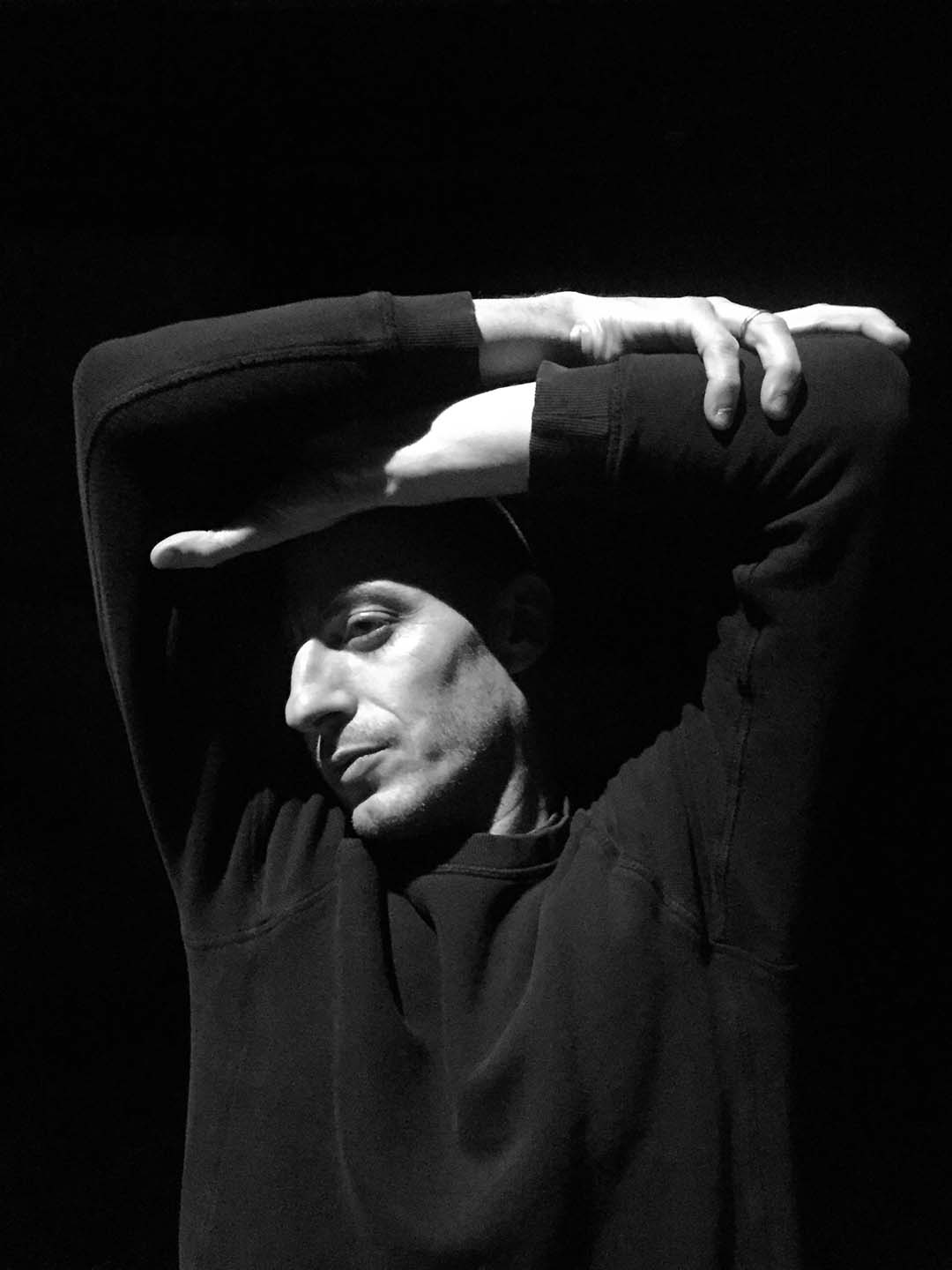 Photo credit: Kora Radella.
TDE: This Is A Forge tackles the topic of 'the uneasy spaces between human connection.' By this, do you mean awkwardness? Is this dance about awkwardness?
MD: I think "the uneasy spaces between human connection'" is just that and not reducible to a single word, such as awkwardness. I think "unease" is created by situations in the work where the physicality and energy might be pretty violent, for example, but the psychology or intent is more warm and tender. There's a clash of intents and how they're made manifest.
KR: Our work often treads the pathways between performers that both support and impede each other's trajectories. There is constant research of active listening that requires presence and no complacence as well as no resting upon assumptions. Empathy and trust is always present but does not always soften the risks. There is great care given to honoring idiosyncratic gestural material that one might equate with a conversation that runs deep between people, while knowing that the chair could be pulled out from under you while the conversation is in play.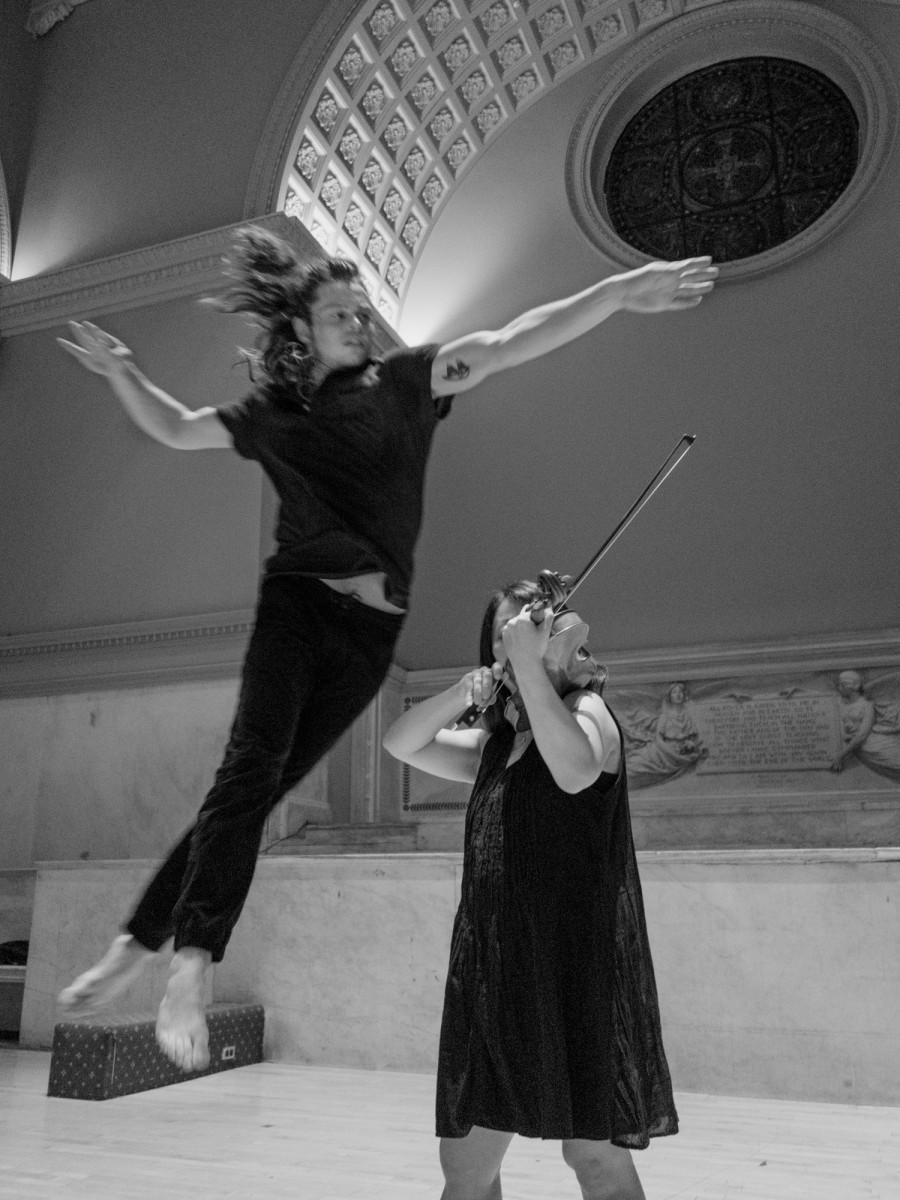 Photo credit: Mark Davis.
TDE: Drums were part and parcel of Repercussion, but this time, we'll see some furious violin work in This is a Forge. Will the dancers affect the music (by touching the instruments) as much as the sounds influence the dancers?
MD: No, there's no instrument touching in this piece. The fragility of the strings and the body of the violin imbue the work in other ways. There are some full speed jumps that riskily intermingle with the bows slicing back and forth through the air.
TDE: BOOMERANG is very much a boys club with the exception of yourself, Kora. What's that like?
KR: Gender issues sometimes do arise within this mix, but I am always clear about what I offer BOOMERANG as a choreographer and alongside Matty with movement invention and the direction of this company. I am clear about what I do and deeply acknowledge the talents of those whom BOOMERANG works with and our amazing artistic team. We work with people we care about as humans.
TDE: What is the 'forge' in question in This Is A Forge? Or does the homograph mean to be open­-ended?
MD: It's definitely meant to be open­-ended, but there's of course strong intentionality, as is the case with all the BOOMERANG titles. I think of one's own body as a kind of forge, under the pressure of and shaped by the myriad forces that inflict and befall and support and shape us individually. Recently, my hand went into a table saw, tearing through three of my fingers. It's been five weeks since surgery, the swelling having subsided some, I can feel my fingers pumping and shuttling material, like little factories. I won't be dancing the premiere of this work; I'll be sitting on the sidelines with my own kind of forge cookin', ha, while Massimiliano Balduzzi and Simon Thomas­ Train bring the work to life.  In the work, heat is generated through the intense metabolic energy involved certain parts, there's friction between the body and ground, friction between bodies, accumulating and shaping over time.
---
The Dance Enthusiast Asks Questions and Creates Conversation.
For more of The Dance Enthusiast Asks, click here.
To read a 2016 review of BOOMERANG, click here.