THE DANCE ENTHUSIAST ASKS: Pascal Rioult of Rioult Dance About Edith Piaf the "Street Singer"
as his company prepares for the World Premiere of "STREET SINGER - Celebrating the Life of Edith Piaf"
Performance Details:
When: Wednesday, May 13 — Saturday, May 16 @ 8PM
Where: 42West Nightclub, 514 West 42nd Street (between 10th and 11th Avenues), NYC
Price: $25 and above; Inclusive of food and beverages for $25+ per person.
Purchase: Visit www.ticketcentral.com or call 212-279-4200.
---

Sammi Lim for The Dance Enthusiast: Salut, M. Rioult! How does STREET SINGER deviate from RIOULT Dance's previous productions?
Pascal Rioult: Street Singer is a "new" hybrid form – totally new for the company and myself. It is part Cabaret, part Broadway, and part concert dance show. Instead of being a "documentary" about Edith Piaf's life and music, it uses key events of her life to tell a touching story that illuminates the artist and her music. In a sense, it is much more narrative than my usual abstract choreography but I have preserved some of that trademark in the treatment of the songs I use for the "dance numbers" - it does not illustrate the lyrics but uses the songs as musical support.

The company members in rehearsal © RIOULT Dance NY.
TDE: Audience members have the option of ordering dinner while enjoying the live entertainment, which reminds me of Parisian cabarets like the Moulin Rouge. Was this your intention?
PR: That is exactly the idea. Those Pigalle Cabarets were where Piaf got her start and are a big part the show. In the first act, we take the audience to places she would have sung at the beginning of her career and the type of music and dancing she was accustomed to during her upbringing in those rough neighborhood. So the audience gets to feel this on two levels - theatrical and actual - to get even more immersed in the story. I am also trying to redefine a "genre" by bringing my dance company into this world and treating it seriously.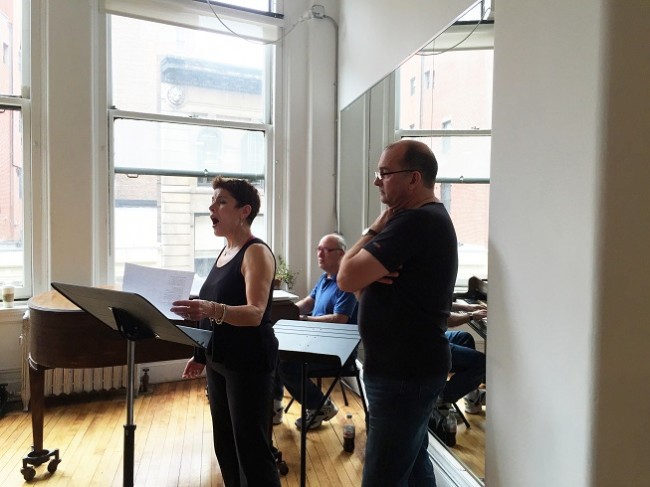 Christine Andreas belting out Edith Piaf numbers; Pascal Rioult looks on. © RIOULT Dance NY.
TDE: Was it hard deciding who could fill the shoes of La Môme Piaf (the kid sparrow)? Or was Ms. Christine Andreas an obvious choice? 
PR: There were a few candidates, but Christine Andreas was, for me, the immediate and obvious choice. Apart from having such a beautiful voice and being an accomplished Broadway actress, I could tell that her heart was in the "right place" when I heard her Piaf. I could feel that she cared and understood about Piaf, the same way I do. To do what we are trying to do, you need a "true" artist, a human being, not a star. I feel very lucky to have found her and that she is willing to share her talent with us.
TDE: Skill aside, Piaf's 'tough as nails' character accounted for much of her success. By calling her a 'street singer,' are you alluding to this toughness of character?
PR: Exactly. She had a special gift… That amazing voice. But what made Piaf who she was, the singer, the artist, was her rough upbringing. It forged her character, her sense of resilience, and her intense focus. She never forgot where she came from (even when she became the highest paid singer in the world). She was "the voice of the people" – the blue collar, the simple people. She started singing on the streets of Paris with a hat for collection and ended up on the streets of New York. That is an amazing journey. That is the Street Singer.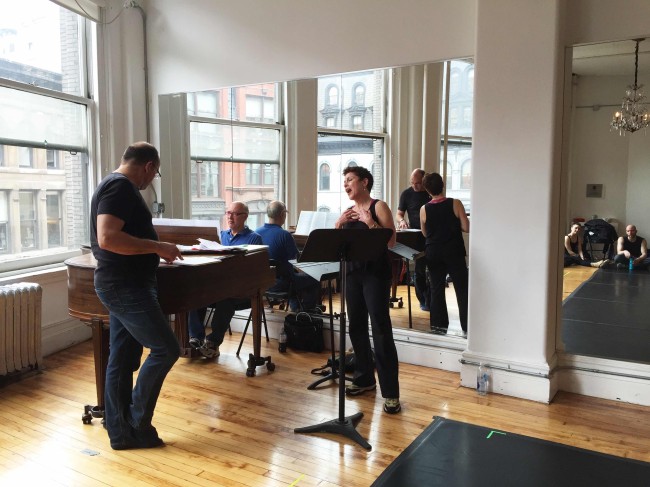 Christine Andreas exercising her vocal chords. © RIOULT Dance NY.
TDE: Dis-moi... Is there a segment of the dance that you're particularly proud of?
PR: This show is an emotional journey where all pieces contribute to the total experience and it would be hard for me to pull it apart in pieces.
I do have to say that after not having been on stage for eight years, it is very special for me to be back at the center of this production sharing emotions with Piaf, the character/Christine Andreas, the performer. It means a lot to me. I was raised in France where Piaf is very present and where I became an artist, which makes me relate to her. Sharing Piaf, Paris and the artist's life with the audience is very special.
 

Image © Erin Baiano