Related Features
Contribute
Your support helps us cover dance in New York City and beyond! Donate now.
THE DANCE ENTHUSIAST ASKS: Sally Silvers About Her Alfred Hitchcock-inspired Dance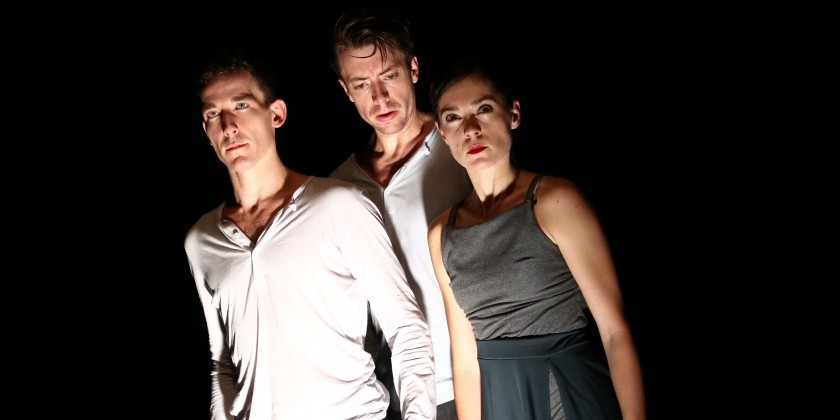 Appearing soon at the 92nd St. Y's Harkness Dance Festival - STRIPPED/DRESSED
Fri, Mar 20 and Sat, Mar 21, 8 pm; Sun, Mar 22, 3pm
92Y: Lexington Avenue at 92nd Street, (Buttenwieser Hall) New York, NY
Purchase Tickets
---
Sammi Lim for The Dance Enthusiast: Stephen Sondheim's musicals left their mark in your award-winning dance Bonobo Milkshake, and this time, ACTUAL SIZE directly pays homage to Alfred Hitchcock. How do you translate the non-danceable into movement?
 
Sally Silvers: The well known artists whom I have chosen as latticework for my own choreography: €"Gertrude Stein's poetry, Luigi Nono'€™s opera on revolution, Alban Berg'€™s Lulu, Jean Luc Godard films, James Ellroy'€™s American Tabloid, and Jean Genet's novels, to name a few, have provided a point of resistance, because they'€™re not very danceable. Some have choreographed things by these artists, but I tend to go for the least theatrical of their works, such as Stein's "Stanzas in Meditation." And with Sondheim, I wasn'€™t making dances to his music--I was trying to embody the essence of his urban themes, crisscrossing them with instructional material, sports references, and Bonobo ape gestures.
I think of these great artists as action figures for which I have to find the joints. I don'€™t feel inspired by them in the traditional use of that term; instead, they are catalysts for thinking about and devising new ways of moving, of making relationships.
I have always thought of Hitchcock as a choreographer, especially in his tightly packed crowd scenes. So I don'€™t feel I am "translating" his films. Again, he'€™s more like a trampoline for ideas and fresh opportunities. I worked with ideas mostly from North by Northwest: from turning the opening credits into a score using billiard ball patterns to direct imitation of actions in the U.N. to the final scene on Mt. Rushmore interpreted as one dancer saving another from falling on her face. I am non-narrative by choice; instead, I layer and collage ideas into a wide surrounding of problems, situations, emotions, thoughts.
Photographs by Paula Court.

TDE: In an earlier email, you expressed excitement about presenting ACTUAL SIZE again with some edits and additions. How will the dance differ from its first showing at Roulette last year?
SS: In the STRIPPED portion of 92 Y'€™s STRIPPED/DRESSED series, I will be demonstrating the Hitchcock influences on the piece and doing a segment of "€œlive choreography"€ (making new unrehearsed material on the spot in front of the audience) as a premonition of my next dance. I plan to make a little bit of new material at each STRIPPED performance and then include it somewhere in the DRESSED portion of the dance.
Photographs by Paula Court.

TDE: What "ear food" have your partners Bruce Andrews and Michael Schumacher prepared for the dance? Will the tunes carry traces of Hitchcock's iconic suspense?
SS: The music is a live collage mix, and although closely matched to the different dance segments, it varies every performance. Bruce Andrews, who is the sound designer for the piece, works very closely with the dance in choosing his materials, molecular traces and fragmentary textures and evokings, of film moments for the live mix. Michael Schumacher, meanwhile, composes and plays contrasting electronic, noise-oriented sounds to provide just the right amount of edge. It's all very reminiscent of soundtrack scores but composed more by layering, juxtaposing and creating disjuncture. Like soundtrack material, it adds an emotional layer to the action on stage by commenting and anticipating which does add an element of suspense!
Photographs by Paula Court.

TDE: Could you please describe a segment of the dance you feel especially proud of? Don't say the whole dance - there's always a favorite bit!
SS: You'€™re right, there is something about each section that I admire and am proud of. But I'€™m going to point to the ending fight duet between Melissa Toogood and Dylan Crossman. It was composed using positions from a 1961 book called "The Complete Kano Jiu-Jitsu."€ It'€™s amazing to see these dancers so beautifully trained, having danced with the Cunningham Company for years, tearing into each other in a punk "dancerly"€ way. It'€™s a side to both of them that not many have seen. Melissa is a delicious tomboy taking Dylan down. There is humor and intensity. The fight'€™s placement at the end came by mistake. While trying to order the 25 sections (which more or less follow the order of North by Northwest), I had two or three sections that were orphans with nowhere to go. I gave what I had worked out so far to Bruce to look at and he mistakenly thought the fight scene was in the proposed order last. He said, "That'€™s rad." The more I thought about it, the more I felt I could justify placing it last. Hitchcock objected to the Hollywood endings forced upon him and often proposed, and even filmed many alternative endings. In North by Northwest, the ending seems tacked on as the lovers on a train pass through a tunnel (in an obvious sexual reference) and they were suddenly married without any transition from their Mr. Rushmore rescue scene. I decided I could justify the fight as a proper Hitchcock alternative ending.
TDE: You'll be teaching a Master Class in conjunction with your performance. What material will be imparted?
SS: I will teach a Master Class on Saturday mostly to dance educators. I'm thinking of teaching my €˜film workshop where I use the language and techniques of film to design improvisations and compositions. Part of the class will be working with a storyboard from Hitchcock'€™s The Birds and finding ways to compose it into movement.