THE DANCE ENTHUSIAST WANTS TO KNOW WHAT YOU'RE DOING THIS SUMMER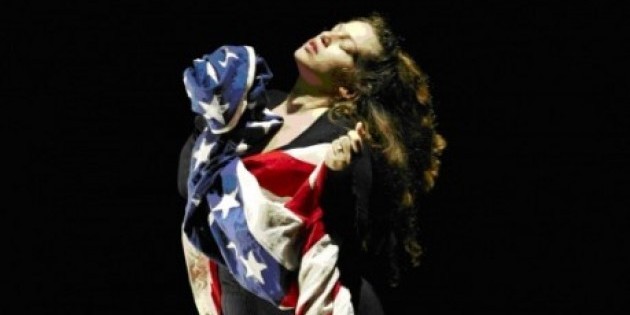 THE DANCE ENTHUSIAST ... wanders the web, studios, theaters, offices and streets to uncover the antics of enthusiastic fans of Terpsichore. WANTS TO KNOW:
WHAT ARE YOU DOING THIS SUMMER? (ok not very original but I still want to know)
---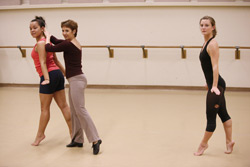 Photo © Phil Marino/Courtesy Hofstra University
Name: Nancy Allison
Job: Dancer, Choreographer, Stager, Teacher, Dance Video Producer
Editorial Director of Dance & Movement Press
Director of Programs, Dance Notation Bureau
Link: www.rosenpublishing.com (Click on Dance & Movement Press)
www.dancenotation.org
Nancy, What Are You Doin'This Summer?
Finally, building a website for ALL things DANCE that I do.
Editing the next D&M Press Book.
Attending the Society of Dance History Scholars Conference.
A lot of yoga.
---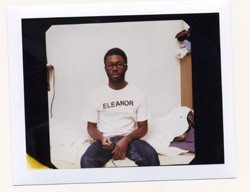 Photo © Paul Mpagi Sepuya
Name: Eleanor Bauer
Job: Dancer, Choreographer, Performer, Writer
Link: www.goodmove.be

Eleanor, What Are You Doin' This Summer?
June - perform Soul Project (David Zambrano) in Paris
And Why we love action (Mette Ingvartsen) in Uzes, France.
July - residency in Montpellier called 6M1L (Six Months one location)
August - performing At Large (work shown at Chocolate Factory in NY) in Tanz Im
August - Berlin, continuing 6M1L

---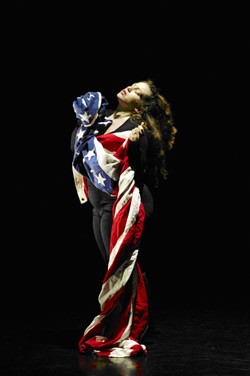 Photo © Steven Schreiber
Name: Alexandra Beller
Job: Artistic Director of Alexandra Beller/Dances and Teacher
Link: www.alexandrabellerdances.org
Alexandra, What Are You Doin' This Summer?
I am teaching for a week in Russia (St Petersburg) at the Open Look Festival (June 30-July 7).
I am doing a bit of networking and meetings in Holland with some presenters, and probably a few master classes while there.
I am performing my solo show, "us" at the Berkshire Fringe Festival in MA July 17-21.
I am teaching a Composition workshop at DNA (as well as the usual Guest Artist stuff) July 21-28.
I am working on grant writing, company infrastructure and finding a presenter for my next season.

---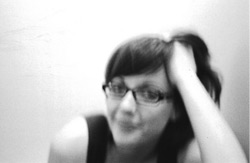 Name: Lauren Parrish
Job: Freelance Marketing Consultant, Electrician, Stage Manager, Lighting Designer
Lauren, What Are You Doin' This Summer?
I am going on tour with Stephen Petronio Dance Company, The New York Neo-Futurists, and a few other folks.
I am hiding out at various summer stock theaters. I hope to be subletting and thoroughly nomadic.

---
Photo © K. Eliot Haynes
Name: Dan Safer
Job: Artistic Director of Witness Relocation
Link: www.witnessrelocation.com
Dan, What Are You Doin' This Summer?
New show, "Vicious Dogs on Premises" at the Ontological-Hysteric Theater, May 29-June 14.
Taking it to Romania in July.
Probably taking our 2006 show, "Dancing vs. The Rat Experiment", to Romania in October.
Apparently, we're big in Romania...
---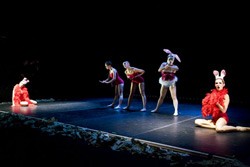 Photo © Craig Snyder
Name: Laura Ward
Job: Artistic Director Octavia Cup Dance Theater
Link: www.myspace.com/octaviacup
www.octaviacup.org
www.laurawardoctaviacup.blogspot.com
Laura, What Are You Doin' This Summer?
We will be dancing naked in the Clinton Community Garden on W 48th st on June 21st for a summer solstice festival (yippee- actually we won't be naked- it just sounded more exciting)
We will be performing new work at the Byrdcliffe Theatre in Woodstock, NY July 25th and 26th in the Annual Choreographers Concert.
I will be going to my tiniest dancer's (Heather Garbrandt's) big fat Greek wedding.
---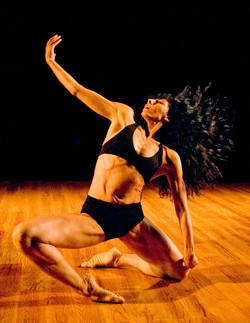 Name: Nejla Yatkin
Link: www.ny2dance.com
Job: Solo Performer, Independent Choreographer and Associate Professor University of Maryland, College Park
Nejla, what are you doing this summer?

"I will be performing my solo program in Avignon, France as part of the Festival OFF d'Avignon at the Gilgamesh Theater for a three week run in July with performances daily."

August I will be in Berlin, Germany for two weeks collecting footage for my next piece to be premiered in 2009.

The last two weeks I will be in Istanbul, Turkey to perform and give workshops for two weeks as well as prepare for a project for 2010.
---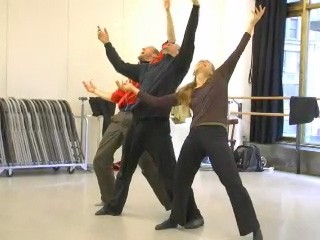 Name: Jonathan Riedel
Job(s): CHOREOGRAPHER/ARTISTIC DIRECTOR RIEDEL DANCE THEATER
Link: www.dance-enthusiast.com/features/14/
Jonathan, What are you doing this summer?

WELL, I DO TRY TO MAKE IT TO SIX FLAGS ONCE A YEAR AND IT WILL INDEED HAPPEN THIS SUMMER....IT FEEDS MY SOUL. I NEVER MISS A NINE INCH NAILS TOUR SO I'LL BE SEEING THEM TWICE IN AUGUST...TRENT REZNOR GROUNDS ME.

I'M ALSO PLANNING A PHOTO PROJECT...INSPIRED BY MY INVESTIGATIONS INTO THE THEMES OF INFERNO. LIKE MOST PROJECTS IT'S STARTING SMALL AND EXPERIMENTAL...BUT I THINK IT HAS REAL POTENTIAL. MY BIG NEWS IS THAT I'M FINISHING MY DIVINE COMEDY PROJECT...BELIEVE IT OR NOT THIS IS TRULY MY FUN SUMMER PLAN. "PURGATORY" HAS BEEN FASCINATING AND NOW "PARADISE" IS A TRUE JOY. IT'S LIKE HANGING OUT IN CENTRAL PARK WITH A BUNCH OF MY CLOSEST FRIENDS! AFTER IT'S PREMIERE ON JUNE 14TH AT A GORGEOUS CHURCH IN THE BRONX WE'LL BE TAKING IT TO THE OTHER BOROUGHS IN OTHER SACRED SPACES (CHURCHES, SYNAGOGUES, TEMPLES)...IT'S AN AWESOME PROJECT.