Related Features
Contribute
Your support helps us cover dance in New York City and beyond! Donate now.
THE DANCE ENTHUSIAST ASKS: Taryn Kaschock-Russell, Director of 92Y Harkness Dance Center, on Kurt Jooss' Anti-War Ballet "The Green Table"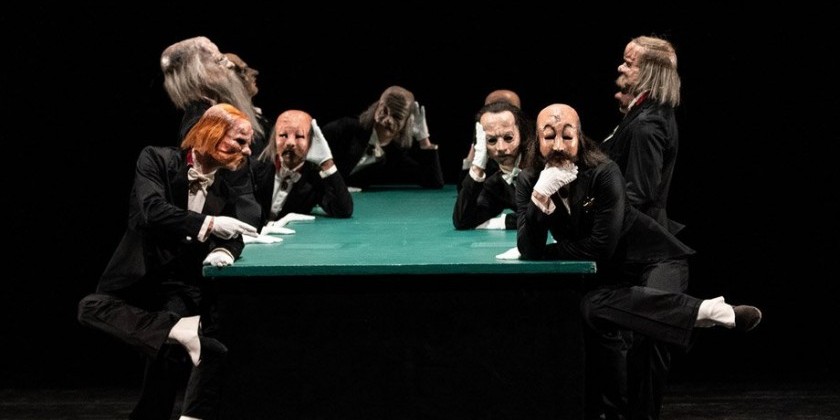 Paul Taylor Dance Company to Appear in Kurt Jooss's "The Green Table" on April 6th, 2022
When  German dance artist Kurt Jooss won the choreographic competition Concours de Chorégraphie on July 3, 1932 in Paris with the premiere of his anti-war ballet The Green Table, the world was in crisis. The worldwide  GDP had fallen by an estimated 15% from 1929 to 1932.  In Soviet Ukraine, Stalin leveled small farms and put in collectives, inflicting a famine that left four million dead by the following year. And in Germany, Hitler placed second in the presidential election run-off with just over a third of the votes. His rise to power was imminent.
Ninety years later, the Ukrainian people suffer again and extreme nationalism is rampant in many countries around the world. The revival of Jooss' masterpiece of social protest proves more timely than one would wish.
The 92nd Street Y Harkness Dance Center will present the Paul Taylor Dance Company in Kurt Jooss's The Green Table on April 6 at 7:30 pm at its Kaufmann Concert Hall (more info). The performance will be live-streamed and available online for 72 hours afterwards. Following the performance, policy experts Dr. Stephen Biddle and Janine di Giovanni will discuss the work and its relationship to war, policy and atrocity with David Rubenstein.
The Dance Enthusiast had the good fortune to interview Taryn Kaschock-Russell, Director of the Harkness Dance Center at the 92Y, ahead of the historic event.
---
Henning Rübsam for The Dance Enthusiast: Welcome Taryn. Thank you for being here with me.
As a German, I am excited that The Green Table is finding its way again to the New York stage. What was your motivation to bring it to the 92Y?
Taryn Kaschock-Russell:  At the beginning of the pandemic our Board Chair, Jody Gottfried Arnhold, and I were in conversation about what was going on in the world. Obviously, she is such an advocate for dance all around New York City, and she had been involved with  The Green Table coming to Paul Taylor's company. Without a blink she said, "I want to start a conversation with Michael Novak (Artistic Director of the Paul Taylor Dance Company) and John Tomlinson (Executive Director) to bring it to the 92Y."
Paul Taylor Dance Company in Kurt Jooss' The Green Table; photo by Laura Diffenderfer
My eyes lit up because this work was extremely formative in my own career at The Joffrey Ballet. While I was there it was reset in 1997 by Anna  Markard (Jooss' daughter) and Jeanette Vondersaar. Jeanette has taken over after Anna passed away. But they were both there when I was young.
It was an important moment in my career. I got to participate in the remounting and the Joffrey's touring of that work. I was a 'refugee' — the most intense embodied experience I had ever taken on. Such seriousness of intention — a historical passing of the torch.
Usually, when you're part of a repertory company, you have a short amount of time to mount any works, but there was a very extensive contract with The Green Table. It was the only work we took on.  I vividly remember learning one small port de bras in the opening refugee section and Anna took an hour. 
Which — just so our readers understand — is very different from what usually happens in a repertory ensemble or a ballet company, where you rehearse multiple pieces during the day and might just get 45 minutes for one before moving on to the next.
Yes, exactly. Here it was full day. Full week. It was probably a three-week process to mount that work. It was our entire focus. We felt the weight of history. Anna was so generous and demanding; very clear with her exacting eye, noticing  how you embodied the work she was giving you. There was no deviation from that. She wanted you to live through the work and carry on its message. That was extremely clear. She was in a deep reverence to her father.
In the year 2000, I was fortunate to be part of the last filming of the dance for The Joffrey. Robert Joffrey had been the one to bring it back in 1967. After Jooss's passing they made the first film for Dance in America in  1982. The 2000 film was again under the direction of Anna Markard like the first one  but this time done with Gerald Arpino as the company director because Joffrey himself passed in 1988.
 Paul Taylor Dance Company in Kurt Jooss' The Green Table; photo by Laura Diffenderfer
The last time I saw it was with American Ballet Theatre, who kept it in its repertory (with interruptions) from 2005 to 2015.
Yes, when I moved back to the city in 2015, I saw it with my husband, who was the 'Profiteer' in the Joffrey production.
After I brought dance back to the main stage at the Kaufmann in the 92Y, Jody thought, "Well, we have dance in the theater now — is there a possibility?" That's when John Tomlinson and I came back to the table to consider how and what would be possible here in this 900-seat hall.
So the idea to bring The Green Table to the 92Y was hatched well before the war in Ukraine?
Oh my goodness. Yes. Absolutely. Even the plan to bring it to the main stage was for Fall 2021. It was a long-winded conversation because the Kaufmann stage is multi-disciplinary. We had to figure out when the schedules would allow us to go ahead. We solidified the plan, were in contract negotiations, then by the time we got to marketing , deciding how and what to send  out, the world completely shifted.
I felt extremely conscious about bringing this back.  It's an important work. I want to be cognizant that there are people right now dying under a bridge. The weight of it comes back. Also, reflect that in 1932, ninety years ago, they were contemplating the exact same cycle: political turmoil, nationalism... The dance of death could not be more apropos.
Jada Pearman and Shawn Lesniak of the Paul Taylor Company in Kurt Jooss' The Green Table; photo by Ron Thiele
And everybody dances with death…
 
Yes. Everybody.
Another important reason for the 92Y is its history; Jooss and company had to flee Germany. He became a refugee in England.
[In 1933, the year Hitler became chancellor of Germany, Jooss was accused of harboring Jews in his dance company. He and his dancers fled to England.]
Speaking of the  92Y history, there is, of course the connection with Paul Taylor and the famous blank review given by Louis Horst for his 1957 concert 7 New Dances. Are there other connections to The Green Table or any of the participants that you would like to talk about?
YES! I think one of the reasons why Jody  Gottfried Arnhold, our Board Chair  and  the creator of the Dance Education Laboratory, cares so deeply about Jooss is his connection to Rudolf von Laban (Jooss studied  with Laban from 1920 to 1924) and her being in Laban's movement sentence choirs. There is much that she has based her dance teaching and the theory and practice of the dance education laboratory on. The creative process and how Jooss developed the work  are all aligned with how dance at the 92Y has developed, how we believe that everyone is a creator, and that dance speaks through everything.
And — this particular dance stays with you — I remember the audiences talking about its impact when I performed it. Even though I was not as politically aware then, the work made me see: when the Joffrey brought it back in 1967, it was during Vietnam war. The work was needed. We needed to reflect on it then and now — I don't want to say serendipitously, because it makes it sound happy — as to present this dance at this moment in time could not feel more important. Every single scene is powerful. The Refugees, the Partisans, the Old and Young Soldiers, the Old Woman! Thankfully there are no children in it. I don't think my heart could take it.
 Paul Taylor Dance Company in Kurt Jooss' The Green Table; photo by Laura Diffenderfer
Yes, it is not manipulative and follows the same structure of presentation as a Brechtian dramatic play. It is not sentimental. That way, the impact is strong. A rational judgment can be made. It truly is the dance equivalent to Brecht's epic theater.
Epic yet subtle. And direct. It's iconic. I go back to how gently Death picks up the Old Woman. How quietly Death comes to the Refugees. Death is inevitable. It in itself is not necessarily violent. It is in one or two scenes. In other scenes, hmm, it's not death that's violent. People are killing each other.
Normally the work would be part of a triple bill, but given the circumstances, it feels right to present it in this singular way and to provide context with a political conversation. Programming it now seems more important than could ever have been expected.
---
The Dance Enthusiast Asks questions and creates conversation.
For more of The Dance Enthusiast Asks, click here.
---
The Dance Enthusiast - News, Reviews, Interviews and an Open Invitation for YOU to join the Dance Conversation.