THE DANCE ENTHUSIAST ASKS: Teresa Reichlen, New York City Ballet Principal Ballerina, on Her Favorite Roles, Retirement, and a New Transition
New York City Ballet Principal Dancer Teresa Reichlen will be retiring from the stage on February 19, 2022 after 20 years with the company. In a statement accompanying the announcement of her farewell, she said that "living through the pandemic has provided me the first opportunity since I joined the company at the age of 16 to see how life outside of ballet might look." In her next role she assumes the position of Gallery Director at Shrine, the downtown New York art gallery launched in 2016 by her husband, Scott Ogden.
With a tall, willowy physique, Reichlen epitomizes the Balanchine ballerina. Her performances radiate intelligence, and she approaches the diverse ballets in her repertoire with sensitivity, alive to the distinct worlds of each. Her performance as the sexy, bold "Tall Girl" in Balanchine's angular, modernist, jazz-inflected Rubies is definitive. At the other end of the spectrum, her performance of the lead role in the choreographer's Concerto Barocco is deeply musical and quietly luminous.
Reichlen spoke recently with The Dance Enthusiast about her career and what lies ahead:
Teresa Reichlen in George Balanchine's Swan Lake; photo by Paul Kolnik
---
Nicole Dekle Collins for The Dance Enthusiast: You will be dancing Balanchine's one-act Swan Lake for your farewell performance. You've said that it is one of your favorite ballets. Why is that?
Teresa Reichlen: It's just so iconic. Dancing Swan Lake fulfills every little girl's dream. It's a ballet I watched when I was growing up. I always wanted to do it, and I had to wait quite a while to dance it—I was a principal before I got to.
The Dance Enthusiast: You say in a statement accompanying the announcement of your retirement that "it has been the honor of my life to dance Balanchine's choreography within the company he built." Do you have favorite Balanchine roles to dance?
Teresa Reichlen: I really love Tschaikovsky Piano Concerto No. 2. I love Monumentum [pro Gesualdo] and Movements [for Piano and Orchestra]. I love so many of his ballets, it's hard to say which is a favorite. Rubies? I haven't done that in quite a few years, but that was always a favorite.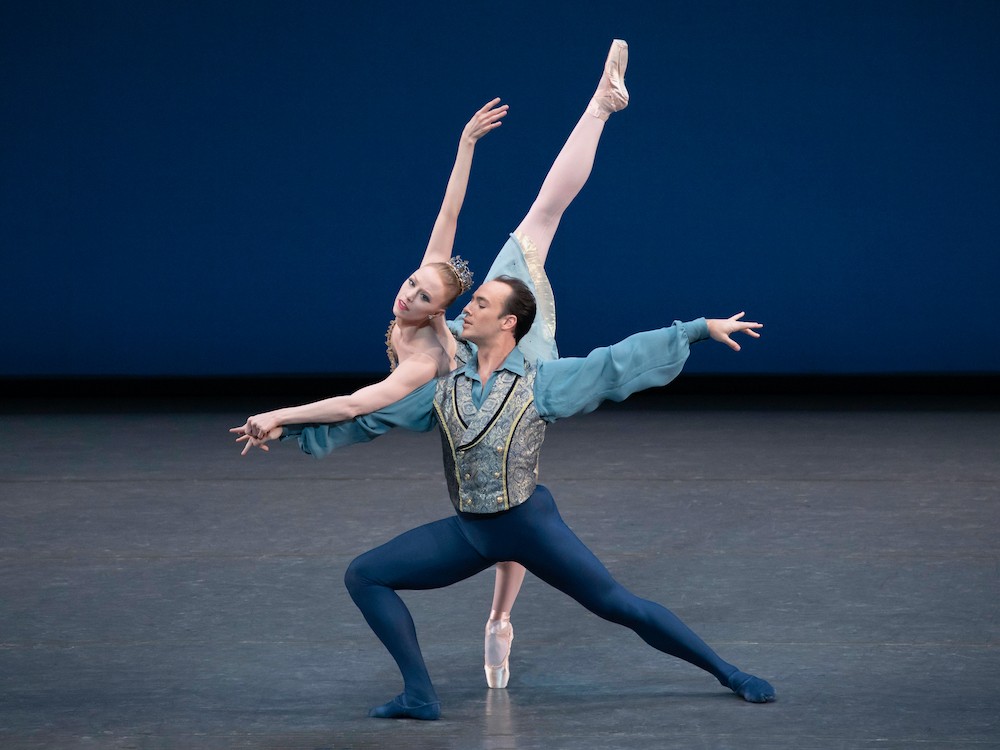 Teresa Reichlen and Tyler Angle in George Balanchine's Tschaikovsky Piano Concerto. No. 2; photo by Erin Baiano
The Dance Enthusiast: Why is Tschaikovsky Piano Concerto No. 2 the first ballet that comes to mind?
Teresa Reichlen: I danced the "solo girl" in that ballet for years and years. It was one of my first big parts. When I was cast I don't think I realized what a big deal it was, I had never seen the ballet before. I was called to it, and I rehearsed.  And I thought, "Oh, this is cool - a little solo role."
I didn't I realize how cherished the part was. Peter Martins [the company's ballet master in chief at the time] came up to me in the wings before I went out onstage—the only time he ever did this—and he said something to the effect of, "This is a big deal. Merde."
 I did that role for so, so long. I was in kind of a rut in my career when I was a soloist. I met with Peter because I was very unhappy and was thinking about leaving.  But in that meeting he said, "Maybe we could let you have a try at the lead role in TP2. So after that meeting I got to work on the principal part and got to do one show of it which went really well.  It felt like this defining moment in my career.
Teresa Reichlen and Russell Janzen in George Balanchine's Concerto Barocco; photo by Paul Kolnik
 
The principal role in Piano Concerto No. 2 highlights all my strengths. It's fiendishly difficult. Concerto Barocco is another ballet I love. Both are extraordinarily hard ballets, but they're both so enjoyable to dance that I don't get overwhelmed with nerves when I do them, which is very nice and unusual.
The Dance Enthusiast: You've originated roles in ballets by many prominent choreographers. Is there an experience with one of these choreographers that stands out?
Teresa Reichlen: I always enjoyed working with choreographers from within the company.  I enjoyed working with Troy Schumacher. Those people know you so well and  know how you work, and it's always fun to work in a different way with people you'd danced alongside of. They're able to pull different things out of you than someone who comes in from the outside. 
The Dance Enthusiast: Describe your relationship to music.
Teresa Reichlen: Having been raised in the House of Balanchine, my relationship with music is his relationship with music. Just dancing Balanchine's ballets is an education in musicality.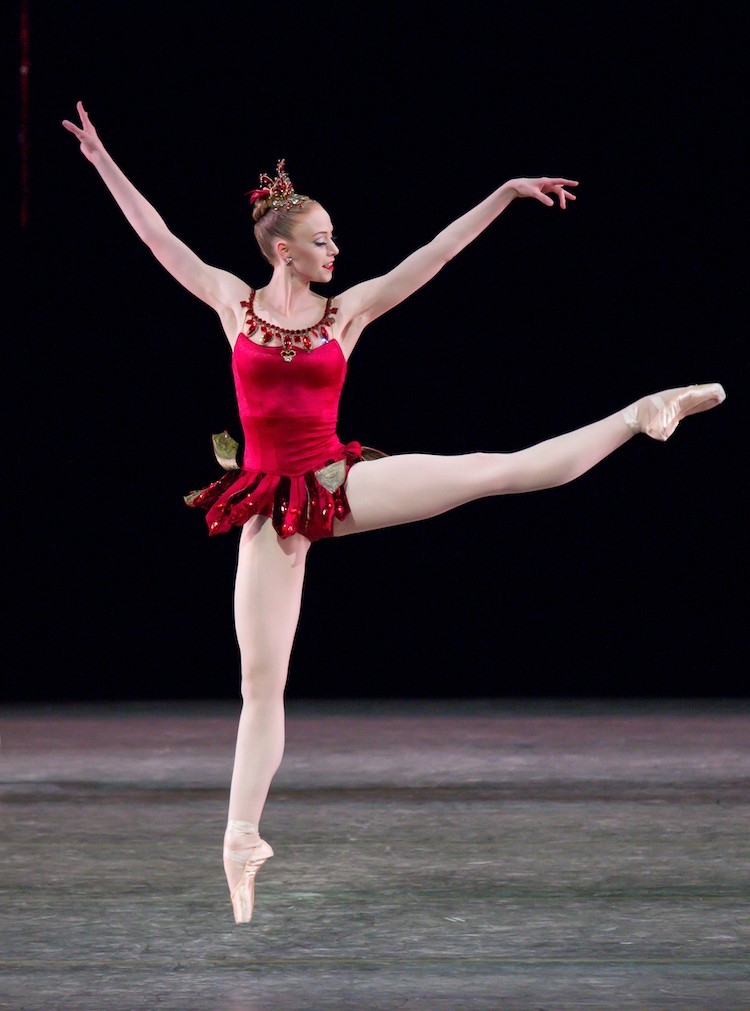 Teresa Reichlen in George Balanchine's "Rubies" from Jewels; photo by Paul Kolnik
The Dance Enthusiast: After you retire from City Ballet, you are going to be moving from the dance world to the art world. Can you talk about that?
Teresa Reichlen: My husband has a gallery in Chinatown. I've seen it grow and flourish. He started in probably the tiniest space you could have for a gallery, but his business has been expanding and he's been discovering new artists. I find it really interesting to learn about all this, and I have learned so much over the past six years that I've known him.
We'd always talked about, long term, that he wanted me to come work for him, and I also wanted to work for him. An opportunity arose when an employee left recently. I  just had a baby, and I've been craving a more steady, predictable schedule. So I said to him, "If you would like for me to work for you now, I feel ready to make this transition."
---
The Dance Enthusiast Asks questions and creates conversation.
For more of The Dance Enthusiast Asks, click here.
---
The Dance Enthusiast - News, Reviews, Interviews and an Open Invitation for YOU to join the Dance Conversation.