Related Features
Contribute
Your support helps us cover dance in New York City and beyond! Donate now.
The AUNTS Experience is about Dance Happening
The Dance Enthusiast Asks Laurie Berg and Liliana Dirks-Goodman aka AUNTS
"AUNTS is about Dance Happening"
TDE Asks Laurie Berg and Liliana Dirks-Goodman of AUNTS
December 2012
---
Trina Mannino for The Dance Enthusiast

Laurie Berg and Liliana Dirks-Goodman, organizers of the dance group AUNTS, spoke with The Dance Enthusiast about their free and easy DIY approach to performance production. AUNTS holds events in spaces like the New Museum, lofts and, once, even on a boat. Guests and artists mingle in a relaxed setting that often results in a party where they swap treasures such as clothes and DVDs at a "free boutique".

For more information about AUNTS' upcoming performance, together, a Food for Thought event at Dancespace Project click here.
---

TDE: Can you describe a typical AUNTS event?

Liliana Dirks-Goodman: We do a series of performance events and they often take the form of a party at the end. We feature anywhere between eight to twenty artists at our events. We don't usually give artists a time limit, so they can perform for the duration of the entire evening or they can perform for five to ten minutes. They can also perform more than once if they want. The work that we pick or the artists that pick us aren't just dance artists. There is theater, video and performance-like art.

Laurie Berg: And there is a free bar and boutique!

Dirks-Goodman: Yes, at a lot of our shows we don't charge at the door. You have to bring something to contribute to the show or environment. The free boutique is where people exchange clothing, books, videos and such. The free bar is more or less supplied by the audience. People can peruse and take what they want.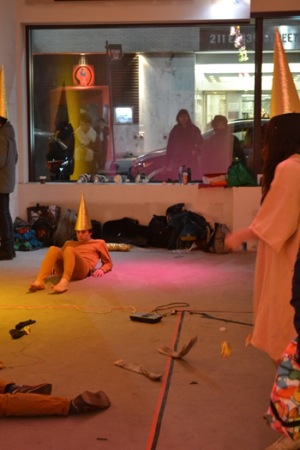 Steve Cooper and Jessica Cook performing inPopulous2; Photo courtesy of AUNTS
TDE: You both inherited AUNTS in 2009. How did the organization first come together and why did you begin organizing it?

Berg: AUNTS was originally started by Rebecca Brooks and Jmy Leary in 2005. They started AUNTS because they saw a hole in the community that was not being filled by anyone else. They also started it to have a performance party and to get people talking in this more social scene. I started helping Jmy at the beginning, and would stand at the door and collect donations.

I invited Lili [Dirks-Goodman] to an event and then she also got involved…When Jmy moved to LA in 2009 and wanted to pass it on to us, we took on something that we felt passionate about and we understood how it worked from the beginning. We wanted to maintain the structures Jmy originally set up such as the free bar and boutique and having non-monetary donations. We also wanted to follow our own artistic interests and see what is needed now [in the dance and performance fields]. AUNTS is continuously being shaped by the people who use it and perform there.

TDE: Where did the name AUNTS come from?

Dirks-Goodman: We don't really know for sure. I've asked Jmy before and really the only answers I received were it rhymes with dance and it is significant that it is a female figure. It's kind of the beneficent older female relative, but I don't think Jmy or Rebecca saw themselves as that.

TDE: As organizers how do you form an event when there are so many components including several performances, different artistic mediums, socializing and the free bar/boutique?

Dirks-Goodman: I think that the events we do come together mainly by the architecture we end up being in, and that creates some of the collaborations. We pick some of the artists but we don't necessarily choose them based on what they're working on. We pick them [the artists] because we know they're working on something or we think they're interesting. We are also open to people asking us to participate. We really try to fit everyone in. If an artist wants to show something very long, they have to be open to another artist showing their work at the same time. It's figured out sort of on the fly depending on everyone's requirements.

Berg: It's more about energy and the interaction between the audience and the performers. So the through line is really the energetic balance of the party. Every event is different, no matter how we envision it. It all depends on what happens and that's what is really great. You can't have specific expectations; you just have to be open.

TDE: AUNTS seems to value the spaces it inhabits as much as the performances going on inside them. How do you choose a space?

Dirks-Goodman: BIG. It has to be big. I think we have a preference for non-proscenium spaces. Every time that we have a stage we notice that people want to perform on it and then audience orients itself in a certain way. If you have chairs they end up making the audience very stationary. Other than that the space can almost be anything.
Elizabeth Ward performing in an AUNTS event; Photo courtesy of AUNTS

TDE: You upcoming performance, together, at Dancespace will consist of eight simultaneous performances based on Jmy Leary's Populous model. How did you go about crafting the performance so that it doesn't result in chaos?

Berg: It always has the possibility of ending in chaos.

Dirks-Goodman: We asked the performers what they need in terms of space and [what the tone of their piece was] in an open format, so if they need to they can talk to one another. Some artists want to move all around so trying to give them a space that is permeable and negotiating in real time with one another about sharing of the space is pretty interesting. It's kind of the reverse of a theater-in-the-round. The audience is an object because they get in the middle of the stage piece and the dance is happening all around them. An audience member can never see everything that is going on at once, but as you maneuver around you start to see many things happening and interaction. It's more of a performance installation than a linear performance.

Berg: [For this performance, the artists have the option to] perform a shorter loop or they can go straight for an hour. They can take a break and join the audience for a bit as well. At the end of this show, we're going to have a dance party.

TDE: As organizers, is it hard to engage audience members to move around in this structure and be a part of the performance?

Dirks-Goodman: I think we're going to find out. At Dancespace there are risers, and I think people will gravitate towards them. But I'm hoping there will enough people there that the crowd gains a mind of its own. If one person gets adventurous then we'll have five, and it will grow from there.

Berg: Some of the performances will be on the banquettes so that already sets up a different dynamic between the seating and performance areas. I also think this where Lili and I come in as hosts and try to make everyone feel comfortable to walk around.
Floor Plan of together taking place on December 13 at Dancespace
The final showing of AUNT's residency at the New Museum is on Sunday, December 16 at 3pm. Click here for more information.
---
The Dance Enthusiast Asks questions and creates conversation.
For more of The Dance Enthusiast Asks, click here.
---
The Dance Enthusiast - News, Reviews, Interviews and an Open Invitation for YOU to join the Dance Conversation.