The Dance Enthusiast Announces #MYFASHIONMOVES Contest Winners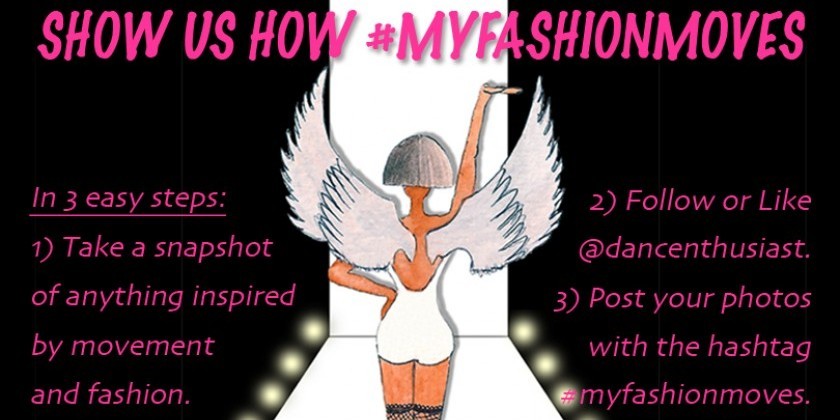 ABOUT #MYFASHIONMOVES
Who says high-strung activity wanes with the warm weather? Not us at The Dance Enthusiast, that's sure. This fall was one of our busiest yet. In addition to organizing our first Enthusiastic Event! at Gibney Dance on November 12th, we launched our #MYFASHIONMOVES Social Media contest encouraging dance enthusiasts and fashionistas to share their best snapshots highlighting movement and style.

The contest ran in two parts with Part 1 highlighting "Bessies fashion." The winners were announced the day after the New York Dance and Performance Awards (The Bessies). View the sassy snapshots here! Meanwhile, the contenders for Part 2 included anyone who submitted their pictures outside of the Bessies Awards time-frame.  
THANK YOU to everyone who took the liberty to share how #MYFASHIONMOVES and CONGRATULATIONS to the two winners chosen by our jury! Here are our favorite #MYFASHIONMOVES entries along with brief Q&As with the winners: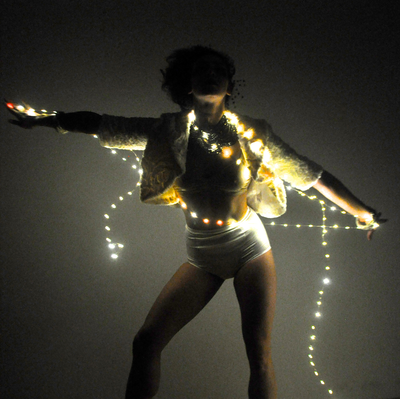 Photo © Teri Lee.
Caption: Steeledance Dancer Amber Morgan in rehearsal for Steeledance's 20th Anniversary Season 2015.
Photo by: Lindsay
Caption: Stillness is a short dance film about embracing the season around us with movement.
The intense blue dress inspired us as artists to make a snowy background as our location for this film.
The white on blue pulls audiences eye in and leaves you asking for more. Fashion, Beauty of Environment, and Art working as One!
The Dance Enthusiast: What's the story behind your snapshot?
Teri Lee Steele: Our dance company Steeledance was hired to do a performance with a "Russian winter" theme. These are shots from that piece. Our company is celebrating its 20th anniversary season in 2015, so we will incorporate this new small work in our premiere at the Salvatore Capezio Theater at Peridance this May 2015.
Linday Schaefer: As artistic director of Artists in Unity, I submitted a film still from our project Stillness. Stillness is a short dance film that connects movement and nature. The project was a collaboration between myself and collaborative artist and filmmaker of AIU Kendra Brisco. Our goal with this short dance film is to pull our audience into the beauty around us as our seasons start to change and to also remind everyone to appreciate the stillness that happens within our hearts as change comes before us.  
TDE: How are you involved in the dance/fashion community?
TLS: My husband and I are co-artistic directors of Steeledance, which we founded in 1995. We both teach dance and Pilates for dancers at Steps on Broadway and Peridance in NYC and were long time faculty members at Dance New Amsterdam. Our work is physically and technically challenging with a pretty large amount of beautiful theatrics.

LS: I have always been pulled in by elite fashion such as on the covers of International Vogue. A long time ago, I dreamed of working runway shows in fashion and this would have been my second pick at a career if my dancing career didn't take off. I would say that I am inspired by classic images in fashion such as Audrey Hepburn. I just recently completed her book "Enchantment: The Life of Audrey Hepburn" and it was wonderful to hear how she worked side by side with her costume and clothing designers for her films and also for everyday life.
I believe that our choice of fashion makes our first statement and message to our audience in what we would like to convey through a story. My focus with Stillness the film and the photography I sent to Dance Enthusiast was to stress how completely beautiful I feel while I am dancing through the changing of seasons. The blue dress was the perfect way to capture my inner spirit against the whiteness of the snow. 
TDE: Say you won access to sharing a wardrobe with a famous dance company. Which dance company's outfits would you happily borrow?
TLS: We are big fans of American Ballet Theatre, Netherlands Dance Theatre, Forsythe and Piña Bausch. Petronio has done pretty fierce costumes as well!  
LS: My heart love the classic images of Paul Taylor Dance Company. However, after watching the film Pina, my heart lies with the Pina Bausch Dance Company because the costumes really tie in with everyday life and the rawness of each character. I love it when a costume, whether simple or elaborate, brings more to the dance and the story. An outfit can be seen as the starting point of the choreography or the message for a dance work on stage or in films.
Thanks to everyone who participated in #MYFASHIONMOVES! Your enthusiasm for dance is what keeps us going.
Stay tuned for future Social Media contests!
#getenthused