Related Features
Contribute
Your support helps us cover dance in New York City and beyond! Donate now.
The Dance Enthusiast Asks Alice Again: Rachel Berman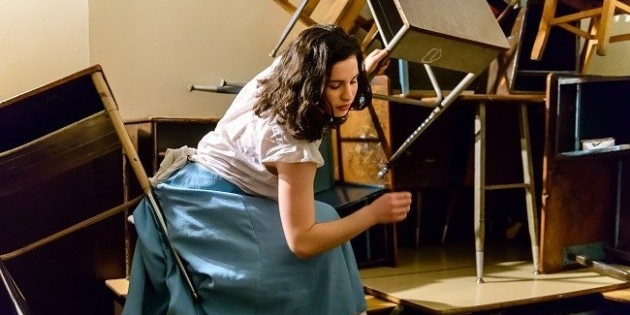 Do Ask Alice, Part 2
---
Tara Sheena for The Dance Enthusiast

Then She Fell is an immersive dance-theater experience that takes its cues off the writings of the wild mind of Lewis Carroll. Loosely based on the characters of Carroll's fantastical fiction, the show traces a Mad Hatter, White Rabbit, Queen, Nurse two Alices, and others, through dreamlike scenes that reveal a multi-sensory, transformative world. The audience, limited to just fifteen per show, plays as integral a role as the performers. Members of the audience explore the various rooms and elaborate set as they are led through the worlds of Alice by the characters they encounter. Playing at Kingsland Ward in Brooklyn through September 29, The Dance Enthusiast got the full scoop on what it means to be Alice from two completely different perspectives. In this interview, Tara Sheena spoke to Rachel Berman, who plays one of the Alices and is one of the newest performers in the show.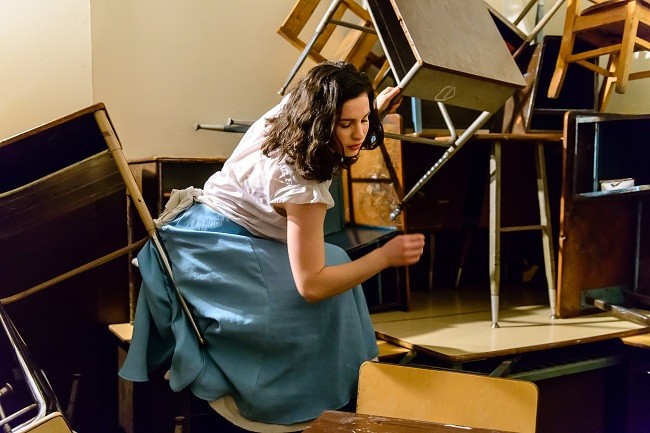 Rachel Berman as Alice. Photo by Darial Sneed.

Tara Sheena: How did you first get involved with the show?

Rachel Berman: I got an email from Jennine [Willett, Co-Artistic Director of Third Rail Projects with Zach Morris and Tom Pearson] saying they were having callbacks and I didn't know who she was. And, then, it said, "Lindsey recommended you," and I didn't even know what Lindsey they were referring to [laughs]. She didn't say [Third Rail Projects performer] "Lindsey Dietz," she just said Lindsey recommended you. And, then, I had to look at the [Third Rail] website to even know which Lindsey they meant [laughs]. I went to this audition and there were three people—two others besides me. I was like, "Ok, here we go." I met Marissa [Nielsson-Pincus] who plays [one of the Alices]. I was totally charmed by her and struck by her presence and felt that made the rest of the audition feel ok.

TS: What was the audition like?

RB: It was mostly movement-based. We played around with the space. Marissa showed us [an interactive] scene and then we would do it one-on-one like the directors were the audience members.

TS: How were you shaped into the Alice character? What was specifically done to get you into character during your rehearsal process?

RB: When I first started as a swing, I was just trying to be Marissa a lot of the time. I was put in so quickly so that was kind of the easiest way to do it. In turn, it didn't feel so challenging. [The directors] really talk about the two sides of Alice— there's a lot of contrast between each character. And, there's different chemistry between each pairing. I now know what the audience has seen and how they experience the specific character. It's interesting to be able to track the audience's experience, because it's so complicated. I don't know how they [the Artistic Directors] created that, but I am slowly understanding more of it.

TS: How was this process different than other processes you've had? You're recognizing the audience involvement in this but also fitting into a character that already existed. Can you pinpoint anything that was different about it?

RB: When I first started learning it, I hadn't seen the show. So, it was kind of like a puzzle— this piece and that piece and it all went together. Then you learn the choreography. That feels pretty straightforward. But, then, there's all these options because it depends on the audience. If they do this, then you do this. Which, now, that I've been doing it a while you develop different tactics. But, at first, it's really scary.

TS: What was it like the first time you performed the full show?

RB: I had seen the show at that point. And, you totally feel like Alice, thrown around by all these different characters and you don't really have much memory of what happens. It's just on to the next thing, on to the next thing. It really does feel dreamlike. It has a motor all of its own. I felt like I knew where I was supposed to be and I kept going. I had control but this world had its own [control] as well.

TS: Did you ever have moments of thinking your audience was going to react in a certain way and they did not? How do you deal with that when you're in character, too?

RB: We have some tools and suggestions. We can always ask [the Artistic Directors] and say, "This happened. This never happened before. What should I do? What's the appropriate [action]?" They've done all the research. They've built this whole thing about status between the characters. There's a way you relate to the audience depending on who your character is and that creates a solution for what you do. There are so many subtleties in directing the audience. How you look at them and how you turn your head that indicates where they should go. Some people are more perceptive than others. Some people you just have to take their hand and lead them. But, it's really fun to see how little you can do and people really understand.

TS: Do you feel an identity crisis ever? Or, are these traits so embedded into your role that there is no confusion when you are performing them?

RB: All the scenes communicate what they should communicate. I could do a better job but when I am still struggling with something, it's all there. It's really amazing. I can perform with a new performer the first time and it's crazy. I am always so impressed. It's a really well-crafted show.

TS: Did you do any specific research on your character?

RB: I [recently] read Lewis Carroll's books, Through the Looking Glass and Alice's Adventures in Wonderland.

TS: What did that do for you?

RB: I am thinking about it more. It hasn't changed my approach but I'll have moments of, "Oh! That makes so much sense," appreciating everything that goes into the show.

TS: Do you have a consistent performance ritual at this point? Any physical practice or a character mindset you have to be in to do each show?

RB: I am still thinking about it. I have now found because the directors talked about the specific movement qualities that make [the two Alices] different, and [one] Alice is much more directed by the pelvis. She is really fluid and central whereas [the other] Alice is more upright and more sternum directed. It's much more staccato, which is harder [for me]. I do think about that. That is one thing that makes the show so interesting. We get to perform with different people every night and you are always performing with different people because of the audience.

TS: Were there any really odd moments in performance you can recall? Or anything that has surprised you in a bad way?

RB: Alice asks questions to the audience about love and there have been some moments where I have been totally melted by their responses. It feels really authentic.

TS: Are there periods where you all reconvene during this run and have rehearsals?

RB: We are always in conversation. If there's a change that's been made or a problem that keeps occurring, we change it. There is a constant conversation around it. In learning the show more, there's a freedom to try new things. The structure is so clear and consistent and reliable that we can play within that, which is so nice as a performer.

TS: Have you seen this process affect your dancing or other creative projects? Do you see any effects of the show?

RB: I am also working with Sarah Michelson right now. The processes are beyond different. It's not theater as much. I think they both are super specific and I think that I've found the best way to be in the Third Rail show is keep it as a secret. I know I am entering this world and when I leave, I leave it. I did find when I first started, I was looking into a lot of people's eyes [outside of the show]. I felt exposed in a way but it was in this world where I didn't have these controls. So, I think now I have to leave it.

TS: Anything else you want to mention?

RB: We talk about the show every night. I never get tired of that. Especially what happened in the audience. I don't even know what happens in the top floor. A lot happens. There's a whole section of the space I don't even go in. It's impossible to see everything.

For more information on Rachel Berman and Then She Fell, visit http://thenshefell.com