Related Features
Contribute
Your support helps us cover dance in New York City and beyond! Donate now.
The Dance Enthusiast Asks Angelin Preljocaj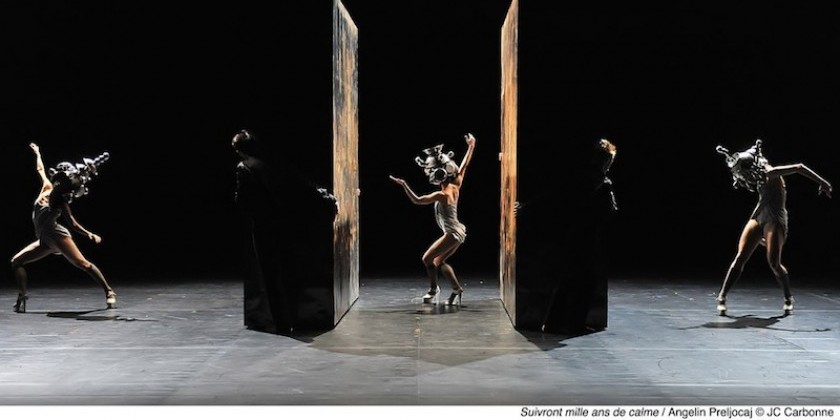 As Ballet Preljocaj prepares to perform "And then, one thousand years of peace" at BAM
Part of 2013 Next Wave Festival and Next Wave Dance
Presented by Brooklyn Academy of Music, Peter Jay Sharp Building
BAM Howard Gilman Opera House
November 7-9, 2013
Choreographer: Angelin Preljocaj
Soundscape: DJ Laurent Garnier
Set design by Subodh Gupta
Costume design by Igor Chapurin
Lighting design by Cécile Giovansili-Vissière
Company of 21 dancers
Angelin Preljocaj is a prolific choreographer - 45 works to his credit - who last came to BAM in 2010. Known for an angular, high energy style suggestive of his initial training in ballet and with Merce Cunningham, Preljocaj exudes a love of ideas and collaborative possibilities. The French Albanian choreographer chats about his hour and 40 minute work created in Aix-en-Provence, France in 2010.
Deirdre Towers for The Dance Enthusiast: Did you intend to create an emotional or intellectual journey for the audience of this work?
Angelin Preljocaj: The piece is about the emotions experienced in the reading of the Apocalypse of St. John, the book of Revelations. The production is not an illustration of the New Testament nor, most importantly, does it depict the end of the world. For me, what's important is to ponder the present time and the society we live in. The world is moving back in time with intolerances, blockages, tensions that scare me. As a choreographer, my tools are bodies, which can express many things that cannot be put into words.
The word Apocalypse (from the Greek apo: "to lift" and calypsis: "veil") evokes the idea of revealing, unveiling, or highlighting elements that could be present in our world but are hidden from our eyes. It should thus evoke what is nestled in the innermost recesses of our everyday rituals, rather than predicting compulsive waves of catastrophe, irreparable destruction, or the imminent end of the world. And then, one thousand years of peace wishes to highlight these bodies that drift along, tossed about by ideals and beliefs, somewhat lost between the lines of the Apocalypse.
TDE: Do you create your work in silence and then add music or do you choreograph in collaboration with your composer/DJ?
AP: I always start with an idea, with choreographic material, and then I choose the music. This time I sent my notes to Laurent Garnier. He came to see the rehearsals; we also spoke on the phone and tried out different musical textures. I want to catch the right atmosphere for each part.
At the beginning of each creative process, I like to work with completely different music than a definitive one. For this production, it allowed me to explain to Garnier much more precisely what I wanted to achieve. Also, the dancers' bodies had to settle into the idea and get used to moving independent of the music. Music lends a different quality to movements, so if we present the dancers with the final music from the beginning, then everything will be set in stone, and there'll be no further progress. At the outset, I gathered everyone together, and instead of launching into the first rehearsal, I explained my train of thought, what I was striving for, and what had inspired me. The idea of the Apocalypse had come in a flash, but we mustn't forget that my text, as a choreographer, is the dance itself. So I needed to establish a pre-text first, a kind of emotional subsoil that would affect the development of the dance and the music alike.
TDE: Explain how "The Moonlight Sonata" fits in a score inspired by the Apocalypse?
AP: The music (score) is chaotic, very close to the Apocalypse, very coherent with the reading of the book. But there is quite a lot of beauty in chaos. Some moments are almost unbearable, as there are a couple of tracks for which Laurent added layer upon layer to the point that you no longer hear a pure sound, or can distinguish one instrument from another. And yet, it all comes together perfectly. It's pretty moody, quite dark. Including "The Moonlight Sonata" by Beethoven among the other music creates a peaceful moment, when 2 female dancers perform on stage like 2 angels.
TDE: If you had a chance to chat with a master artist - of any era - what would he ask him or her?
AP: This is impossible, but in my dreams, it would be Nijinsky. He was an instinctive animal. His choreographies, such as L'Après-midi d'un faune (1912), were inhabited by an innocence and a sensuality that is almost disturbing.
See clip - http://www.bam.org/dance/2013/and-then-one-thousand-years-of-
peace
And then, one thousand years of peace is co-produced with Rhône General Council / Dance Biennial in Lyon, Théâtre National de Chaillot (Paris), Grand Théâtre de Luxembourg, The Amsterdam Music Theatre (Amsterdam, Netherlands), Theater im Pfalzbau (Ludwigshafen, Germany) Spielzeit'Europa - Berliner Festspiele (Germany), Theatre of Saint-Quentin-en-Yvelines, MC2 (Grenoble), Théâtre de Caen, Royal Opera House - the Château de Versailles, France-Russia Year 2010. With the support of the Grand Théâtre de Provence, Aix-en-Provence.