The Dance Enthusiast Asks Bessie Nominees (Part 1)
Outstanding Emerging Choreographer Bessie Nominee: Liz Santoro for "We Do Our Best" presented at Danspace Project
September 27th, 2012
*Watch out for the Bessies, New York Dance and Performance Awards  on October 15, 2012  8pm at The Apollo Theater in Harlem
Read our other Q + A's featuring  2012 Outstanding Emerging Choreographer Nominees
Rashaun Mitchell
Lee Scher and Saar Harari of LeeSaar The Company
---
Tara Sheena for The Dance Enthusiast
 
Tara Sheena, for The Dance Enthusiast: How did you start choreographing? Did you always know you wanted to be a choreographer?

Liz Santoro: I've been making dances for as long as I can remember but I would say I started choreographing legitimately only in the past couple of years. My focus had always been the interpretation of other choreographers' ideas as a performer. While that remains something I never want to be without, recently I had been increasingly butting up against the need to ask my own questions.

When I was three I started ballet, which was my bread and butter until my early twenties. I was given some really lovely and really intense Russian training at Boston Ballet School where I was regularly exposed to other practices like jazz, pilates, flamenco, and so on. Composition class was always the most daunting and terrifying to me. It was immediately evident the enormity of the responsibility that is choreography. Not just being accountable for a particular project's process and outcome but being fully capable and available to feed the work and allow the work to feed you. The responsibility that comes with trust. It's huge and astonishing and hard and constantly blows me away in what it makes possible.

TDE: How do you usually begin a work (an idea? Movement phrase? Piece of music?)

Liz: I have endless questions that seem to grow in number as I age so I tend to take the loudest ones of the moment and see if I can quiet them down. But strangely in this piece the very first thing I made was a short sequence of precise unison footwork that never repeated itself and was in phrasing of 7, 7, 3, 3, 7.
It fascinated me but I had no idea what was going to happen with it because the questions that were compelling me to make this work at the time were on a completely different planet from where these steps would live. It eventually grew much longer and had text added on top of it. With its demand for precision making it predictable in action but it's absence of repetition making it unpredictable in time,
it becomes more of an object than movement phrase. Like a piece of the set. It stuck around while the rest of the work was investigated, trial and error-ed and constructed, present as something material that in the end helped to make sense of what the heck we were trying to do. Like the control group in a psychology experiment.

TDE: What inspired the work that earned you your Bessie nomination?

Liz: People. How hard it is and how beautiful it is to be with other people. How we need it the most but struggle with it immensely. More specifically for me, coming from being a performer my whole life, I wanted to know about this need to be in front of other people-my personal need for that type of communication. What do I offer and what do I take? And to what extremes.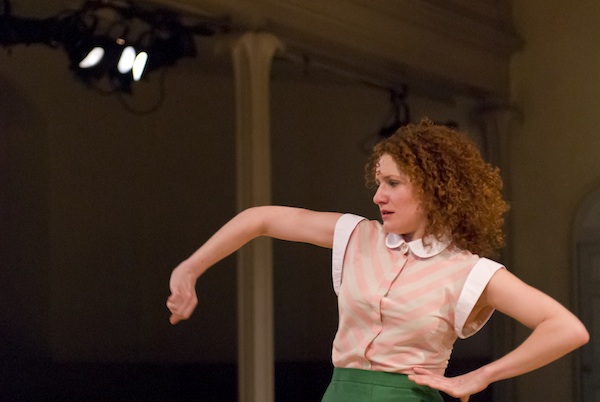 Liz Santoro in We Do Our Best Photo © Ryutaro Mishima

TDE: What was the biggest challenge with the work?

Liz: The budget. I was extremely, extremely fortunate to have the support of a FUSED grant which is through the French Embassy in New York and NEFA (I'm still amazed they took a chance on my work, bless their hearts) along with support from Danspace Project and various other generous institutions. But the project was made both in NY and in Europe with two French collaborators, one American collaborator and myself (I would work with one dancer while I was in NY and the other while I was in France) so it required a good deal of travel and lots of scheduling gymnastics along the way. Even though we didn't all come together until just weeks before the premier in Paris and we were efficient in planning work periods, funding was a challenge. And being that this was the first time I had done something of that magnitude, it was particularly harrowing. So money and also courage. While it's the only thing that actually makes any sense to me, making a dance is pretty much one of the most improbable actions one can execute nowadays. Courage was needed to believe that what I have to say was vital and valid enough for me to fight for.

TDE: How do you know when the work is finished or, at least, ready for an audience to see?

Liz: I don't think the work is ever finished until it just never gets performed again. I knew this piece was ready for an audience to see when the previously agreed upon premier date had arrived.

TDE: Do you think about your audience when making work?

Liz: Yes. Of course. Well, I don't have an audience of my own exactly so while I'm working I imagine any one of the hundreds of audiences I've been in front of over the years. My work is heavily reliant upon the audience's presence. It's based around the exchange of attention. I'd be lying if I said I didn't want to be loved but I can't say I'm so interested in giving people what they want. Or, what I think they think they want. Dance has a capacity to shift people's experiences of themselves, each other and what is around them in ways we haven't begun to consider. I think we can expect more from it and thus more from those watching it.

TDE: Who is your favorite choreographer of the moment?

Liz: I do not have a favorite choreographer. A few thoughts... I could watch Antonija Livingstone for days upon days. Luciana Achugar's work touches me profoundly and consistently. Technically he is a theater director but Christoph Marthaler makes stunning work that is dance to me.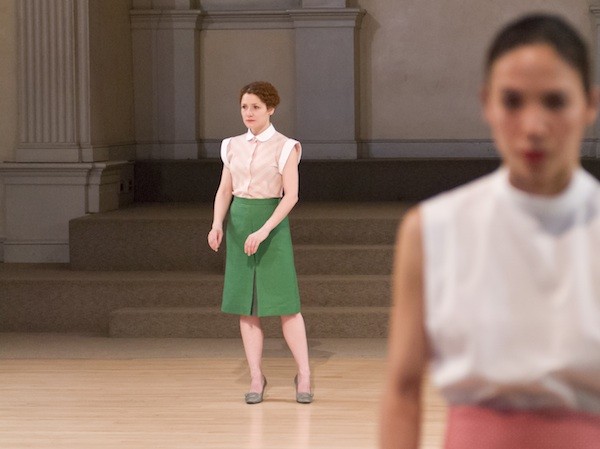 From L to R: Liz Santoro  and Cynthia Koppe in We Do Our Best © Photo by Ryutaro Mishima

TDE: What's next for you? And, for this Bessie nominated work?

Liz: We are performing the piece at L'Atelier de Paris – Carolyn Carlson in the Théâtre du Chaudron. There are some other possibilities in discussion as well for future dates. Aside from that I am currently working on a piece for the Museum of Art and Design that will take place in their loading dock November 15th to 17th. You should come! I am also working on a piece that will premier in 2014.

TDE: Anything else you want to mention?

Liz: Just that I am immensely grateful to the artists involved in this project (Mélanie Giffard, Cynthia Koppe and Pierre Godard) for trusting me, to all the people at the institutions involved in supporting this project for giving it the opportunity to exist and to the New York dance community for letting me be a part of their family. This piece exists only because they do.
To Find our More about the Bessies and the Bessie Nominees, Click
Here
To Find our More about choreographer Liz Santoro Click
Here
To Connect to Dance/NYC's Bessie Pages for detailed info, Click
Here
---
The Dance Enthusiast Asks questions and creates conversation.
For more of The Dance Enthusiast Asks, click here.
---
The Dance Enthusiast - News, Reviews, Interviews and an Open Invitation for YOU to join the Dance Conversation.